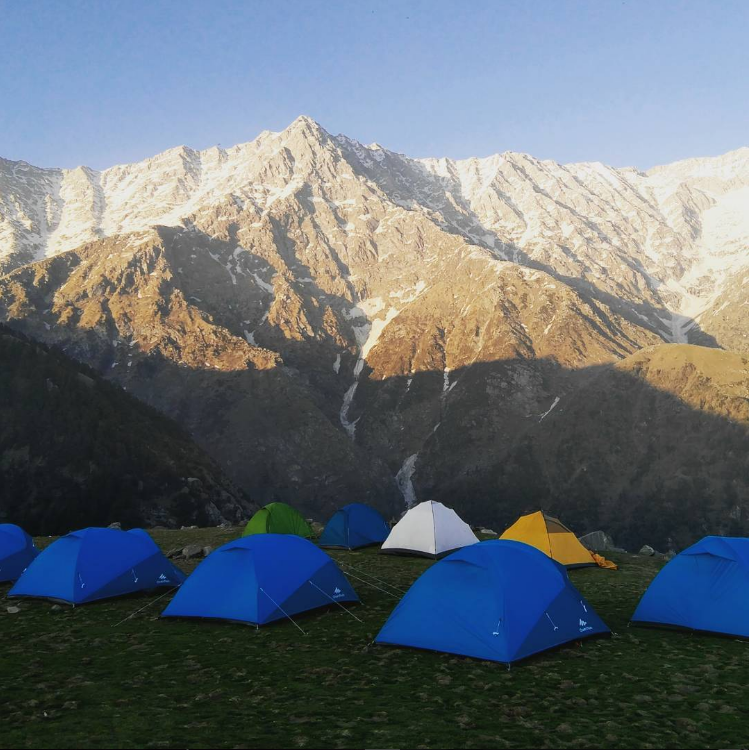 The bus journey from Delhi to Dharamshala is approximately 12 hours. The starting point of the trek is Gallu Temple, where there is also a Police checkpoint. You have to provide a valid ID Proof to them. There's another trekking way through Bhagsu Nag falls, from Shiva Cafe.
Day 1 was focused on starting the trek as early as possible to avoid the scorching sun rays. Our hotel was in Naddi and we decided to trek from Naddi to Gallu Temple, which was around 5km of trek. You can also take a cab till Gallu temple, but do keep the traffic in mind! The trek is of 7km from Gallu Temple and depending on your fitness level it can take you 3 to 7 hours to reach Triund.
The trek is usually considered to be apt for beginners but trust me, it tests your stamina at every step. The trail is clearly defined but it is rocky and steep. The last 2km of the trek are a bit steep and since, it is the last leg you tend to be exhausted, especially when you are carrying your bag-pack.
On your way, you will encounter numerous cafes, serving maggi and bread omelette. You can also purchase juices, water, biscuits and chips from here at a double rate.
Once you reach the peak, the view is spectacular- snow capped mountains just across you. I had plans to camp that night but I forgot that since it was a long weekend, the place was jam-packed with fellow trekkers. It's believed that on this particular long weekend, there were roughly 4000 people on the peak. The washrooms were definitely a challenge, since there are no concrete structures but pits have been dugged. 
There are numerous small cafes there where you can have dal chawal, maggi, omelette and hot chai.
My Jio network was surprisingly working there, so were Airtel and Vodafone at selected points on the hill.
As the day progressed, the temperature started dripping and the night started getting windy. It was time to put on our jacket and enjoy the clear sky full of stars. The night progressed with revising our school concepts, trying to figure out which one is the pole star and the formation of different constellations.
Day 2 was marked by getting up early for sunrise. There was another trek for enthusiasts known as 'Snowline Trek' but I was already exhausted from previous days trek and decided not to go. Downhill took about 3 hours to Gallu temple.
Overall, I was hoping for a peaceful place where I can just sit back and relax, but I chose the wrong weekend for it. I would definitely like to visit Triund when there are less number of people there.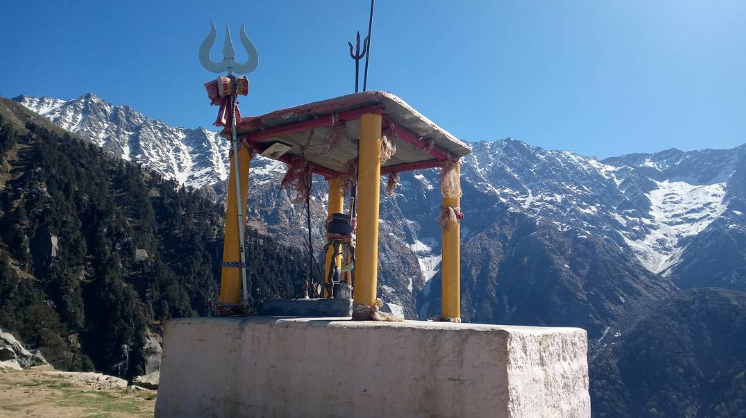 Tips for first time trekkers:
1. Carry enough water to stay hydrated. Carry some food with you as well, as you progress on the trek, the prices of eatables will keep increasing.
2. Do not carry too much weight on your back- carry only the essentials.
3. The weather up there at night gets cold, carry warm socks and jackets. Also, mosquito repellents is a must.
4. There's no electricity up there, so a torch is a must or save your phone battery to use as a flashlight.
5. The trek is exhausting, do carry medicines. Avoid taking shortcuts during the trek as they can be more strenuous in nature. Keep painkillers, medicines for hydration and headache/fever.
6. Wear proper footwear.
7. If you don't have plans to stay overnight (recommended you do camping), it's better to start downhill before sunset.
8. In case of a long weekend, it's better you make camp arrangements with vendors before hand, do not rely much on renting camps once you reach the top. It might be tough to rent a tent for yourself as usually they get sold out- in such cases, you would have to sleep without a roof on your head (the weather gets cold- how long will you survive) or you'll have to descend the same day, Both are tough options! Be Prepared!
9. Rule No.1 of camping is to wake up early and use the toilets before the pit gets overfilled. Carry sanitizer!
10. Though rest is advisable, but too much rest would also make you slow and the will power to complete the trek might start declining.
10. Water is a scarcity, use it wisely
11. Do not litter on the hill and during trek. On your way you'll find cartons where you can drop your plastic bottles.