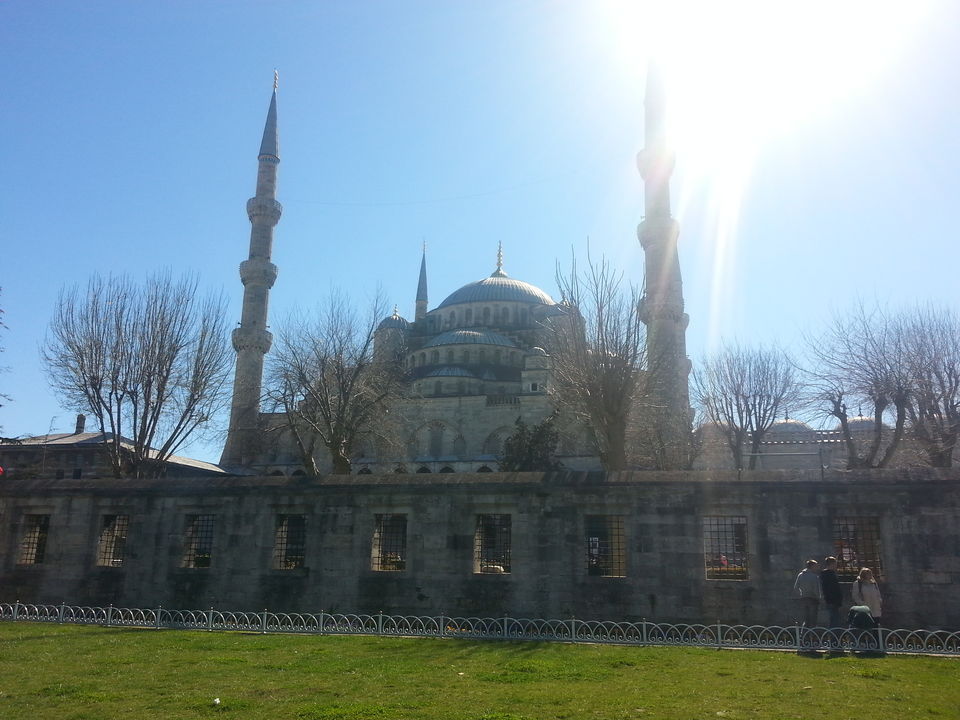 I don't even remember half of the things as I visited this beautiful country in 2015 and penning down almost after two year and more. The effect of the country is such even after so many days so many years I always want to relive Turkey again and again. This was my first Europe trip, planned & closed within a week including Visa (Indian passport) thanks to a friend who sold me Turkey over EBC and I jumped in to accompany him. Generally Turkey is viewed as Islamic terror country but it's so untrue which you would realize as you go through the blog. Please note all prices below mentioned is for one person.
Our journey begins on 3rd of April 2015, we took a flight via Kazakhstan (halt at Almaty) which offered good deal (INR 35000+ to & fro) and landed at Istanbul late at night. This was my first Europe trip and I can't express in words how excited & thrill I was walking down the Istanbul Ataturk Airport. I underestimated the cold and so end up shivering for a while before acclimatizing.
Taxis are superb expensive, but metro & tram almost covers the city. We booked Bahaus Hostel (which was located just behind blue mosque), took a metro ( 4 TRY) and then Tram ( 4 TRY). When we de-boarded the tram, it didn't seem like The Tourist Spot of Turkey maybe because of the late hours. Asked few people around of the location and walked as guided and we were there at our destination. Day 1 @ Istanbul checked in and hunt for food as most of the food joints were closed, so grab something at the hostel (which wasn't that great and costed (10 TRY)) & crashed.
Review of the hostel - Bahaus Hostel is one of the famous hostel, located at the prime location, a bit on the pricey side (INR 1600/bed/per night). They are very particular about the pay, all in advance & not friendly at all. I stayed at mixed dom, beds & bathrooms were clean and well maintained. Breakfast was included and they offer good spread of foods but again very particular about timings, if you are late even by a minute, you end up w ith no breakfast. Beautiful view from the restaurant, I usually used to get up early and spend hours having breakfast and enjoying the view. Overall, nice stay but staff's behavior was rude.
Day 2 @ Istanbul - This was a Saturday and mine first weekend in Europe, as my friend has travelled half of the Europe. It's a good idea to start the day with heavy breakfast as walking is best way to explore the city. We started our explore with 'Free walk tour', the guide took us through the history of the country, mentioned all popular cities followed by famous street of Istanbul and places to visit & eat etc. After the tour guide we walked aimlessly for a while , when tired had donor at SultanAhmed @ TRY 6 and then headed to Times Square walking (tram is also an option) we were tired walking , so had another donor at Galato @ TRY 7 & Buttermilk @ TRY 1
Reached Time Square, its picturize, this place is all about shopping, there were people performing at the corner of street. Someone approached to us with fake rolex & premium branded watches and he was pushing us even when we were not interested. Suddenly he started wrapping and soon ran away as he saw two officers approaching in civil dress. This is how safe is Istanbul, unlike it is perceived. Coffee always goes with cold, but you don't have to go to luxury coffee shops, I had a cup of coffee @ TRY 2 (the one local sales), it was nice and serves the purpose.
By now, both of us were too tired so, took a tram back (to SultanAhmed) had dinner at some restaurant close to the tram and had Baklawa (Turkish dessert).
It is not advised to drink tap water in Turkey, we used to buy water from supermarket @ TRY 1.5 for 2 ltrs.
Day 3 @ Istanbul - This day was reserve for all famous monuments visits and all of these was located at the vicinity. It's better to start the day as early as possible as each monument has a long que and most of the monuments are worth visiting. Our first stop was Basilica Cistern (entry fee TRY 20) , second stop was Hagia Sophia (entry TRY 30), we didn't hire any guide or audio guide. Our trick was to download the pages from Wiki travel & different websites and save offline and refer them for the history of the Monuments. The famous hamam bath is also around this area which is also of the tourist spot, entry is free for viewing.
Food around this area is bit expensive. Lot of tour operators will try to sell packages, we didn't fall for any of them and decided to explore and travel like locals. After lunch, we walk towards the Bosphorus river. After a while we took tram to Kabatas (4 TRY), then a ferry to Asian side (4 TRY). Ferry took us through Bosphorus river, it was a sunny afternoon, still sitting on the deck of the cruise in between the Cold breeze & Sun with the sound of wheels tearing the waves, I never wanted to reach the destination. But soon, was there at the Asian side.
Basically, Asian side is all locals and European side (the blue mosque) is all about tourist. The cost of things slashed to half, most of the people doesn't understand English. Great food @ dirt cheap cost. Lodging is even cheaper at Asian side. Baklawas are half the price. We walked around, passed by Mosques, fancy building, normal local apartments, parks, hospital, police stations, malls. Had dinner at local restaurant, lot of meat just @ 14.5 TRY and made our way back to Ferry for Kabatas and then tram to Sultanadmed.
P.S. if we would have taken package from tour operator this whole this would have costed us 50 TRY per Pax. We did it for 16 TRY (8+8)
Day 4 @ Cappadocia - Our next destination was Cappadocia, we did ask few shuttle service provider for Sabiha Gokcen International Airport transfer and chose the lowest quote (TRY 30). There isn't any metro connectivity to Sabiha Airport, shuttle is the most economy way to reach. Plus exploring mode of ways you might end up missing flights. It's always a good idea to book a shuttle beforehand.
We took a flight to Kayseri (cost of flight ticket (TRY 54) was cheaper than bus) for Goreme. Please note this is a very small Airport, Shuttle transfer to Goreme should be pre booked or else you will be at the mercy of the available Taxis/Shuttle who charge 3-5times extra and you will have no option but pay. So, strongly advised pre-book. Our shuttle was pre booked and soon we were transferred to Goreme, a small town in Cappadocia. We stayed at Guven Cave Hostel, our shuttle dropped us at the door of Hostel. We were welcome with Turkish coffee. Checked in, freshen up & rush for sunset point and then one of the best restaurant (as recommended on tripadvisor)
Review of the Hostel - 5 star - that's it. The Host is a great guy, very friendly, genuinely advise you the best things to do around. He himself is pilot for hot air balloon. Cappadocia is all about staying in caves, you won't know it as long you don't experience it, a bit away from Central, which you don't mind because all round is so beautiful one would just enjoy walking.
Day 5 @ Cappadocia - we took a tour to underground city, costed TRY @140 The tour starts around 7am in the morning and gets over by 6 in the evening. Tour includes lunch, all travel, entry fee to few monuments, to underground city, and concludes at Wine tasting. Must do!! Since we had the evening free, we went for sufi dance. The atmosphere was nice and was worth once. Night ends with beers & good food.
Day 6 @ Cappadocia - The main charm of Cappadocia is hot air balloon for which one has to start even before the sunrise, so that sunrise is enjoyed up in the sky and not regular one. A lot depends on the weather, if winds are heavy or snowing etc , govt. might not allowed flying hot air balloon. We have been unfortunate, we almost waited two days and weather ditched us :(
Day 7@ Cappadocia - we kept a spare day at Cappadocia for Hot Air balloon, still luck didn't work. Cappadocia brings in such a peace with beauty that any no. of days isn't enough. Same night we took a bus to Pammukale, tickets @ TRY 50 . It was a overnight drive and it stops at certain point for food and freshen up.
Day 8 @ Pammukale - We were at Pammukale known as cotton castle around 4 in the morning. None of the shops or tourist stop were opened. It was freezing cold, I guess 3-4 degree and we had no other option then roam around as nothing was open and we didn't book a stay in Pammukale as there are limited things to do in Pammukale. We buzzed in the first café which we saw open, the café guy was very friendly. We had coffee, sandwiches etc. price was reasonable. We took tickets for Travertines @ 25 TRY which is the hot spring water. Things one should know about Travertines -
1. It's a walk of few kms
2. Better to carry wind sheeter
3. Got to walk bare feet, shoes are strictly not allowed as its white rock
4. Only few portion emerges hot water, rest was freezing cold
It was quite a cold but when we start walking in bare feet, after sometimes we don't feel anything and then its settles you. On the other side of travertines, are few souvenirs shops, spa, pool, restaurant etc.
There is quite a lot of things to explore. We didn't took any package or tour guide and so was walking around following the map. Nearby we visit the Amphitheatre, re live the gladiator experience. There is a park. To reach down the city is a long walk, but we had time constraint so we took a shuttle we reached us back to the city. From there we took bus tickets for Fethiye @ TRY 25. The bus to Fethiye leaves from Denizel, so we took a shuttle to Denizel @ TRY 3.5
It was overnight bus again, the bus journey went through all kind of landscape from Hills station to plain to Plateau and landing at beach @ Fethiye.
Day 9 @ Fethiye - We took a local bus (@ TRY 2) to reach our hotel at Calis Plaji. We checked in , people hardly know english, maybe we booked our hotel little to inside, but close to beach. Hotel @ TRY 55 for two nights. We have awesome dinner @ Pizzaerie which was facing the sea and relaxed the night.
Day 10 @ Fethiye - had breakfast and then went for parasailing. While waiting for our turn, we figure our few good restaurant around black sea. After Parasailing, we ate and then took a local bus to the city, back to hotel and checked out and took a shuttle (arranged by the hotel) to transfer to Dalaman Airport. We took a flight to back to Istanbul (Sahiba Airport). We a shuttle to Oriental Guest house. We stayed two nights at this guest house.
Review of Oriental = Staffs were very friendly, located centrally. Breakfast doesn't have much variety but that hardly matters.
Day 11 & Day 12 @ Istanbul - we went to Topakapi and explore the city. We visit Asian side again and did our shopping.
Day 13 - Around afternoon we left for Airport via tram and then metro and flew back to New Delhi, India.