Bir, in Kangra district of Himachal Pradesh, is a beautiful village with a certain purity, a certain charm, natural beauty and serenity with not excessive tourism.
This place is itself a beautiful escape from your everyday life to have a healthy living. At that moment, I felt like I could spend even a month there happily. Bir has a positive and peaceful vibe in the air. While you are planning a trip to Bir, you can also visit a lot of beautiful monasteries around the town walking through the entire village on foot.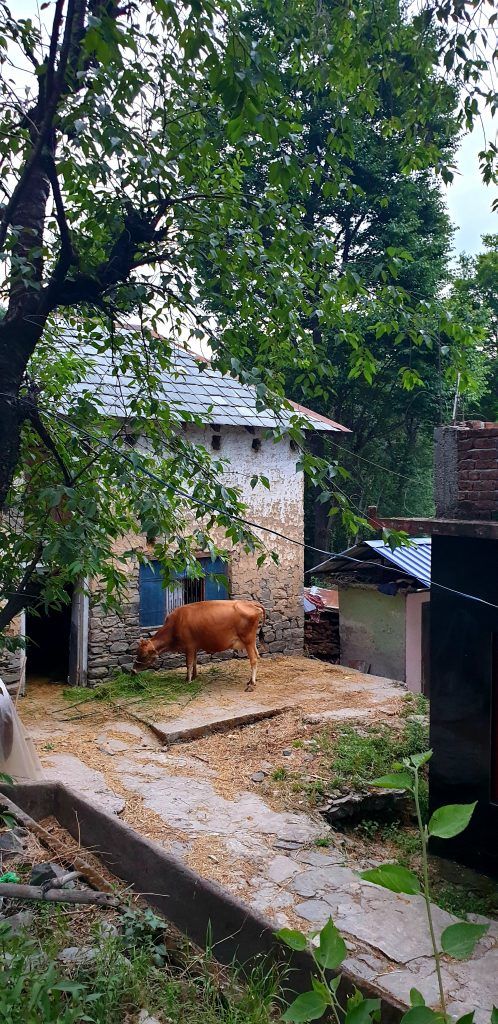 This blog post is in continuation with our last two blog posts on Dalhousie and McLeod Ganj. Read more on our perfect weekend trip to Dalhousie and Khajjiar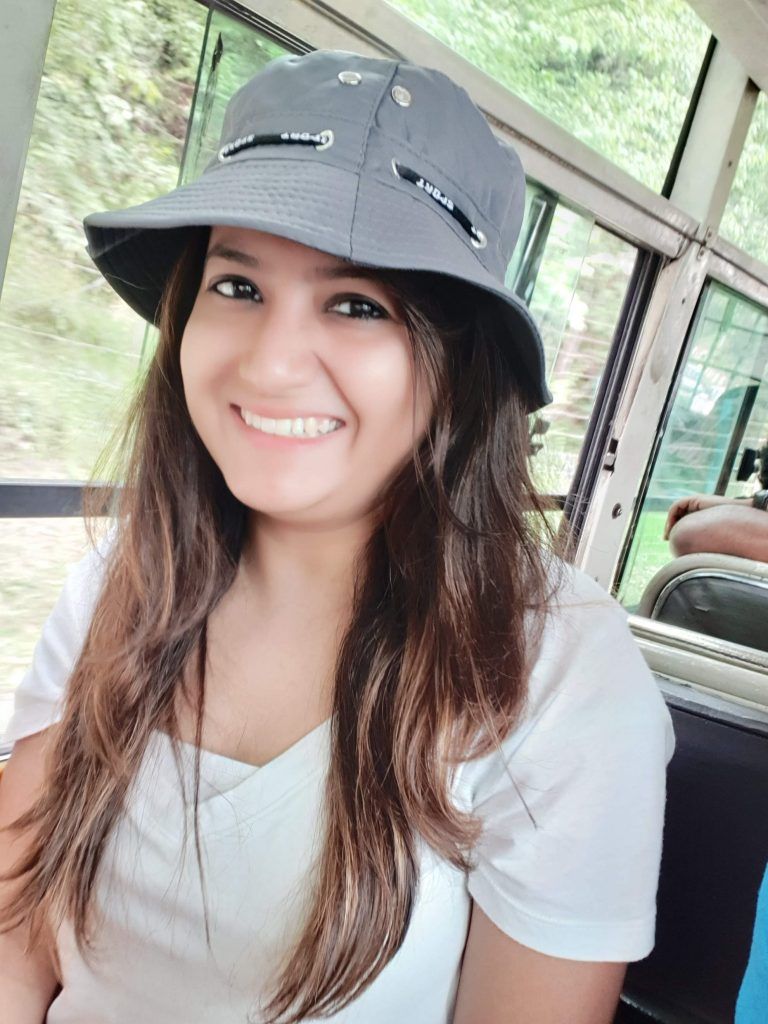 Since we had enough time, we decide to take public transport from Dharamshala to Palampur and from there we took a beautiful journey of a toy train from Palampur to Baijnath.
Day 1
A toy train journey from Palampur to Baijnath
After hopping on buses from Dharamshala till Palampur, we finally reached Palampur railway station. There were hardly any people on the platform and there was just one ticket counter that was open. However, the station was pretty clean and as we stepped down to the platform, it was a beautiful sight altogether.
Those railway lines crossing through the lush green forest and it was all peaceful around just with the little chirping of birds.
There we met a kid who was from Mathura and his source of earning was this toy train that we were about to catch. He had a melodious voice and he made a living out of his art of singing after his school hours. I just loved his smartness and honesty along with his talent. It is pretty rare to see these street kids in India knowing the importance of education.
It was a 45 minutes journey from Palampur to Baijnath with beautiful nature trails alongside.
We headed to Baijnath after having lunch in a small dhaba in front of the temple.
Where to stay in Bir?
Next, we boarded the bus from right in front of Baijnath to Bir. We already had booked a stay in the backpacker hostel, The Bunker. The bus dropped us just before 500meters from The Bunker from there we took a walk till our destination.
I must say, Bunker in Bir is at the perfect location away from the main paragliding site. We played UNO and other board games with our fellow mates in our dorm and I also got some time for myself for a peaceful read. They have quite a decent collection of books on the house.
A perfect destination for nature lovers
At night, the weather turned a bit stormy and it rained like cats and dogs but later, it was all a clear sky, people also observed the milky way later at night. Argh, I still regret that I dozed off a bit early and missed the milky way, but Paresh was up. He even roamed around in the village for a while enjoying the fireflies all around and the sky covered with the blanket of stars. It is beautiful, right?
Honestly, I am going to Bir again very soon and I highly recommend you must visit this place even if you are not an adventure junky. Bir is a heaven for nature lovers.
Day 2 - Paragliding in Bir Billing
Next morning we had our paragliding planned. Bir Billing in Himachal Pradesh is Asia's second-highest paragliding spot. They charge you Rs. 2500 that also includes a GoPro shoot which is definitely worth trying. You can book online or on the spot. We booked it online before a few days since we did not want to stay in the queue for just getting it booked.
They took us to the top of the flying site and the ride itself was not less than a roller coaster and every minute my heartbeat was rising.
For me, freedom is like oxygen and flying has always been my fantasy. Honestly, it was my first time and I am so scared of heights. Jumping off from 8500 feet above sea level, even the thought ran chills through my spine. I still can't believe I conquered it.
When I was about to jump, I was like "I can't do it... I am going to die!!" Ah, thanks to my most experienced and humble gliding pilot Mr. Manish, I could do it. He was a professional and he motivated me a lot, "Don't sit, don't stop, just run and you will soon fly like a bird" He is among the few professional gliding pilots there.
Click here to book online for Paragliding with Mr. Manish, also known as Bir Birds.
As I jumped, all the fear was gone and I started floating in the sky. I would recommend each and every one of you to try Paragliding in Bir and if you're scared of heights and it is going to be once in a lifetime experience to get rid of fear.
We get to live only once and we must experience each and everything in life to know its worth.
Cafes that you must try in Bir
Bir certainly is known for Tibetan food. Since most of the people here cook Tibetan food in their everyday meal and that's their specialty. Other kinds of food you can get anywhere in India, but still being such a foodie, I couldn't control my bits to try out a few good cafes in town.
Listing a few of the cafes here that you must try on your trip to Bir and your tummy can still take on more food after trying out local Tibetan food.
This little café is owned and run by a couple who settled in Bir a few years back. This is a beautiful and tiny café that offers the most delicious food in Bir. Their coffee, pancakes, pasta, sandwiches, everything is perfect. Don't forget to try their shakes, they are really good.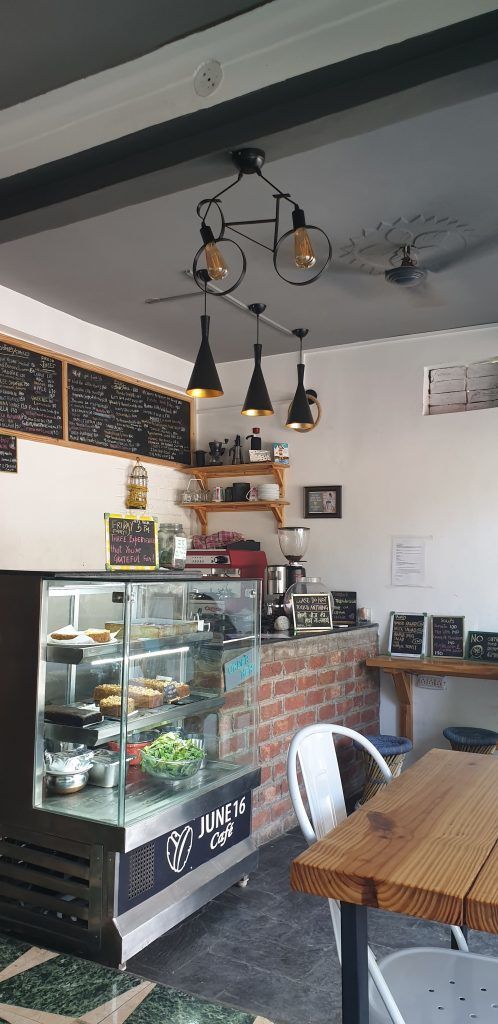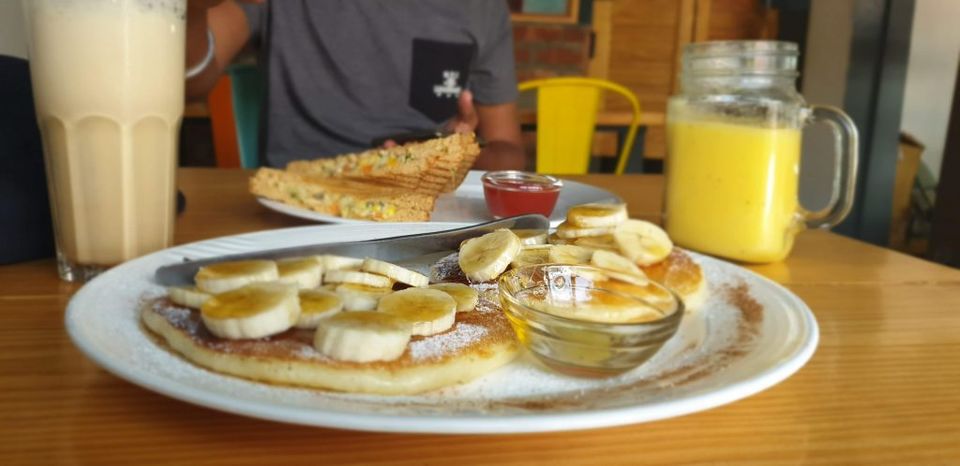 Read more about June16 café along with pictures on my reviews on trip Advisor.
Looking for a chill hangout place after all those treks and paragliding activities, Vairagi café is the right fit for you. Vairagi Café is one of the few cafes that are open late night in Bir. Though I am more of a peace and nature lover, I enjoyed my evening reading books and sipping coffee.
I had not much time left but since the reviews on trip advisor recommended this place, I gave it a quick try and the place was wonderful. Imagine how lit up it would be at night with garden seating arrangement on the first floor with a perfect view. Surprisingly, the food was good and inexpensive as compared to the ambiance of the place.
Apart from these three cafes, there are few more beautiful cafes in Bir like Avva's café, Musafir, etc. Since we did not have much time, we couldn't try them all. So if you visit Bir and you find someplace better than these, don't forget to comment below.
I would love to have a few recommendations from you lovelies for my next trip to Bir. Next trip? Well, definitely I am going to visit Bir again and this time it would be for long. This place has still kept me in awe.
If you loved reading this blog and got all the information you needed, don't forget to share with your friends and family. Stay posted, leave your comments and don't forget to subscribe for immediate notifications to know more about beautiful places in India.