Holi is one of the craziest festivals of India and sees tens of thousands of travellers from around the world indulging in an insane war of paint and colours. Probably the most widely celebrated festival in India, Holi is best witnessed in Barsana, Mathura, Vrindavan, and the hippie capital of the north— Pushkar, in Rajasthan where one can experience the top notch madness of the festival.
I visited Pushkar some time ago on a solo backpacking adventure and quickly fell in love with the vibe, energy and culture of the place. The serene ghats, the colourful markets and the laid-back aura had me hooked. So I decided to come back and Holi seemed like the perfect excuse.
But things were different this time, the madness, the crowd, bhaang and alcohol fuelled shenanigans, and women's safety around these things made me apprehensive. So I decided to ditch the idea of solo travel on a shoestring budget. I volunteered for a friend's travel company, one of my girlfriends decided to tag along and barring a few hiccups, we ended up having the best Holi experience ever.
Here's the fun and the struggle explained!
Pros of travelling in a big group—you become family in a couple of days. Having travelled solo for over four months, I simply loved this change. I had been staying at hostels and budget stays all this while, but this time we stayed at a luxury resort. I will admit that this touristy touch was a guilty pleasure of mine. Apart from that, at times like these when the place sees an extraordinary influx of tourists, resort looks like a safer option as well.
Holi in Pushkar is celebrated at the famous chowk where thousands of people gather together throwing gulaal in the air, some high on bhaang, and others, on life. The speakers blare psychedelic trance music, which only adds to the ambiance, there's no Balam Pichkari or Rang Barse and somehow, for the good.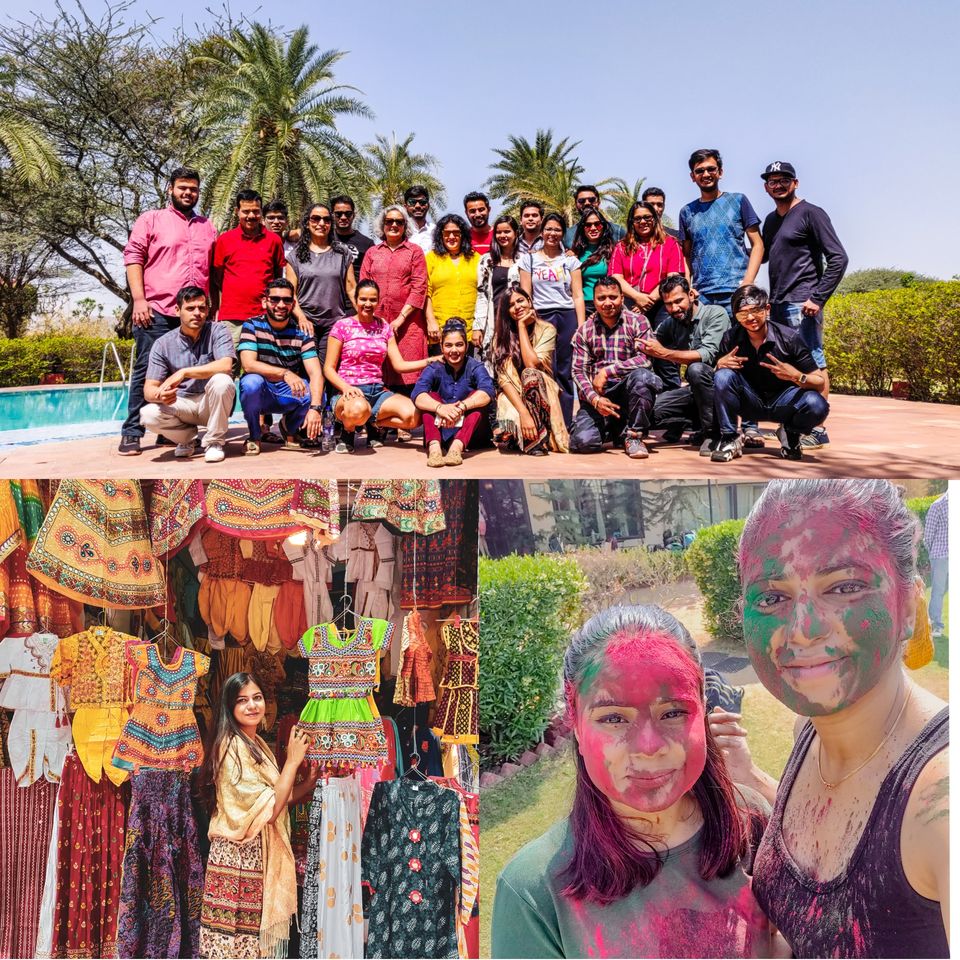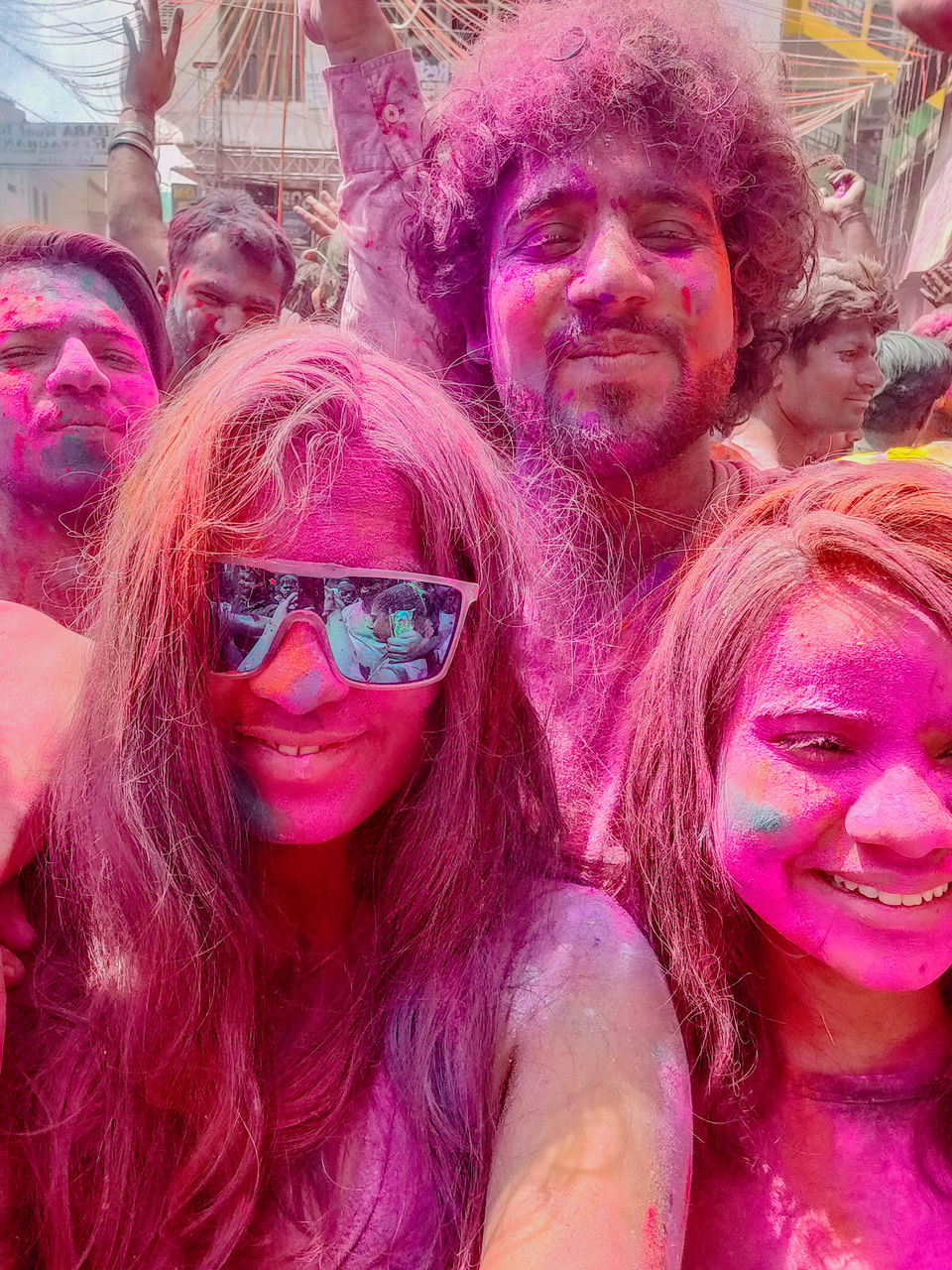 Now, this place looked like a whole different world, difficult to explain in words, for you had to be there to see it. Everyone seemed to be in an altered state of consciousness—some looked so content from within and totally immersed in the experience, while there were others, heavily drunk and only there to grope women and foreigners. We also came across a woman travelling by herself, who was robbed of her phone and wallet and other belongings.
Some strange men shook hands with me and greeted, while some tried putting gulaal on my face against my will. These were men who held a wrong sense of entitlement, a free pass to harass women, in the name of a festival. That is why I am so glad I did not do it solo, and if you decide to go too, you should take friends along.
Pushkar used to celebrate Kapda-faad Holi, where t-shirts of men would be torn and hung on wires. It has been banned starting 2019. Regardless, your clothes are going in the bin after this festival, because there is just so much colour around. Some of this might be harmful chemical, so protect your eyes and wear sunglasses. I couldn't speak for three days because some strange man forcefully put gulaal in my face which I consumed as well. You need to be extremely careful. Though I'll admit it is all worth it. 
Things can easily take a sour turn in a huge gathering like this, so hang around the people you can trust, especially as a woman, do not get in if you feel it is too much to handle. The men I hung around with went out of their way to guard and protect us. 
After the festival and bhang hangover, we gorged on the sumptuous laal maas and rice for dinner, sat in the garden , listened to good music and crashed in our beds in no time. The next morning was spent mostly chilling in the pool and roaming around the stunning campus of the resort. I haven't had such a relaxed and plush stay in the longest time.
I roamed around the markets and ghats of Pushkar for one more time, before I said my final good-bye. The chaos that juxtaposes the serenity in Pushkar never ceases to amaze me. This was by far my most memorable Holi ever, and I'd push you to book Pushkar for the next Holi festival as well, while keeping your wits about, obviously.
Have you had a similar Pushkar Holi experience? Tell us about it here.