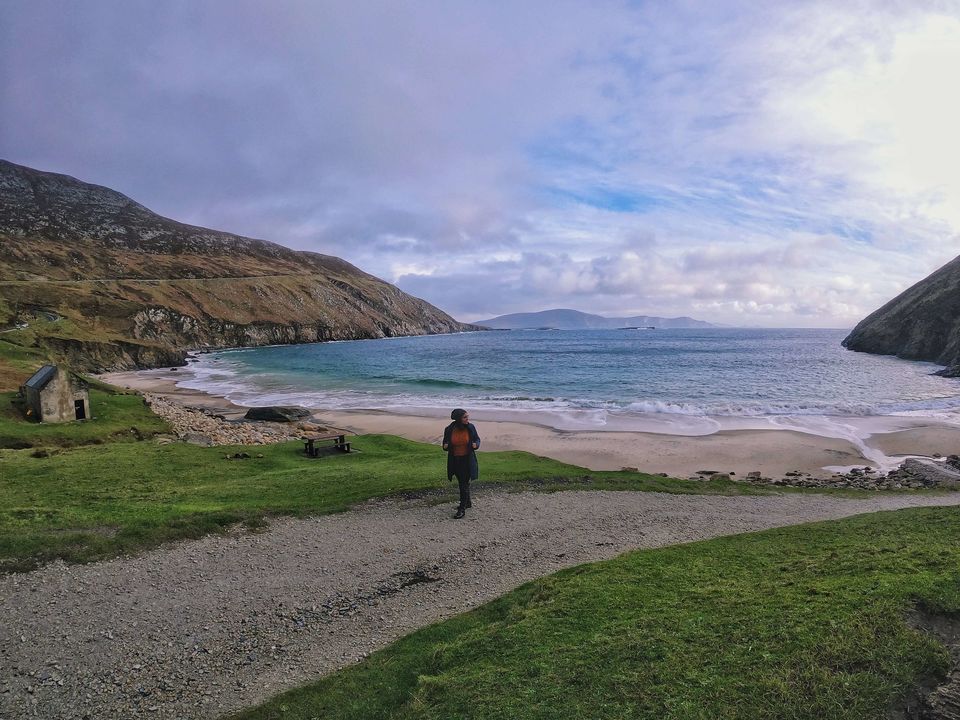 Dreaming of Castles, Wild Atlantic Ocean, mesmerizing cliff walks, Dark Hedges and rugged landscape? Ireland for sure will surpass your expectations and leave you spellbound. A country which has recently been blessed with the economic boom has for sure been climbing its way up towards modernization, but some parts of it still adheres to its dramatic history, surreal and untouched beauty. After having explored most of this island, I decided to create a two week in Ireland itinerary, so you don't miss out on the true essence of the Country.
Day 1 : Land in Cork City!
Cobh!
I would advice on flying to Cork city instead of Dublin! The flights are cheaper and it's the best place to start your Irish expedition. Spend the night walking around Cobh, the last port of Call of Titanic and also a major point of embarkation during mass Emigrations. With tons of restaurants in the area, stunning view of the ocean, medieval castles, church and vibrant architecture you are on to a great start in this Wild Atlantic Journey!
Day 2: Go off the beaten path in West Cork (2 nights)
beautiful streets of Cobh
Things to do!
Drive to Kinsale which is around 45 minutes worth of a drive from Cork City. Walk around this colorful boutique town. Enjoy some good brunch followed by shopping near the port of Kinsale. Drive to Charles Fort and get a breathtaking view of James Fort from across. Drive to Old Head Kinsale Light house located inside the Old Head Kinsale Golf Course. Mind you, you can also stay in the Golf Course which has the most exquisite location in the Country! Checkout the modal village in Clonakilty which is an absolute delight to watch.Places to eat!
Food like this!! The Spaniard In is a bright yellow coloured restaurant famously known as the best Tapas bar in Kinsale. Malay Kitchen is my most favorite restaurant in Kinsale for delicious Malaysian food. If you decide on staying in Kinsale, do not forget to start your morning with a generously scrumptious brunch at Lemon Leaf Cafe Cosy Cafe would be my second choice for a good portion of brunch and amazing coffee.Day 3: Explore Cork County!
Walk by the beach in Cork County
Things to do!
Take a walk from the Baltimore village to the cliffs near the harbor. Start from Dun Na Sead and make your way to the harbor exploring the history of the village. Drive to Mizen head on the Wild Atlantic Way to experience the wild ocean and the rugged landscape. Catch a gorgeous sunset by Galley Head Light house in Clonakilty on your way back.
You can read more on things to do here.
Stay
Pretty houses like these!
I would suggest staying in Kinsale. There are tons of amazing Airbnb's and loads of options for food/drinks/shopping and sight seeing. It is a convenient spot to spend the night as it is closer to all the other small villages in West Cork. Preferably you could also stay near Mizen Head and experience true Irish lifestyle. Baltimore is another suitable option which would be better if you plan on leaving next day to Kerry.Day 4: Drive to Kerry County (2 nights) (2 hours drive from Mizen Head)
Welcome to Dingle!
Things to do!
You'll probably hear about Ring of Kerry which covers Killarney National Park, Kenmare, Glenbeigh and so on. As much as I loved Killarney National Park, due to commercialisation it failed to find a spot among my favorites. I would suggest visiting the Gap of Dunloe which is one of the best sight in Killarney National Park and if you are daring enough drive all the way up on the road which looks like a side walk but is actually a two way path. Grab some good lunch in Killarney from the variety of restaurants, pubs, cafe's. You'll probably end up spending more time deciding a place to grub at! Head to the Dingle village which is around an hour drive away from Killarney. Take it easy and walk around this tiny fishing village which has been through a massive change since the famous Irish famine!Places to eat!
Dingle!
Desire Kitchen, Casita Mexicana are some of my favorites in Killarney town for good lunch. But you have plenty of other options to choose from. While in Dingle, my favorite restaurant here is Solas. I absolutely loved trying croquettes! But they have ample of yummies for you.Day 5: Dingle Loop Trail and few other options if you have a couple more days!
Views like these!
Things to do!
Drive along scenic Slea Head drive and unravel the history of the great Irish Famine and how the country has developed ever since. You can find more information about the Dingle loop trail here. While near Kerry County, you could also go for Skellig Michael landing. This however requires advance booking. If you are unable to go for Skellig Michael Landing, you could drive to Kerry Cliffs, explore Valentia and Portmagee nearby. Still loads to keep you busy! You could also catch a ferry to Blasket Island from here to experience the Irish tradition and purity of rural life.Stay
Stay in Dingle!
I would suggest staying in Dingle Village, although it is far away from Killarney and Valentia Island. This little village is beyond beautiful and has a variety of accommodation options from hostel to luxury B&B. If you are planning on going for Skellig Michael Landing, I would suggest staying in Valentia Island.Day 6: Drive to Doolin (3 nights) (Around 3-4 hours worth of a drive)
Cliff walks everywhere!
Things to do!
After a long drive, take the much needed walk from Lahinch to Doolin on Cliffs of Moher. Catch an epic epic trad session in Cliffs of Moher Hotel in Lahinch. Check out my post to read about some great places to catch the trad session.Places to eat!
Stumble upon a trad session
There are ample of options to try from in Liscannor, Lahinch, Ennistymon, Doolin and so on.
Liscannor:
McHugh's Pub has good food, great seafood, good portions. They stop serving at 9pm. Vaughan's is a high-end restaurant famous for amazing seafood which is not cheap. Food is served daily from 12.30pm - 9pm. Cliffs of Moher Hotel has good food, good portions and is open until 9pm. Copper Pot Cafe is an Amazing delicatessen with superb savory sandwiches, pastries and coffee.Lahinch:
Danny Mac's Pub on the Main St. Lahinch is a good pub-grub, good portions, stops serving at 9pm. The Cornerstone Pub on the Main St. Lahinch, good pub-grub, good portions, stop serving at 9.30pm. Kenny's Pub - Main St. Lahinch, good pub-grub, good portions, stop serving at 9pm. Randaddy's Restaurant on the promenade, great pizza and a variety of delicious food. Tasty Station Restaurant on south end of the Main Street, great food, not overpriced Raviolo Verde is a Great Italian Restaurant, north end of Main Street.Day 7: Explore Clare County!
Walk on the moon!
Things to do!
Visit the landscape miracle called Burren Check out Doolin Pier to get blown away by the Atlantic Ocean and Magical view of Doonagore Castle overlooking the ocean. If you are here in July, you are just in time to catch the match making festival in Lisdoonvarna. Get some coffee by the cascades in EnnistymonPlaces to eat!
Enjoy comfort food!
If in Doolin
O'Connors Hotel Doolin/FitzPatrick's, McGanns & McDermott's for good pub-grub, they stop serving at 9pm.Day 8: Aran Island
Take a ferry to Aran Island from here and spend the night where the Aran knitwear originated. The ferry to Aran Island leaves from Doolin and Galway. You cannot take your vehicle on the ferry. You will find bicycles on the island to get around! You could either spend a night here or come back to Doolin in the evening.Stay
Doolin Village!
You could stay in Liscannor which is close to Cliffs of Moher and the beach. There are plenty of Airbnb's as well. I was staying in an Airbnb in the remote village in Lahinch which was a different and crazy experience that I would recommend to everyone. Doolin is another small village nearby which is a convenient stay option with a variety of hotels, restaurants, pubs and shops nearby.Day 9: Drive to Achill Island (2 nights) (3 hours by car)
the beautiful achill Island!
Things to do!
Drive to Keem Bay and experience the serenity of a desserted beach. Do not miss the sunset by Keel BeachPlaces to eat!
That pasta was delicious!
If you guys ever go to Achill Island in winter, you will only find two restaurants that are open through out the season. Geilty's and The Amethyst's Bar. You can read more on it on my post here. However, there are ample options open in the summer.
Day 10: Explore Mayo County!
downpatrick head!
Things to do! Stay
This Pretty Island!
One of my favorite islands, I would definitely suggest staying in Achill Island as long as you can. There is a lot of things to do near and in Achill Island. Hop on to my post to read on things to do and places to stay in Achill Island.
Day 11: Drive to Donegal ( 2 nights) (3 hours by car)
Donegal county!
Things to do!
Drive on the Wild Atlantic Way to Malin Head, the northern most point of Ireland to view the Banaba's Crown. Doagh Famine Village which will take you on a journey through Irish life from 1840s to the present day. After having explored the Irish lifestyle and its evolution over years in the famine village, take a walk on Doagh Bay and enjoy complementary coffee/tea snack in the restaurant facing the beach.Places to eat!
The old thatched villages!
I started craving for Indian food while here and luckily found an Indian restaurant called Chandpur which is a good place to get decent Indian food from. The Strand Hotel is nearby and another good option!Day 12: Explore Donegal!
Slieve League Cliffs.
Experience the surreality of the secluded Silver Strand beach in Malin Beg. I know, there are so many beaches in Ireland that you can have all to yourself. You have to visit Slieve League Cliffs in Teelin to appreciate the wild, rugged beauty of this Country. These are my most favorite cliffs in Ireland. You can drive all the way up to Bunglass Point by opening the gate and closing it behind you. The gate is to keep the sheep from getting out. Glengesh Pass is another scenic route close to Slieve League Cliffs towards Ardara Village. While here look out for Pirate of the coffee bean Coffee truck to sip on some good coffee while enjoying the view. Learn Gaelic in Oedas Gael which is an Irish cultural center in Glencolmcille Village. You can take a weekend Class if you don't have enough time or just go for a day and make friends with people coming from different Country and hangout in the bar after sessions.Places to eat!
Eat your way!
The Rusty's Mackerel is my favorite restaurant in this area. Stop by for delicious chicken linguini. Stay
Colorful houses everywhere!
I was lucky enough to find a quaint Airbnb at the foot of Slieve League Cliffs. It felt almost unreal to live in an area where there was no mobile network! You could also stay in Bundoran , this Airbnb is located in the area with the best view of Atlantic Ocean and the hosts give surf lessons. Bundoran is one of the best places to take surfing lessons.Day 13/14: Drive back to Galway or Cork or Dublin to catch your flight back.
Good bye to this rugged beauty!
That is it! You have experienced true Ireland by now. Go back home with great memories and stories to tell!
If you have couple more days, you could drive to Northern Ireland and explore the Dark hedges, Mussenden temple and the causeway coastal highway