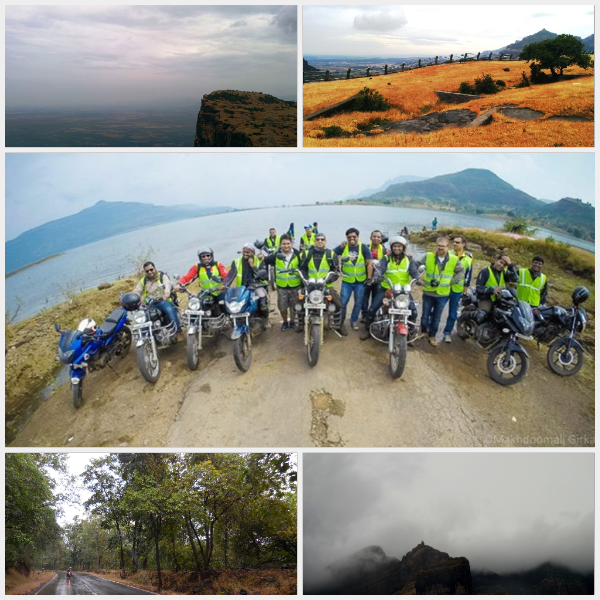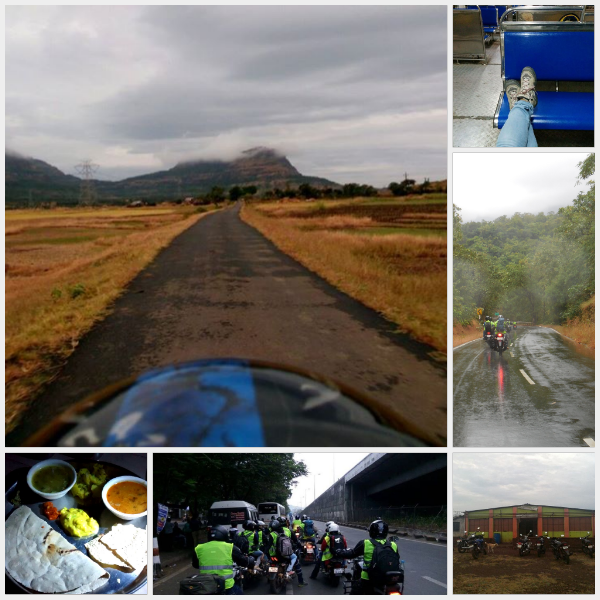 When the weekend arrives, the corporate slaves feel unchained and free; all set to spread their wings. They say that if you have a weekend to look forward to, you are "OFFICIALLY ALIVE". On this weekend (15-16th Nov), I along with the bunch of 20 riders of Mumbai TRAVELLERS group  went to this amazing place hidden in the outskirts of the concrete jungle - Naneghat. 
Naneghat is a mountain pass on the Western Ghats located near Junnar district at a height of 2,461 ft. The roads are nicely paved and the place is scenic and breathtaking. As you cross Junnar and move closer to the hills, the roads are nothing less than a bed of rocks.
 The ride was pain in ass (literally). Offroading was quite a bum-pain but adventurous.
 Adventure trips are incomplete without accidents. The 2 riders from the group met with an accident with minor injuries to them but major injuries to their bikes. But the situation was managed and everything seemed under control.
 Experiencing adrenaline rush along with the beautiful sights of nature and of course, "rains". 
When the rays of the sun are blocked by the clouds, the blue sky becomes grey, cool breeze sweeps your hair away, fresh smell of wet mud makes you sway, and the rain drops on your face makes you cheer, we know the rains are here!
I am sounding bit poetic here, but you know what – blame it on the rains. The rain Gods wanted us to take the "luft" of this amazing "mausam" and it was worth it.
 We stayed in the house of a local who served us delicious Maharashtrian Food (Bajra bhakri, tthecchha, thalipeeth, aloo sabzi, pickle, papad, dal and matki ki sabzi with chopped onions).
This family staying at the foothills of Naneghat have not received electricity from past 3 years; solar powered torches are their source of light at night.
 Not going much in to the details of trip and keeping it short, I would say, this was not just another bike ride. It was a memorable experience that can be cherished for life long. Meeting people from different walks of life, bonding over jokes, travel stories and their passion that strives them to move on. I had come on this trip with 3 friends but came back with 20 more.
 I learnt something from this bike ride: stony roads lead to beautiful landscapes.
HIGHLIGHTS OF THE TRIP
Travelling almost alone in the train at 5:15am; lying on the seat of the train trying to catch some sleep. Accompanied by a police constable in the ladies compartment for the security
Reaching the meeting point at Teen Hath Naka – Thane
Gearing up for the ride  - jackets, knee guards,helmet – All Check
Breakfast at Murbad
ACCIDENT AT MALSHEJ GHAT
Chatting and Photoshoot with Riders
Met Ardeshir Baxter - CHIEF PHOTOGRAPHER - AUTOCAR MAGAZINE
Lunch at MTDC Malshej Ghat
Bumpy – Ass tiring Ride to Naneghat
Campfire
SLEEP SLEEP SNORE SNORE SNORE SLEEP
RIDE BACK HOME
How to reach Naneghat:
From Mumbai via Easter Express Highway  - Kalyan – Murbad – Saralgaon – Naneghat
How to reach Malshej Ghat:
From Mumbai: Thane (keep going up to Nasik Bypass NH3)- Bhiwandi Bypass Toll – Kalyan Phate – Murbad – Saralgaon – Alephata – Malshej Ghat