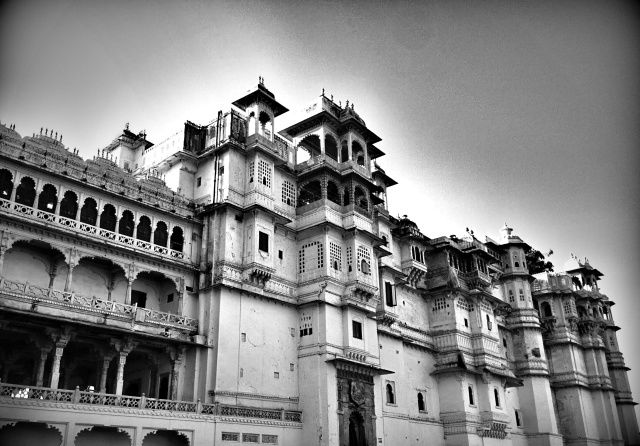 A lot has been said about the royalty and the beauty of this princely state, but one has to experience it to believe it. Udaipur is known for its exquisite architecture and lavishness that will spoil you for good. It's rightly called the city of lakes and palaces.
My visit to this magnificent city was in the month of December, which is one of the best times to explore this city. There are plenty of budget hotels offering lake views at Pichola Lake. Having said that, this place has been highly commercialized and crowded. I personally prefer places which are peaceful and away from the crowd . Hence, to enjoy the serene nature and beauty of this place, I opted for a stay at Fateh sagar lake for two nights at Rampratap Palace, which has a magnificent view of Fatehsagar Lake. The hotel is well-appointed and spacious. The decor and rooms are tastefully done to suit the Udaipur's Classic charm. They have an adjoining restaurant with the same name and it has one of the best ambience in town. It gives you the cabana's feeling of a restaurant with splendid lake views
There is a beautiful garden in the vicinity named Saheli Garden located right in the middle of the Fatehsagar Lake and its reachable by a boat ride, available for every thirty minutes.The garden was pretty well maintained with beautiful fountains and greenery.
The next day, I headed to Lake Pichola to experience the iconic City Palace. For all the photographers there, you might to have pay a price for capturing the beauty of this palace, since there is separate camera ticket. There is a ticket of Rs.250 if you want to capture the interiors of this beautiful palace (personally I think its worth it, considering the spectacular interiors). The palace is huge and divine with its history (an audio tour guide is advisable to understand the history of the royals and their palaces). The City Palace is home to the Royal family of Rajasthan "The Merwars". and they still hold a residency in this breathtakinginly gigantic palace.
There are various sections in City Palace, and each one worth exploring. A part of this Palace as now been converted into hotel, which is known as Fatehprakash Palace. The Palace is open for visitors and it has a crystal palace museum too. Again there is seperate ticket to explore the other structures of City Palace, which are not a part of the main palace building. The Palace has a beautiful ambience and heavenly feeling to it. A few photos here to see what this palace is all about
We spent almost a entire day exploring the City Palace. And by evening we were a bit tired and we decided to relax at one of famous havelis, called Bagor ki Haveli, and witness the culture and dance of Rajasthan. This place is just located few blocks away from main Pichola lake area and you can reach here by either a local rickshaw or by foot (if you love walking). There is show every day @ 7pm and its worth every penny you pay (and its not an expensive side either). The show starts with a man narrating a play, then a puppet show, a beautiful Rajasthani folk dance and in the end, we had woman balancing 20 matkas on her head and believe it or not, she danced with it.
After a beautiful cultural programme, we headed to a beautiful open terrace restaurant, which gave the most spectacular views of Udaipur.Going to rooftop restaurant should be in your checklist while travelling to Udaipur, for its views and ambience. Mornings or Evening, the city has an amazing aura to it.
There is something calm and serene about this place, it puts your soul in peace and happiness. I can still imagine myself sitting near the lakes, soaking in the city's ambience and witnessing the sun go down. Nothing has ever made me feel more content & happy. Travelling itself makes me feel alive, it awakens the child in me, the adventurous and happy soul, who wants to explore and surrender to natures beauty. It gives to strength to come back and live the fast pace life in Mumbai.