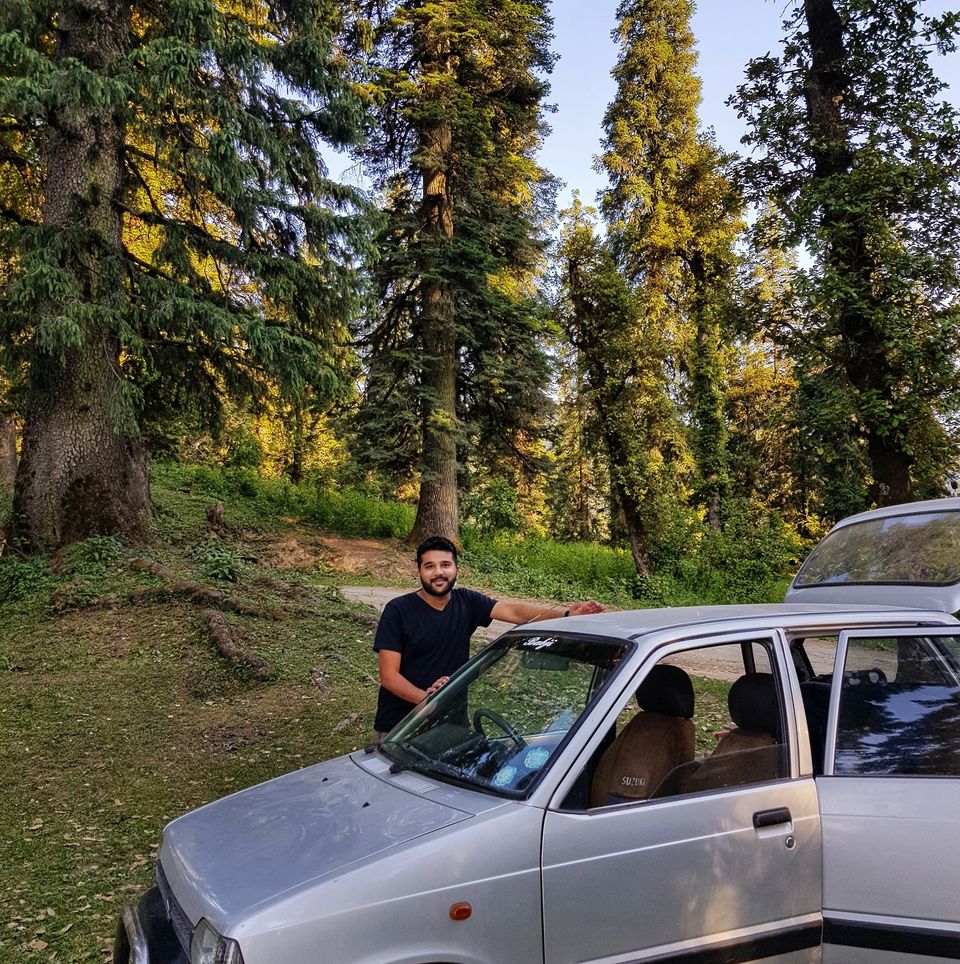 Very warm Welcome and Thanks for stopping by my blog and yeah i'm a traveler not a writer please ignore grammar and Spelling mistakes :P
From Long back I was planning for a trip to Spiti valley in himachal Pradesh but many time it got cancelled because I want to go spiti on bike or car. Than finally me and my wife decide to go spiti valley by our own car But I was not sure what to tell our parent that we are going to spiti valley in maruti 800 which was around 1500km from our place… so we just told that we are going to Jaipur…Than kuch plan hoga toh hum delhi tak jayge:P.. We started making itinerary as per plan we reach narkanda but after that road condition was not good it's becoming difficult to drive coz it was maruti 800 without power break and power steering so we decide to break our journey ;( return back to Shimla.

Here is Full Itineraries
Udaipur-Jaipur-Shimla-Narkanda-Delhi –Udaipur
Car: Maruti 800 (Pure Petrol)
Total Kilo meter: Around 2500 km
Fuel Expense (Including Toll tax): 1600 thousand
Total Expense: 30000rs Approx. For 2 people
Useful Tips before u Drive through this route
1) Know Your Vehicle Well: Checkup ur vehicle like engine oil, break pad and tire condition keep spare tire and Break Oil for Backup. 2) Keep all necessary papers with u like Driving license, Car paper, Car Insurance paper and PUC because u will cross many check post and Borders. 3) Do Not Drink & Drive

Day 1 Udaipur -Jaipur
Finally all set we pack our bag and left Udaipur around 5 Am we decide to drive till delhi on 1st day but outside temperature became very hot and I was very tired didn't get good sleep last night because of excitement & late night shopping so we decide to take hold in Jaipur same time I booked the hotel around 12 Pm we reached our hotel SHIV Villas which we booked in 800rs. We took rest for same hours an around 6PM we went outside to explore jaipur we rent activa which cost you 300rs for half day we went birla mandir and MGF metropolitan mall we enjoy good time over there around 9PM we came back to our hotel because early morning we want to leave jaipur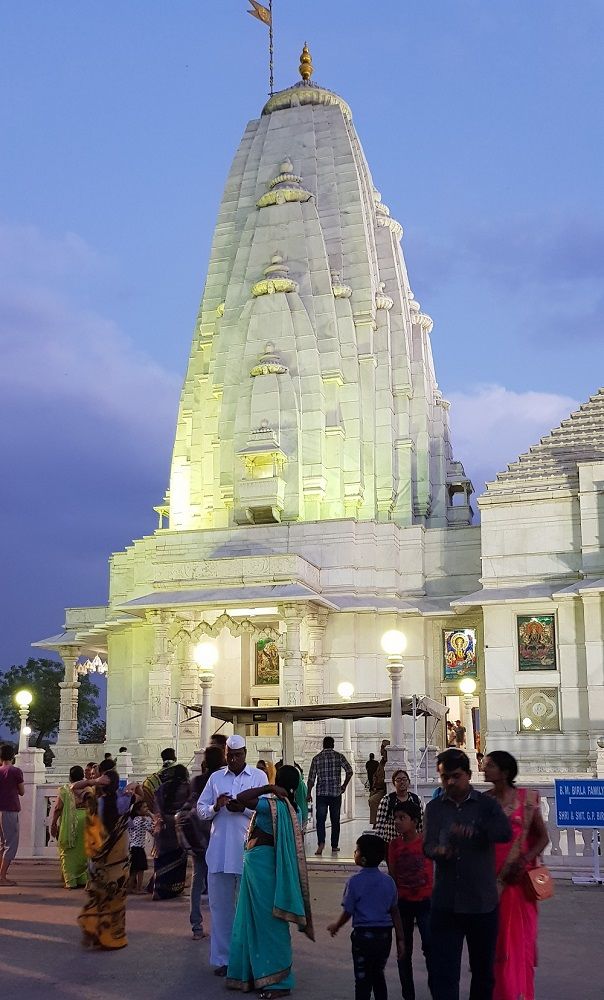 Day 2 Jaipur-Shimla
We left jaipur around 5AM its best time to avoid city traffic we took NH48 jaipur delhi higway first we decide to take hold in delhi and stay there for 1 day but later we realize the time we reach delhi there is huge traffic between gurugram and delhi we decide to drive till Shimla its was worst day of entire trip once we crossed haryana border the temp reach around 49 degree and there is no AC in the car :P we took many hold to get rid from heat there is lots of hotel and dhaba on National highway so around 1 PM we reached panipat Haryana and had lunch and took rest for 2 hours than started driving again because we need to reach Shimla before sun get down around 5 PM we reach chandigarh that was amazing feeling This is one of the most beautiful and cleanest city of India The broad roads adjoining the service roads keeps the traffic flow well in control. It was almost 5Pm we didn't make any stop in chandigarh and keep driving after chandigarh there is change in climate we start feeling cold because ghat section started there is lots of construction going on huge traffic between chandigarh and Shimla we crossed solan its was almost 7:30 we start finding guest house or home stay you will find cheap hotel or guest house as compare main shimla city we find 1 homestay after solan before 30Km from shimla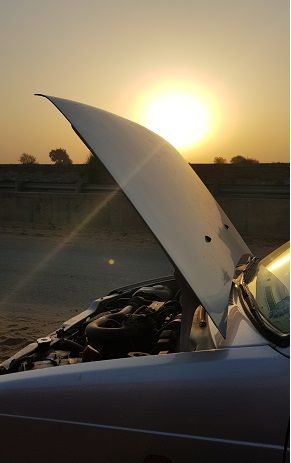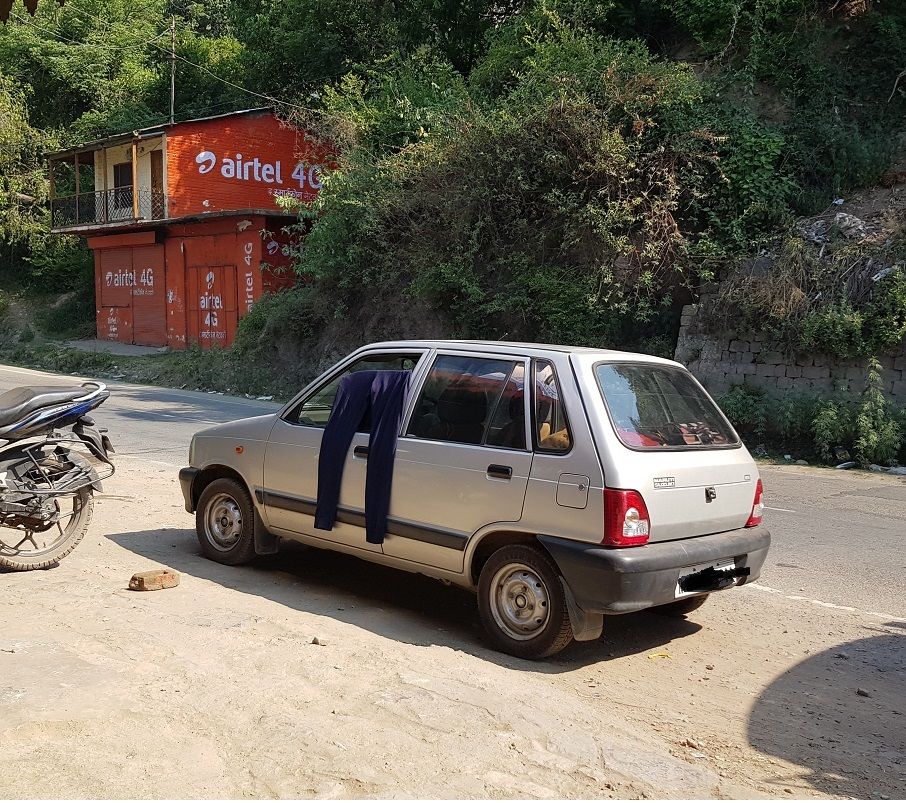 Day 3 Shimla - Narkanda- Hatu peak
After having long sleep we woke up around 9am and decide to leave for over next destination decide to go Hatu peak narkanda I checked the car oil and water level than open the google map and start search for the route but there is huge traffic till Shimla its took 3 hours for 30KM because of pick season city is full of tourist (I recommended to start early morning if you want to go beyond Shimla) 1 Pm we crossed Shimla we stop for lunch and I plan to take my car to mechanic for normal checkup he suggest to change the engine oil I changed the oil and filter now car became perfect we start driving we want to reach before dark. shimla to narkanda is 60KM via NH5 but it will take almost 3 hours to reach because road is complete of turn and mountains but trust me it was the one of the best route if you are nature love. Every 5KM you will find cherry plantation and Bee harvesting many people selling cherry apricot in cheap price. Road condition was good till narkanda around 4pm we reached narkanda after narkanda there is left turn which take you to hatu peak before 6km to hatu peak there is one taxi point they also take you to hatu peak in their pickup van they will charge around 3000 – 4000 because road condition these roads are dangerous and tough due to their extreme locations in the mountains and remote terrains or forests. Road too has twisty turns and high slopes there is to lots of curvy mountains with sharp turn. (I recommended to hire a taxi if you are not a good driver) so I asked taxi driver bhaiya yeh gaadi chali jaygi upar tak he replied bhaiya chali toh jaygi par sab apki driving par depend karta hai. Then I asked my wife what to do she replied aap dekh lo apke hisab se we decide to go with our own car firstly road condition was good than suddenly road got disappear completely now it's became Mud road it was very difficult for me to drive whole time I'm watching temp meter of car coz Im driving car on 1st gear only keep in mind there is no U turn But Trust me feeling of being in heaven, when you ride through the passes, makes this ride a truly once a lifetime experience and finally we reached Hatu peak again there in big problem because of high attitude we can't breathe properly so quickly we visit the Hatu temple and click same picture decide to go back down. It was the turning point of entire trip because of car and road condition we cancelled our plan to spiti valley we dint want to take any risk and decide to return back to Shimla

Hatu peak
Hatu peak is the second highest peak in Shimla district of Himachal Pradesh, India. It is located at an elevation of 3400 m (11,152 ft) above sea level. The peak is surrounded by dense forest of conifers, oaks and maples. The roads are in good condition until Narkanda which is nearly 8 km from the peak. From here you can either trek for 8 km or go by bike or car. From there the peak can be accessed by bike or car but the road is difficult to use and only ONE car can climb at a time.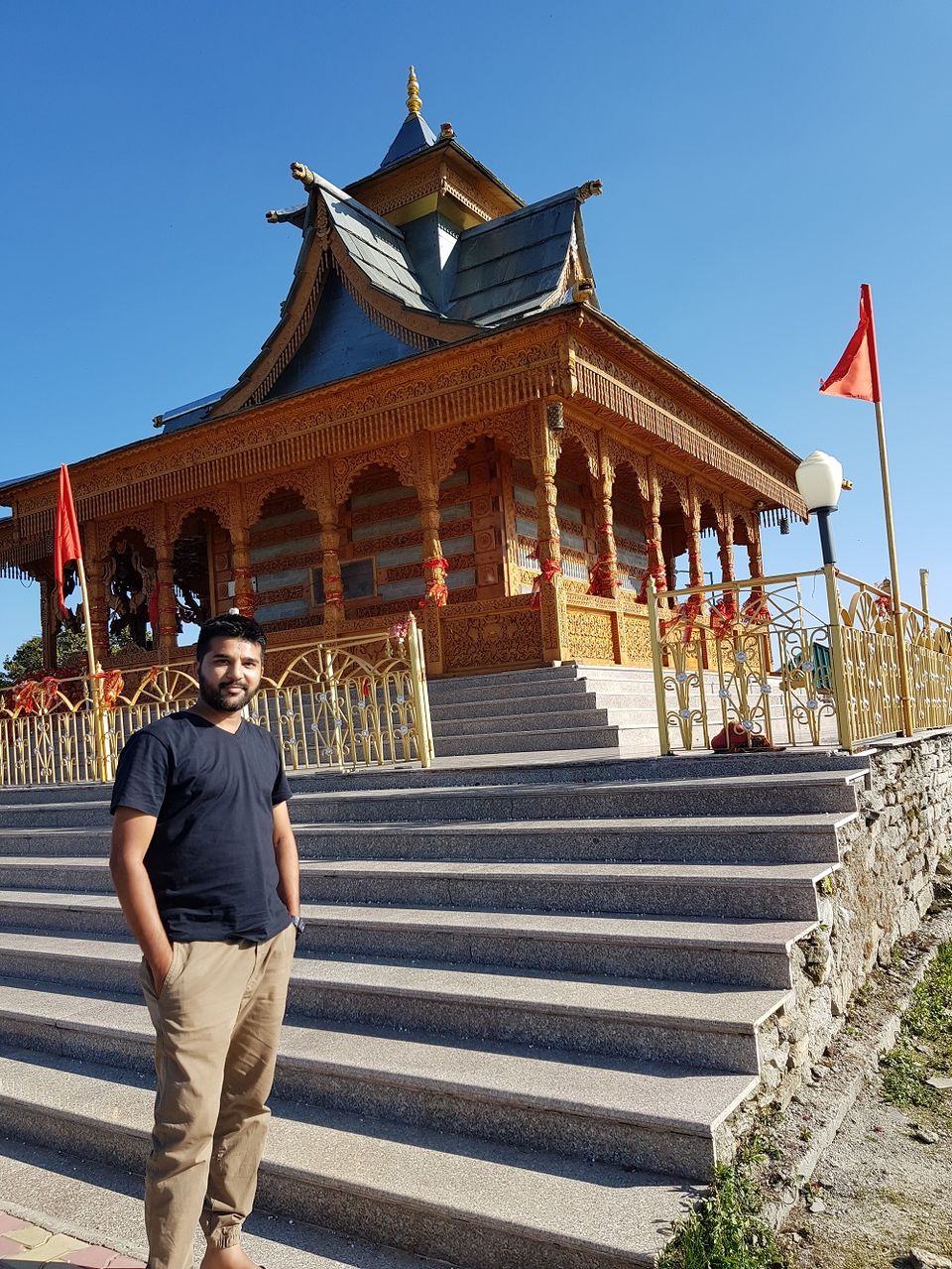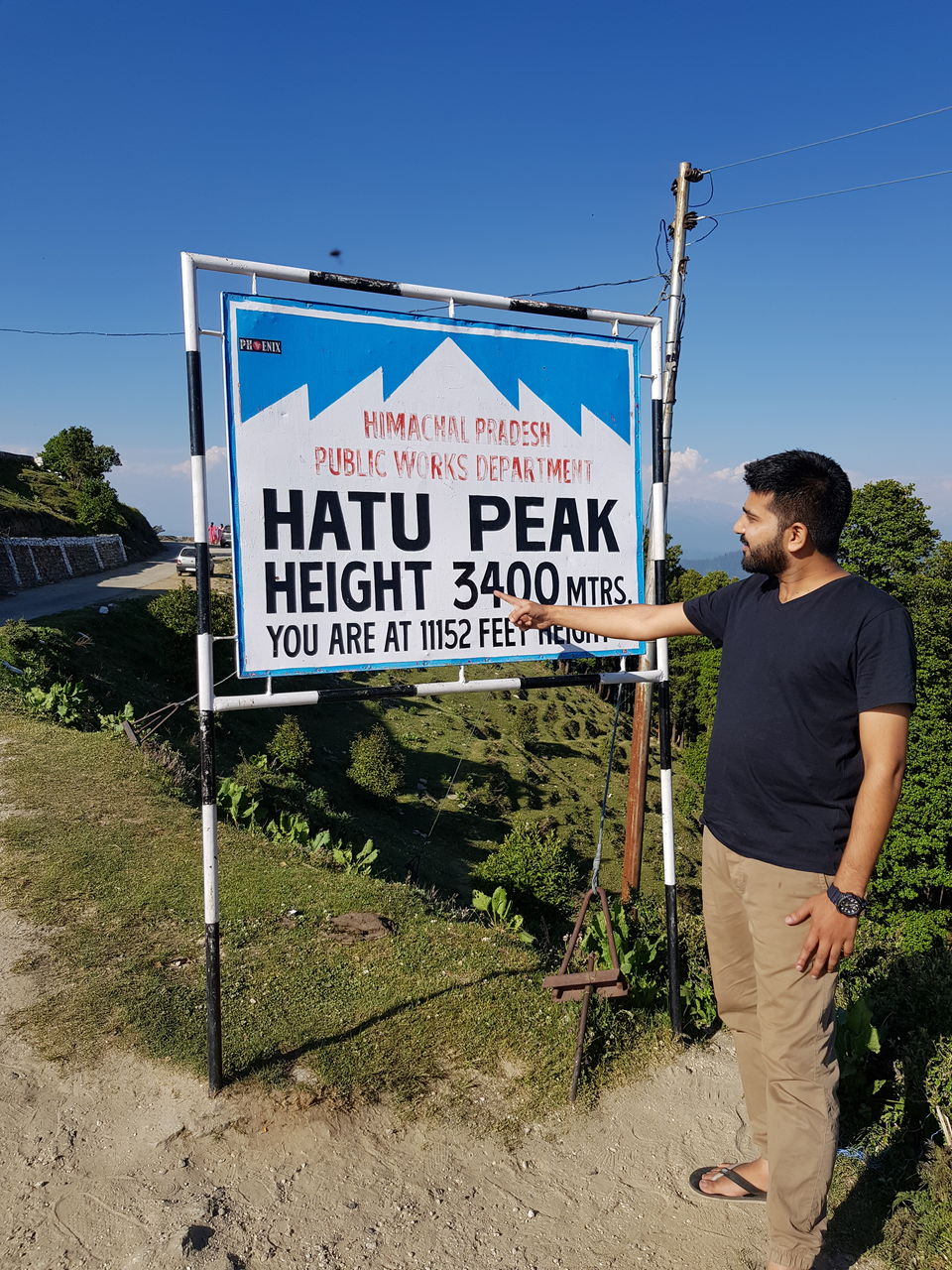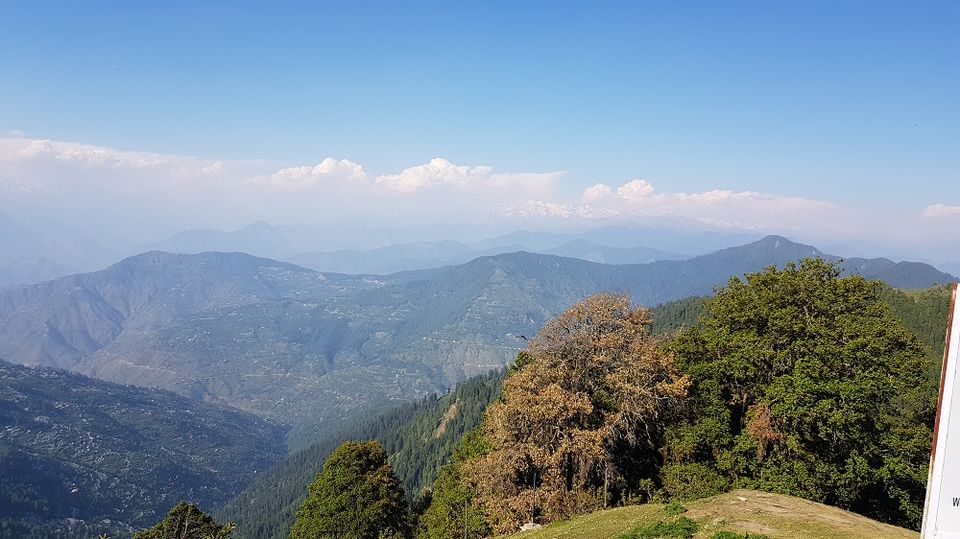 Day 4 Shimla-Delhi
Shimla is the capital of Himachal Pradesh Its one of India's most popular hill resorts, buzzing with a happy flow of Indian vacationers. We wake up around 9 Pm and decide to go Mall road only. Coz already we seen mostly place in Shimla before 2-3 years like kufri, mall road and jakhu temple. If u caming for the 1st time you must go kufri I was very beautiful place. Kufri is a small hill station in Shimla district 1 hour drive from shimla and the highest point in the surrounding region a peace full place in lashes of trees covered the hills .Horse ride is a must while visiting and you can also go cart on highest go carting circuit available in Kufri Park. And you can also take your picture while seating on top of a yak.

we went to mall road had breakfast and click same picture return back to hotel and around 12pm we left for delhi after crossing solan climate start getting hot uff!! Wapas wahi dhoop aur garmi but there is no option Shimla to delhi was very busy highway running traffic till delhi we took 2-3 stop and booked hotel near paharganj its was near to sadar bazaar which was very good place for shopping we reached hotel around 7pm. it was the best hotel in our whole trip hotel will cost you 1200rs for 1 night all thing was perfect location, car parking area.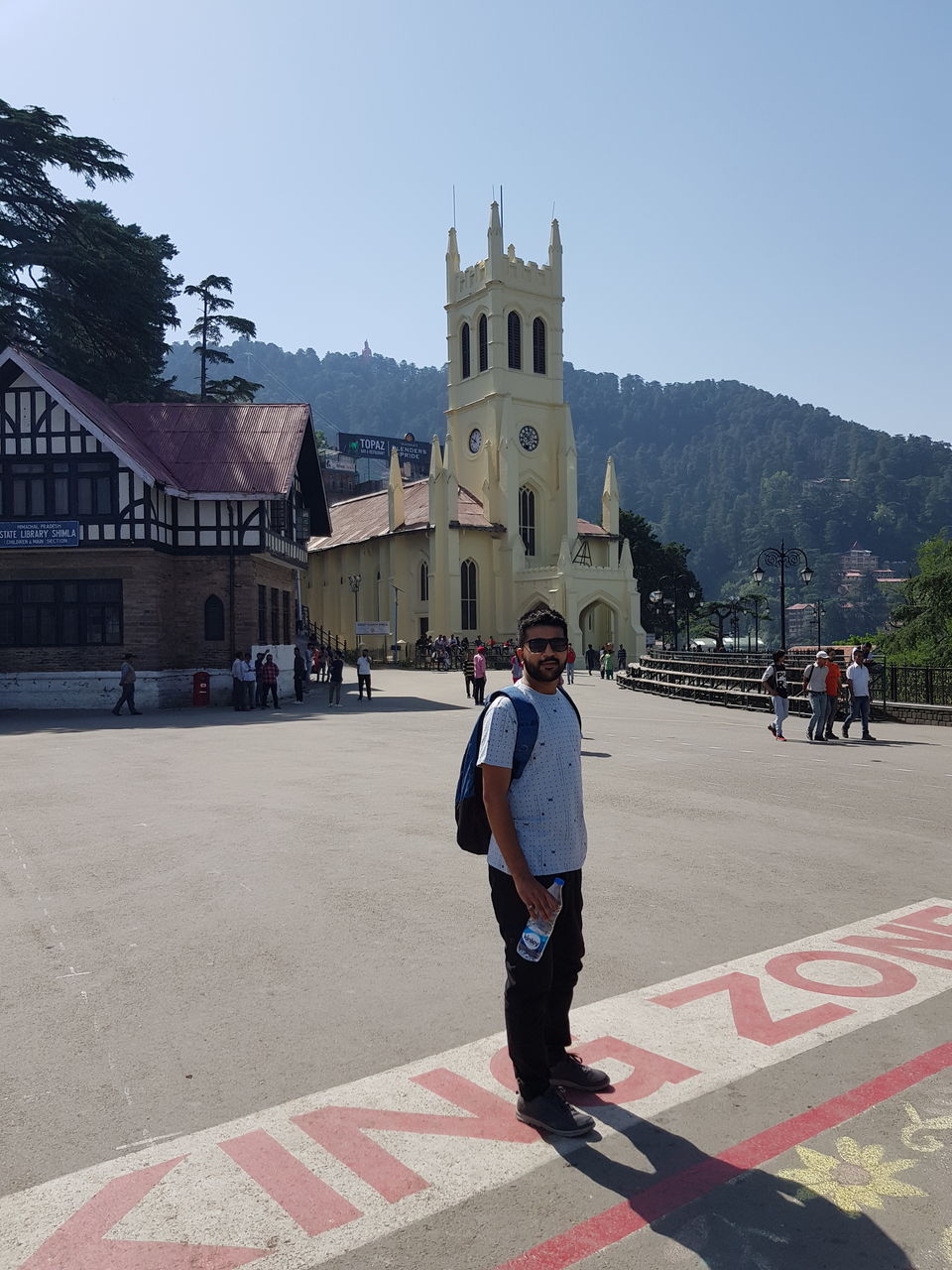 Day 5 Delhi
After having long sleep we woke up around 9am and decide to go for shopping at sadar bazaar. But Waiter told as all shop opens at 10 so we decide to go for breakfast we saw shop which was very crowded selling sabji puri we had sabji puri which was very delicious it will cost you 40rs it's enough for 2 this shop is located near sadar bazaar from hotel to sadar bazaar sharing auto will take 10rs each it will take 10min to reach there. Trust me sadar bazaar is one of the cheapest market in whole delhi you can find anything in cheap price but it also depend upon your bargaining power my wife is shopaholic she got mad when she saw market . You can find many thing in sadar bazaar like full cosmetic, makeup, purse wallet, Gift, cutlery items and more things in wholesale rate (Be aware from fake agents they offer visiting card an forced you to came there shop. market is fully crowded take care for your belongings mobile wallet etc.) Finally around 1pm my wife completed shopping we plan to go karol bagh for further shopping but that time I don't know there is same problem going on with shop owner all shop was closed. So we explore nearby places we found 1 famous anty who selling pasta and momos near karol bagh metro station it was very good in taste after that we back to your hotel start packing it's time to leave and reach Udaipur as soon we can. It's almost 4pm we left the hotel open google map and find best route to avoid traffic there is not much traffic that time we easy crossed gurugam after crossing the haryana border suddenly climate got changed high wind we saw huge sandstorm is coming to our way within 10 min is cover full highway I remember it was 6:30pm but outside its completely dark and i m not able to see anything all we slow down our car and took hold on petrol pump after 30 min its start raining heavily I continue our drive but it's continues raining my wife told me take a hold for night anywhere on highway so we start searching for good hotel around 9:30pm we find 1 hotel 40km away from jaipur and decide to stay there it cost as 1300rs for 1 night we had dinner and take good sleep. We wake up around 8am in morning raining slowly we continue our journey to Udaipur now climate became very awesome it's raining everywhere. Finally around 2:30pm we reached to home city Udaipur after unforgettable 5 days trip...