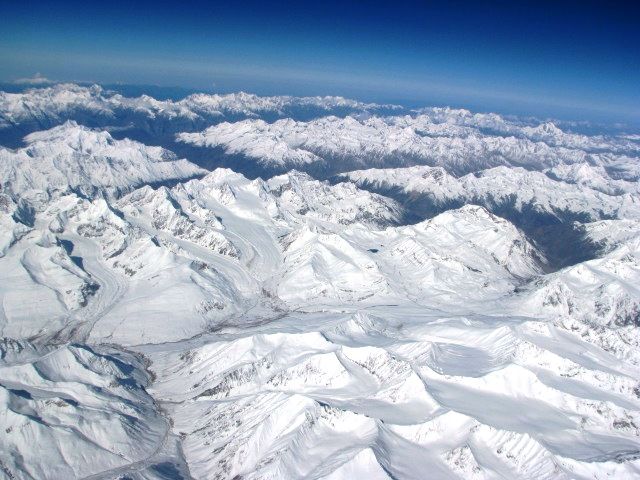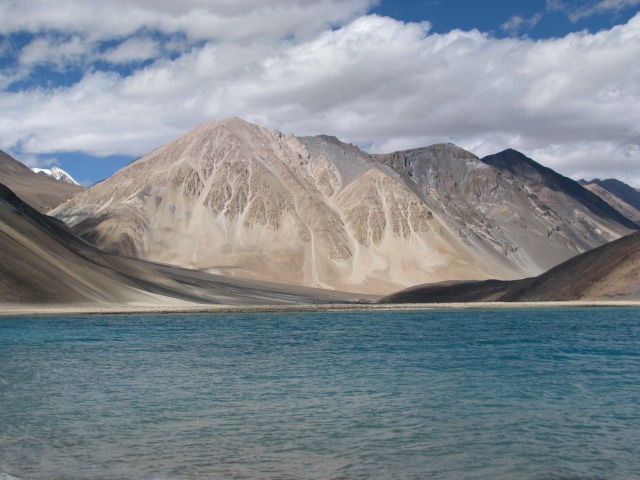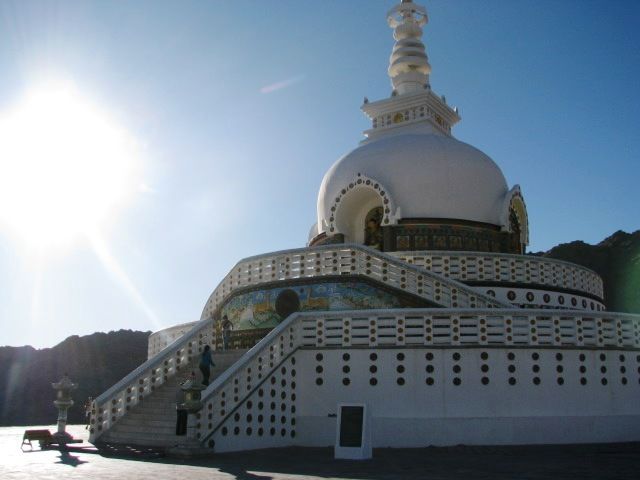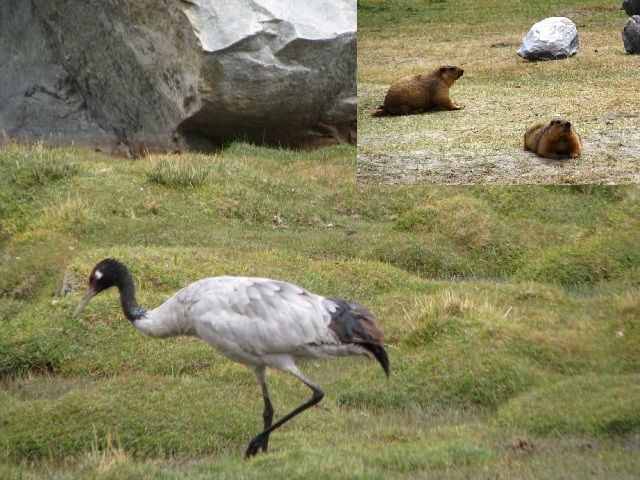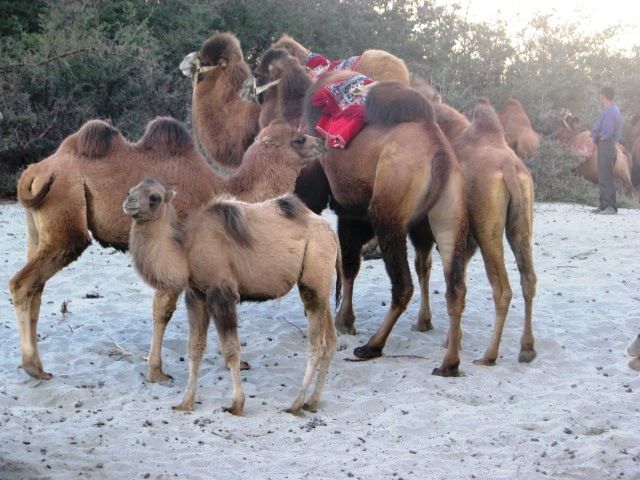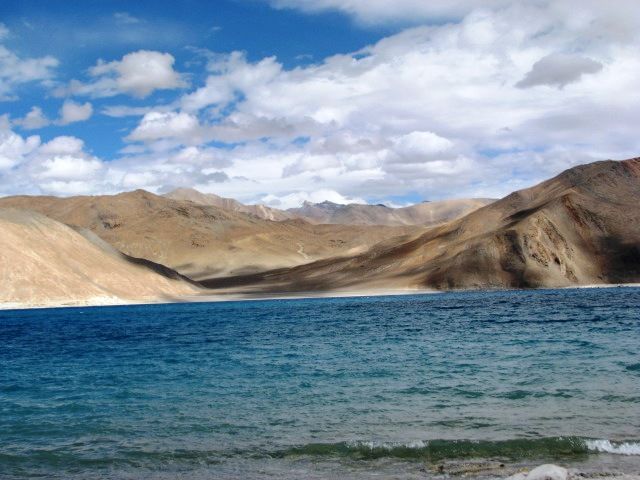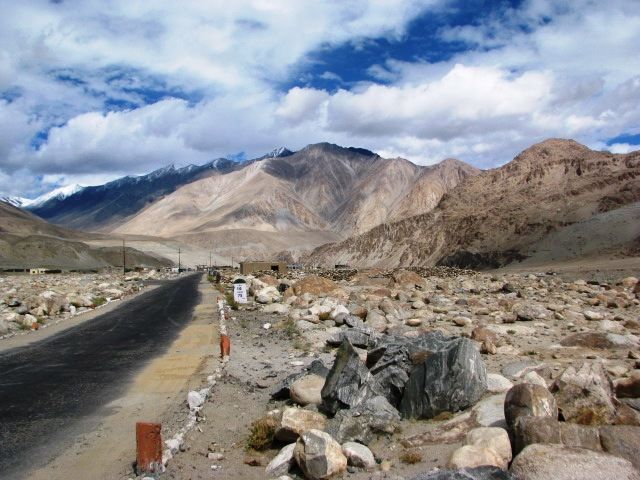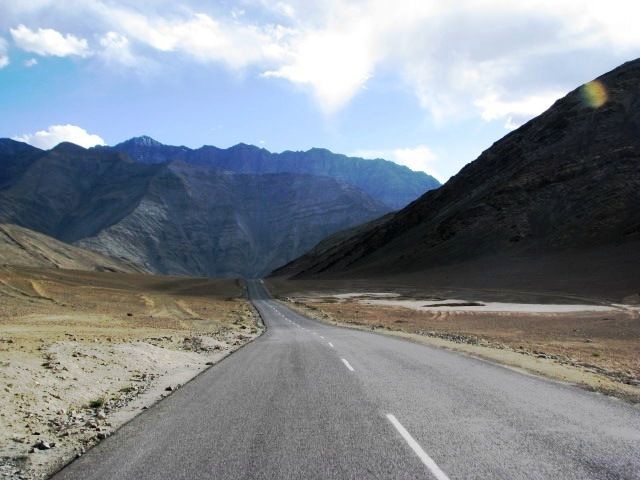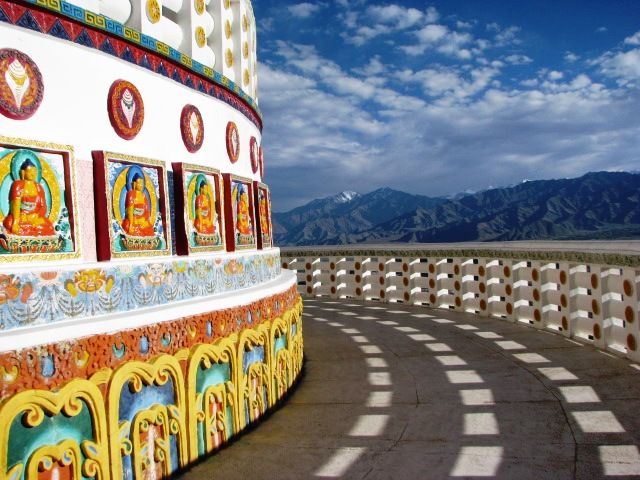 This blog is not only a travel guide for Ladakh but a sincere effort to write about an untouched beauty with a silent and blissful ambience. The trip actually proves there's no need to die for getting into  paradise :), and it is a promise of revealing beauty of clear blue sky, white sand dune desert, traditional monasteries, and angelic barren mountains that seems silent but says a lot about its heritage and the hardship that Indian army faces at border.
We planned this trip in April 2009 and finally flew in September with two more friends. Happy to have an escape from humid summer, I took a quick nap in flight and opened up eyes with a charismatic view of snow peaked Himalayas surrounding our flight. After one and a half hour flight, we finally landed up in Leh (11500 feet above sea level) around 8:30 am. We started shivering with sub zero-wind piercing through our body and immediately put on some woolen clothes. We already had booking, so we were picked up by hotel staff and served with a decent breakfast. We were advised to have a rest and acclimatize ourselves to Leh altitude but we didn't want to waste a single day and decided to see Leh city after some rest.
Day 1@Leh:
We started with Shanti Stupa. As name suggest, it is a magnificent tombed like structure, painted with bright colors and having a huge idol of Lord Buddha. This amazing Stupa is situated on a hill top @changspa,which offers you a spectacular view of Leh city surrounded with mountains.With a peaceful ambience around it, you will find lots of people sketching this masterpiece on their canvas . After spending 2-3 hrs, we visited Leh palace, which is a kind of seven story building with broken ramparts. Please don't compare it with Rajasthan Palaces, but you can still give it a try because of its traditional and cultural values. Then we had some fun in mountaineering but could reach few feet only. Now we were tired and can feel altitude sickness late in the evening. We quickly had our dinner and slept.
Day 2@Way to Nubra valley:
Quick Intro: Nubra valley(10,000 ft. above the sea level) separates the Ladakh from Karakoram Range. It is around 120 km north of Leh. I guess, the only way to access this valley is to travel over the Khardung-La(Highest motorable road) from Leh. Fair chances of getting altitude sickness, so as per advice: carry some woolen clothes to protect your body, enough water, calorie rich food and medicines as suggested. If you are going to Nubra, then It would be advisable to stop at Khardung-la on way back to leh, so that you can acclimatize properly. The entire region of silent valley is invaded by two rivers (Shyok and Nubra). After passing Khardung-la, Road keep moving on left bank of Shyok river. This river is not having much water and entirely visible from road. Nubra river originates at Siachen glacier and meet Shyok at place called Khalsar.  Anyone can plan this very beautiful itinerary ( Leh-Diskit-Hunder-Panamic-Leh) with overnight stay at Diskit or Panamik. Diskit is the main town and Hunder village is last accessible point of Nubra valley as it is very closed to LOC. The main attractions are unrealistic beauty of nature, white sand dunes, famous Monasteries and double hump Camels which were brought by the 17th century Mongol invader. This valley usually organizes the Leh festival too.
Our Experience:
Yes, We started around 6 am in the morning. As soon as we came into outskirt of Leh, we quickly moved into high mountains and started sensing actual Ladkah region with barren/nude but beautiful mountains, fascinating landscapes, lovely people, small villages, and the more adorable culture. The feelings and the beauty on the way cannot be justified in words as well as cannot be captured in camera, but we tried our best to come out with some good shots. The road is paved till South Pulu, a military check post, where the permits were checked and the details entered. Non-locals require permit to enter Nubra, which only allows travel as far as Hunder and Panamik for a maximum of seven days. The journey will take 8 hour if you are lucky and do not have long army convey on your way. We reached highest motorable road and made our first mistake -forgetting about height 18380 feet, we came out of cab and started posing very excitedly and this little exertion started giving us bit headache and nausea. But thanks to Indian Army, who is having all arrangements of doctors and oxygen supply on this altitude. Our first foodie point was Panamic (North Pullu) where you can feel the taste of vegetable Maggi. Then after crossing many passes/ landscapes, we reached a very beautiful valley just after Diskit. Oh so experience was completely different : kilometers of white sand dunes surrounded by snow capped peaks, and covered with a clear blue sky. I felt the Nubra Valley is one of the hidden treasures of this planet, located in very isolated heart of the great Himalayas. We were not in sense and smelling every essence of this Shangri-La. We enjoyed the evening with long walk or playing with sand dunes, had rides on double hump camel, got some photo shoots and spent some time sitting along river. Then our driver asked us to check in our guest house in Diskit Village. The places like Ladakh don't give you much option for resorts, so better to find one with more close to nature. We stayed that night in "Olthang guest house". Wooden Rooms located on 1st floor, so that we can have a nice view of valley. That evening, we were served with variety of food, having traditional soups and dishes too. After having bit chat with a group coming directly from Bombay, we called it a day.
Day 3:
On very next day, we woke up with a very pleasant morning and simply found ourselves like a sleeping in a desert encircled with snowed mountains. I can easily point out few monasteries, visible from glass window. After having breakfast, we set to explore Nubra's life, resides in nearby villages. So our driver made us familiar with the routine life . He also made us to visit Diskit and Sumur monastery. Please don't underestimate the height of Diskit monastery, which is not so close as visible from ground, I mean we took 45 minutes and complete toll on our body to reach on the top but the result was awesome : very silent ambiance and some religious touch with most of the part of Nubra valley visible in background. Well Sumur monastery is located in Sumur village and bigger than Diskit. You will find some Dalai Lamma's disciples and feel their student life over there. After that we started our journey back to Leh (yes we missed the hot water spring at panamic). I will not keep on talking about the unimaginable beauty on way back to Leh but yes we loved to be stopped at various places such as a long isolated stretch connecting mountains, where we enjoyed dancing with nature. We found snow fall at khardungla this time and reached Leh at dinner time.
Day 4 @Long awaited Pangong Lake: 
Quick intro: Not needed. The Pangong lake(14270 feet above sea level) is around 160 KM northeast of Leh. It is 6 K wide and 144 km in length with more than half of it running on the other side of indo-china border. In winter Pangong lake act as superb venue for gala festival of ice skating. Frozen Pangong provides such a solid surface, so the army's huge  truck can easily ride over it.
Our experience:
Started 8 in the morning and our first stop was Chang-la pass (17350 ft-3rd heighest motorable road) after crossing Thikshey village. Thikshey village is also famous for various monestries and Shey Palace. Now The height is again screening our lung's oxygen capacity. We quickly moved down to some villages on flat ground, where you can easily spot Yaks. Passing through this exquisite view, villages, passes and valleys in such a pleasant environment, it provides complete nirvana for nature lovers. We never missed a chance to digitalize ourselves with these beautiful god gifted landscapes. Don't try too hard; even very expensive camera will not able to capture the actual beauty . We saw couple of rare wild species on the way to pangong : black naked crane and a very beautiful a big rat or rabbit kind animal known as Marmot. If you stop, your vehicle will be environed by these marmots and you can feed them with a close look.
Finally we touched the most awaited: Pangong-a promised land, which no photograph can match with its beauty. Pangong is a lake with blue-green water and recently became famous for  being picturised the popular Bollywood movie, "The Three Idiots".  Though salty, but crystal clear water shines in different shades of color with a clear reflection of snow capped peaks throughout a day. It was a long travel but the cool breeze on this height makes it refreshing for us. The foreign tourist are permitted up to Spangmik village along the southern shore of Pangong, so you can even have a stay in this village to have a continues gaze at such a marvelous piece of this world. It's already evening, after having ample fun & taking our images with so natural beauty, we had lunch with needed chai at only dhaba  and started journey back to Leh. Coming back, we stuck on the way as one of the Army truck toppled and jammed only transit, which makes this travel more adventurous. We had to wait 5 hr more; shivering in the chilly night. My husband and friend went downhill to grab some water from the river, which was almost frozen at  night; we were finished with all food too. But fortunately Army managed to clear the way around 11pm and our driver made it speedy and reached Leh around 2AM.
Day 5@ Leh-Patharsahib Gurudwara-Magnetic hill-Alchi:
As it was our last day and we decided not to make it much engaged. We got a car from our friend, who is native of leh, and approachedAlchi on NH1D highway (Leh to Sri nagar). We visited an army museum ("Hall of fame") in memory of Kargil martyr and Pattharsahib Gurudwara (maintained by army), which is famous with a short story of a demon and Guru Nanakdev. we had a  langar there. Road side view to Alchi is truly picturesque and thrilling .Then we stopped @Magnetic hill, where vehicle (with ignition off) moves upward at particular point on road. Don't miss it, It was really surprising and fun as we tried several times with our car. After long drive with road side striking and artistic view, we turn toward the Indus River and spent some time playing around on its bank. We din't feel like coming back to hotel but shopping desire is only force which could bring women back from any place :) It brings some relief as we purchased some stuff from Leh market to gift at home. We visited our friend's house same evening and felt the friendly culture closely. We can easily sense unique smell of smoky kitchens, goats, chang (local brew) and butter tea form nearby homes.
Next day, we just took off with a warm good-bye and thanks to God for making this unforgettable trip to heaven. 
Approx idea on expense : Hotel varies 1000/ to 2000/ per night; Leh-pangong 4500/cab; Leh-Alchi 2200/cab; Leh-Nubra 4000/cab;
Quick suggestions:
Try to schedule your trip with any Leh festival.
Hotels are not so expensive; No need to book in advance if you are not going with your parents or on honeymoon.
Bit tiring with long travels to distant places; Not recommending for honeymoon
Highly advisable to keep 1 st day for rest with minimum activities especially if you are arriving by air.
Keep your first aid box ready with some recommended medicines
People are very friendly and down to earth in Ladakh, do enjoy with them