After a heavy night of partying last night and passing out in the bus (I have no clue how I boarded the bus) I woke up with the conductor calling "Mandi.. Mandi.. Mandi". I was struggling to open my mind and getting my head straight when the bus came to halt and a fellow passenger was getting down, it was after seeing mountains all around me I realised that I had made it.
I remember the guy at the hostel I was supposed to stay in telling me that I have to get down at Aut tunnel so I went ahead to the conductor and asked him about the same, after frowning his face as if I've done something gravely bad to him he told me to sit back and wait for the call.
I went back to my seat and indulged myself into what I love doing the best, watching out of moving the bus. Since I've been on this route several times before on my way to Manali and Leh I know a lot of places which make me nostalgic. I even had break up once on this road on my way back to Delhi from Leh. The reason was that I was out of network for almost 10 days and couldn't give her enough time. Haha anyways while I was lost in my past the conductor told me that Aut tunnel is approaching.
From what I could see it was sunny outside and I had come from Delhi where it was full-blown summer, I was wearing just a t-shirt. To my surprise as I got down of the temperature-controlled bus I realised that the winter is not yet over here in the mountains.
I had been to Banjar before so I knew I had to wait for a local bus till Banjar and from there I could get one for Jibhi. But as I was waiting for the bus one van stopped by and asked "Kidhar jaana h bhaiji?" (where are you headed) I told him I was waiting for a bus to Jibhi he offered me a ride till Jibhi as he was headed there himself. Maybe the mountain gods were blessing me.
The guy was a local transporting medicine to Jibhi which he got from Mandi, the sweet chap was very kind and gentle and played some local Himachali songs. It was a perfect setup, good Himachali music, good roads, beautiful mountains staring at you from everywhere, the river flowing along with you everywhere. You can't help but relax, all your weariness and tiredness will start wearing off as you venture into this narrow yet beautiful valley of Banjar. As was still early morning the villages in our way had just started their typical day in the mountains. Kids were walking to their schools, sheep herds were clogging our way on their way to grazing, smoke clouds coming out of the kitchens of traditional houses.
I had deliberately planned this trip on weekdays as I was looking for a chilled, no crowd, less traffic and peaceful getaway and this ride till Jibhi was everything in accordance with my plan. I reached Jibhi around noon and walked alongside a beautiful river to reach my stay The Mudhouse hostel which turned out to be exactly what I was looking for. A small peaceful property with nothing much around. Sun was out and basking seems like the best thing to do, I walked around the property. So the property has a stream flowing right in its back yard where you can sit on the rocks on the banks and have your meal while listening to the river singing in its full glory.
I did nothing much but met a few fellow travellers and chilled around in their café the entire day.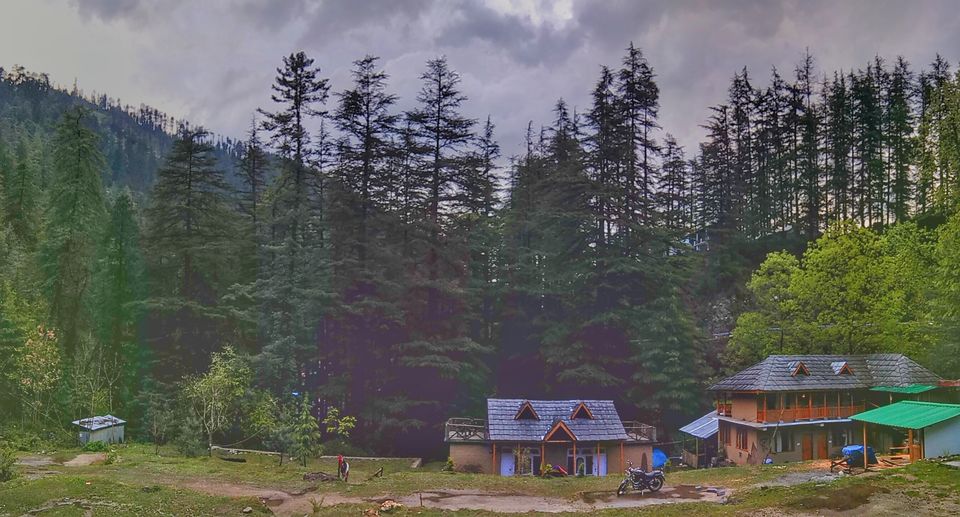 I woke up with a sound of kids laughing and playing right outside my dorm room, I was curious and went straight outside to see 3 kids playing on the swing I sat there with my tea and just enjoyed looking at them play and chill around.
After a lazy start to the day, I was just sitting when one of the fellow travellers asked me if would want to join them on a small excursion. Since I had no plans of my own I readily accepted the kind offer.
I hopped into the Jeep with my new found friends and off we went into the beautiful Valley of Banjar. After driving on the road for a while we took an unplanned turn into what looked like an offroad track, with pure exploration spirit we kept moving ahead and the road started to turn bad with every click on the odometer.
After driving for a while we started to hear the sound of falling water, it made us all excited but since it was nowhere near we kept driving into oblivion.
Some smart person once said bad roads lead you to good places. (I am that smart person)
Right after a hairpin, we saw it. It was like Poseidon was sitting on the top of the mountain and throwing his water bolts. It was so high and fierce that it was almost intimidating. No matter how intimidating and fierce It looked we couldn't help but go near it.
After some slipping and getting drenched we finally made it to the foot of the fall and man!
It's like beautiful aggression, it is so dangerous and loud and violent and at the same time you can see a rainbow in it. After clicking some pictures of our glorious discovery we sat to cherish it. Listening to the music of water and wind.
As we came back and told people about it, they went gaga over it.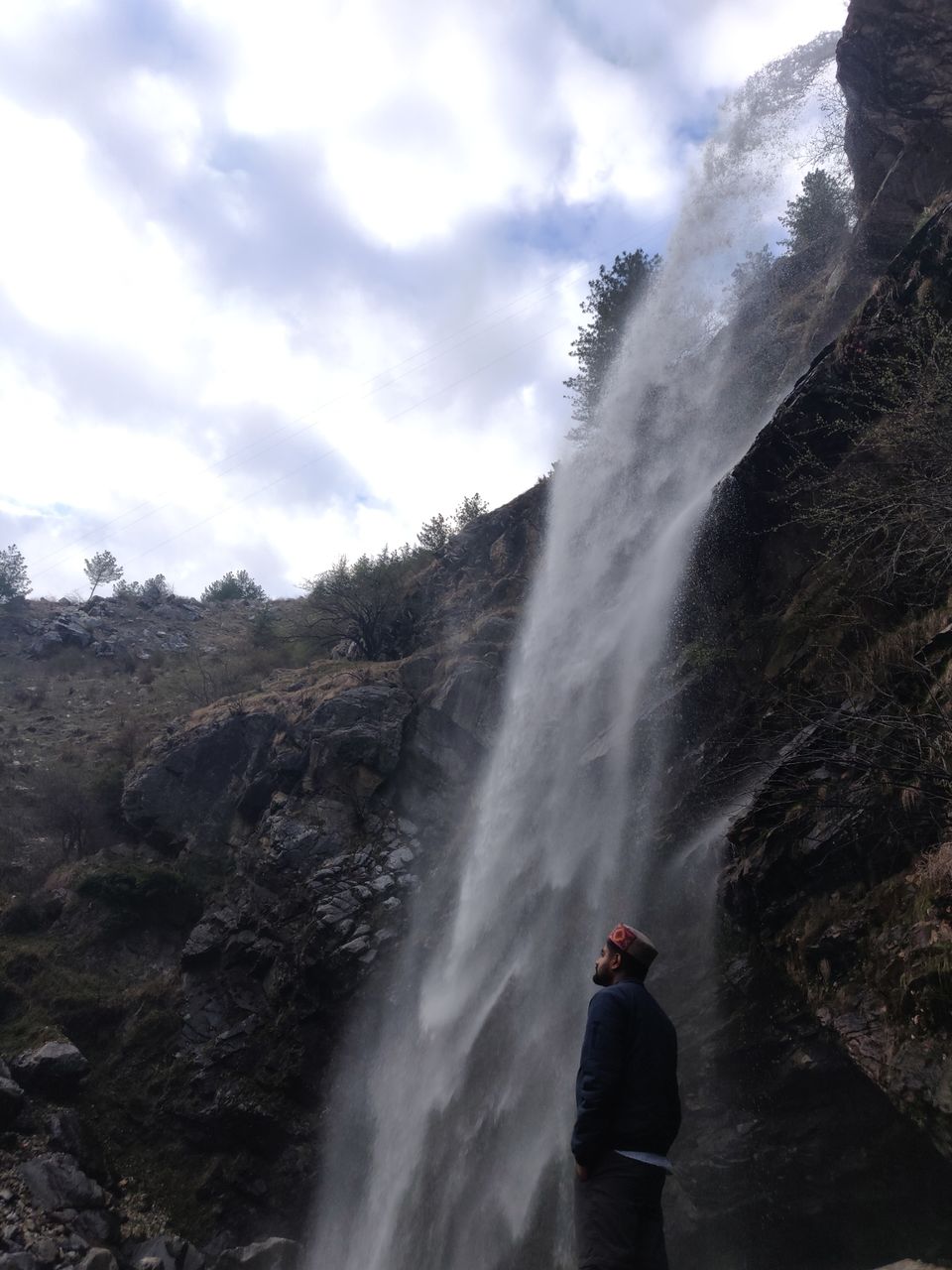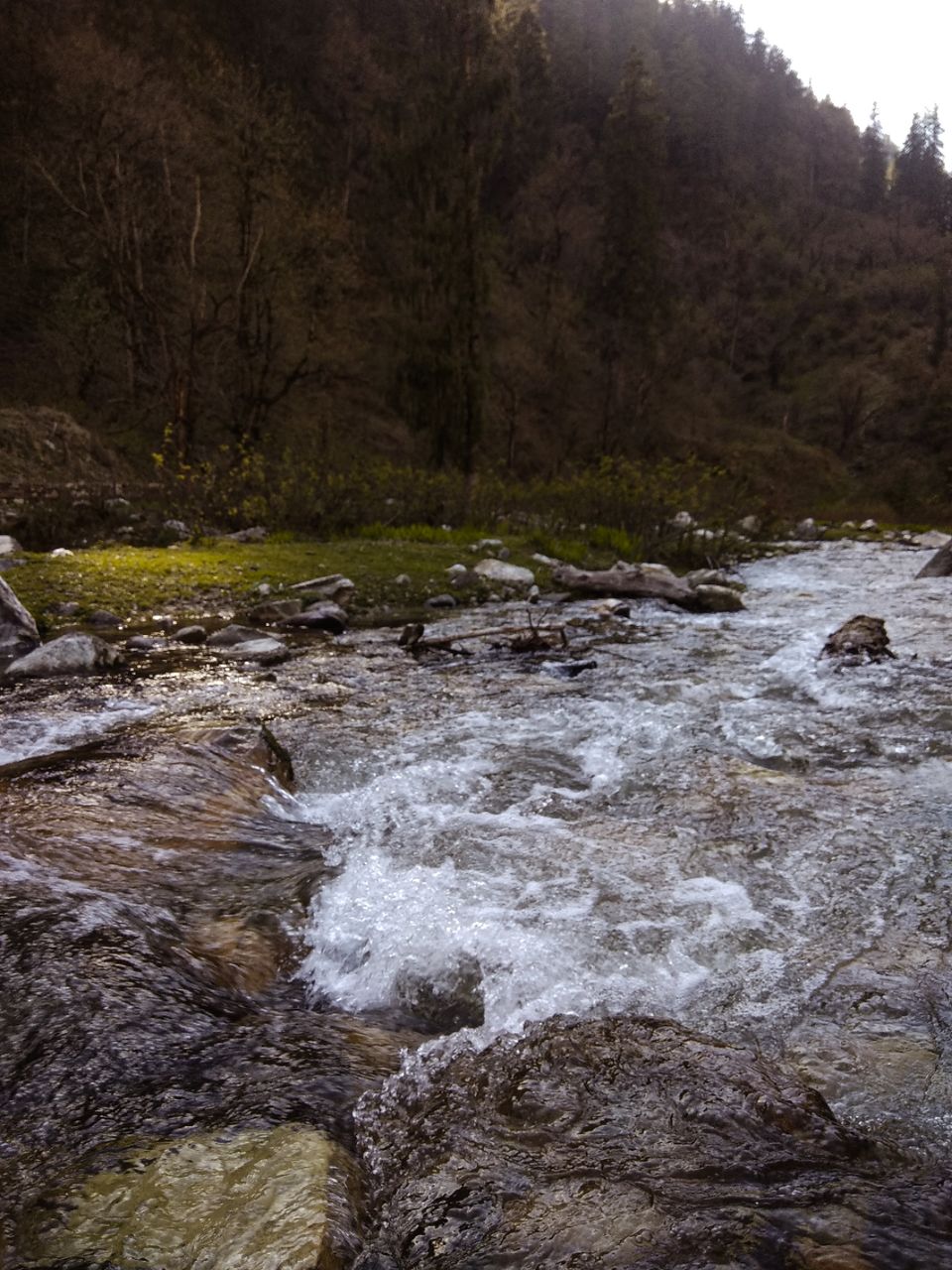 Today was planned, though I was not supposed to stay another day according to my initial plan. But the place is so captivating and offers so much to do and see.
So we had decided to go to this nearby place called Lotla. It was told that it is a small hike from the property and this place would surprise me beyond my imagination and believe me, I was not downcast on reaching this place because it was one of a kind. It is two gigantic rocks in the middle of the river forming a small pool of clear blue water where one could a dip and chill. I went there and sat on a rock with my book and just stayed there until a fellow traveller called me to tell me that they were headed to Jalori pass for the sunset.
I quickly hiked back to the road where they picked me up in a jeep. The way to Jalori from Jibhi is stunning with roads getting narrower and steep we started elevating very quickly.
Right before it was going to get dark we reached the Famous sunset point and walked a little up higher to catch the view of both sides of the mountain. As the sun started to set the sky started to change hues very quickly from bright orange to violet it was done so quickly but was one of the best sunsets I had seen.
The temperature drop was faster than the sun dropping in the horizon and in no time everyone around me was shivering and battling with the wind blowing at a crazy speed.
The way back in the dark was a completely different experience all together, I won't dismiss the fact that it was also scary since we were the only vehicle throughout our way back.
It was a tiring day and after a few drinks and getting along with people I had been spending the time I crashed into my bad and had the most peaceful slumber in a long long time.