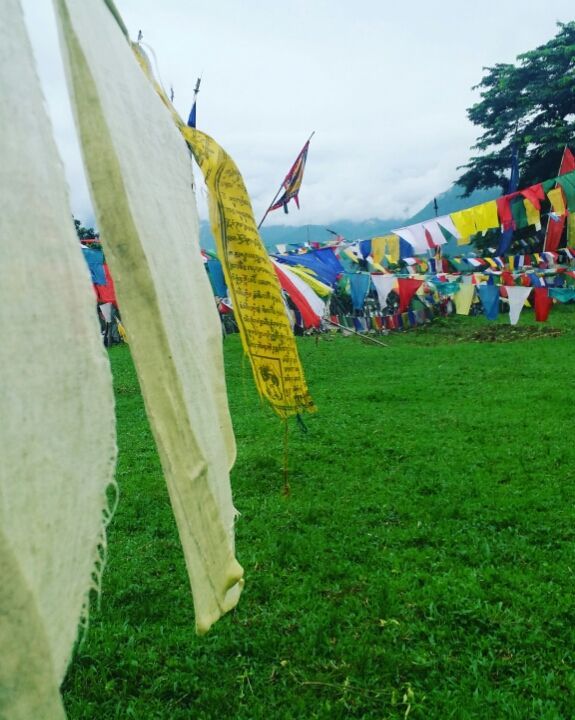 This journey will always be very close to my heart, as I always had it in my bucket list to make it to Bhutan, However never had a Voter Id & Passport.
After a very boring day at the Jungle Safari in Murti, we three friends were highly disappointed as the weather we were falling in love wid turned out to be a flop show and we couldn't catch any glimpse of wild animals in the safari.
Our driver suddenly out of the blue asked he can take us to Phunstoling and then drop us back to NJP as we had our train the next day at nite.
I was suprisrd and excited too and asked all questions of permit..docs blaahhh n blaah.
Our driver cum guide told us that we don't need a permit to a certain point yet we can visit a Monastery..Crocodile Nest and have a look at the lovely market and indulge in Bhutanese cuisine.
Me and my friends were all set for this and didn't wanna miss this chance.
We asked him to come early in the morning so he could take us to Phunstoling.
Early morning before the sun rises .. We three monkeys were ready waiting and it started raining like cats & dogs, there was no hope for the driver to come and his phone was off. But we were stubborn n didn't lose hope.
After Tea, we were doing all checkout formalities and we heard our driver has arrived.
We jumped into the car and set for Phunstoling at once.
The journey from Murti to Phunstoling is picturesque and its 4hours long.
We were all excited as we crossed Hasimara and then entered Jaigaon, which is the Indian border named.
The place was disappointing as it was dirty..clumsy..overcrowded. However what kept us focused was the mountains and the clouds dancing around like white fairy's.
We reached Phunstoling and you get a feeling that its not India cuz its so clean..pollution free and not so crowded. I always loved places like this.
We went up all the way to the Monastery.. The experience was amazing.. Cuz wen we went it was the prayer time. The Monks were playing the instruments and offering prayer. It felt so much of peace.
We then came over to the crocos visit.
We visited the Market. please be aware that market is closed on Tuesday's. We had some lovely momo's with Druk the Local Beer of Bhutan.
We picked some souvenirs for our friends n family and then it started raining and I found this place called Zen Family Restaurant.
The place is a nice decor...calm n good ambience.
We had Rishi at our help. omGee I fell in love with him. (Blink blink)
We wanted to eat the Bhutanese cuisine n hence ordered them. Sorry I forgot the name... Its Torsha and some curry.
The Bhutanese cuisine is to die for and specially the food here.
It was 2.30 and we made a move back to NJP n reached by 5.30.
A trip that is gonna be with me for life.