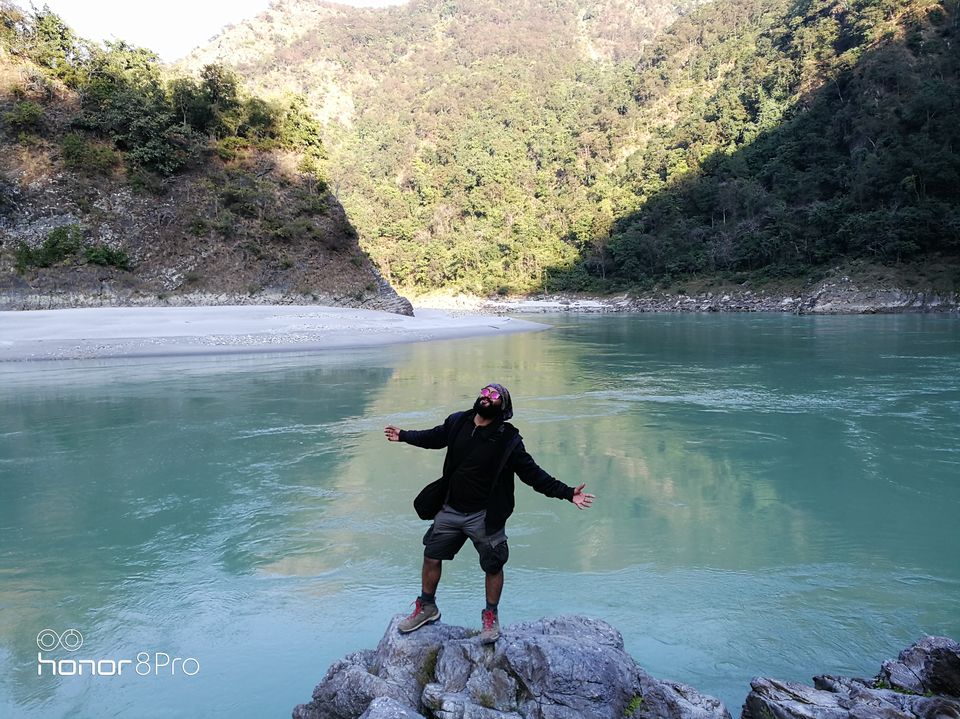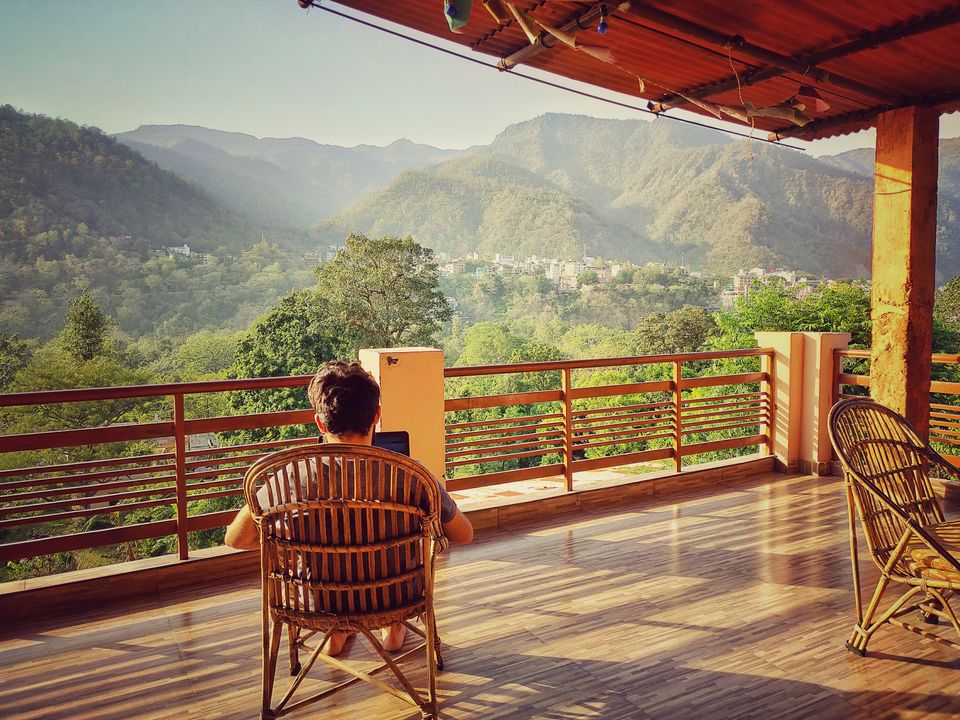 I always wanted to live in Rishikesh as the vibe of this place is somehow overpowering. The year 2021 gave me the chance. As if destiny itself has offered me this moment. I did not have or made any plans to come to Rishikesh at all. But just before the 2nd wave of the pandemic was about to hit India, Himanshu and I arrived in Dehradun for our trekking season. Many of you may not know that we work as trek leaders with this organization called Bikat Adventures. And the pandemic struck before we can even anticipate it. Now it was either back home or a new adventure. Keeping the location and budget in mind. I came up with a thought of Rishikesh. Himanshu was not that much in favor of the idea in the beginning but tagged along eventually.
The next morning we took a bus from ISBT Dehradun to Rishikesh. Himanshu being a resourceful traveler as always knew about this perfect hotel at a place called Swargashram near RAM Jhula. I was up for it, and why not my unplanned plan was coming to life. The wonderful thing about traveling these days is that you get a kitchen at so many hotels, resorts, and hostels, where you can cook your meal. ( Travel Hack: Always try to stay at places where there is a kitchen that could be your personal or a common one because it saves more money than you can think, especially if you are planning to stay for long durations). Coming back to the hotel, we checked in and got a room on the 2nd floor which had an amazing view of the surrounding mountains covered with lush green forest also it was a bit secluded, both of us enjoy solitude sometimes. Anyways the place was almost empty, there were 2 girls from Delhi living on the 1st floor and a German man who was rather old was living on the ground floor. He was here for almost a year and I love this kind of traveler. All in all, we had the entire floor to ourselves. What a wonderful life.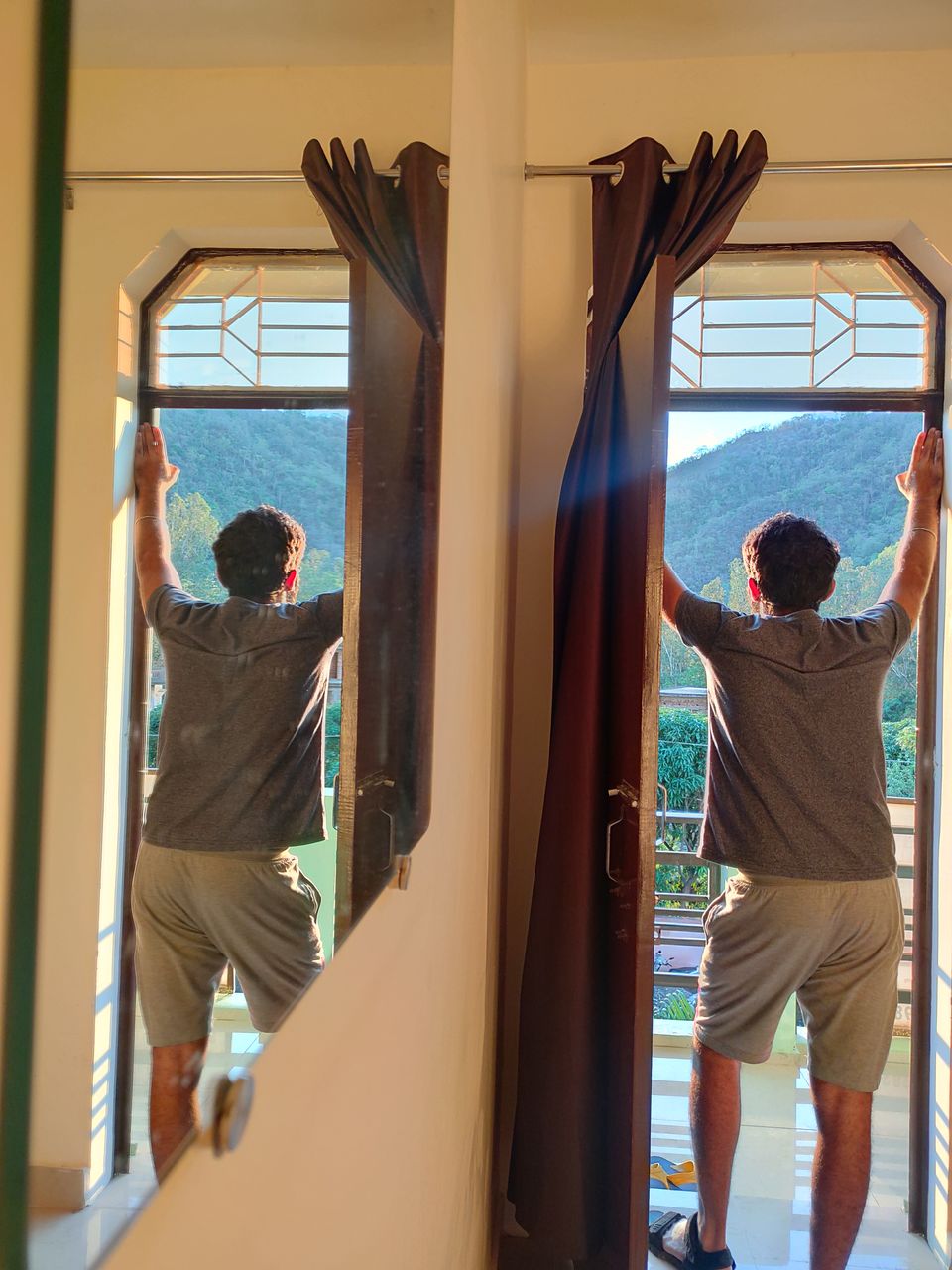 The next few days, we spend in the hotel itself trying not to go out as the pandemic news was everywhere though we could see people mostly foreigners walking around, from our balcony. Since the hotel was quite big and beautiful, we explored every inch of it. There were 2 yoga rooms and I developed a keen interest in yoga last year when the pandemic started as I was at home and my mother follows a ritual of doing yoga every day for the last 10 years. I cannot sit ideal and do nothing even in a pandemic, so it was evident to join her and as time passed by I got infatuated with this idea of wellness.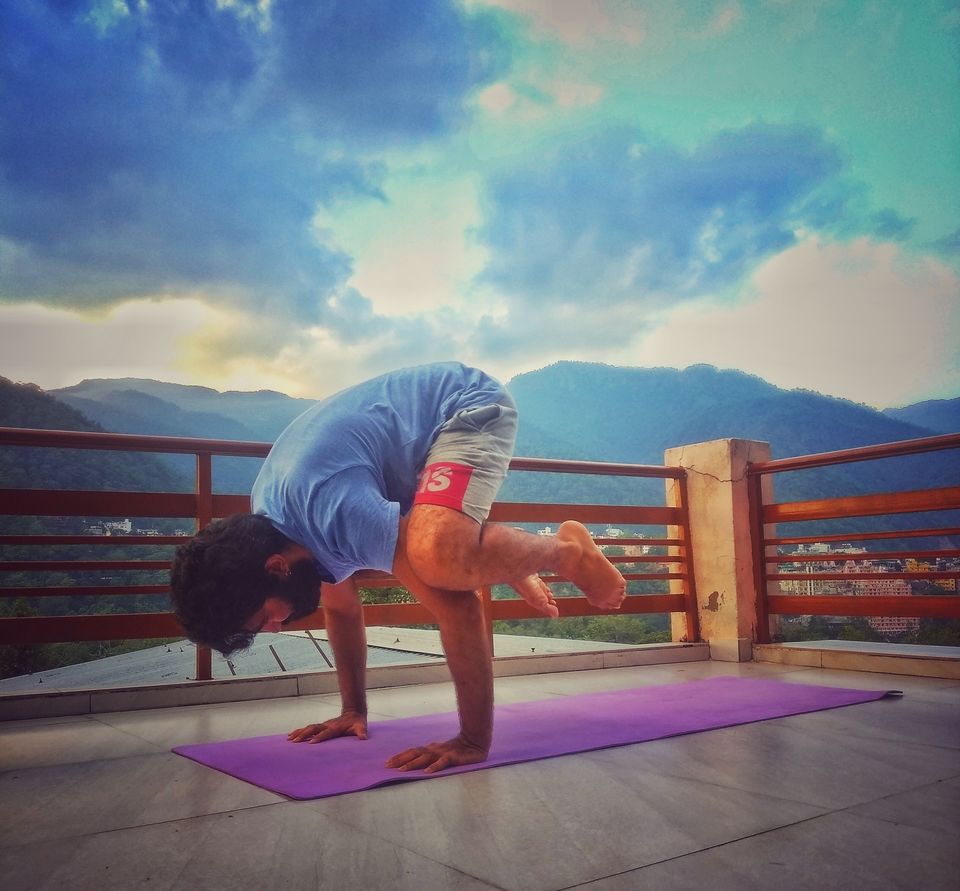 The yoga room on our floor was a small one where I used to practice every morning and it turned out to be more peaceful than in Delhi for obvious reasons. The bigger room was used by the hotel for teacher training courses which were not going to take place anytime soon. Then there was a common Dining area with huge Glass Windows with a beautiful backdrop of gardens and mountains. Since I love reading this became my favorite spot. I used to make a cup of tea or lemonade and sit here for ages lost in my book uninterrupted away from all the chaos of the world. Then there was a huge terrace with a striking view of mountains surrounding the entire valley with Ram Jhula on one side and the glorious Bhooth Nath Temple on the other which seemed quite scary sometimes, especially at nights because of the red lights which decorate the temple. Rather strange could have been less scary lighting. Nevertheless, it was beautiful in its sense.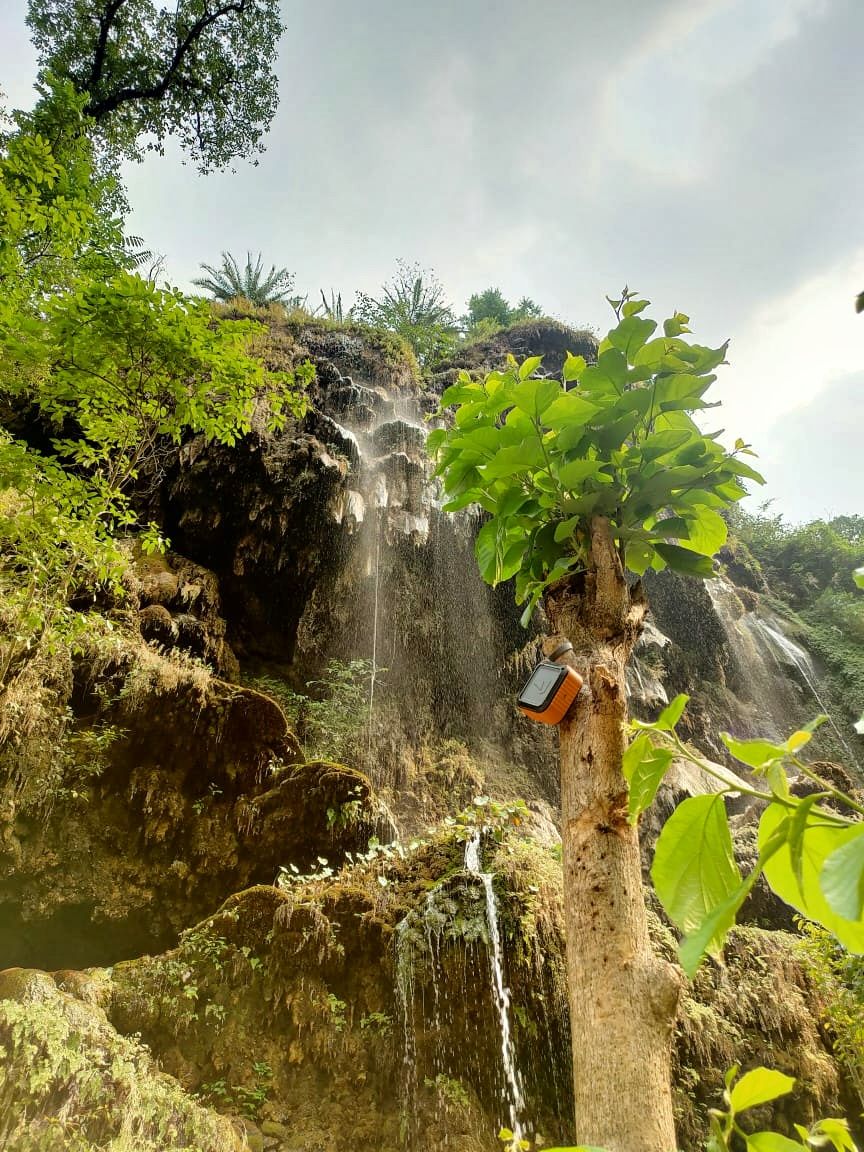 Few days passed and we started going out, not many restrictions were there in Uttrakhand so far especially in Rishikesh. One fine morning we planned to visit the famous neer waterfall for a swim and were joined by one of the girls Priyanshi who seemed like a fun company. It was 9'o clock we made our breakfast of potato sandwiches and packed some for the journey. Almost everything was closed on our way and the streets were empty. I felt like walking through an apocalypse being the few lucky survivors and it felt fun. Crossing Laxman jhula as soon as we hit the highway, the cops stopped us and started enquiring about where we are going, and it would have been weird telling them the truth in the pandemic struck times. So we cooked up a story and failed miserably. This made Priyanshi a bit heartbroken unlike her, Himanshu and I knew that we will find a way out. And in just 5 minutes we came up with a plan, either climb the mountain or follow the river. After giving it a good thought we decided upon taking the second option and started walking down towards the holy river into the great unknown. And luckily found a hidden trail which we did not know where will lead us, but we kept on walking listening to the sound of thrashing waves of the river over the rocks. After about an hour of hike, the trail turned up towards the Highway. Climbing up to the road head, I could see our destination just 20 meters away on the other side of the road which made me smile like a kid found a candy. This is how we found the hidden trail to Neer waterfall. Which made me realize that what seemed like a failed attempt, gave birth to an amazing journey only when we refused to give up.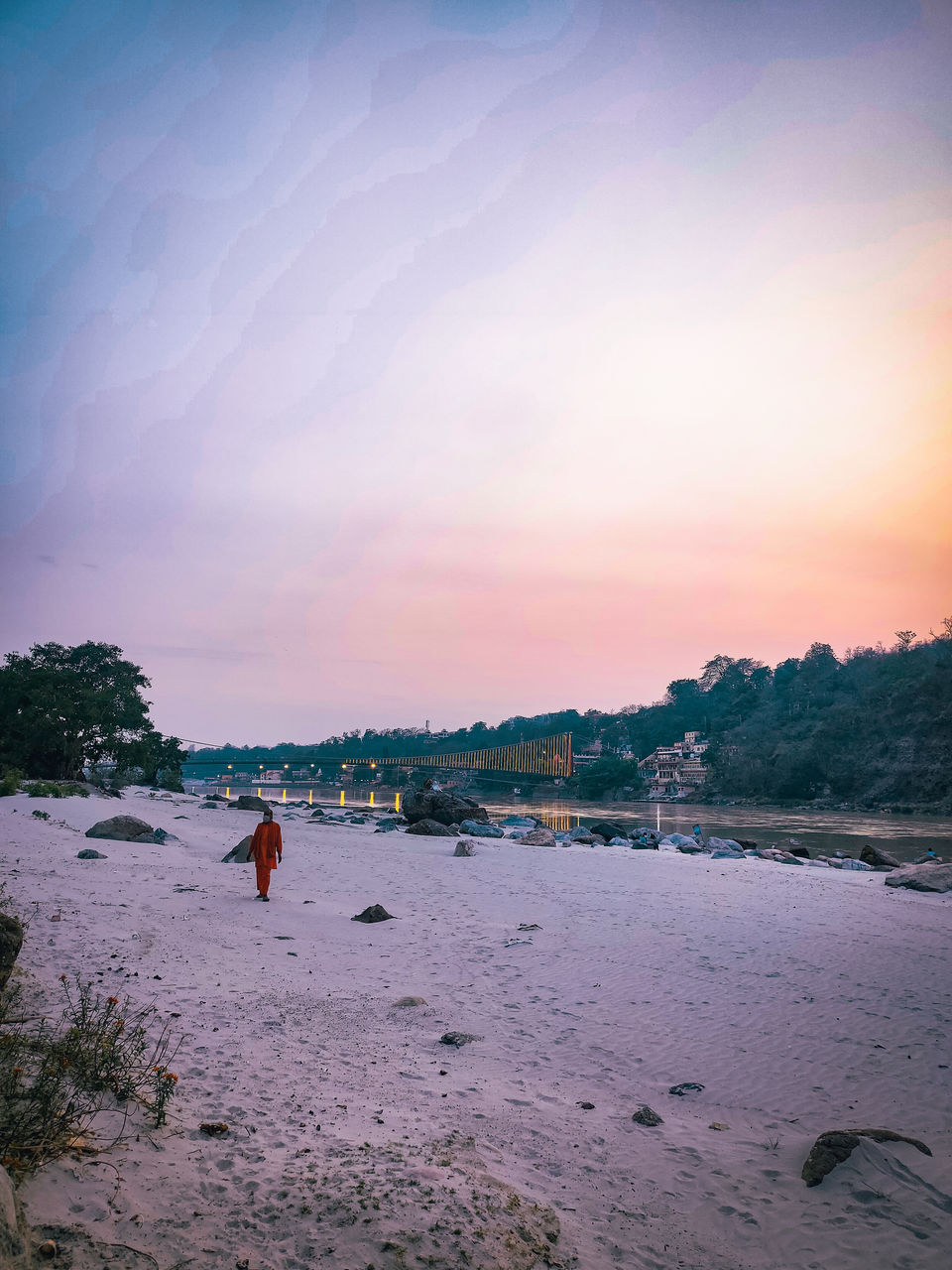 The trail leading to neer waterfall was just across the road looking scenic with the water flowing from neer down towards the Ganga beside the trail. After half an hour of the climb, we reached our destination. As expected there was no one except us three which made it seem like paradise. Most of the time these spots are crowded with tourists. But not today, finally I can say thanks to the pandemic for at least 1 good thing.
Heading directly to the second waterfall (there are 4 spots where the fall makes a pool). We waited for a while before jumping in the pool but soon realized that the water was so freaking cold and numbed our brains in a couple of seconds. Though it took a while for us to adjust, it was pure pleasure afterward. Priyanshi was reading a book with her feet dipped in cold water while Himanshu and I were lying on our backs floating all this while and enjoying the view above, Imagining clouds taking different forms and leaves falling off the trees and into the pool, monkeys flying off from one branch to the other without care of falling. It was sheer paradise and we lost touch of time in that pool without a care for anyone or anything. That is what I love about nature, it has a way of overpowering you into a different world and I have felt it so many times in my travels.
It was lunchtime, sandwiches were served only this time with deep, meaningful conversations continuing for almost an hour. I always think that time passes by so fast when you are traveling or talking to strangers, it is amusing and wonderful at the same time. Seeing up at the sky we realized the clouds were showing symptoms of a heavy drizzle which can be a nightmare in the mountains. So we decided to pack our stuff which was lying all around as if we owned the place and started to walk back towards our Hotel. Effortlessly we continued the hike as we were feeling energetic and the weather was delightful with a light breeze of air rushing in and out of the forest.
On our way, we noticed a Beautiful Shiva Temple which was somehow missed in the morning. This is a bit thought-provoking as when you are eyeing something desperately, you tend to miss so many details on your journey, but when you are moving carefree you find so much. Nevertheless, sitting on the cliff at the edge of the temple, we could see the beautiful Laxman jhula hanging on top of river Ganga and the famous 9 manzil mandir, it was mesmerizing. Walking out of the temple and back on our path no cops were to be seen. Crossing Laxman Jhula I tried pinpointing the shiva temple but couldn't as if it wasn't there. After walking for half an hour we reached our home from where we started in Swargashram and retired to our rooms. Making dinner that night was a big task but we managed somehow and went to sleep peacefully.
The coming few days were as beautiful and as adventurous as these were.
We will continue Our Rishikesh Journey in Next Blog Rishikesh 2.0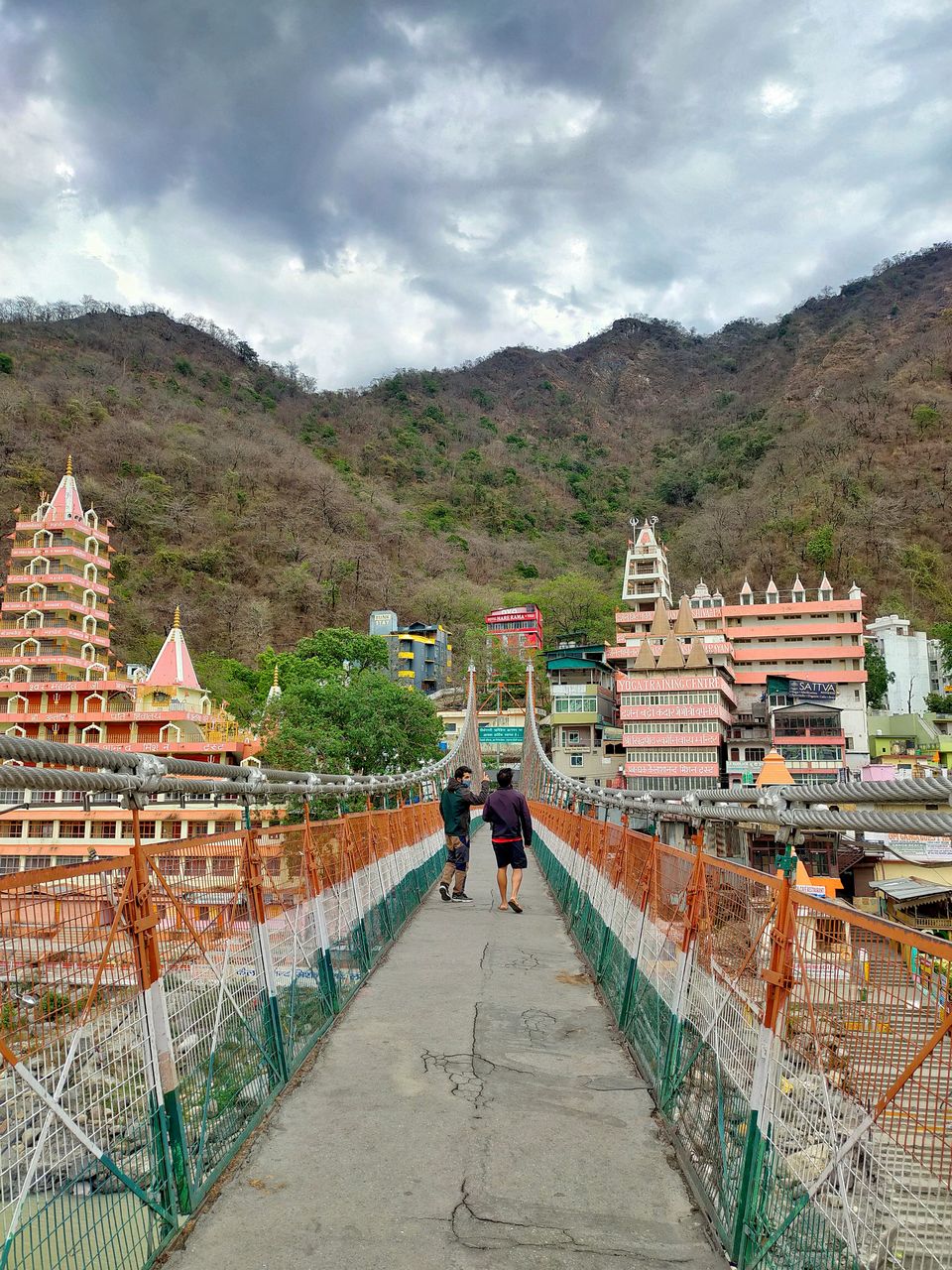 Adios!
Will be back with
Another Destination Another Journey Another Adventure