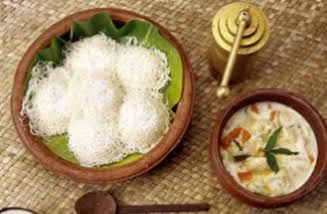 Why to taste these three dishes without fail when you visit South India? Let's see some info about them,
A) UTTAPPAM- It is a thick pancake, Dosa shape, which is topped with vegetables and spices, and served hot. It is also called uttapam, oothappam, Uthappa. It is a popular dish served in South India for breakfast and dinner, with sambhar and chutney.
Uttappam are prepared by soaking boiled rice or idly rice and urad dhal overnight. They are grounded as a batter and fermented by adding salt. They are poured in small rounds on tava which has thick soft layers. Toppings, like -Cut tomatoe, onions, green chillies, at times all vegetables cut and boiled or fried are added.
They are very popular in Tamilnadu. The taste of uttappam is more like a soft pancake. 2-3 uttappams fill your stomach and they sustain hunger for long hours.
B) APPAM- A type of pancake, fermented and served with coconut milk. It is called appam, chitau pithla and paddu. It is popularly seen and served for breakfast all over South India. Appam is prepared by soaking, raw rice and grinder along with cooked rice, salt, coconut pieces or coconut grated. They are fermented.
Appa chetty is used to make appam. After the batter is poured in the appam chetty, holding both sides of the appam chetty, they are swirled and the edges are made crispy. They are then cooked, putting a plate on top of the vessel. They are served hot with coconut milk, stew and kerala chicken.
Types of Appam are-Palappam, vattayappam, achapam, kallappam, kuzhalappam. They are very popular in Kerala. 3-4 appams for breakfast, fills your stomach and gives you enough energy for long hours.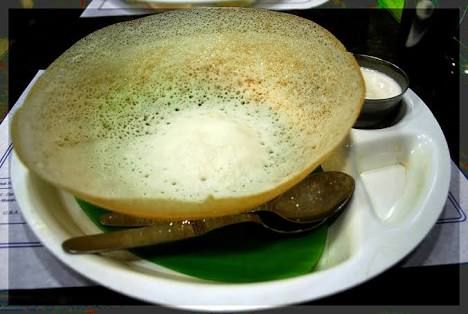 C) IDIYAPPAM- A noodle form of food, made out of rice flour, and steamed. It is called semige in Tulu, putumayam in Malay and string hoppers in English. Rice flour is mixed and made as a smooth dough, which is filled in the achu called idiyappam press or sieve, and steamed on idly plates. They are served hot with coconut milk, coconut chutney, stew, curry and spicy curries.
Types of Idiappam- Plain idiyappam, lemon idiyappam, and pepper idiyappam.
They are popularly served for breakfast in South India. They are healthy and are had as a light breakfast. They are also served for dinner, for people who want to have light dinner.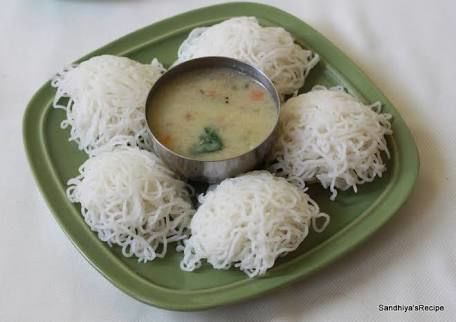 Idly, Dosa, vada are popular prevailing breakfast of South India, which are served hot with sambhar and chutney. Uttappam, Appam, idiyappam are popular dishes to taste, for breakfast. They are stomach filling, very healthy and have unique taste and aroma. Being a chennaite I have prepared these at home and have tasted them in variety,all over South India. Don't miss tasting them.