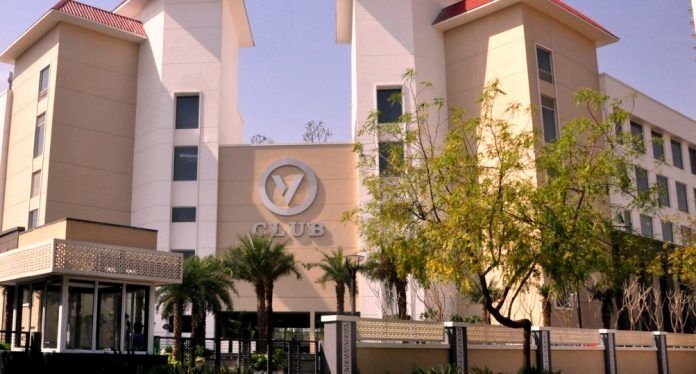 V Club is a full-service club for all recreational activities. Located in the heart of Vipul World along Sohna Road in Sector 48 of Gurugram, it is a one-stop destination for relaxing or networking.
V Club caters to a vast audience from different spheres of life and all age groups. For a family outing, a corporate conference, indoor and outdoor sports, or just a fun evening with friends.
The club offers privileged access for elite V Club members to diverse services like:
Multi-cuisine restaurant Bar, café and bakery Business centre and meeting rooms Banquet and party halls Movie theatre with 24 recliner seats Kids' room Ample parking Hotel rooms Laundry service In-room dining Jacuzzi Sports facilities like:
Besides the regular facilities you can be the part of events like hobby classes, music nights, workshops, sports tournaments, food and music festivals and even a relaxed popcorn evening at the movie theatre.
Guests and members can avail the facility of 24*7 food and beverage facility, including a multi-cuisine restaurant, full service bar and a 24 hour café & bakery. V Club can also cater customized catering services for business meets or family functions.
Members and their guests can access customised catering services for business meets or family functions.There are 20 rooms with modern amenities for a comfortable stay.
Inspired by contemporary art and style, the exclusive suite and 20 spacious rooms at V Club boast of premium fixtures, appealing interiors and modern amenities to offer a comfort and memorable experience.
One can indulge in different activities to kick-start the day and review methodology with a professional trainer at fitness centre.
Business meeting rooms with multiple dining options can accommodate 60 guests at a time. V Club is a perfect venue for hosting board meetings, conferences, exhibitions, break-out and training sessions, product launches and gala dinners.
A well-designed home theatre with 180 degree reclining seats to enjoy your favourite shows and movies like never before with your loved ones while our trained staff serves you the snacks and beverages on the seat.
It has a dedicated card room where one can play a deal game while socializing with friends or family members.
Membership of V Club entitles you to numerous facilities and services offered by us to our esteemed and valued members.
Membership Categories:
Resident Category Membership Non Resident Category Membership Corporate Membership Individual Membership
The 1st 3 Categories have 3 Tenures i.e. 1 Year, 5 Years and 10 Years. Individual Membership is for 1 year Tenure.
V Club member privileges:
Dining Privileges - Discounts on dining and Cafe Deli Beverage Privileges - Discounts on IMFL at On the Rock, Lounge and Bar Accommodation Privileges - Discounts on rooms (subject to availability) Discounts on hourly rates for Swimming Pool, Racquet Power (Indoor Sports area) Discounts on SPA Treatments and memberships To connect with V Club please click on following link:
Website facebook twitter
Varun is an Indian Entrepreneur and have a keen interest in working on new concepts and ideas. Varun is a founder of Formula 69 which is a Digital Interactive Media Company with ventures like Jewellery18 and Social Tahelka. He likes to share his views by writing articles and blogs.