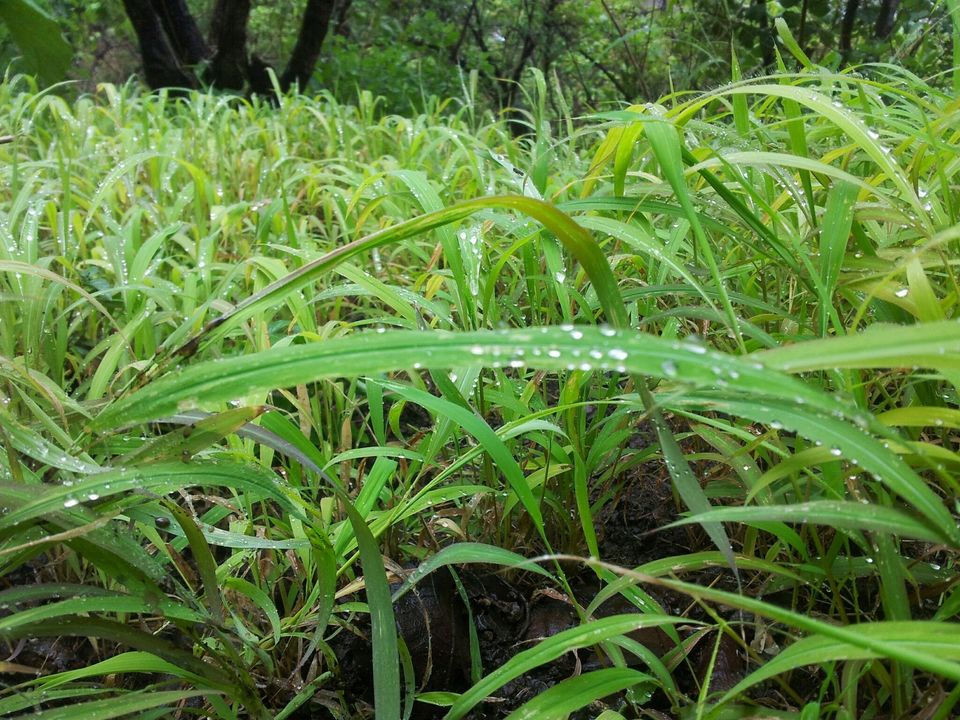 Vairatgad. Wiki says, King Bhoj of the Shilahar Dynasty built it in the 11th century. During King Shivaji 's reign the fort was used as a military station. King Shivaji conquered the Wai region and included Vairatgad and Pandavgad in his kingdom. The British captured it in 1818. I had heard about it first time in the mailer from Giridarshan. The rains were picking up and there couldn't be a better time to start trekking again.
I reached the starting point exactly at 0630. People were already standing and our vehicle stood there patiently waiting. After around half an hour of wait the journey started with a faithful and energetic call to Lord Ganesha. We picked up a few people on the way and soon we left Pune. The long, heightened Katraj bridge followed by the kilometer long Katraj tunnel marks the end of Pune, the wandering spirit awakens and slowly the monotony of everyday life begins to fade. That mostly happens on bike when the wind is brushing your face. Today was different. There was a silence in the mini bus, the proverbial ice was still pretty thick. Thanks the winds and morning chill, I dozed off in no time.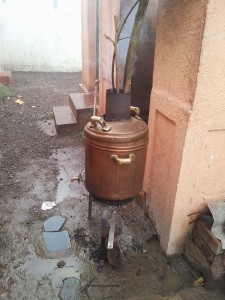 I woke up just when we were pulling up at an eatery near Shirval. Giridarshan, the group I was with took care of breakfast. They had packed veg pattice from Pune. We had food and tea there and I saw this. Suddenly it took me down the memory lane. The old fashioned copper boiler. Barring the issue of burning wood when there are better ways, this copper boiler is really a good appliance. The water boiled in copper provides health benefits, the smoke of natural fuel keeps mosquitos away and is cleansing, and it's fun to operate if you know how to. Electric geysers have taken these things away from us, cost of civilization.
After the tea, everyone was energized. People started talking and asking about each other. We crossed Khambatki ghat, then exit for Mahabaleshwar and few kilometers after we left NH 4 at Pachwad. The internal road was in very good condition. We cruised easily towards the destination. I was not on the front seat this time, so unfortunately no photos of roads.
We reached the base of the fort and leaders, Mandar, Pratik and Sarang, gave us information about the group, Giridarshan. I knew it to be an old group but didn't expect it went back till 1994. Couple of the leaders were still in college, the mantle passing with generations. Trekking activities fall under adventure, hence it's very much essential to have experienced people to guide and support if needed. We definitely got that from all three of them.
When we started the climb, it appeared daunting from the ground. To add to our dismay, rain gods were not in showering mood. It was around 1000 Hrs. and it was sunny. We felt a little disappointed but marched on. After around 15 minutes it started drizzling and smiles lit up on everyone's face. Rain was considerate of photographers. It showered frequently but there were moments when we could pull out mobile phones for few quick clicks. Around halfway of the climb, we could see breathtaking views of the valley. It opened up to show us the vast farmlands and then a layer of clouds would engulf it all.

When you go striding on the infrequent roads, every season presents new challenges, which includes the loss of direction. Based on the grass and trees, one plots a way, but that is not always trustworthy when you don't visit regularly. Same happened with us. The road to the fort is not straightforward. You have to start the climb from one side and around halfway take sharp left, continue horizontally for few meters and then head up again. We missed the left turn. Sarang went ahead canvassing the area and found out we'd have to climb down diagonally a little to get back on the path. In our misdirected travel, we had gone in thicker jungles. Thorns and intertwined branches made it harder to come down. There is a upside to it though. Strong rooted trees are your friends when the ground is slippery. Soon we completed our course correction thanks to a sheep herder and headed for the top of the fort along with the sheep.
On every trek there are couple of trekkers who are new to the party. I have had very amusing experiences with newcomers in the past. Just few meters in the climb, one of them inadvertently questions with absolute tired long face, how much more? This question is almost always inevitable, your only hope is that it gets asked as late as possible. This time it was around 45 minutes in the trek, one slumped down with hands on her knees, and wearily blurted out, how much more? From that moment onward a couple more also stopped in their tracks at times. Yet it is a commendable job that none of the group members surrendered. Special appreciation for the first timers. Generally people prefer to start with something like Lohagad or Sinhgad, and gradually make their way up, but these guys started here and completed the trek successfully. Definitely a good story to tell to newcomers in future treks.
At around 1315, we saw the dilapidated fortifications of the fort and knew that we have made it to the top. From that point onward, it was mostly stone steps till the very top. Quickly we crossed them and reached the Shiva temple at the top. Everyone was tired, hungry and dirty. We found a small pond, with green colored water. It was bad for drinking but good enough to freshen up before Lunch.
Leaders told a funny story of a girl who had joined one of such treks. There was a temple at the center of a pond. The water was around waist deep, everyone started making towards the temple through it. Halfway this girl exclaimed as if something was terribly wrong. Everyone wondered what happened, if there is something in the water. She then said sheepishly, my mobile phone is still in my jeans pocket. The phone was already in its watery grave by then.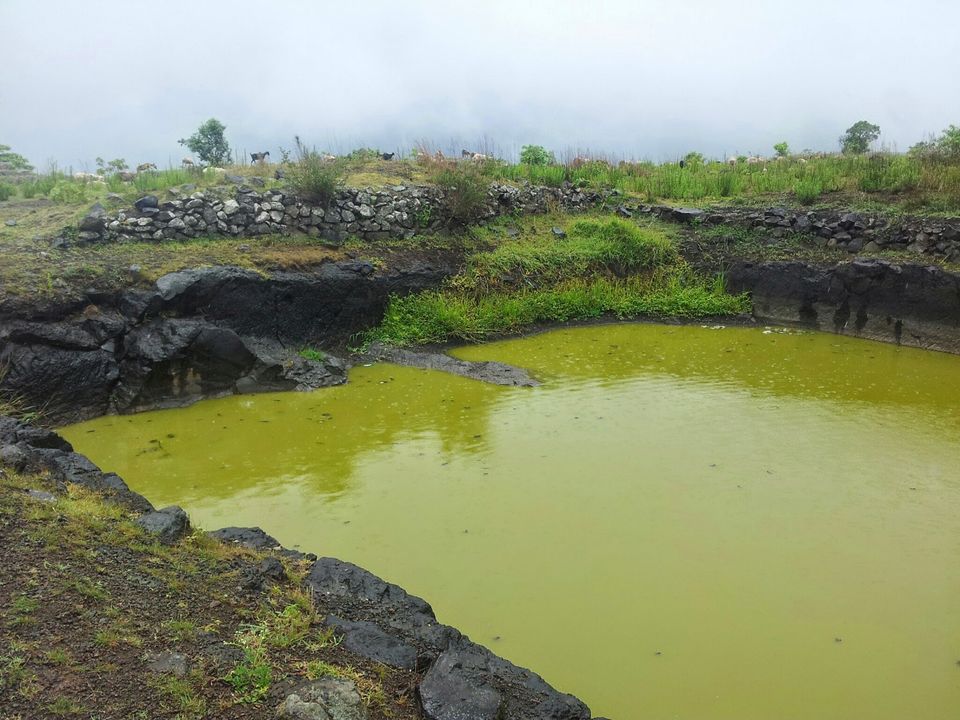 We were asked to bring lunchbox, so everyone was carrying something or the other. I don't know cooking so it was simple cheese sandwich in my tiffin but there was varied cuisines around. From Methi Paratha, to Indori Sev. From Bhendi Bhaji to cupcakes. All topped up with a serving of delicious Chitale Shrikhand. It is an amazing pleasure to eat in a group like this. Sharing food is one of the best bonding exercises you can have. Along with food, you share lifestyles, jokes, and hobbies and get to know each other better. Such exercise always reminds me of school picnics of old days, when everyone used to pack food for others, and eat mostly from someone else's tiffin. This time wasn't very different.
After we finished with lunch we headed out to see the fort. Sarang informed us that the fort was used as a watchtower to look after regions around the fort. This fort has no standing structure left. The construction was bare minimum since the only purpose of this fort was to be used a station to look after. There are many forts visible from the top of Vairatgad, but the cloud cover deprived us from those views. It did not much matter. The clouds ascended to the top and we could see the white blanket covering all sides of the fort. Although the delay of Monsoon is dire, it did present us with magnificent views of newly grown grass all over the fort. The top of the fort is relatively small. You can complete one round in around half an hour.
We stood there on the plains, and Sarang suggested a variant of Rock, Paper, Scissors. This was a group activity. We all had hilarious time playing it for a while and then we headed back towards the gate. A long climb down awaited us.
Climbing down a slope is more strenuous, physically and mentally. While going up, all you see is a large body of rock in front of you. It is daunting, but not necessarily frightening. Getting down is a different ball game. All you see is a valley in front of you. The slippery slope below your feet makes it more treacherous. Yet you go down slowly and steadily to avoid mishaps. Even when you are trying to go slow, there are moments when you tend to loose control, and those are the most dangerous ones. Even if you manage to maintain control over your speed every step you take is a direct impact on your knees. An impact which you can feel only after reaching at the base, or even on the subsequent days. Vairatgad was no different. We managed to climb down at a steady pace and all the heavy vehicles managed to arrive safe and sound as well.
When we reached the base of the fort, we met an old uncle. We had already met him on our way up, he could not comprehend why we were heading to the top of the fort, just for the thrill of it was not enough of an answer. It was like tourists going to Delhi Metro and daily commuter inquires, why would they come to a metro on a city tour, what's so special? Such moments give you perspectives on people, on their thought process. Probably that mountain being in his backyard, he must have gone up there ample of times. Such a daily activity may not be any adventure for him. Instead if we ask him to join us in a Mumbai local train, it would surely be an amazing experience for him. So when we met him again in the evening, he again tried to probe what was the reason we had made such an effort, only to remain unconvinced even after our earnest responses.
It was around 1700 Hrs. then. As per the plan we were to see a temple at Kikli nearby. After a little deliberation over when we will reach back to Pune, we decided to go visit the temple. This temple is being renovated by Indian Archaeological department. By the look of it, it felt it was destroyed some time back, and they were putting it together, like a jigsaw puzzle. The temple is not operational as of yet. You can see building blocks kept on each other, numbered. I had never visited a temple before it was a place of worship, so that was new. We left that location fairly quickly. We had to reach back to Pune on time as well.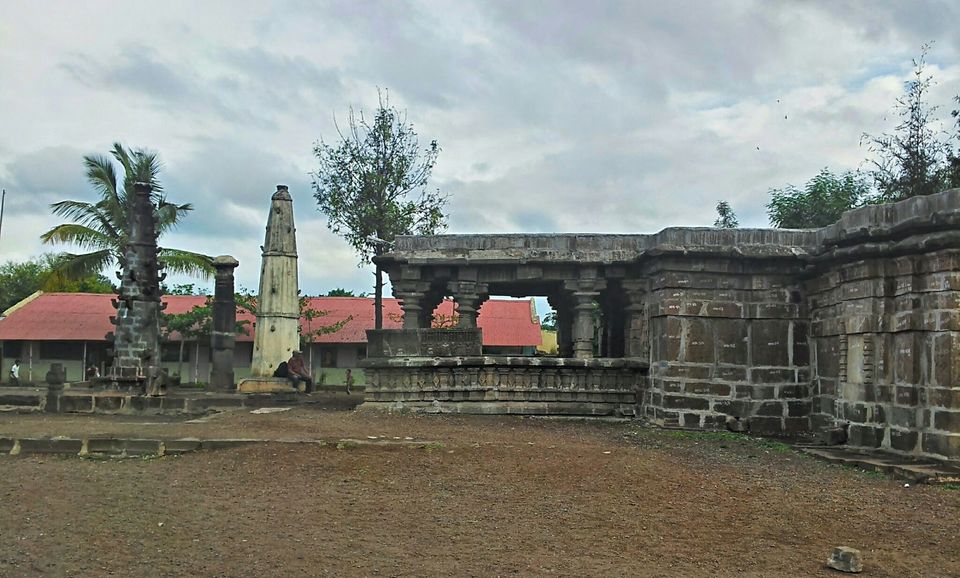 The morning travel was a little mellow, but we covered that up in the evening. We started playing Antakshari. In addition to Hindi songs, this time even Marathi songs were introduced. Although it was a tiring day, the whole journey people sang. Sarang and a fellow trekker Tushar were on a spree. Tushar is a good singer. He presented Ek Chatur Naar from the movie Padosan verbatim. We reached around 2045 back to the place where we had started in the morning.
I took my bike, bid farewell to all, asked everyone to join in subsequent treks and left. When I was back home. I had to take off my shoes in the lobby and lift them directly to bathroom. Soon after the soiled clothes found their way to bathroom floor. I took a hot water bath and fell on the bed. I don't even remember how quickly sleep took over.
This was my first time with Giridarshan, as aforementioned, the group is doing some amazing work since 1994. All the three leaders were young, dynamic, experienced and confident. Two of them are still in colleges. This experience of group touring and taking responsibilities will go a long way for them. Even though it was the first time with the group, I felt at home. After the ice was broken, everyone was at ease. The bus full of strangers started from Pune and brought back people who knew a lot about it each other, and these people were from a diverse age groups, various careers. Some students, some bank employees, some project managers, brought together and held strong by the love of adventure and nature.
Vairatgad was a nice place to start trekking again. The silence of the place helped a lot in getting to know people around me. I was not carrying earphones which I generally do. I looked around, the thirst for connecting with the nature is more heartfelt now. As we see places like Sinhgad being desecrated by onslaught of weekend tourists who care only for a car drive and few steamed corns and groundnuts, such open spaces untouched by cemented civilization are last breathing lungs of the human spirit. Such are the places where one replenishes mana. However broken, bruised and tired you are at the end of the day, you know you have refilled something much more valuable.
If you enjoyed this, head over to my blog All Those Who Wander .