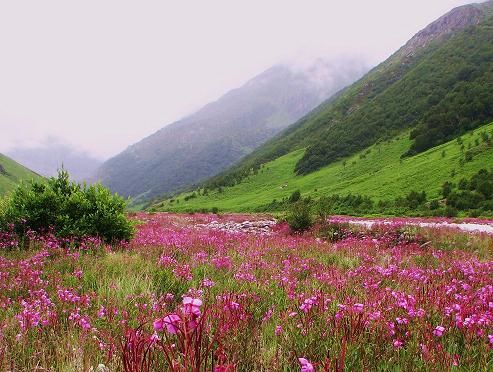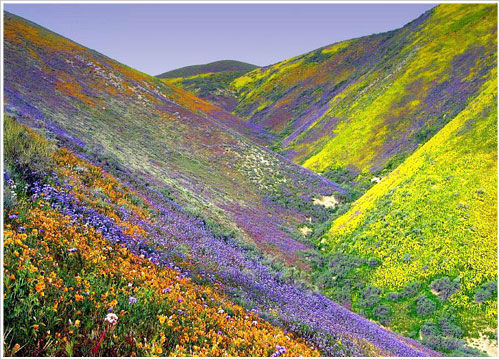 DEPARTURE DATES:
| | | | | |
| --- | --- | --- | --- | --- |
| July | 26 - 31 July | - | - | - |
| August | 02 - 07 Aug | 09 - 14 Aug | 15 - 20 Aug | 16 - 21 Aug |
Highlights
Destination: Valley of Flowers and Hemkund Sahib
Duration: 06 Days
Grade: Easy to Moderate
Approx trekking: 38 kms.
Best time: July to September
Bookings & Details: http://www.crazypeaks.com/Trip/Valley-of-Flowers-Trek
Brief about Trek
The valley of flowers changes its colors almost every day as it blooms with hundreds of different flowers, taking on various shades as time progresses. The valley was declared a National Park in 1982 and now is a World Heritage Site. It was believed by the locals that the valley of flowers was inhabited by fairies.
The valley is home to many celebrated flowers like the Brahmakamal, the blue poppy and the cobra lily. It is a much sought after haunt for flower-lovers, botanists and trekkers.
Discovery:
Valley of flowers was discovered in the year 1931, when Frank S. Smythe, a British mountaineer along with six other British mountaineers lost their way while descending from Mount Kamet, at 25,447 feet, situated in Garhwal Himalayas. Below 16,000 feet there was heavy rainfall and dense mist surrounded the mountain side. They paused, uncertain to the route. Suddenly R. L. Holdsworth, a botanist as well as a climbing member of the expedition exclaimed "Look", Frank S. Smythe followed the direction of his outstretched hand. At first he could see nothing but rocks, then suddenly his wandering gaze was arrested by a little splash of blue, and beyond it were other splashes of blue, a blue so intense it seemed to light the hillside. You can see such bluish shade of Valley of Flowers even today especially in July and August months.
Inclusions:
- Haridwar to Haridwar Return Transportation.
- Accommodation for the group during the trek in Tourist Lodge / Hotels / Camps as per itinerary.
- Services of experienced trek leaders, guide and support staff during trek.
- Camping equipments (Tents, Sleeping Bags, Mattress etc.)
- Meals on trek (Veg.) cooked in hygienic environment.
- First Aid Medical Kits and Oxygen Cylinder.
- Permit / Forest Permits.
Exclusions:
- Any kind of personal expense.
- Tips to the trekking staff.
- Insurance.
- Portage to carry Personal Luggage.
- Meals while transit (transportation)
- Anything not specifically mentioned under the head price Includes.
- 3.5% Service Tax EXTRA.
Note: Normally our company expects you to carry your personal luggage on your own, if you don't want to carry your backpack so you can give it to porter, please inform us in advance and charges would be Rs.250/- extra per day per bag.
Cancellation Policy
Up to 30 Days :- 90% of Trek/adventure program cost will be refund.
Between 21 - 30 Days :- 60% of Trek/adventure program cost will be refund.
Between 20 - 11 Days :- 30% of Trek/adventure program cost will be refunded.
Less than 10 Days :- No refund.
Any additional costs due to weather / unforeseen situations, will have to be borne by the traveller.
Our team reserves the right to change the plan in case there is danger involved for the group or whenever the trek leader deem it necessary.
Final word of the trek leaders will have to followed by all the members.
Itinerary
Day No: 1
Haridwar - Joshimath (287 kms/8-9 hrs): After an early breakfast drive to Joshimath via Devprayag. On the way, visit Devprayag where Bhagirathi and Alaknanda rivers meet. From here the holy river Ganges started. Arrival at Joshimath by the evening and check into the hotel. Dinner and overnight stay at the hotel.
Day No: 2
Joshimath - Govindghat (26 kms/1 hrs) - Ghangaria (14 kms/3-4 hrs): After an early breakfast drive to Govindghat, which is the starting point of the trek. From Govindghat, there is a gradual ascent along a well maintained pilgrim trail to Ghangaria. Upon arrival at Ghangria check into Camp. Explore the surroundings in the evening. Dinner and overnight stay at camp.
Day No: 3
Ghangaria - Valley of Flowers - Ghangria (5 kms one side/4-5 hrs): After breakfast trek to Valley Of Flowers (3858 m) from Ghangaria. The valley is an enchanting sight with an impressive array of rare wildflowers like Geranium, Marsh marigold, Prinula, Potentilla, Geum, Asters, Lilium, Ranunculus, Corydalis, Inula, Braham kamal, Campanula, Pedicularis, Arisaema, Morina, Impatiens, Bistorta, Ligularia, Anaphalis, Saxifrages, Sibbaldia, Thermo- psis, Trollius, Codonopsis, Dactylorhiza, Cypripedium, Strawberry, Epilobium, Rhododendrons and numerous others. Most of the flowers have medicinal values too. The valley is 10 kms long, 2 kms wide, and is divided by the Pushpawati stream, into which several tiny streams and waterfalls merge. After enjoying the beauty of valley trek back to Ghangaria. Dinner & overnight stay at the camp.
Day No: 4
Ghangaria - Hemkund Sahib - Ghangaria (6 kms one side/3-4 hrs): After breakfast trek to Hemkund Sahib (4329 m) from Ghangaria. This is quite a steep climb. In the Sikh holy book, The Granth Sahib, the Sikh Guru Gobind Singh recounts that in a previous life, he meditated on the shores of a lake surrounded by seven snowcapped mountains now recognized by Hemkund. Late afternoon trek back to Ghangaria. Dinner & overnight stay at camp.
Day No: 5
Ghangaria - Govind Ghat – Joshimath (26 kms. / 1 hrs): After breakfast trek down to Govind Ghat and from here drive to Joshimath. Dinner and overnight stay in the hotel.
Day No: 6
Joshimath - Haridwar (287 km/ 7-8 hrs): Return back to Haridwar by evening.