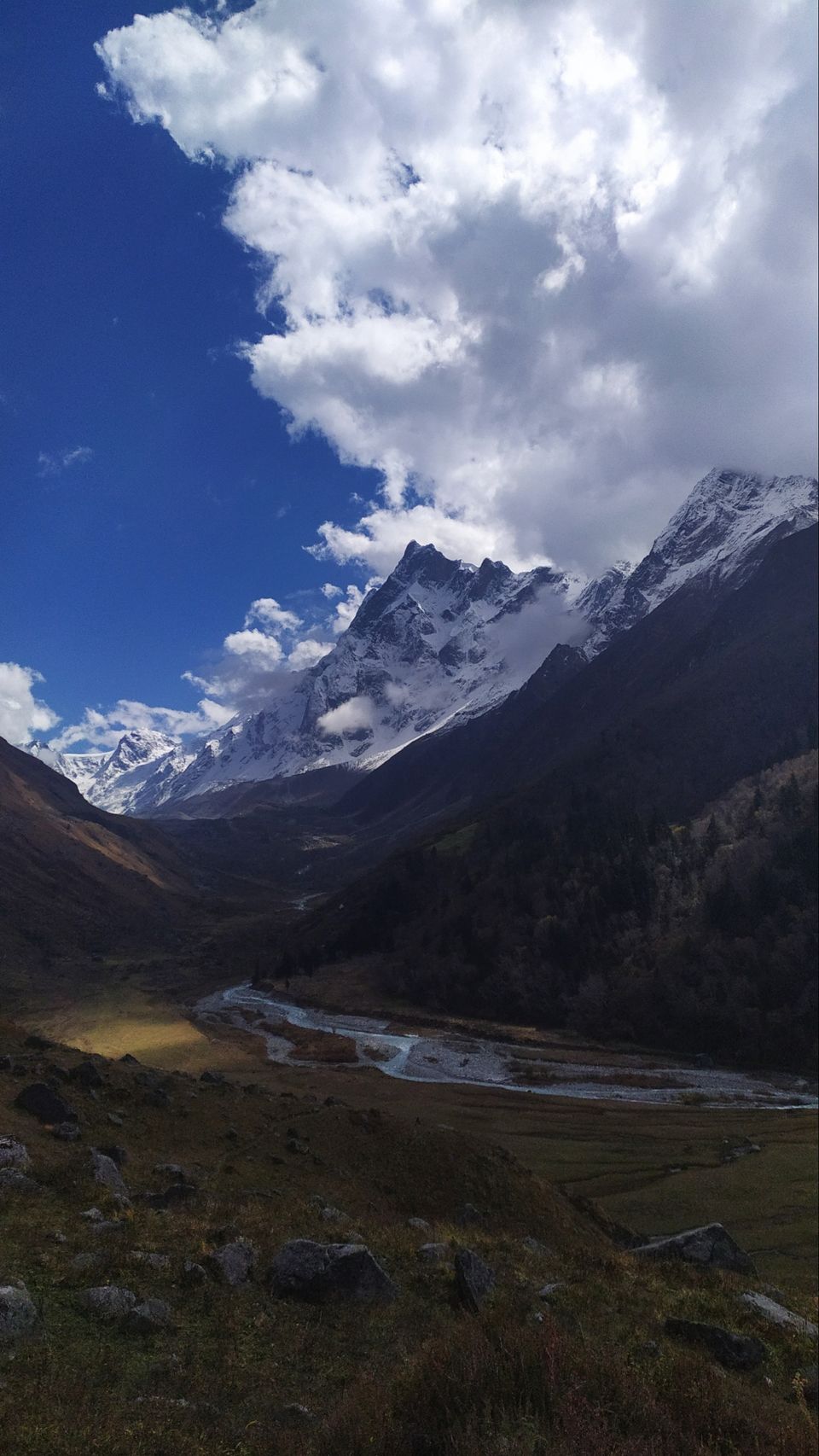 Mountains are love. And this love for mountains took me to one of the remote places in Uttarakhand. The Sankri Range. This was my first trek as well. We were a total of 8 guys, of which, 3 of them were my college friends.
Graded as a "moderate" trek, Har Ki Doon holds its own significance in the mythologies. This valley is abode to a number of peaks namely, Mt. Swargarohini, Mt. Bandarpoonch and Mt. Kala Naag. According to the epic Mahabharata, Swargarohini's peaks forms the path to heaven that was followed by Pandavas, but only one pandava, Yudhishthira, and a dog had reached heaven. According to the legends, it is believed that this is the only way one can go to heaven with the human body itself.
Things to carry:
1. Backpack (minimum 40litres)
2. A thermal.
3. Minimum 2 tshirts.
4. A fleece jacket.
5. Poncho (Raincoat)
6. Minimum 2 trousers. (1 waterproof, if possible)
7. Towel, underwears or boxers.
8. Trekking pole (optional)
9. Torch
10. Energy bars(chocolate) and biscuits.
11. Waterbottle or sipper.
12. Good trekking shoes (Quechua)
13. A cap.
14. A hoodie (optional)
15. Minimum 2 pairs of socks.
16. Medical kit (band-aids, bandages, volini spray or gel, paracetamol tablets, Zofer tablets)
17 . Toilet Paper.
18. Geolin (optional, for purifying water)
We drank river water. Its completely hygienic and healthy.
19. Slippers or flipflops.
20. Sunscreen.
21. Id proof.
The journey starts from Dehradun. From Dehradun, we hired a local MUV and headed towards our base camp Sankri, which is around 230km from Dehradun. The roads pass through the town of Mussoorie as well. The Kempty falls are quite easily visible from the ride. The first halt was at Naugaon, which is a beautiful village with a few dhabas, serving lip smacking Aloo and Paneer Parathas. The beautiful Yamuna river flowed along side the road.
The roads take blind and sharp turns at places quite often. So if you are not familiar to long hilly road trips, carry a "Zofer" which will control your puking tendencies.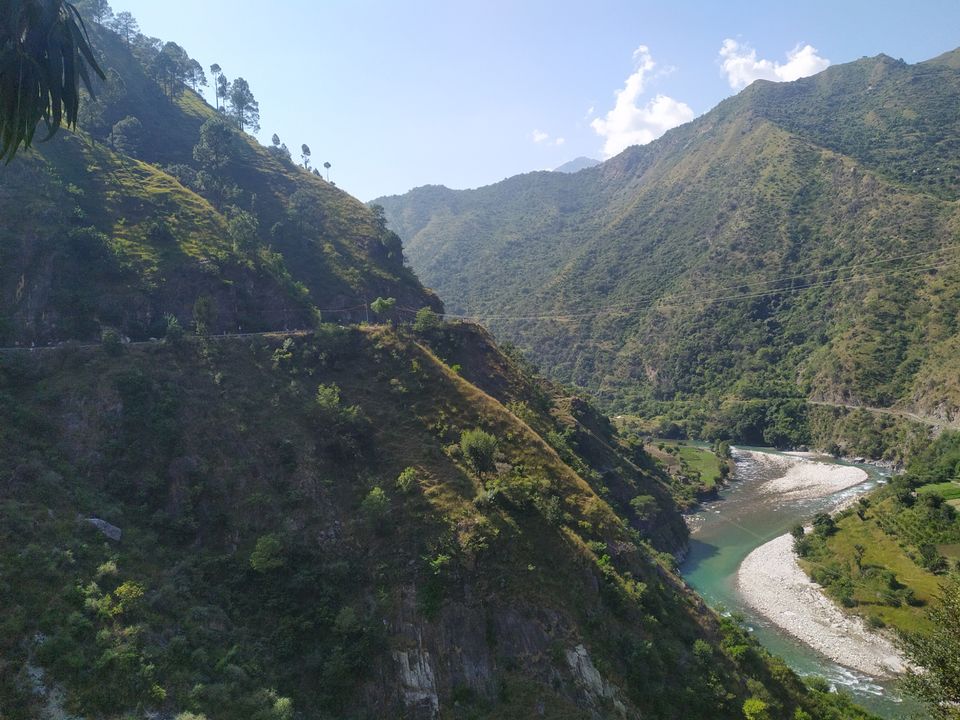 After Naugaon, the picturesque changed suddenly and we found ourselves surrounded by tall pine tress on either side of the road. This continues for some time and the change in temperature can be felt. One can see the Tons river now and trust me, it was magical. The landscape took my breath away. I've seen hills and mountain ranges higher and deep, but there was something different about this place. The greetings from the locals and the school students passing are bound to bring a smile on ur face and a wave from your hand. The road gets a bit trickier from here as we enter the village of Sankri. But after a few miles, nothing else mattered. By 4pm, we were there at our base camp: Sankri!!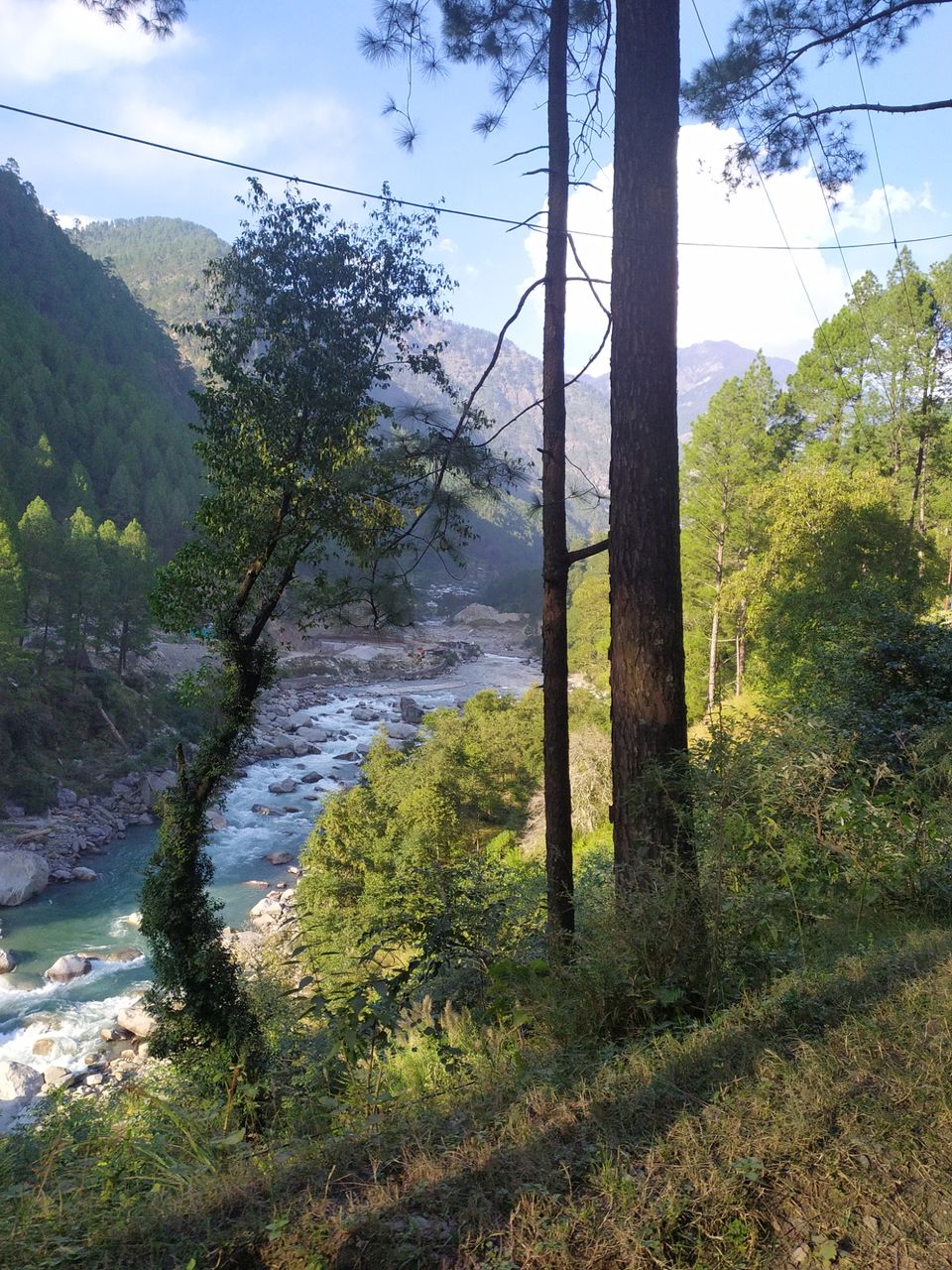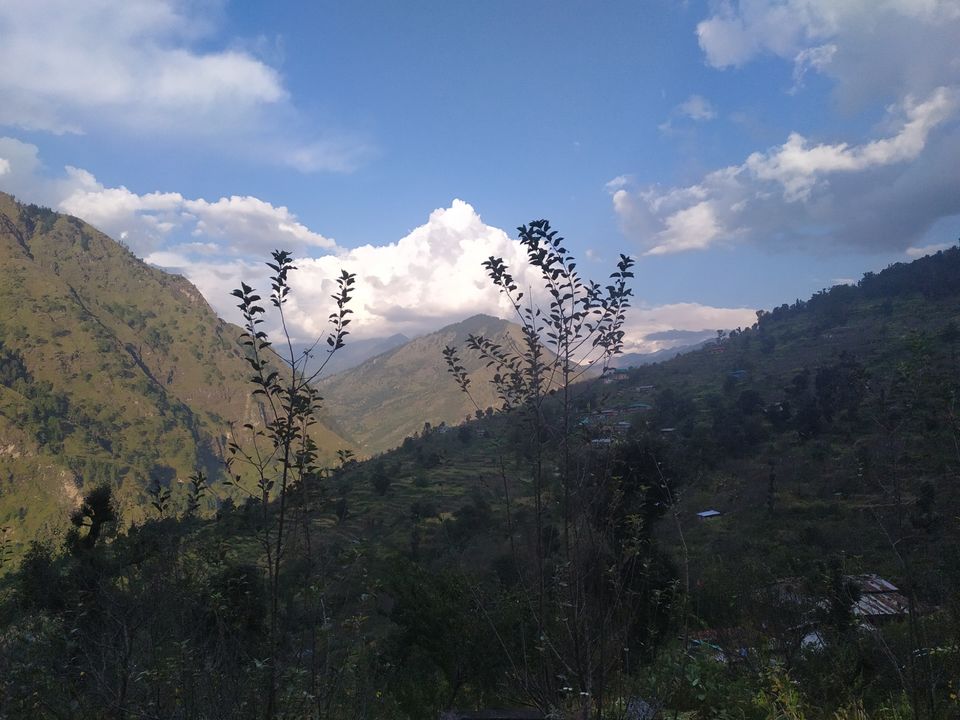 Sankri is a small village which serves as a base camp for both Har Ki Doon and Kedarkantha trek. The pictures would speak for this place itself.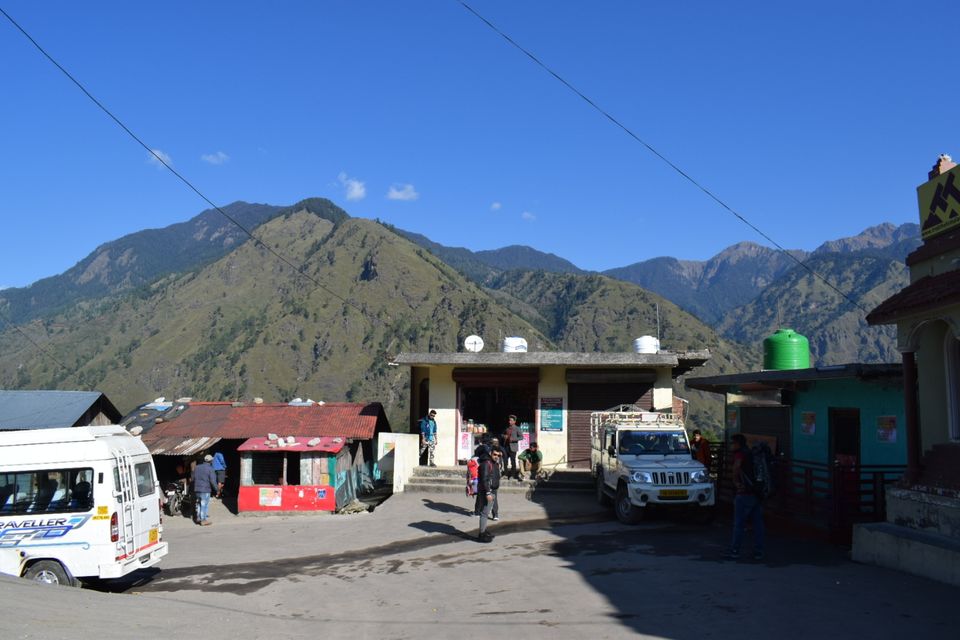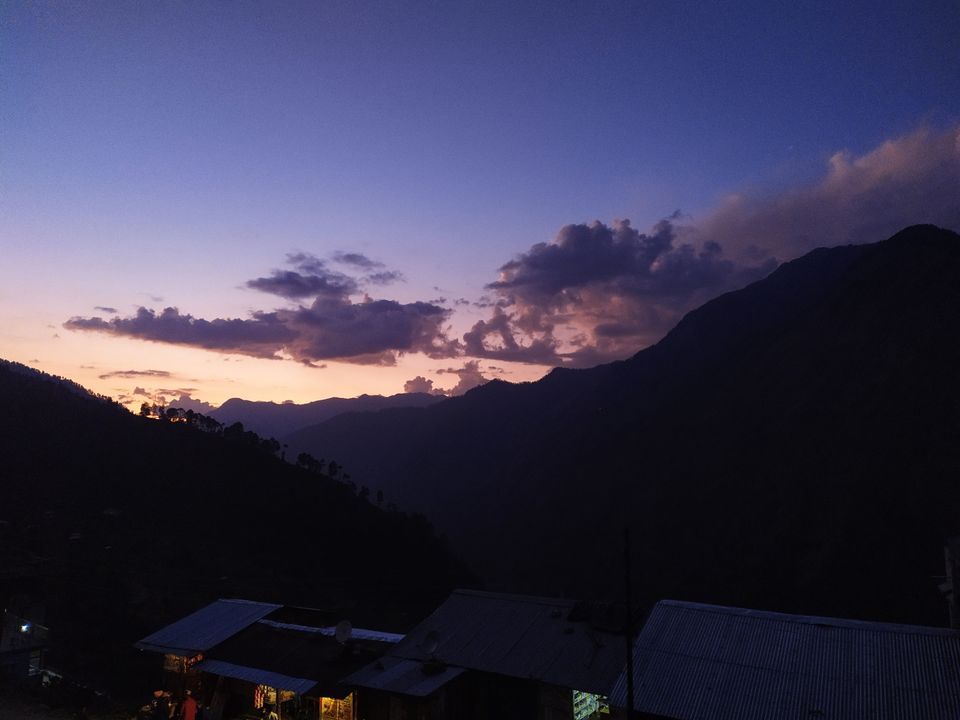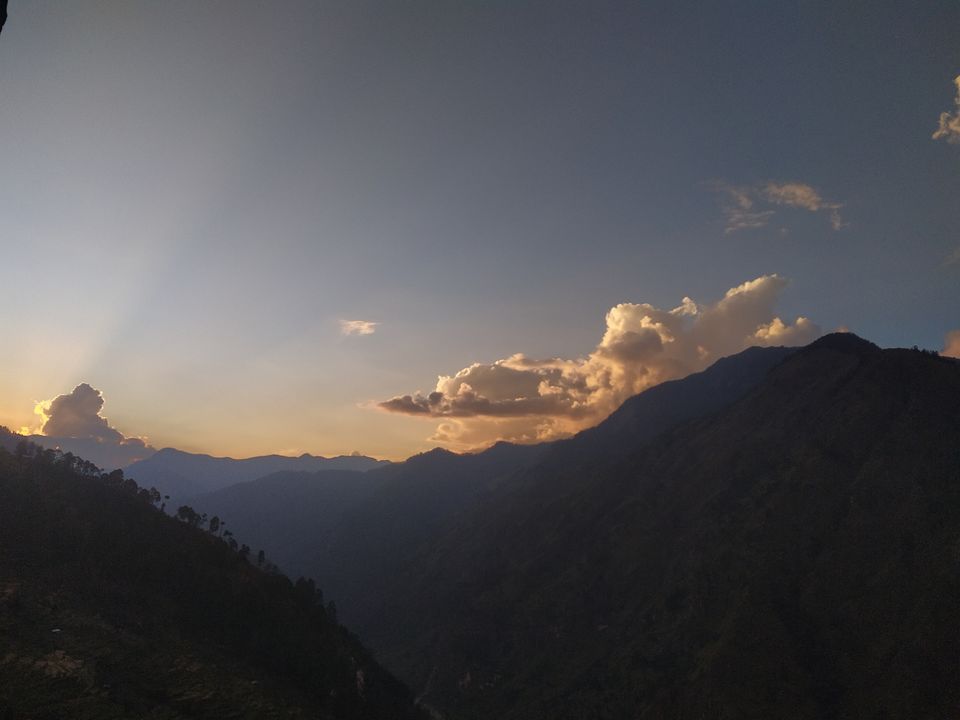 We slept early that night as tomorrow was the day we were there for. The trekking journey!! Nervous and excited at the same time....I was having a hard time to decide how to feel.
The morning was as beautiful as it could be. Clear skies, bright sun with golden hue of top of the lush green mountains.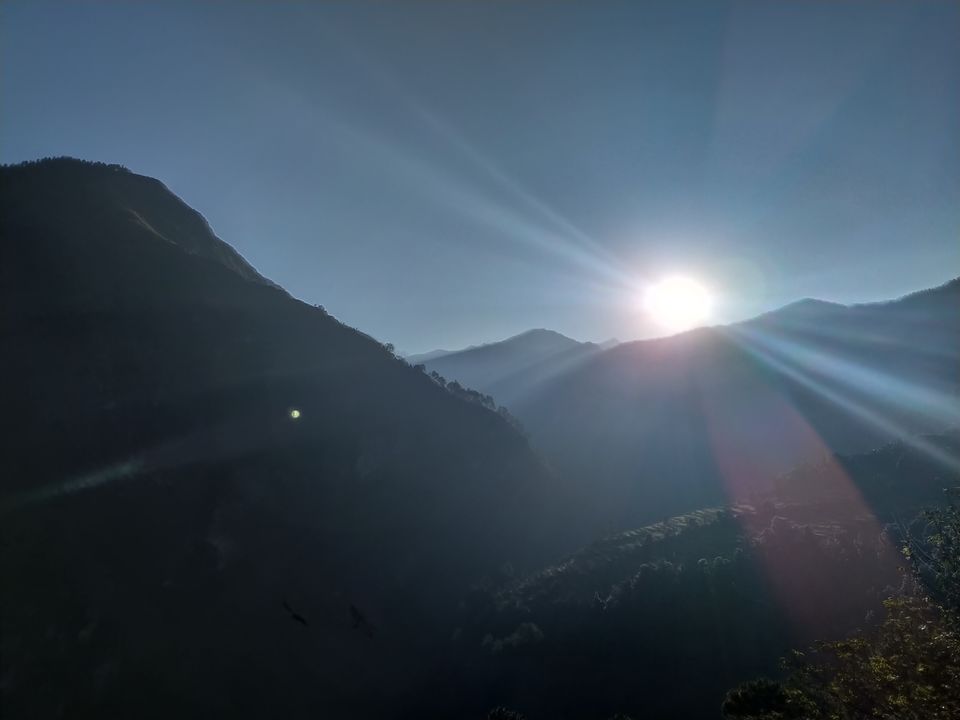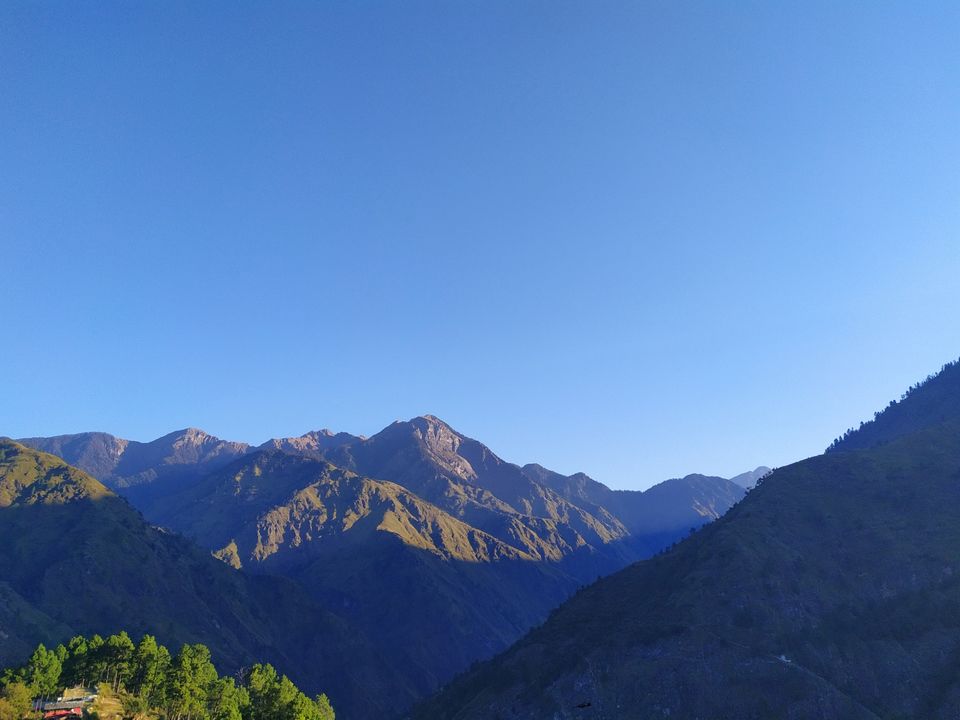 Had Aloo k parathe in the breakfast and took off to Taluka which is 12 km from Sankri. And man, that was some road. A mini van was allotted to us and 4 of us along with our trekking guide had to sit on the roof of the vehicle. The adrenaline rush wasnt expected this sooner as the road to Taluka is a real narrow one with pathetic condition after the first few miles.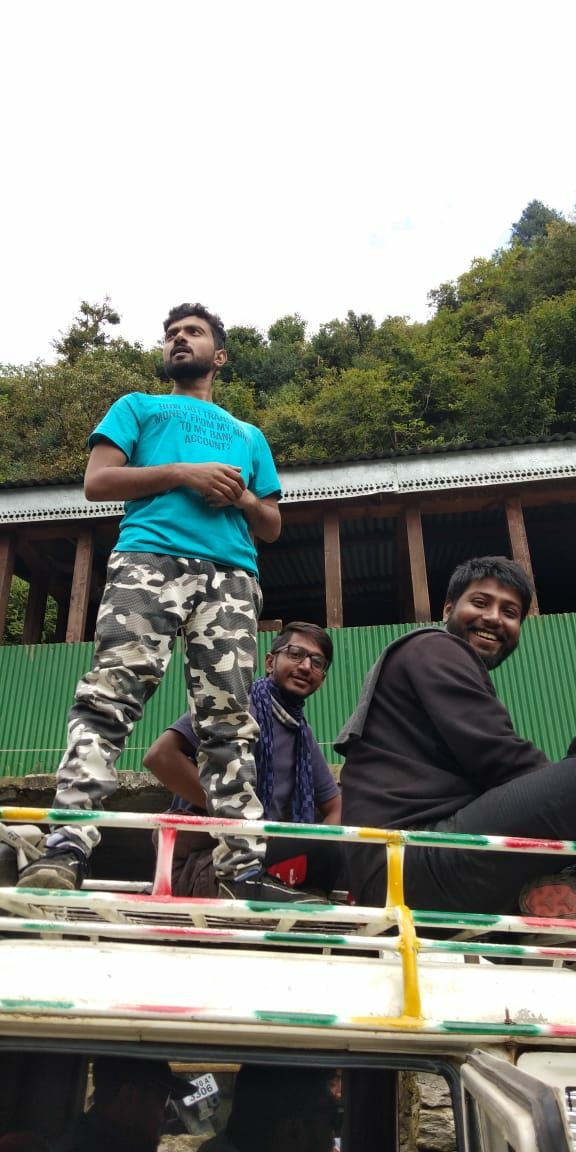 In almost an hour and a half, we reached Taluka, after which our trek was about to start. Lunch was handed to us in aluminium foils and so we started!!!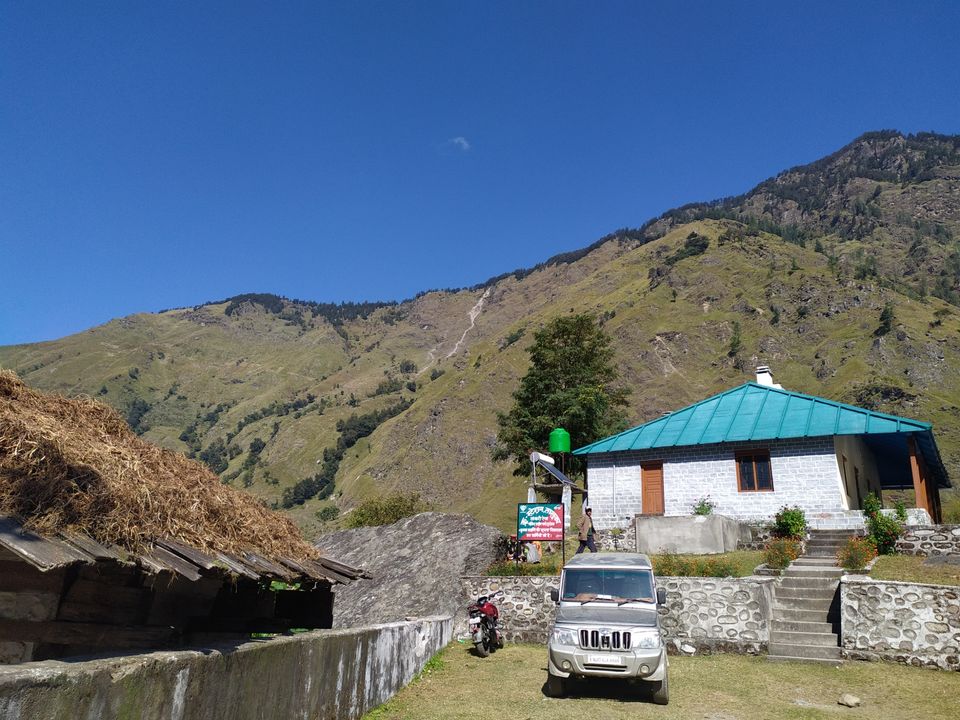 The trail starts alongside the Tons river with beautiful red colored Chaulai on its side. The locals call it "marsha" and is used to make laddoos. After 4kms of trek, the trail passes through the the jungle. It rained last night which made the stones slippery and the trail muddy. My Quechua shoes helped a lot to pass through it with ease. Tall lush green trees and small streams crossed our paths throughout.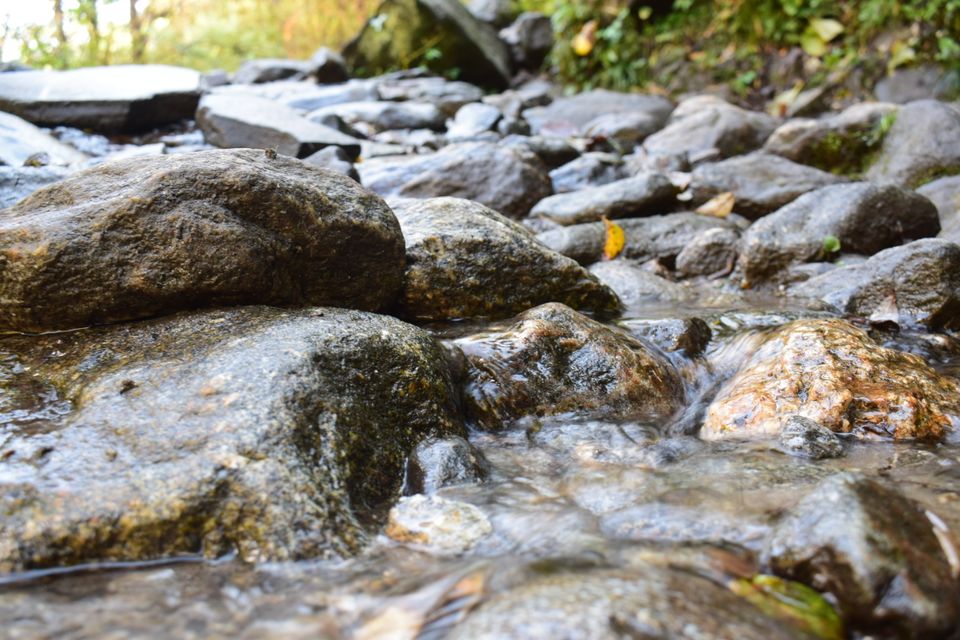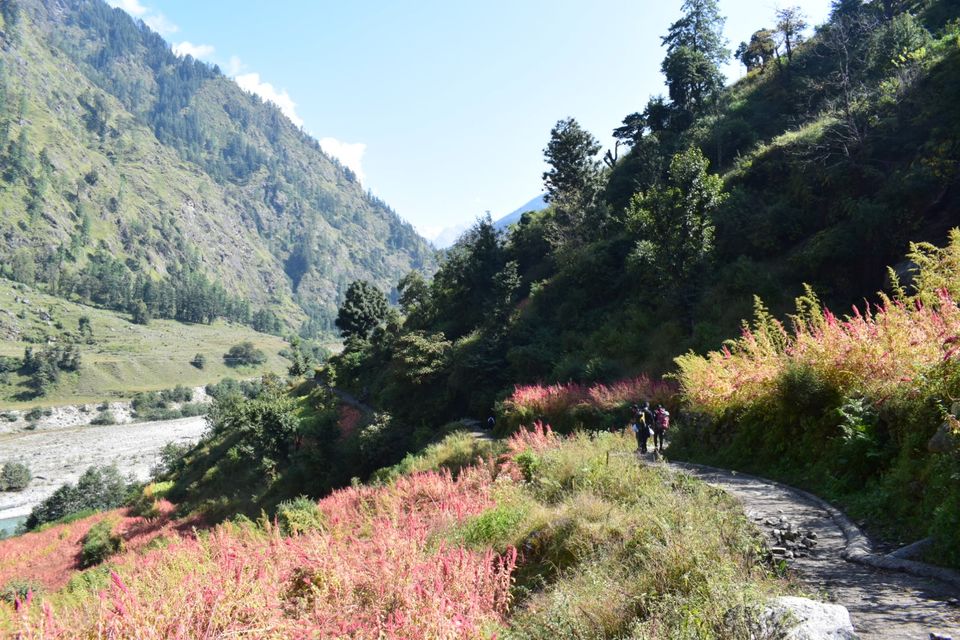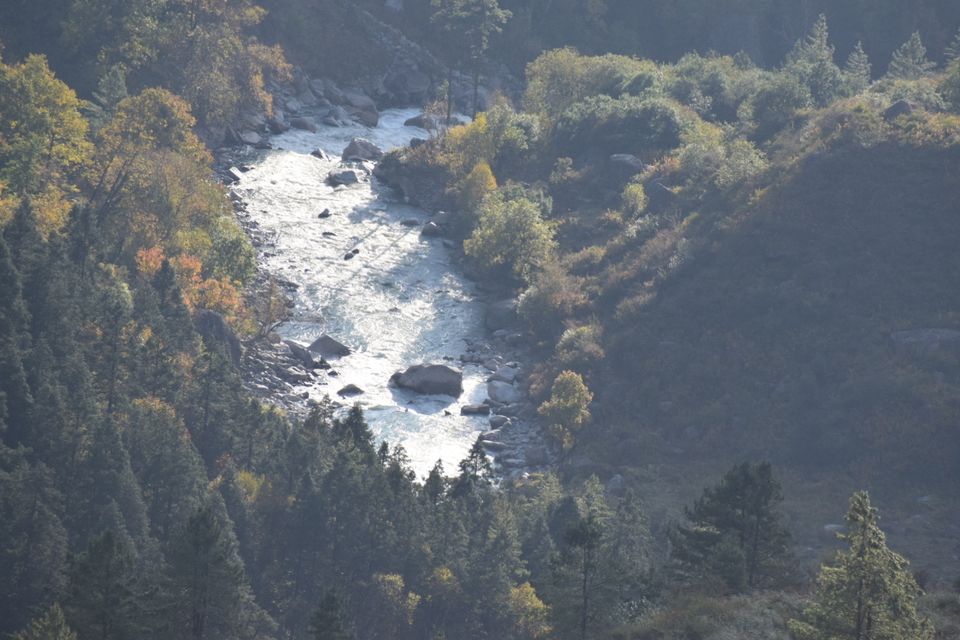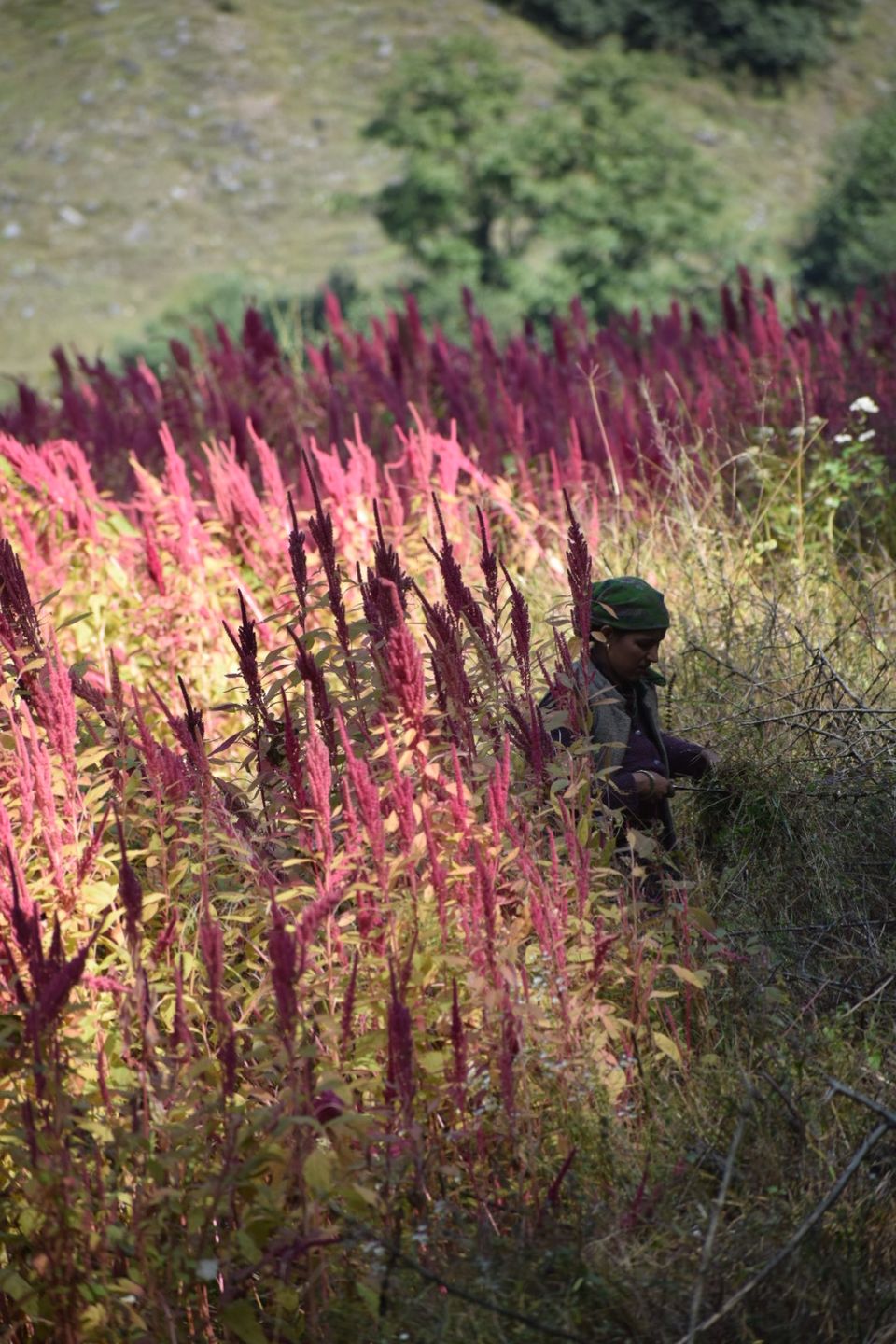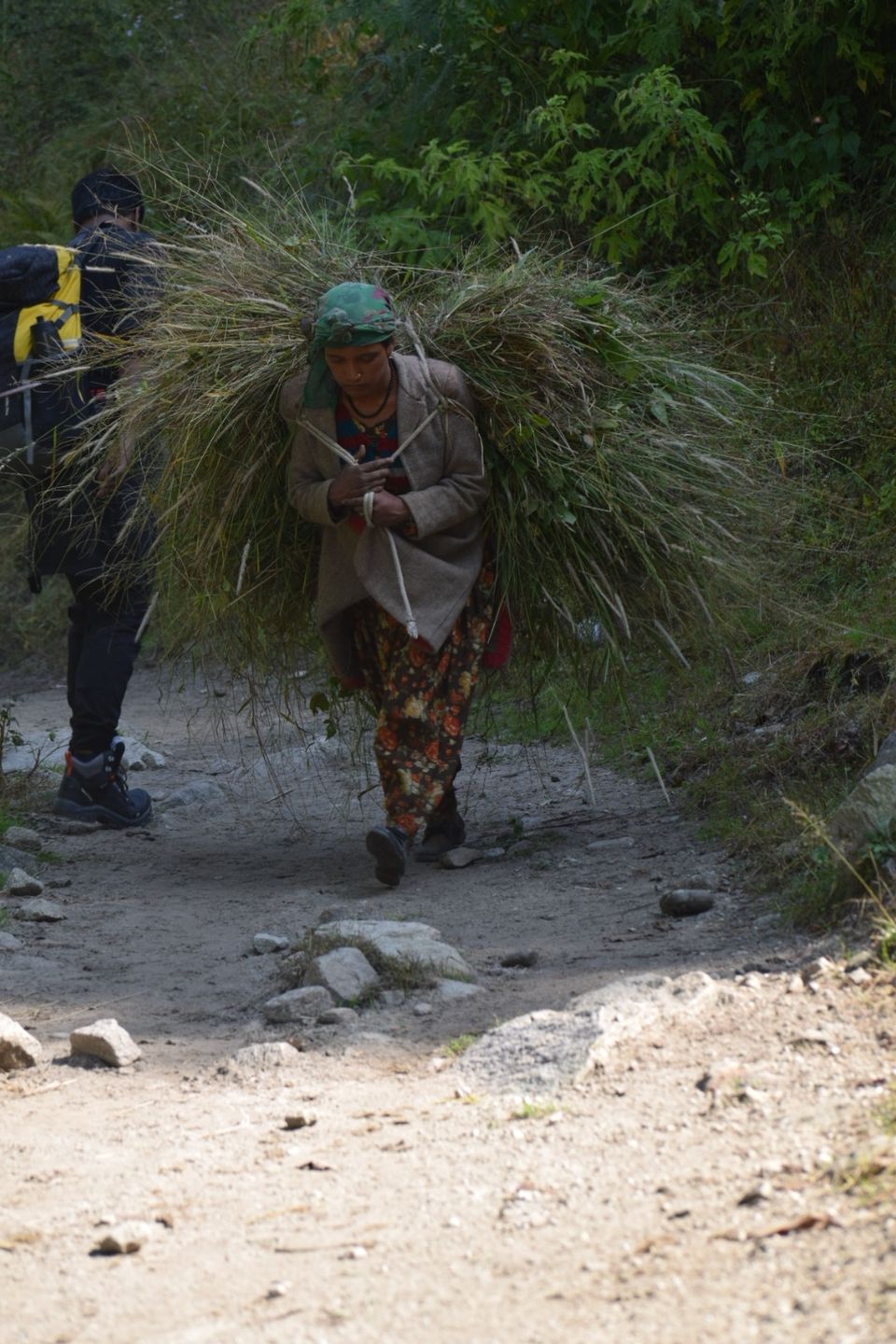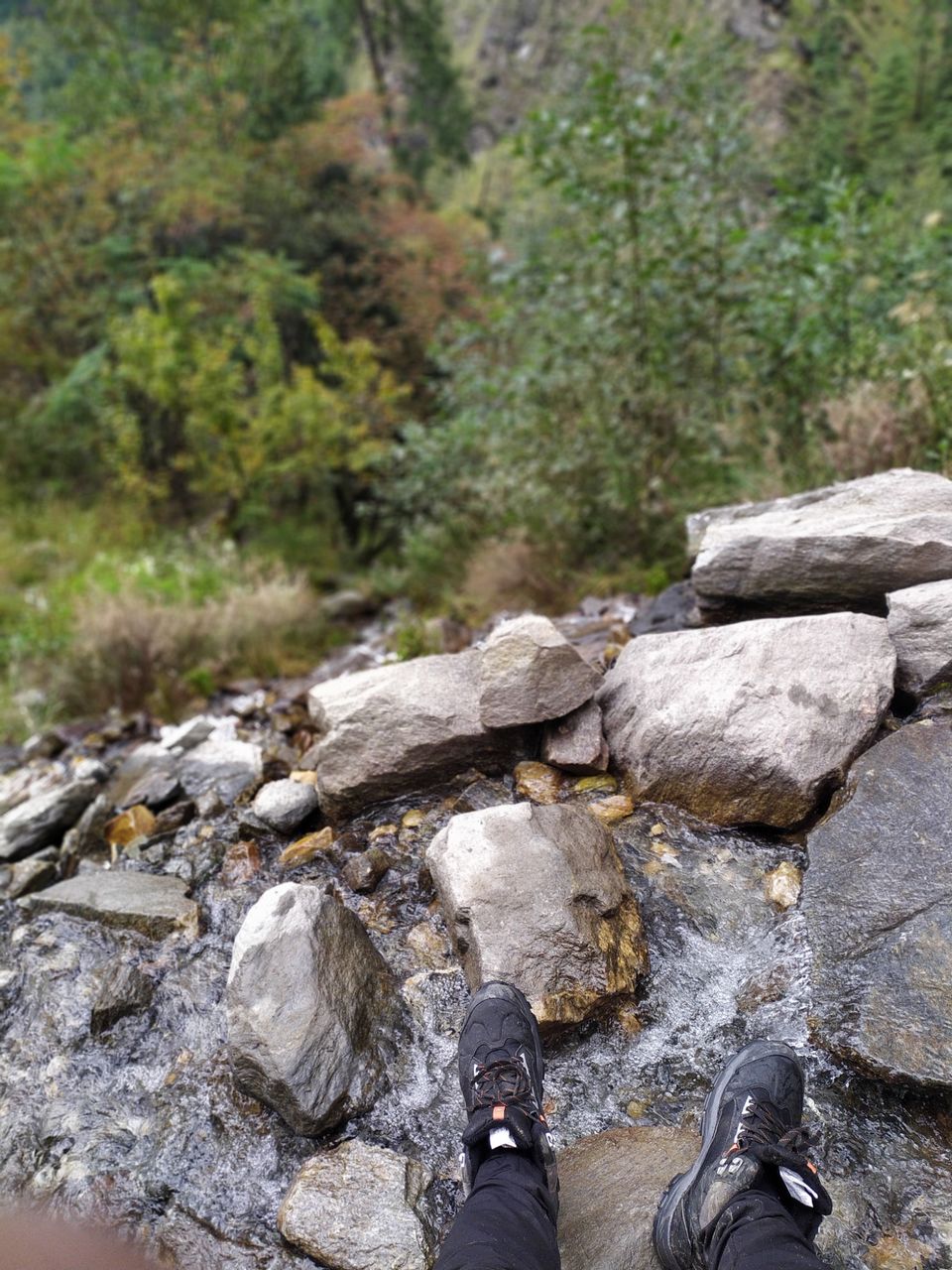 No matter how exhausted i got, the mesmerising landscapes seemed to vanish the breathlessness and acted as an energising agent.
Doing that, while filming a video, i got hit by a mule from the back. Taking the camera, i ran i fast as i could to make way for that mule to pass. As funny it sounds, it was equally dangerous. My friends laughed and after i caught my breathe....so did I !!
After 3 hours of trek, I halted at a small village called Gangaur. Theres's a small canteen where one can get refreshments. Nimbu paani (lime water) is a must to try there at only rs.25.
Our camping site was at Chillurgarh and from Gangaur, it took me a couple of hours to reach there. I was the slowest trekker in the group and around 5pm, i was finally there. The weather changed suddenly and it started to rain, followed by hail.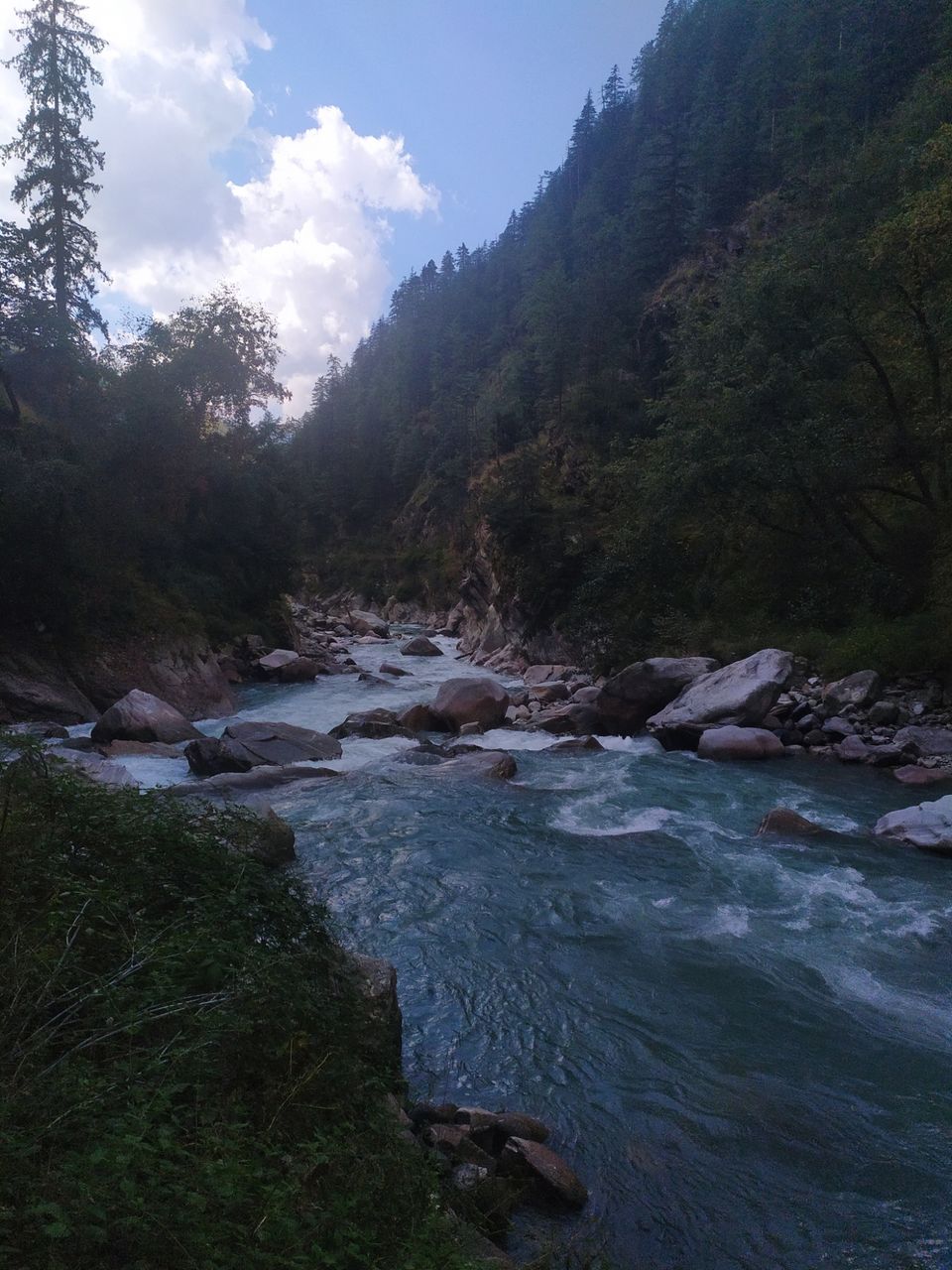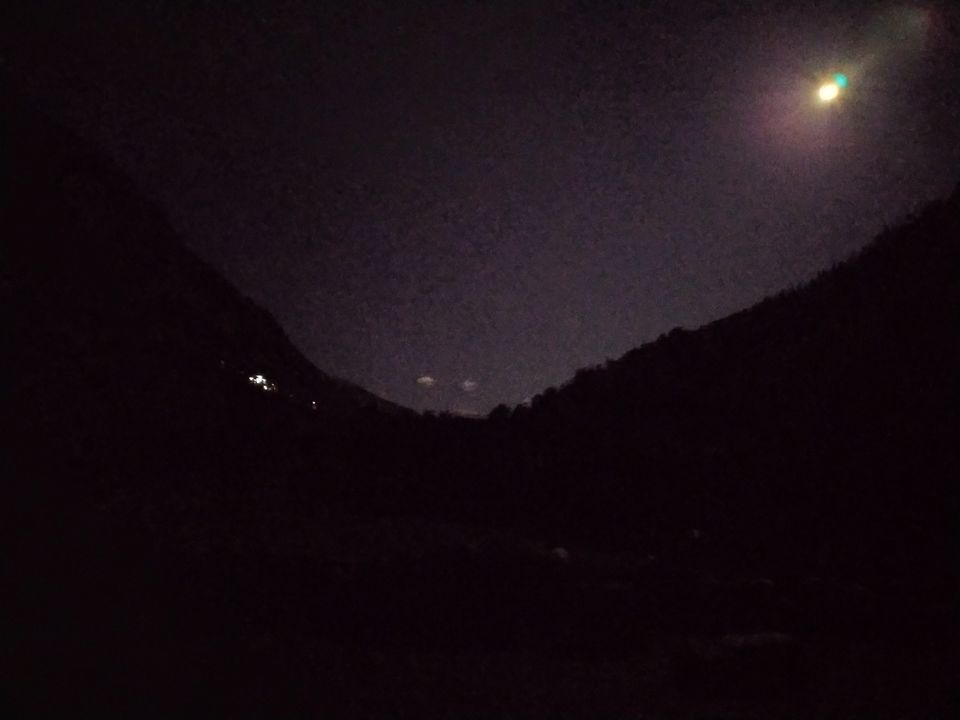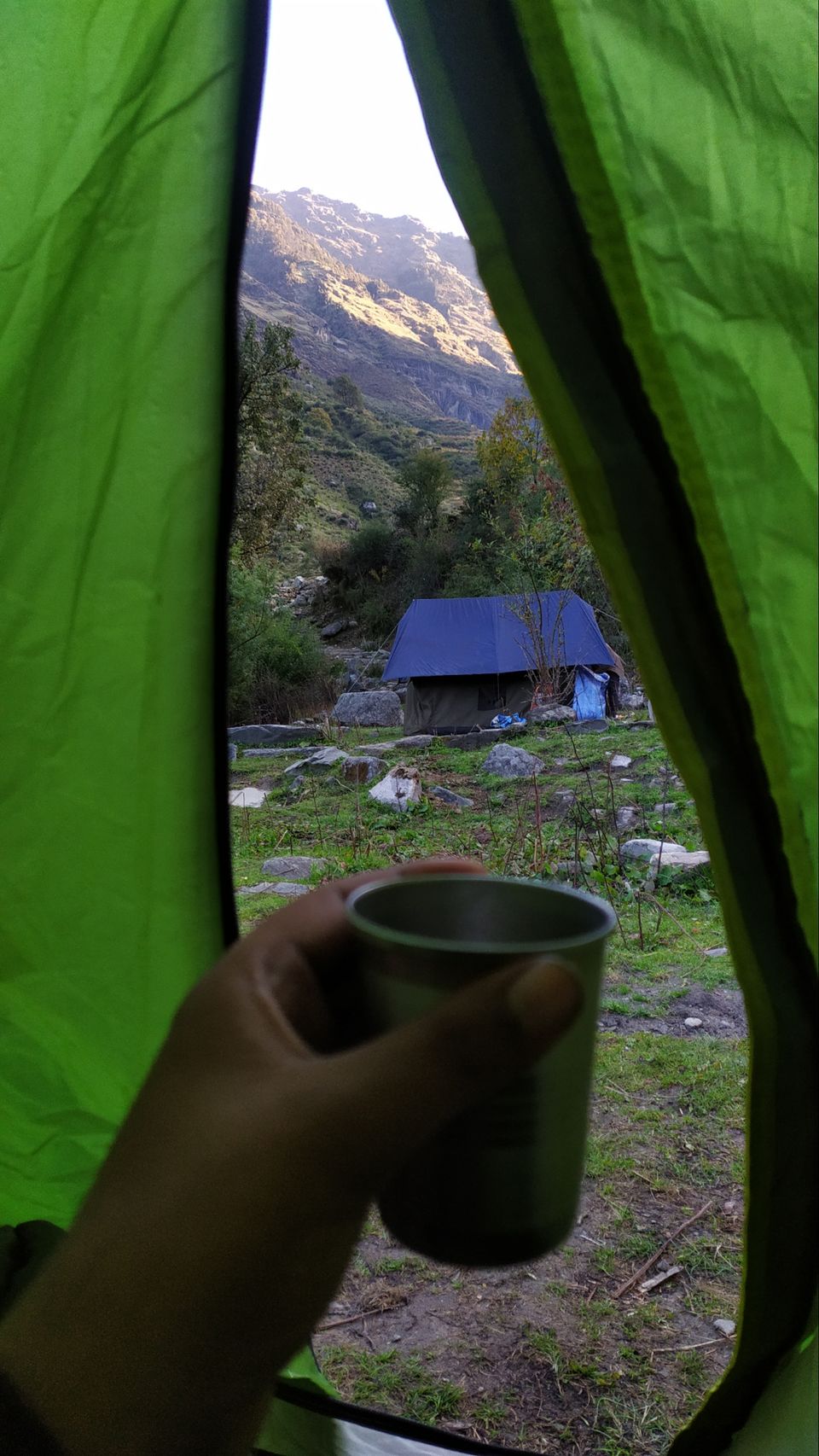 We were advised to provide our bodies ample amount of rest because the next day was a 16km trek steep uphill. The temperature at night dropped to around 2°C that night.
Fron Chillurgarh, we started early in the morning at around 7am. Walking a few metres, i was welcomed a flock of sheep and ram.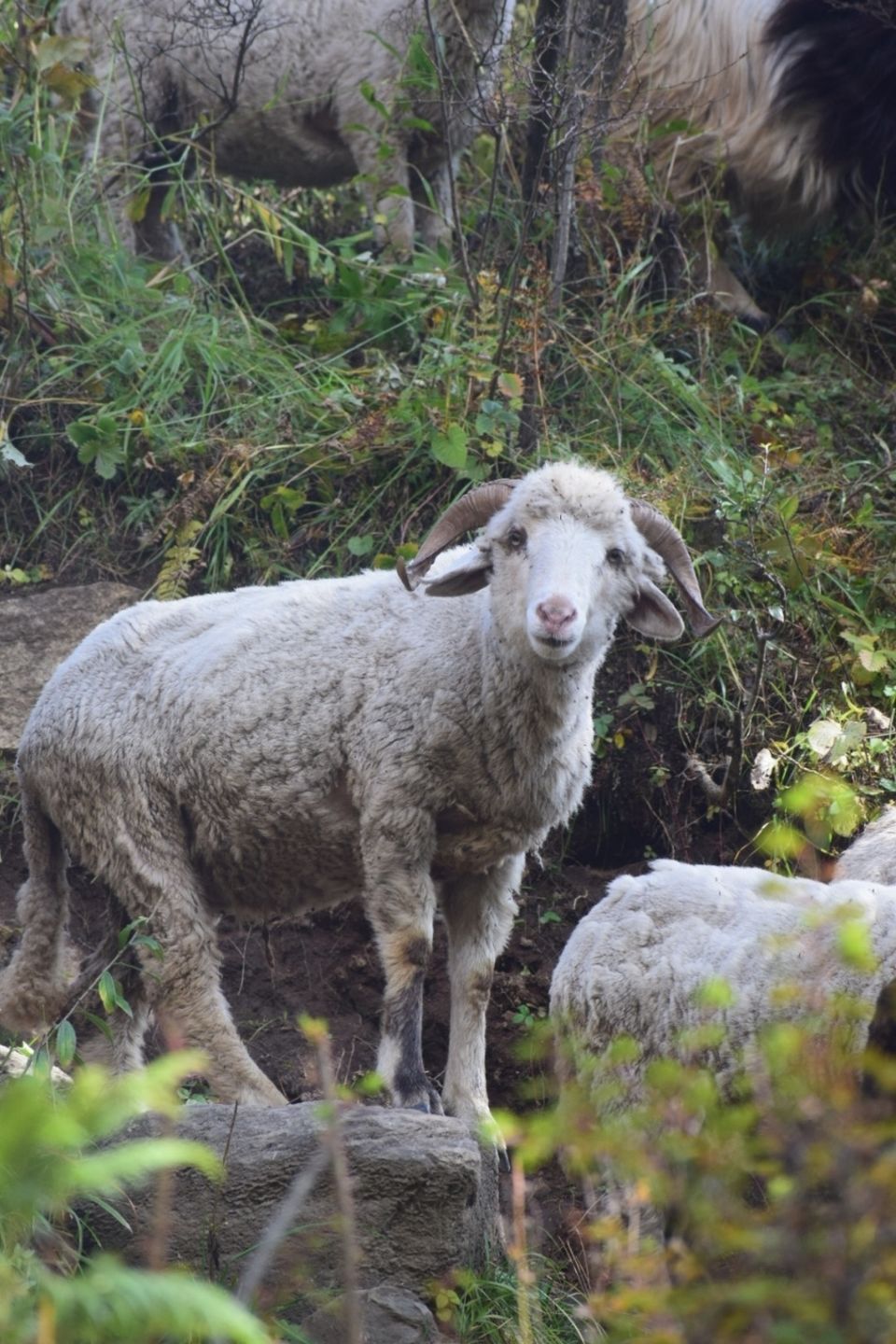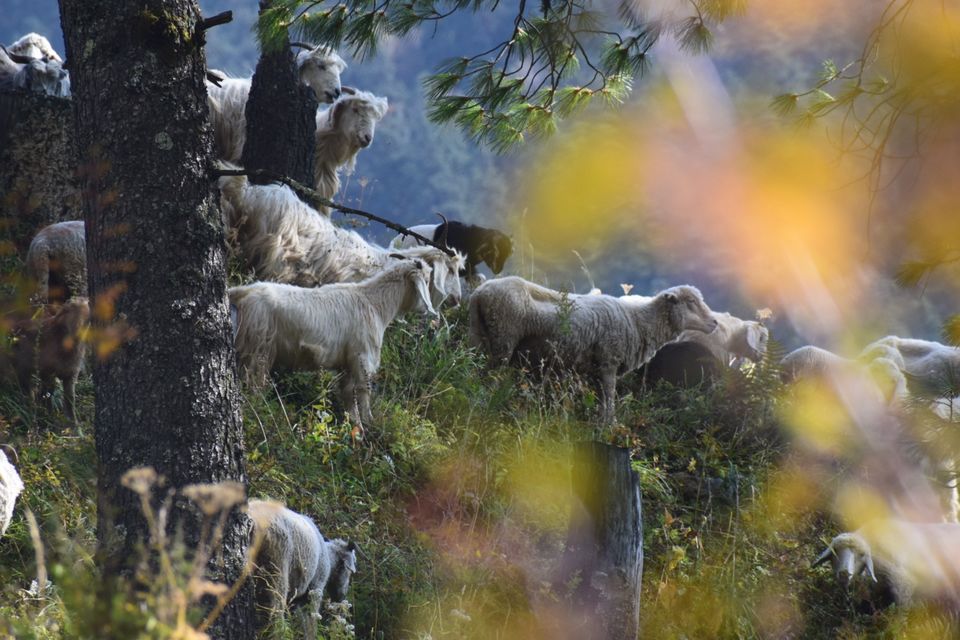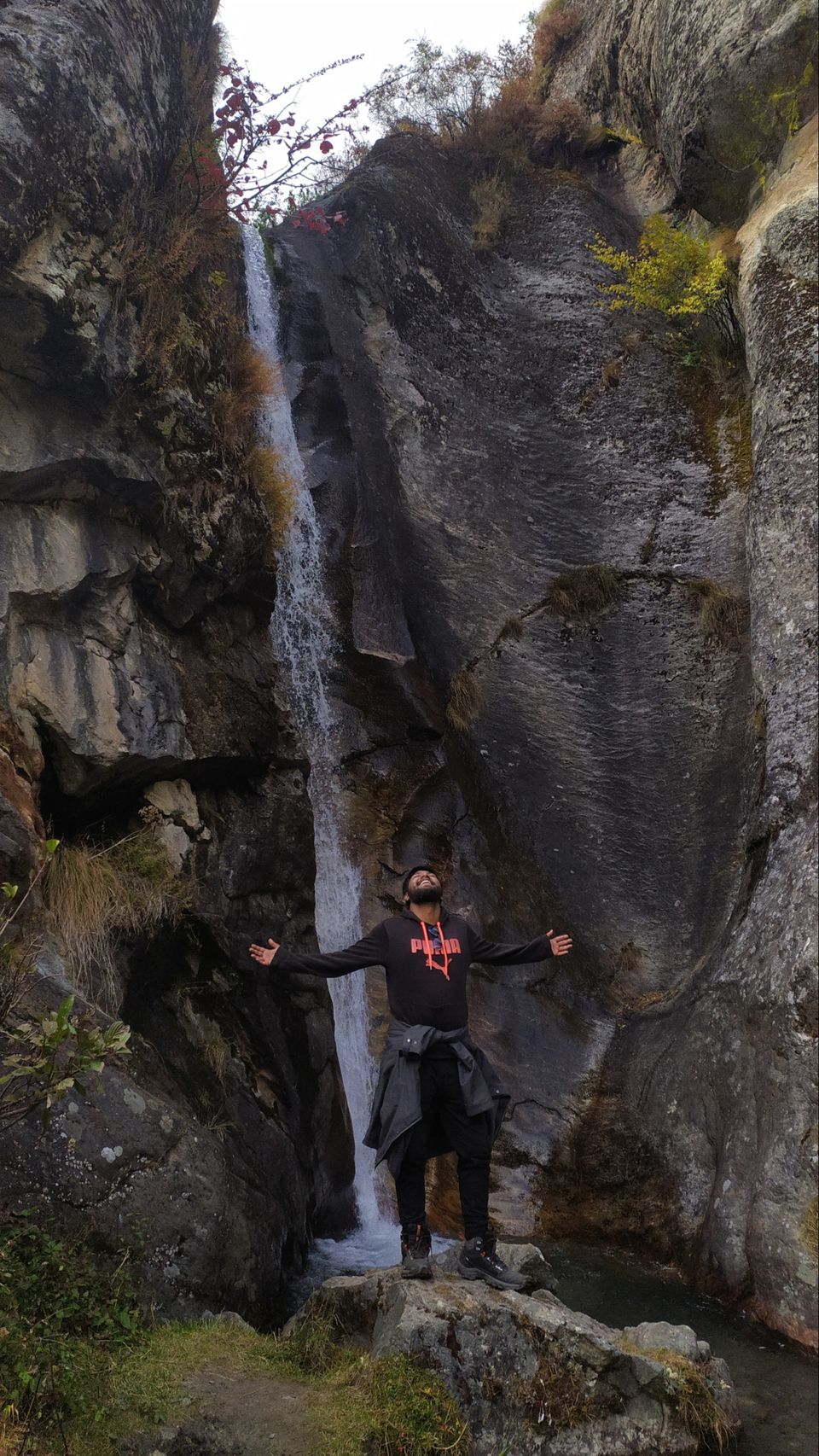 After a few miles, the beautiful village of Seema came into view. The locals are mainly shepherds and and rely on farming to make a living. The village of Seema is connected to the other side by a bridge which one has to cross to reach Har ki doon. Beside the entry on the bridge, is a trail marked for Ruinsara lake.
After crossing the bridge, the slop takes a wild steep uphill. And one thing that i learned that day was that- "Never trust the locals when it comes to time!!!" You can blindly trust them with the route or trail but never ask them how far is it or how much time it would take to get there!! For them, everything is "thora" or very near....but actually, its like a couple of more hours away!!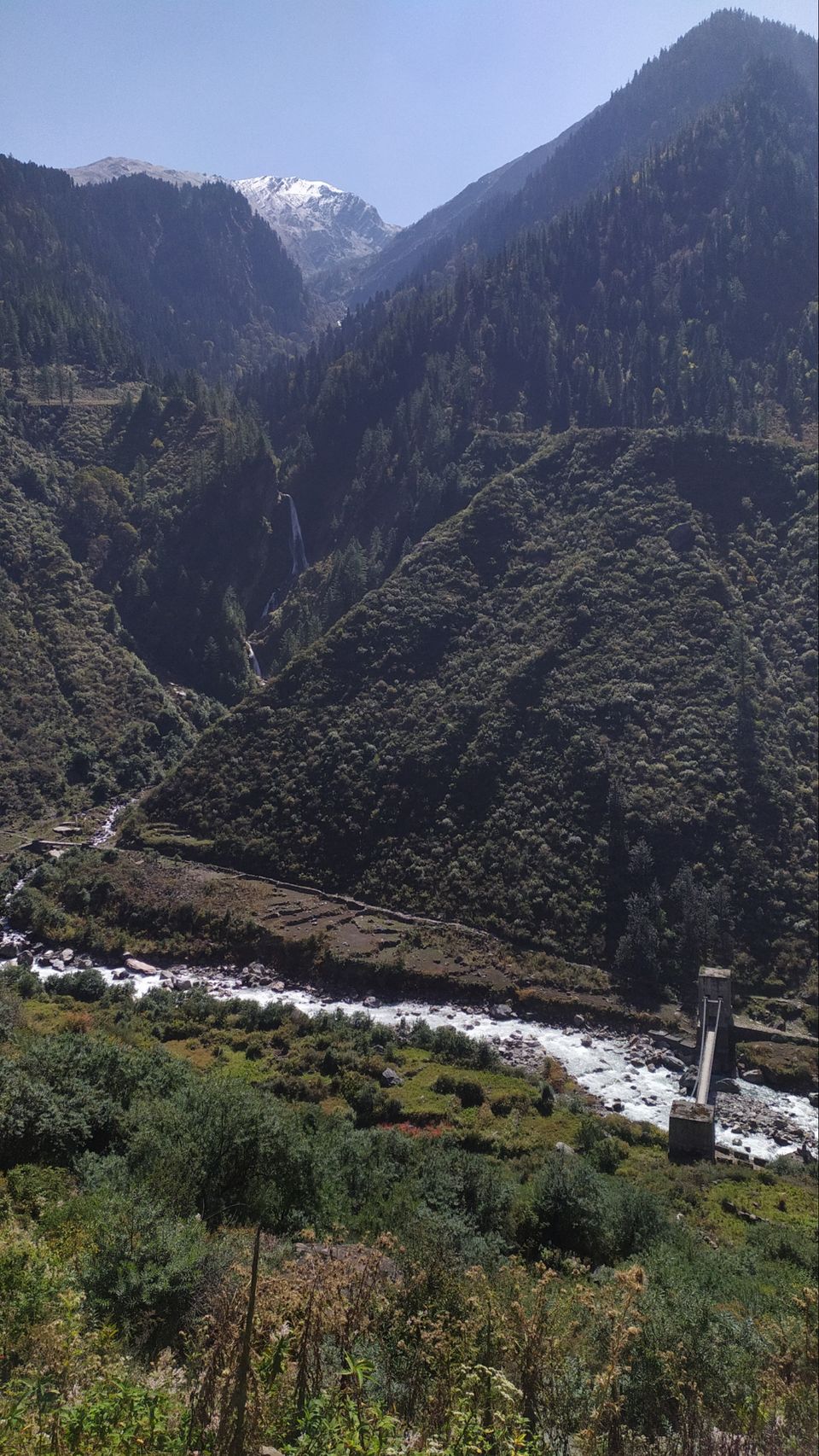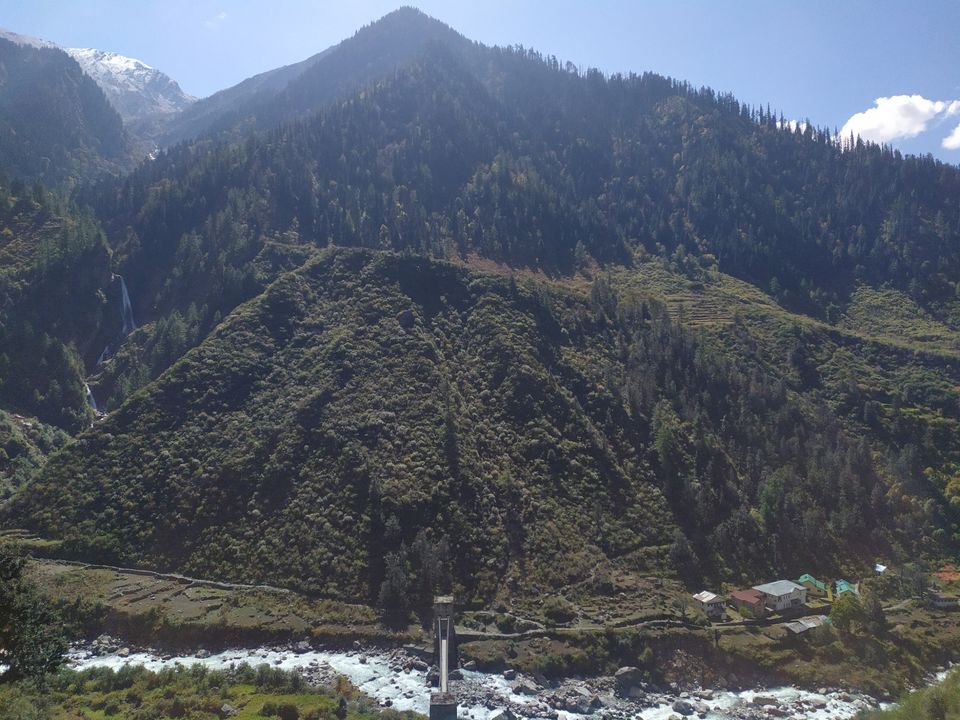 And thats not even halfway. I have never trekked in the mountains before and the prescribed milestone on the route is the distance from peak to peak but not the turns and curls on the passage. So never judge the distance based on that. I realised soon that this 16km uphill trek is going to be not less that atleast more than 20km!! The steep climp made the trek difficult altogether.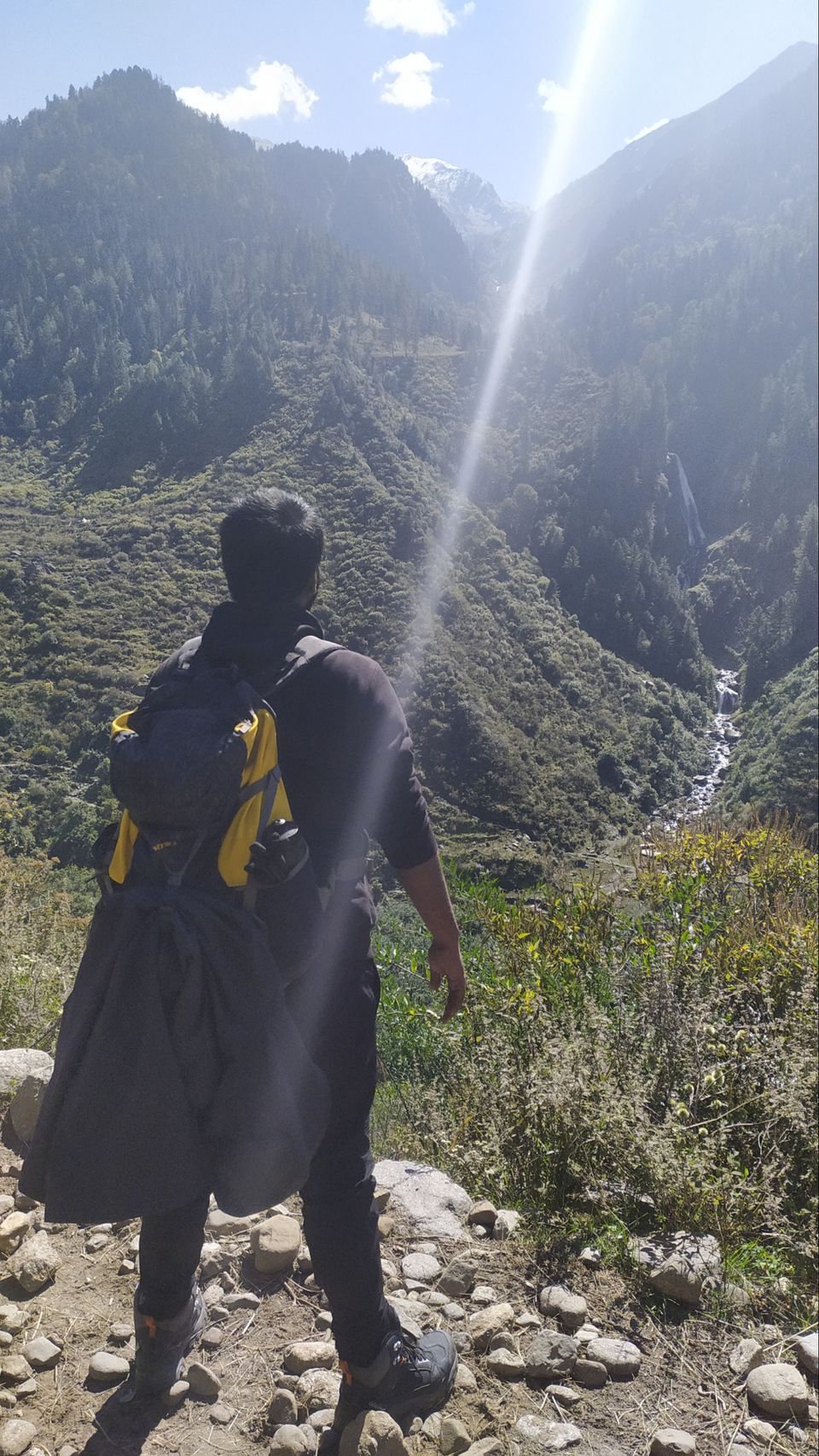 Todding slowly and steadily, i finally reached a meadow from where it was an hour long climb to our camping site - Kalkatiyadhar. There's an interesting story about this place though. This camping site got its name because of the huge flocking of trekkers from Kolkata to this place. Hence, the name Kalkatiyadhar. (Kalkatta-dhar).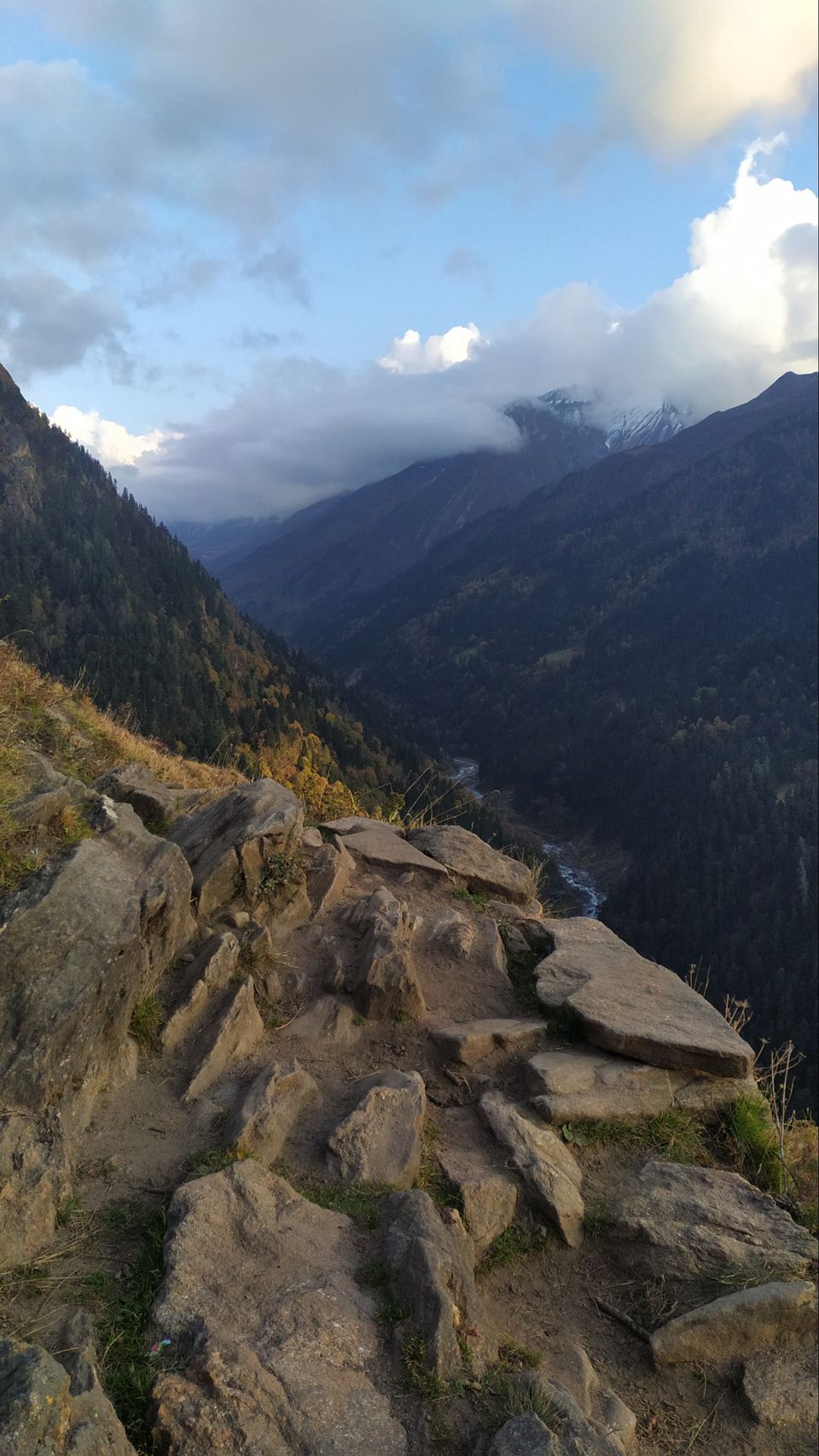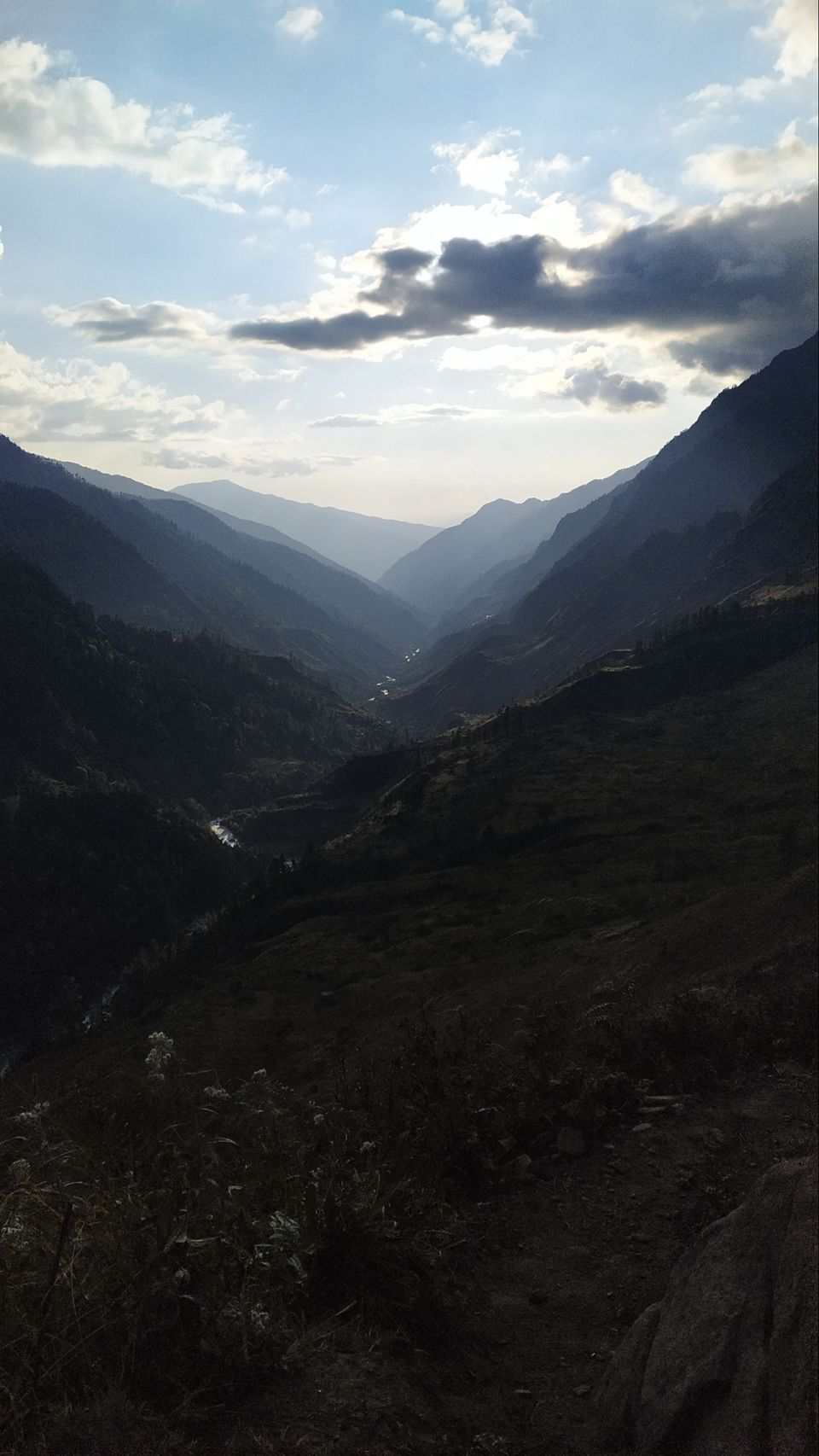 My knee was already injured somehow. The knee joint of my right leg was already causing troubles making it harder to move uphill. One of the fellow trekkers from our group who reached the site about a couple of hours ago came back to help me luckily. He took my rugsack and somehow i made the 2nd day. As hungry as i was, as one of my friend had my share of the lunch with him and didnt realize that i would be so slow to trail behind him. So remember....never leave your food with anyone and tread at your own pace. Never try to match someone else's trekking pace.
We camped at and i couldnt believe that somehow i really made it!!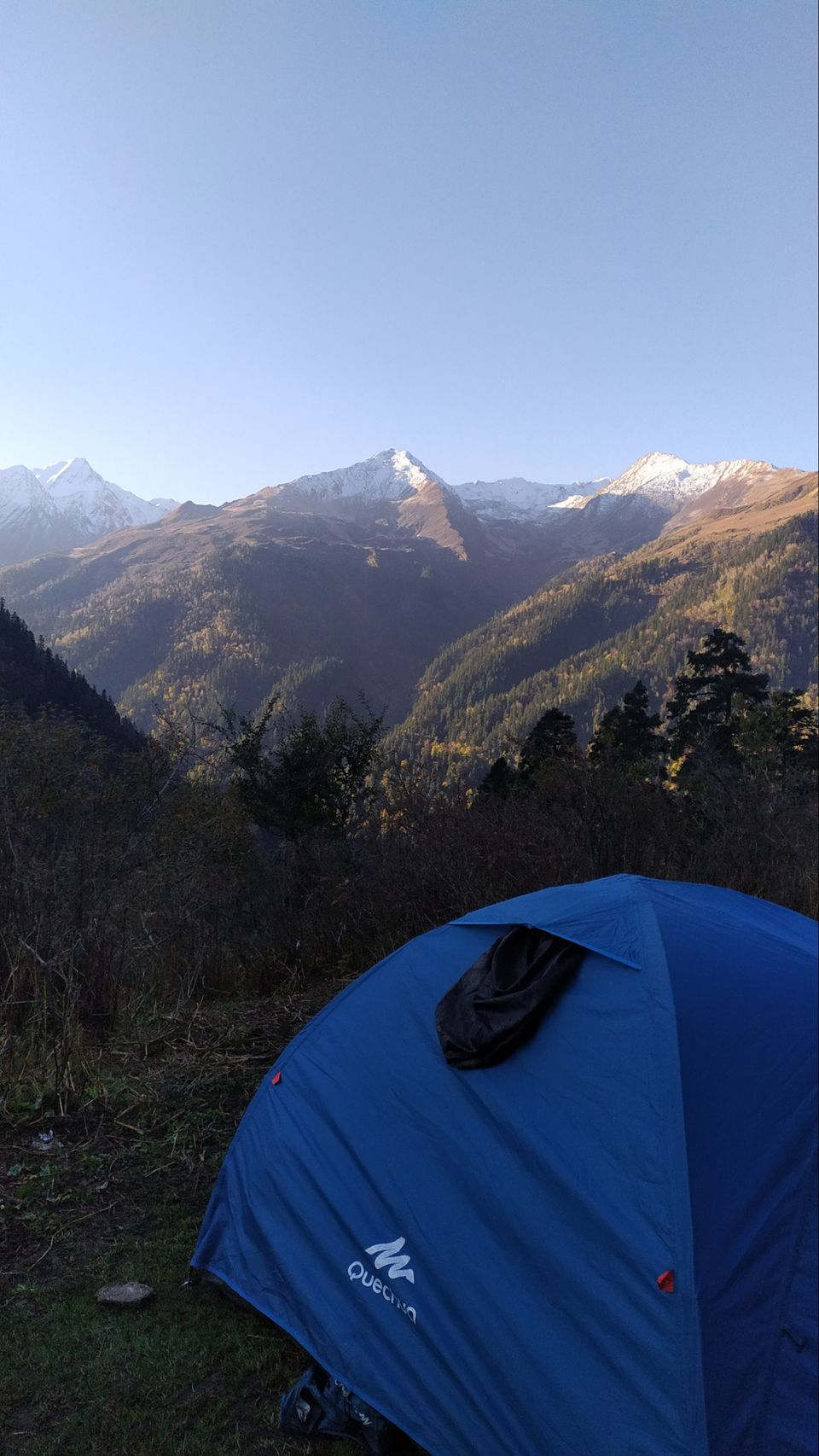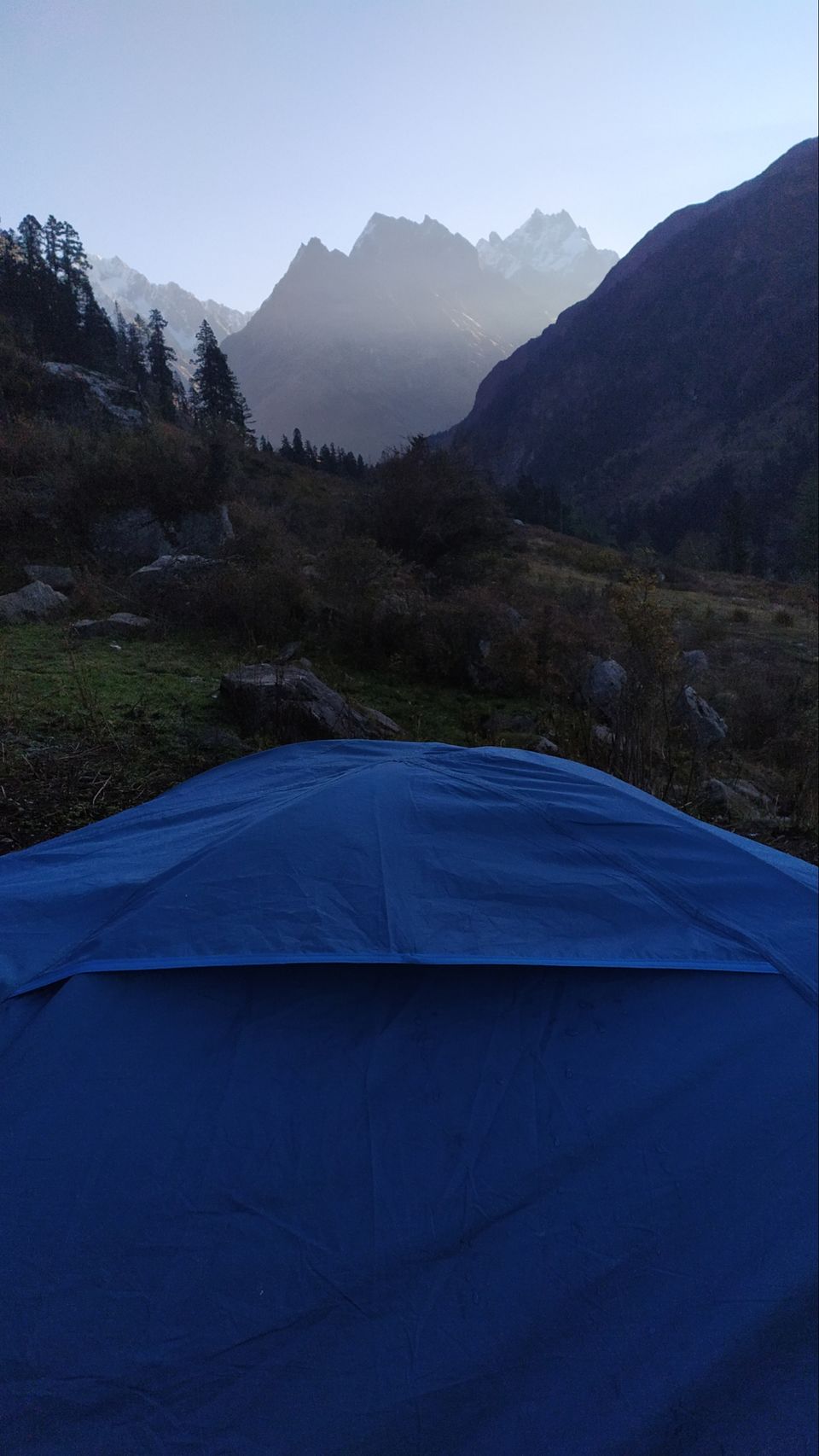 Its not advisable to take painkillers during trekking but given that my knee was aching way too much to bend completely, i took a painkiller, applied some gel and bandage on the knee and started the last day of trek to Har Ki Doon valley. Its was a 3km uphill trek. The trail passed through the jungle once again and was easy compared to the 2nd day of the trek.
Came across a shepherd with a huge flock of sheep and ram with three hunting dogs who are competent to fight and kill bears. Each dog is worth rs .80000 and the belt on their neck are made up of iron which injures a bear whenever a bear attacks the neck of the dog. Once the bear is injured, the other two dogs fight the injured bear with pierced jaw!!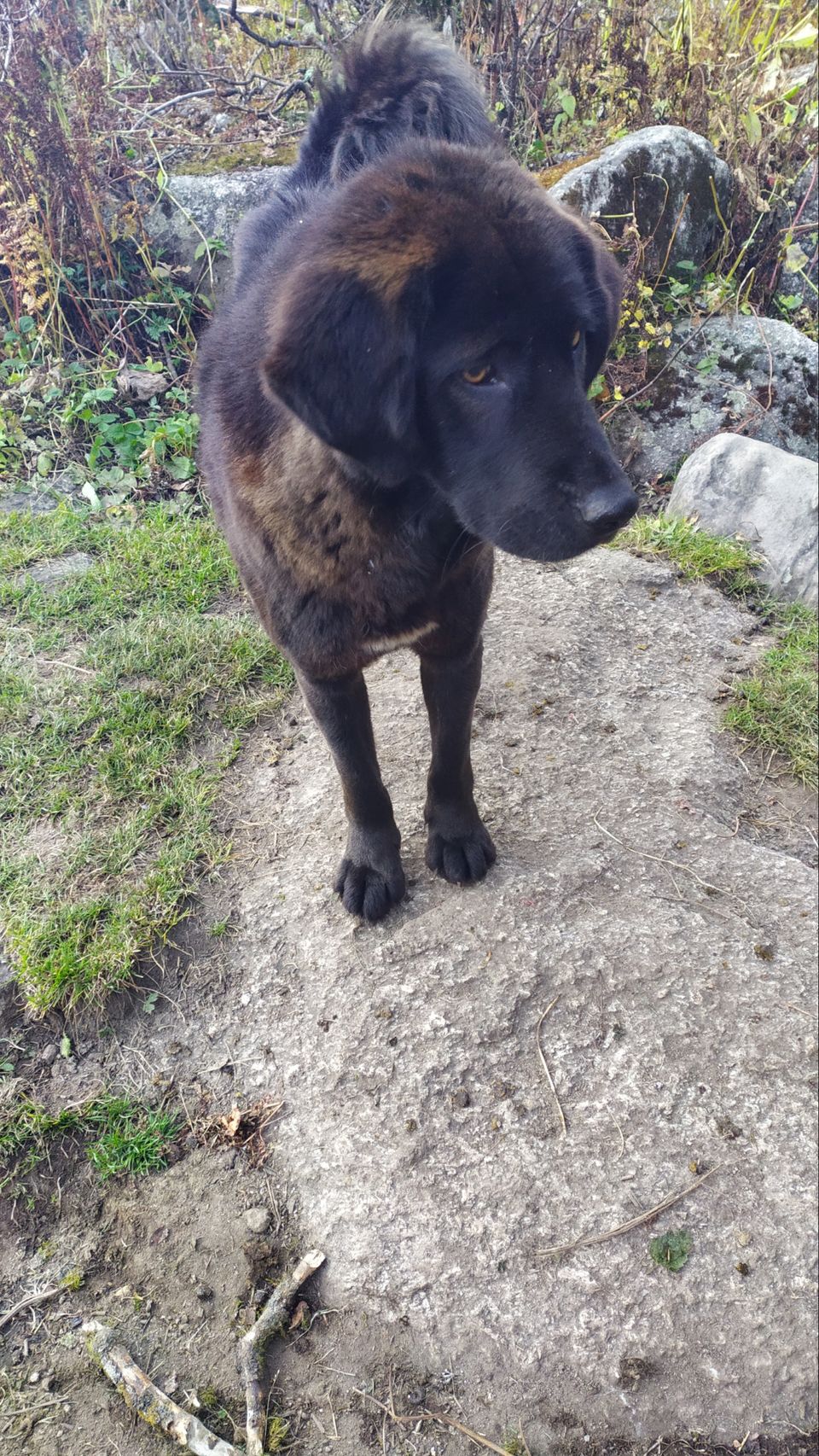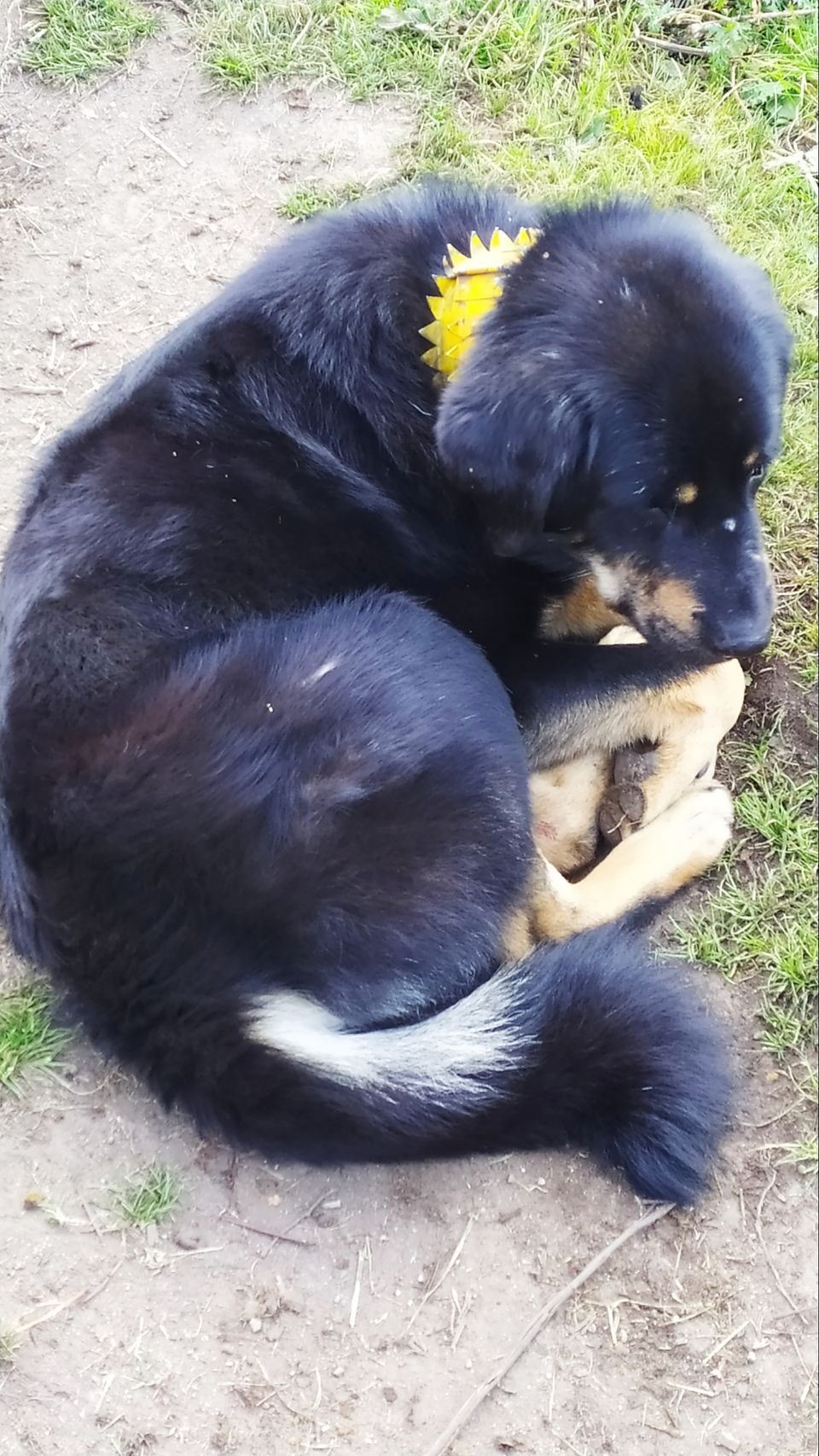 It took us not more than 3 hours to reach the Har Ki Doon Valley.
The Swargarohini peak was perfectly visible. Within minutes, it was about to be covered by the clouds.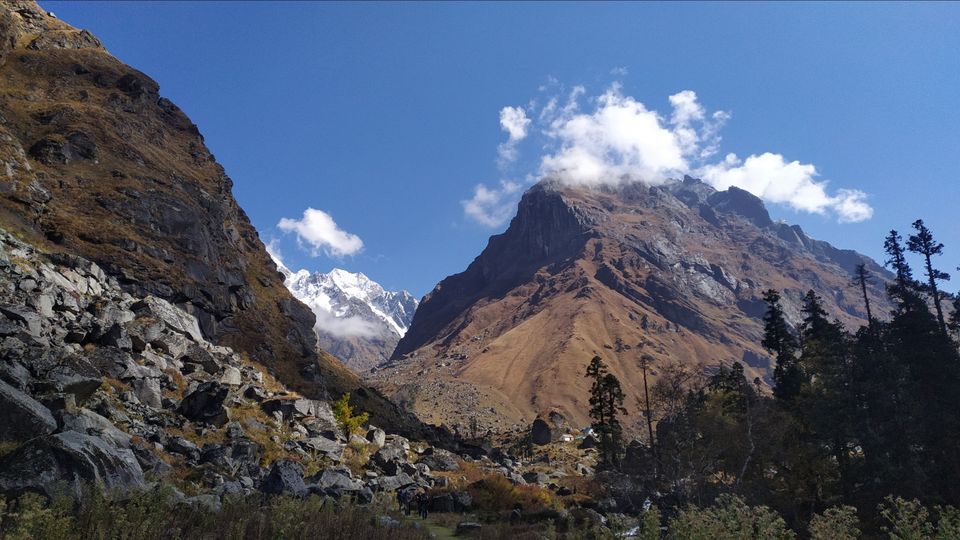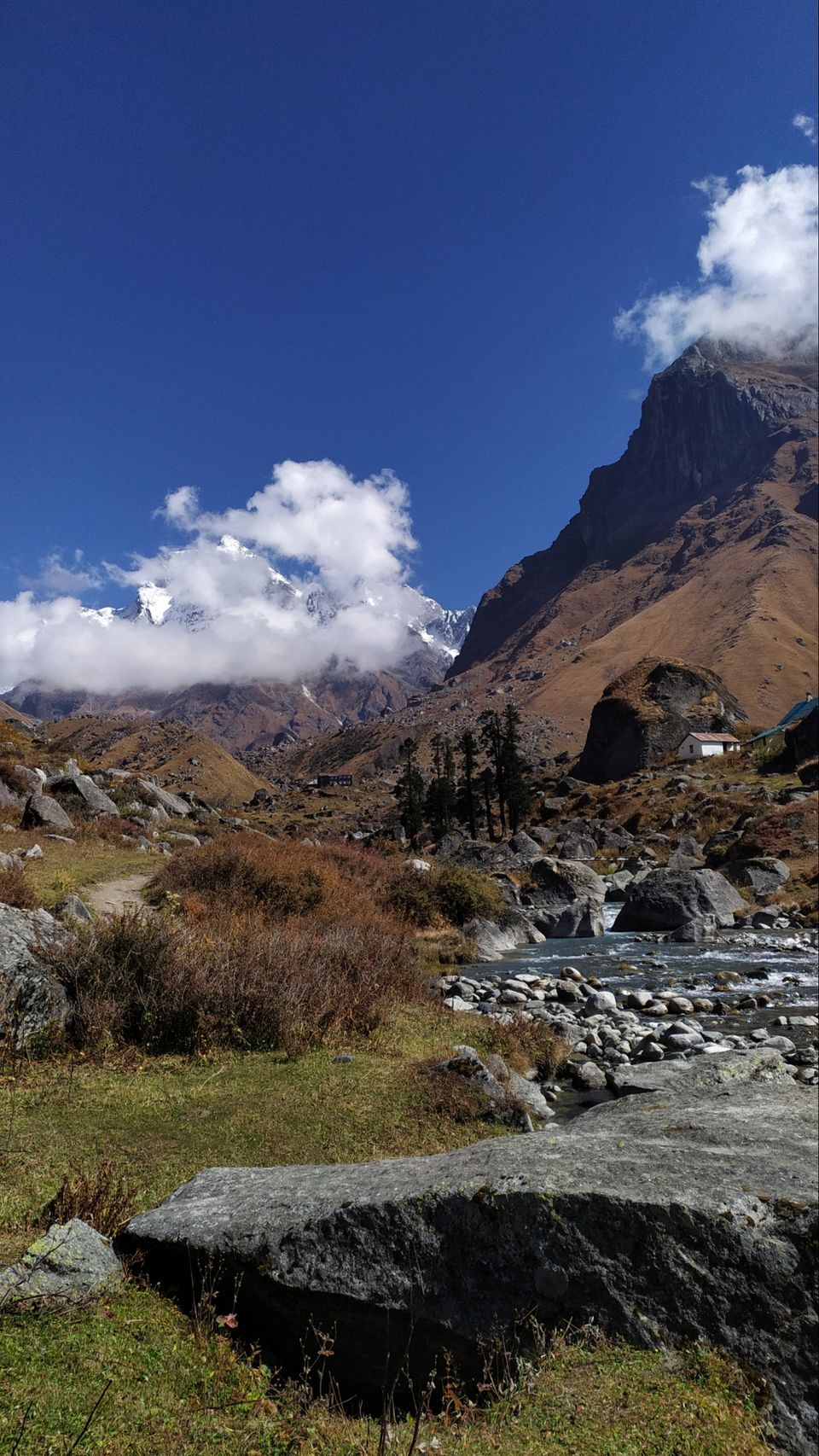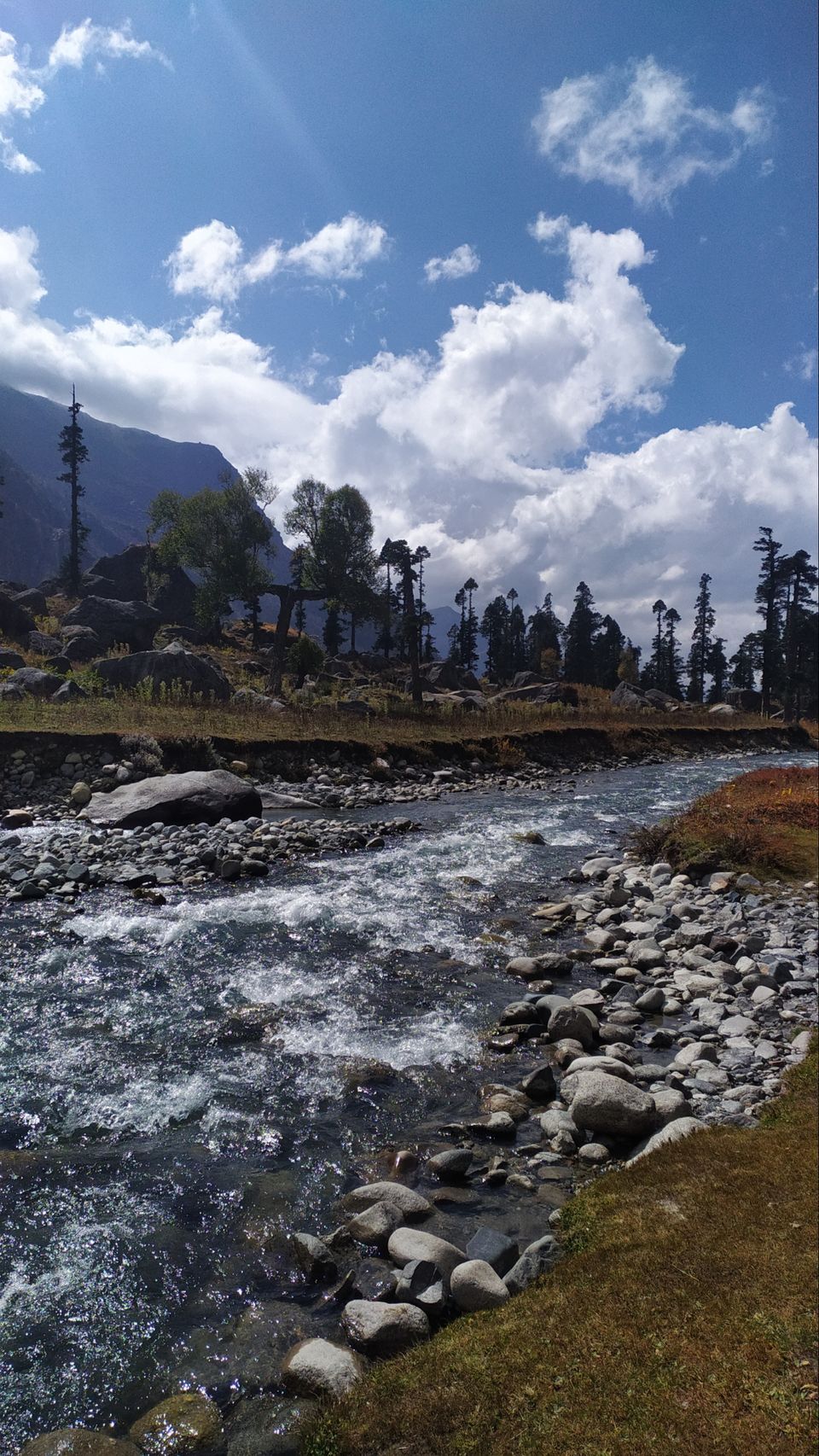 The valley Har ki doon translates to Valley of Gods. To me, the place was no less than heaven as well. We climbed upwards to reach the forest homestay to get the perfect view of the valley. And that was some sight to behold!!! I'll let the pictures do the talking....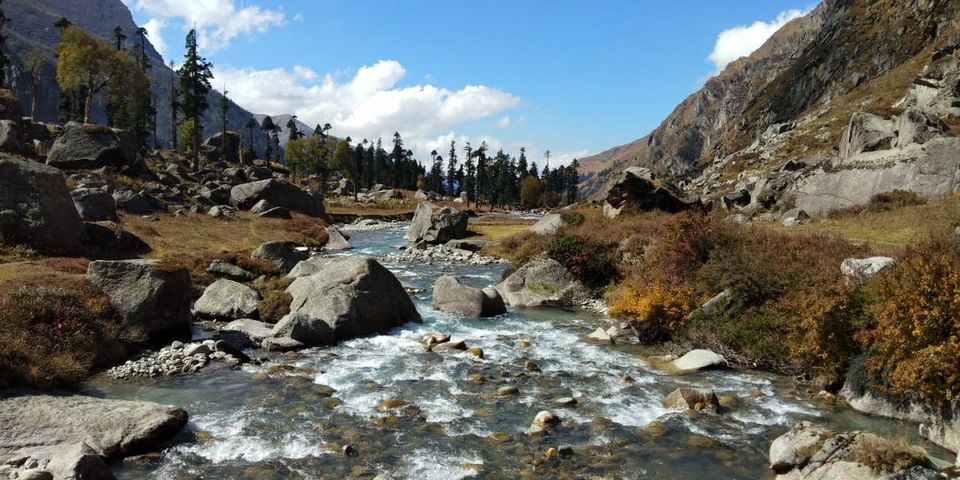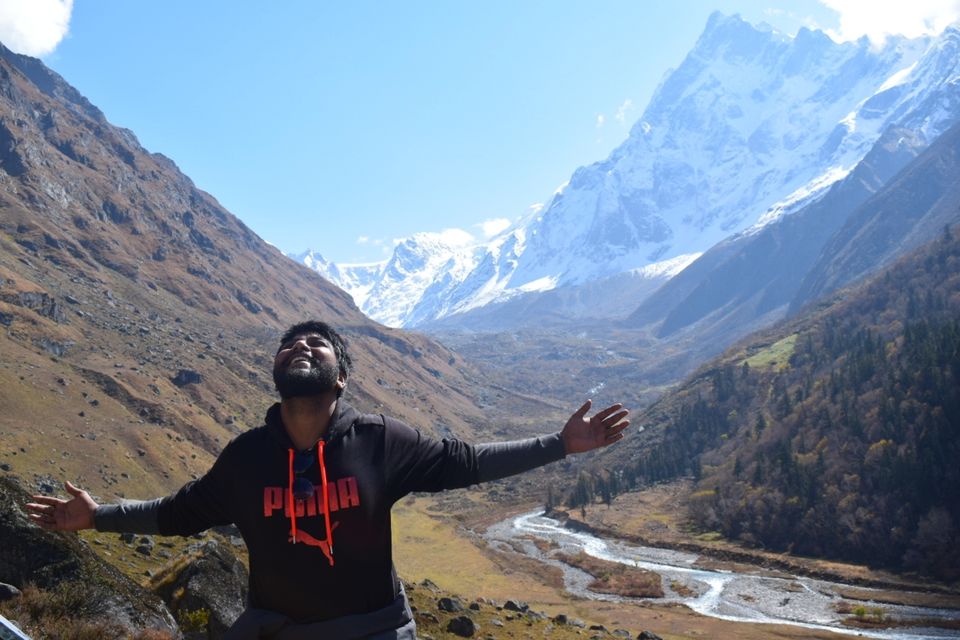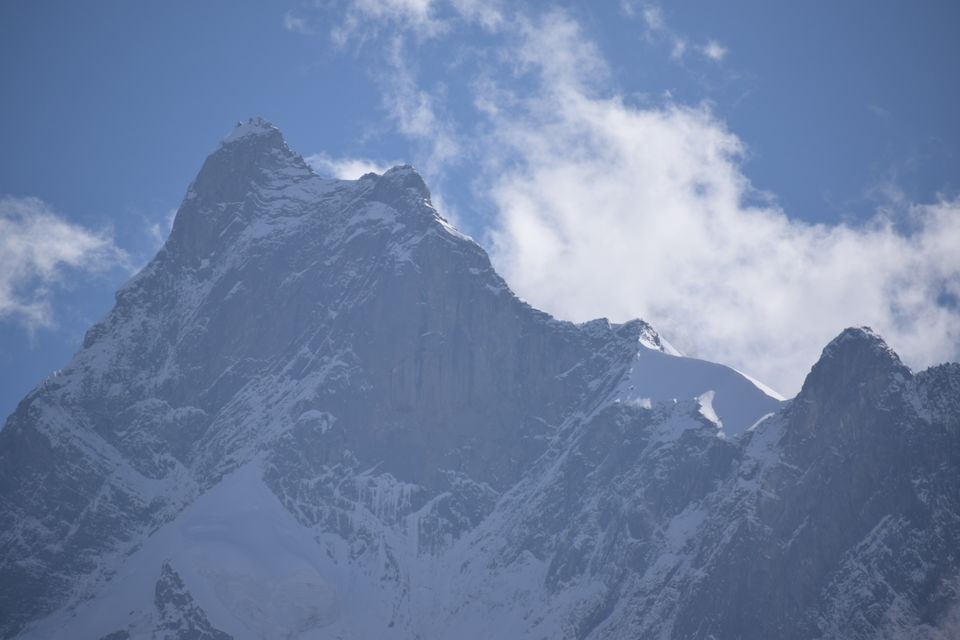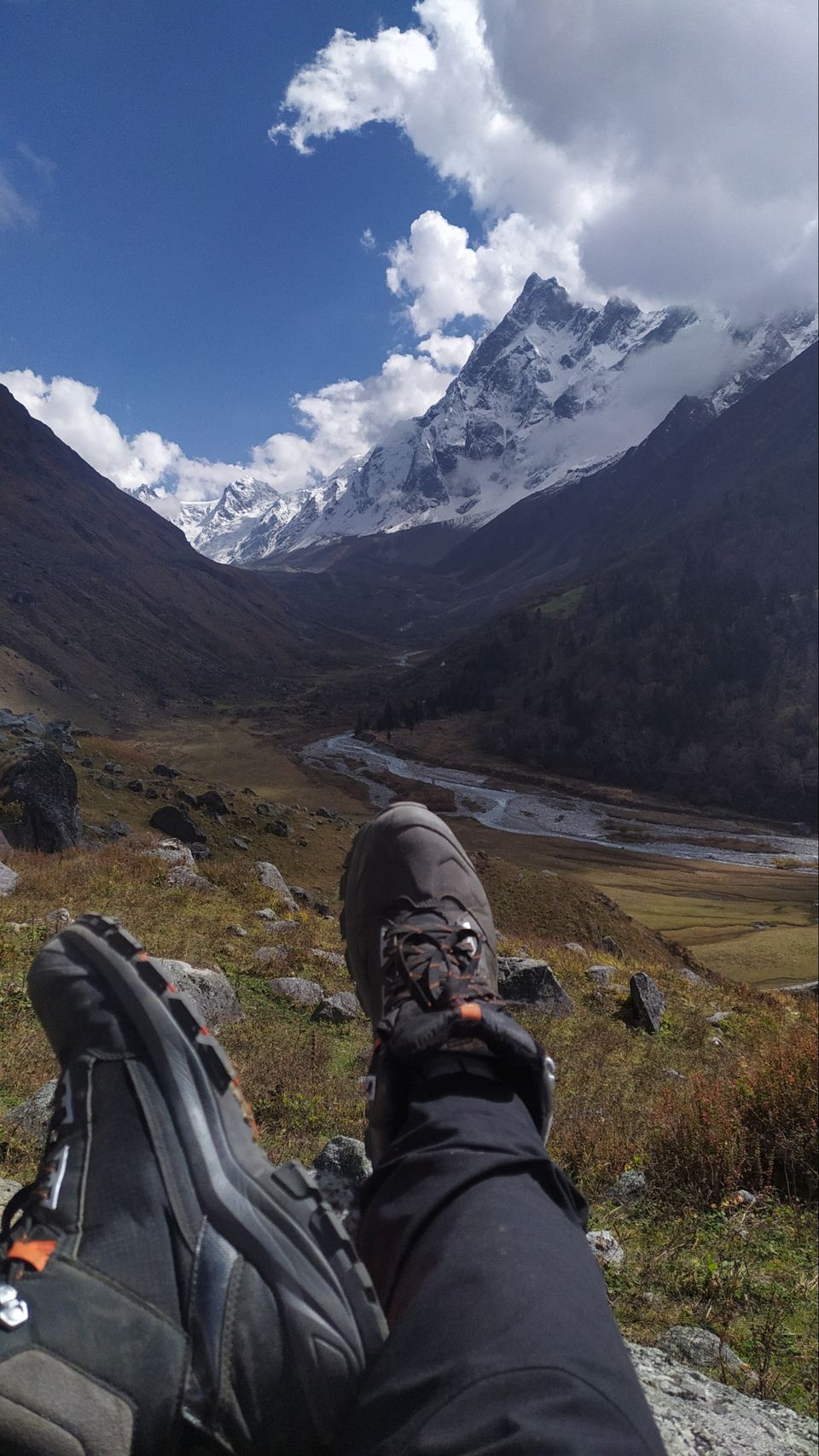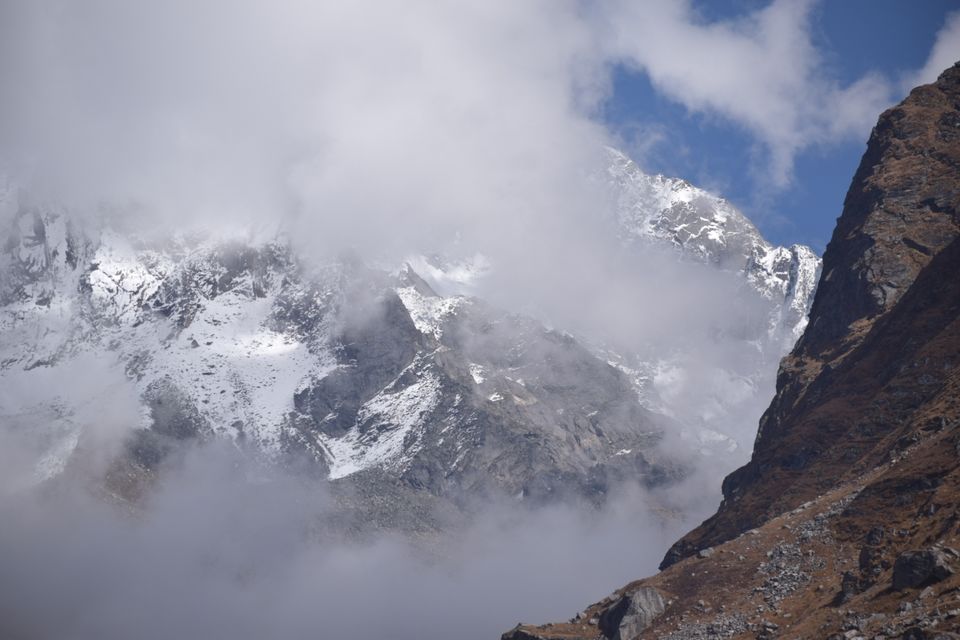 The forest department has strictly banned camping at this valley so we had to trek back to our camoing site at Kalkatiyadhar, where we took the night off.
The destination had to be left behind but the view was still instilled in me. The trek route today was to be from a village called Osla. One can trek back to the same trail to Seema but trekking through the village of Osla is highly recommended.
The village of Osla is a beautiful village with beautiful people. The kids gathered around us for chocolates and the smile on their face is bound to make your day.
From Osla, we trekked back to Kalkatiyadhar and after spending the night off, we took off back to Taluka.
Trekking down is comparatively easier and it takes half the time to trek down. Balancing is the key, though.
On my way back, i received a small token of appreciation from a small girl whose mother was cultivating chaulai.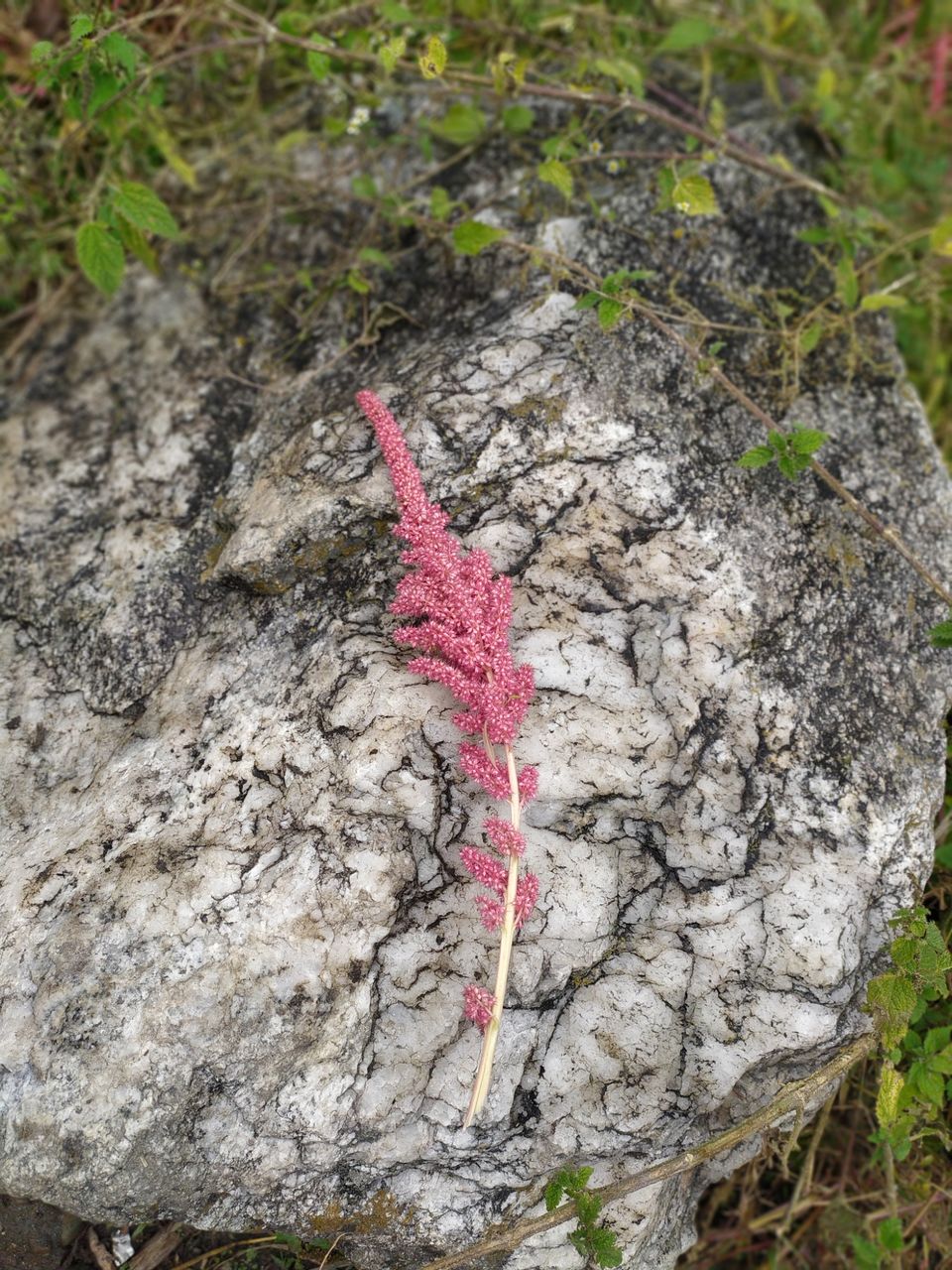 After reaching Taluka, my heart moved to see tge place once again from where we took off. The joy of completing the trek successfully was something which cant be put to words!!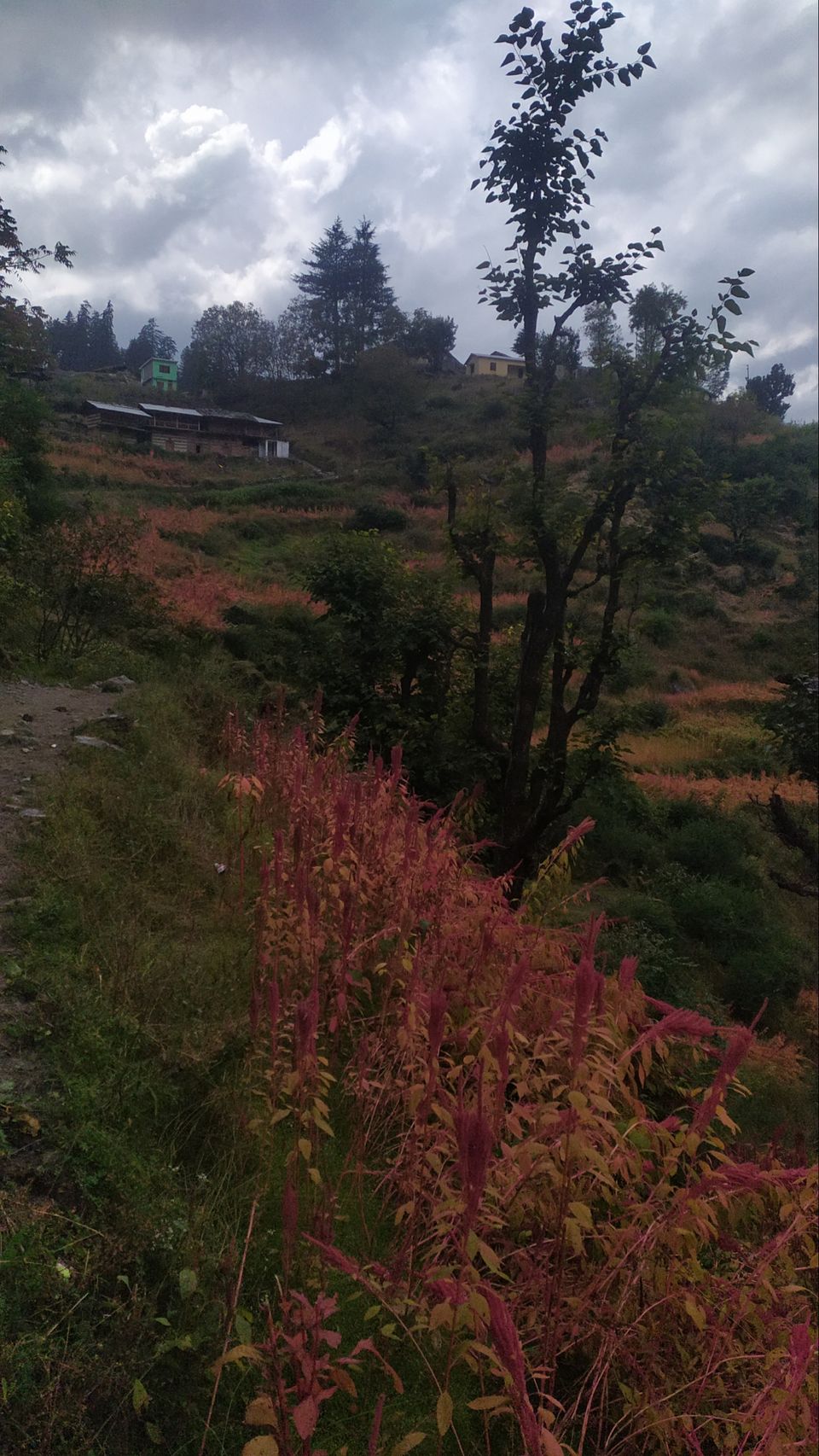 This trek is highly recommended. The difficulty level is labelled as moderate. For first time trekkers, its quite challenging. The one thing which i realized is that the most important thing is will. The will to explore. As long as that spark is alive, we can do and achieve anything. Never ever feel disheartened or ashamed what other trekkers might think of you or your pace or the number of times you halt. At times, you would find yourself walking alone or everyone waving at you from a distance urging you to come fast. Maintain your pace...enjoy the view and eventually, you'll find yourself making it up to the destination. Make the most of it!!!
If you like this article, feel free to see my photo blog on Tripoto, a 4minute video on the entire trek.
Trekking is important and i feel like everyone, atleast once in a lifetime should trek in mountains. As challenging as it may be....you'll get to know the real you and admist the mountains, you'll realize that the ego, the complications and the pride one takes in their materialistic life.....nothing matters!!!
So happy trekking. Happy exploring.