Ciao amici (hello friends) and welcome back to the Adventures of the Trotting Traveller! Here in YYC, it's finally the weekend and the is in full swing - Yeehaw! My last blog post took us all the way to where we visited the Colosseum, famous piazza's and ate cannolis! Today, we're going to continue the Euro Adventure to ....Venice, Italy; that's right, the city built on water!
Venice is located approximately 525 Km north-east of Rome and is situated over 118 islands all connected by canals. Because of its position, Venice is also commonly referred to as the "Floating City" or the "City of Bridges". It has a population of above 200, 000 people and is one of the most unique places I have been too. The architecture, the narrow cobblestone streets and beautiful bridges make it feel as though I had stepped into a fairy-tale... (where is my Prince Charming)?!
Now, I didn't do Venice like regular sane people. Most tourists will go, spend a few nights and then move to their next destination. Instead, we booked our trip to Rome and then added Venice as a DAY Trip last minute. Yup, CRAZY...that's the only way I can describe myself. Our hotel in Rome was located about five minutes from the train station. We caught the earliest out of Rome to Venice and arrived at our destination by approximately noon. Train tickets were not that expensive, about €45/person but pricing can range based on the day of travel.
The train ride between Rome & Venice takes you through the countryside of Italy. Italy's calm beauty is comprised of rolling hills, fields dotted with farms and plenty of green trees. It reminded me of driving through Alberta heading towards Saskatchewan. The landscape flies by as the train travels quickly, sometimes as fast as 300Km/h! Even so, I found the train ride to be pleasant and met some other interesting passengers (a violin maker!). I was even able to contemplate "life" and make notes for this post!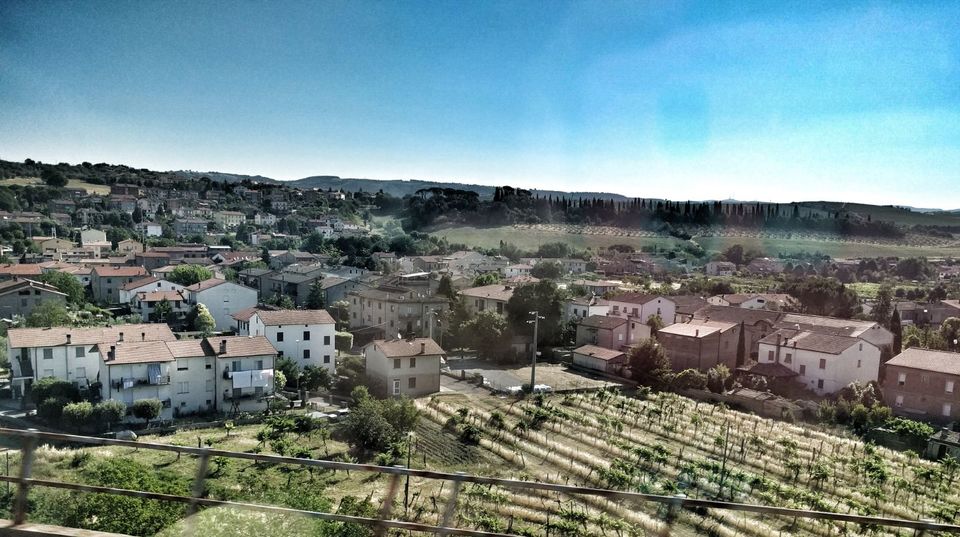 Once we arrived at our destination (finally - 4 hours later) we caught a hop-on-hop-off boat tour right from the train station - which I booked ahead of time through City Discovery. I thought this was the best option for us as the boat makes seven stops each hour and allows you to explore the city at your leisure, it also includes wifi with a downloadable app that you can use for information surrounding the culture & history of the many different notable sites (we'll talk about those in a bit). I didn't end up using the app because we spent a lot of time walking through the narrow streets instead of staying primarily on the boat. The boat tour was economical in nature- only about €30/person and is comprised of a covered boat, providing some relief from the sun.
I found Venice to be more of a sleepy city in comparison to Rome but very picturesque - just like you see in magazines and documentaries. No one is really in a hurry and the majority of people you see are other tourists (this may not be the case in ALL of Venice just the parts we saw). I think the temperature may have had something to do with the lack of urgency - it was 35°C! Take note - if you go to Europe in the summer be prepared for sweltering temperatures (sunscreen is a must).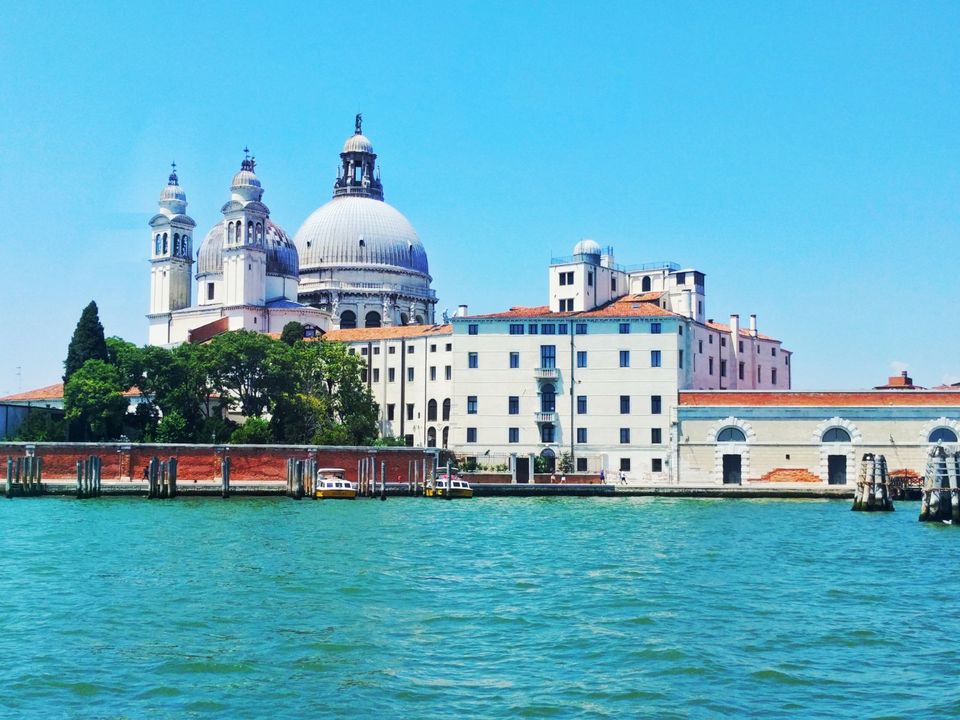 So, in reality, when you delete the time spent on the train, we were really only in Venice for half a day. Therefore, the sites we saw were limited. One of the important things to note is that Venice can be confusing to navigate as it doesn't have many street signs - maps are your friend & so is befriending the locals! Everyone we met was really great about giving directions.
Okay, on to the sites! Venice has some spectacular sightseeing spots - here are the ones we visited on our short trip:
Piazza San Marco & Basilica Di San Marco
The Piazza San Marco is not only the primary Venetian square, it is also one of the largest squares I saw on my trip! The perimeter houses several small shops and gelaterias. I, of course, had my gelato of the day here - the flavours I picked were hazelnut & coffee. While I'm a HUGE coffee fan, this flavour of gelato didn't really hit the spot for me.
The main focal point of the square is the Basilica Di San Marco. This stunning building is 251 ft long and 205 ft wide and has 5 domes!! Pictures can't do this building justice with its amazing architecture and details. In order to enter the church, they require modest clothing - especially covering your legs. Smartly, vendors are right outside the church selling shawls & scarves for €1. While they do want you to be covered up, I didn't see anyone turned away due to attire. Besides clothing, there are other restrictions for entering the church. Firstly, they do not allow you to take large bags inside (like backpacks) they expect you to leave it outside unattended! I would NOT recommend leaving anything unattended unless you want it to be stolen, instead, if you are travelling with others take turns looking after any bags you have. Secondly, complete silence is encouraged while visiting the Basilica, if they feel that guests are loud they will announce for silence or a very loud shhhhhhhh will be heard on the overhead pager.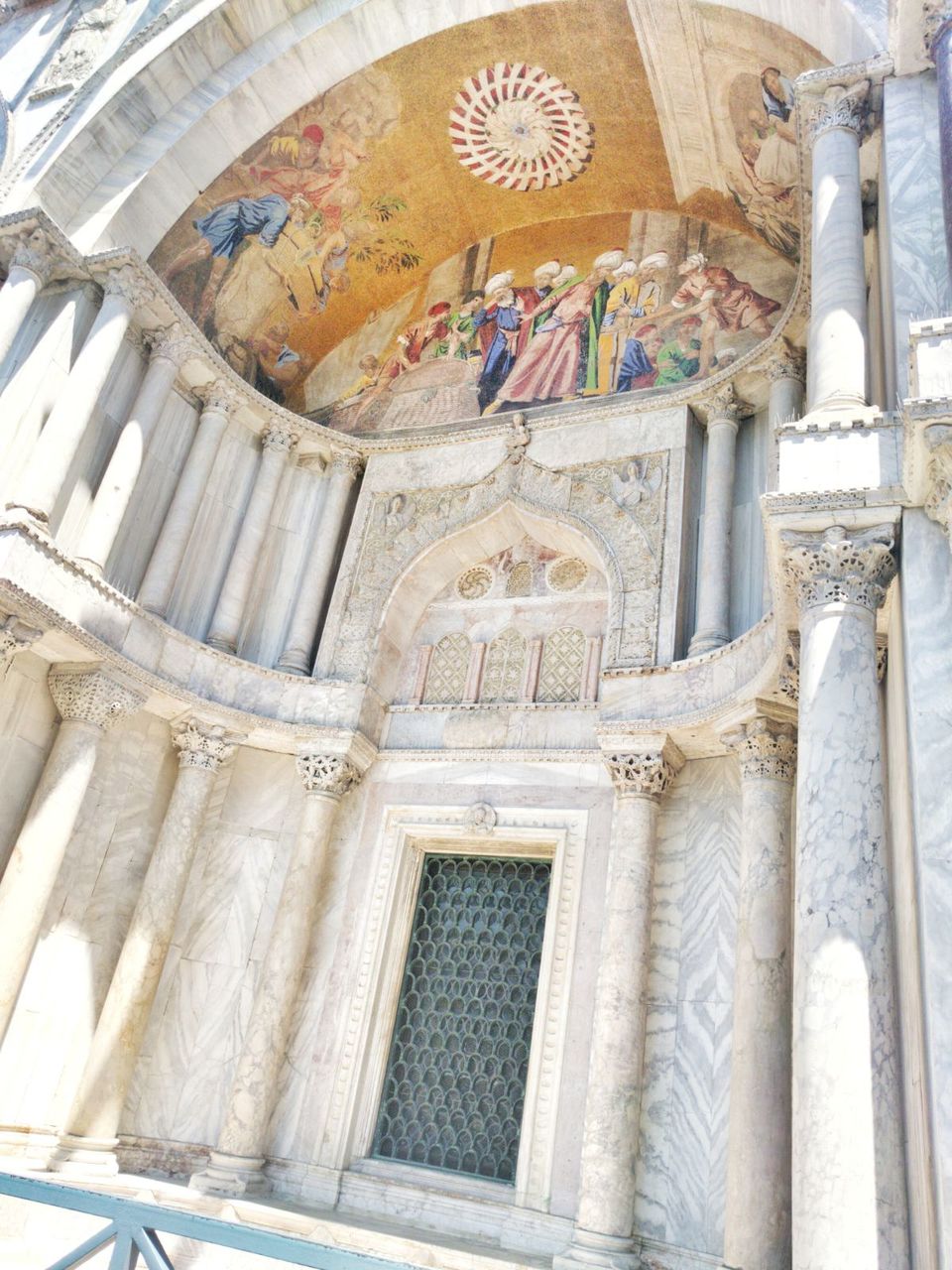 The biggest danger in the Piazza is not actually related to pickpocketing, but rather, the pigeons. Turns out the birds, like me, LOVE gelato. I actually saw a man attacked by the pigeons the minute he stepped out of the gelateria and they completely took his gelato! So, like in Alfred Hitchcock's movie The Birds, BEWARE!
Besides the basilica and the birds, the Piazza San Marco is also home to the famous Clock Tower which dates back to the 15th century! It was strategically placed to be visible from the lagoon to show visitors its wealth and glory. While it is an interesting building to see don't expect something as neat as England's Big Ben.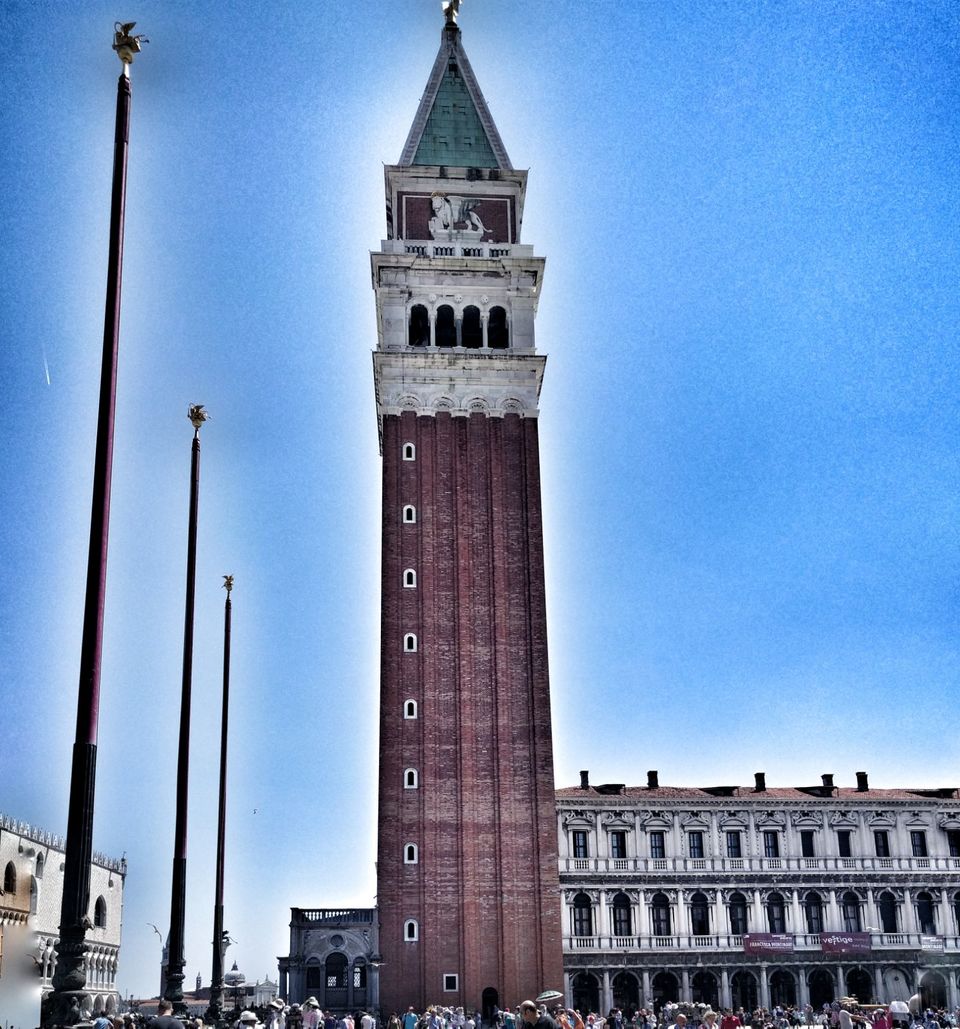 Finally, the third structure that glorifies the piazza is St. Mark's Campanile - the famous tower where Galileo Galilei demonstrated his telescope in 1609, there is a plaque commemorating the event in the viewing area of the tower. I think it is this site that made all the nerds in my life a little jealous!
Ponte Di Rialto & The Canal Grande
After we had spent sufficient time in the Piazza we moved on to find the Grand Canal and the Ponte Di Rialto bridge. This is where travelling with someone who is well able to navigate in foreign lands is useful as they have very few street signs... my biggest tip to you - follow the occasional signs that say "Rialto".
Ponte Di Rialto is considered the heart of Venice, with its stone archways. It is one of two ways across the Grand Canal and was built in only three years (talk about major muscle power)! The bridge is primarily made of steps so if you have mobility issues, this may not be the best site for you. The view of the canal from the cornerstone is magnificent, especially on clear sunny days. The blue water decorated with colourful buildings on the sides.
The Canal Grande is the largest canal in Venice and forms the major waterway for gondola traffic. It is 3.8 Km wide with an average depth of 5m. While the Canal Grande is responsible for many of the beautiful photographs we see on TV & in magazines depicting Venice, can I just say it smells like sewage. Not just the Canal Grande, ALL of the waterways smell awful. The heat plus disgusting smell did not make for a happy 5th sense.
Santa Maria Della Salute
This site was farther than the other sites and require us to re- ascend the hop-on-hop-off boat. The bad thing about the boat is that you are forced to go to all the stops (like a bus) even though you many not actually want to go there. To get here took almost an hour because we went to two other islands first - one was more of a beach island and the other island is known for glass blowing. I didn't get off the boat at either stop, maybe when I go back for a longer visit to Venice.
We made it to Sant Maria Della Salute just at closing time so we barely had a chance to look around. The structure stands in guard of the grand canal built in 1681, built on a platform of 1, 000, 000 wooden piles! The original construction was commissioned by the survivors of the Plague as thanks for their salvation. The interior of the church is adorned with paintings, structure & marble floors, it's absolutely beautiful and serene inside. It's unfortunate that we couldn't stay for a longer period of time.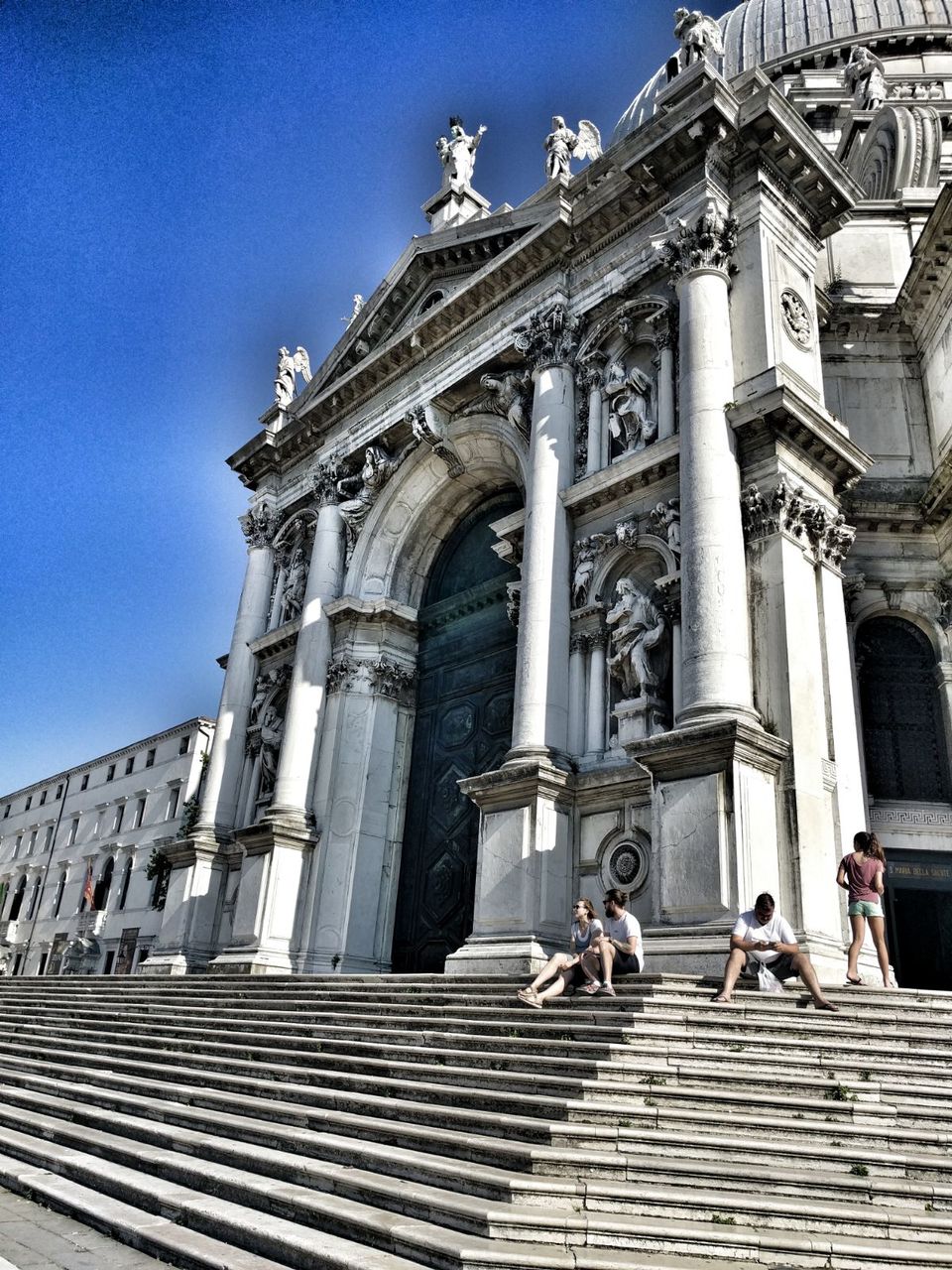 The Shopping
While I didn't have much time to actually do much shopping I can tell you a little about the different stores I saw. Much like Rome, both high-end fashion stores as well as small souvenir shops can be found in the narrow streets. It's a lot of fun to wander through the alleys and if I had more time it would be a great place to just get lost and explore the different areas of the various islands! It reminded me of a cleaner version of the Egyptian Bazaar - where local children were running around and playing. My parents became slightly nostalgic as it reminded them of their childhood.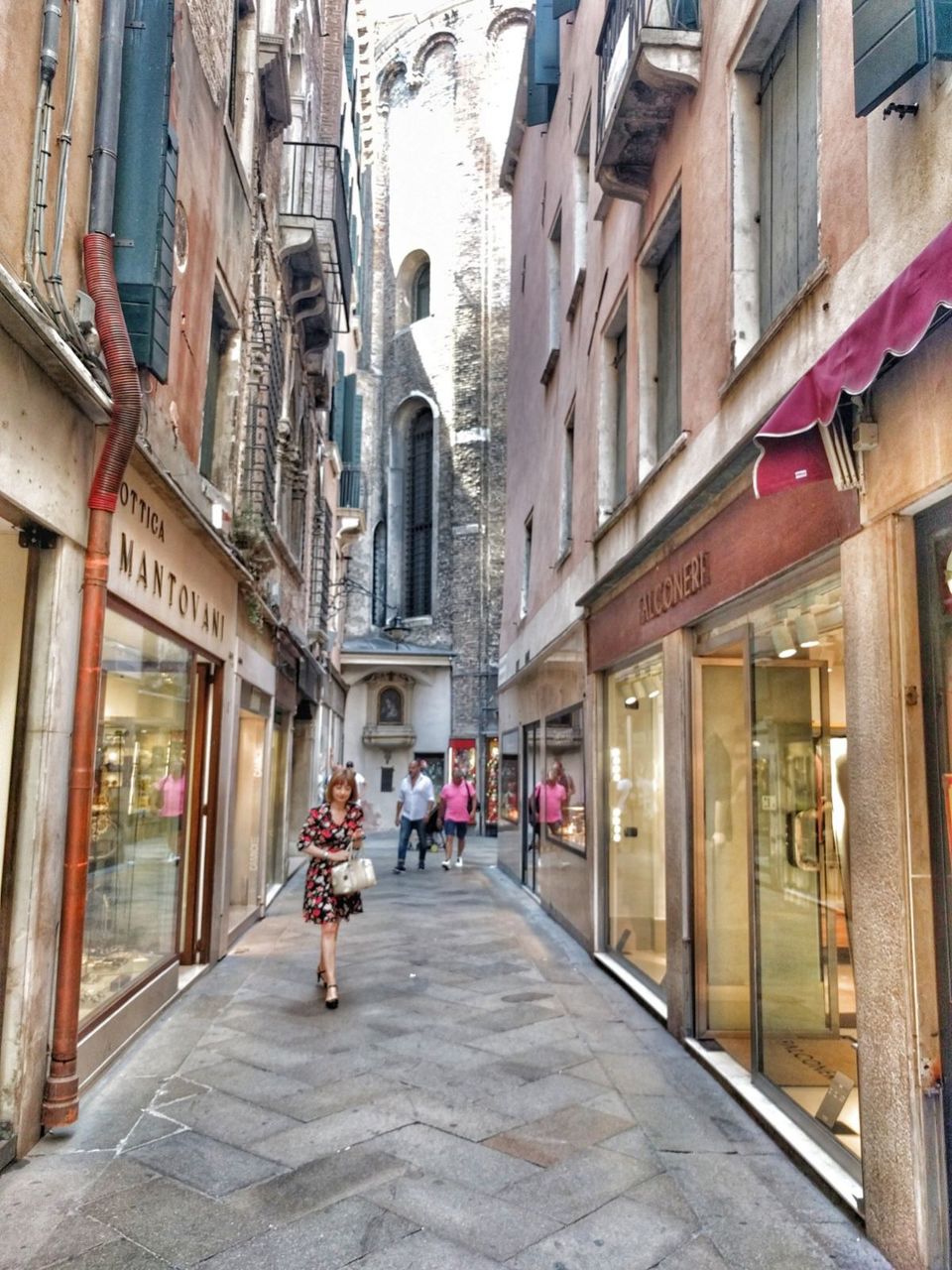 I really enjoyed my time in Venice and wish that I had allotted more of my vacation time there. It's beautiful and unique and it's difficult to describe in a novel way that hasn't already been said. As Frida Giannini has said:
Venice never quite seems real, but rather an ornate film set suspended on the water - Frida Giannini
I hope this post helped you plan parts of your next trip to Venice. Until we drift to our next destination dream, explore, adventure.
XOXO,
Trotting Traveller ♥
www.trottingtraveller.com