I thought it strange that my friend asked me to go to Desert Hot Springs with her. She was going to a dentist appointment and asked me to tag along. Fortunately, I didn't have anything else to do. Besides, I love spending time with her, so I agreed to go.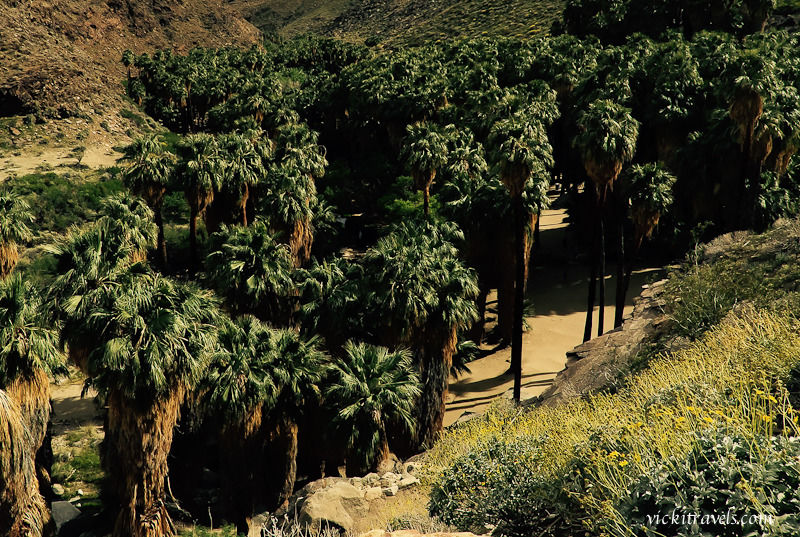 After her appointment, she drove me to Palm Springs and out to a place called Indian Canyons. She and I had spoken about this place many times, always promising we'd go together. Obviously, today was the day. When she asked me to accompany her that day, she only mentioned seeing the dentist and never said anything about this wonderful place. Otherwise, I would have dressed accordingly. I had the wrong clothes on and flip-flops. Not exactly perfect for hiking through a canyon, but I made the best of it. We paid our entrance fee and went in.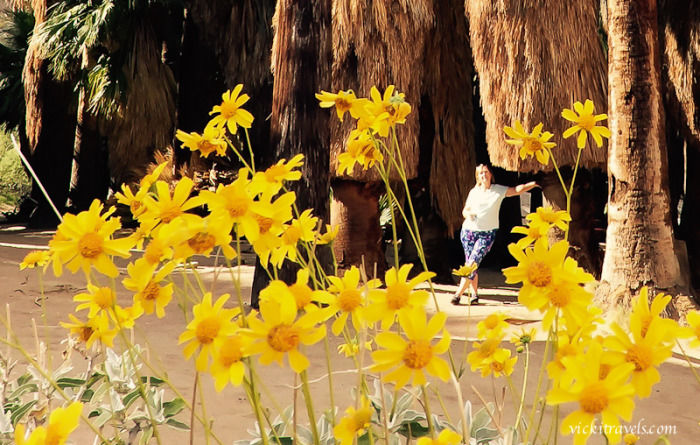 Indian Canyons are the ancestral home of the Agua Caliente Band of Cahuilla Indians. These canyons are especially sacred to these people and the land is historically important to scientists and nature lovers alike.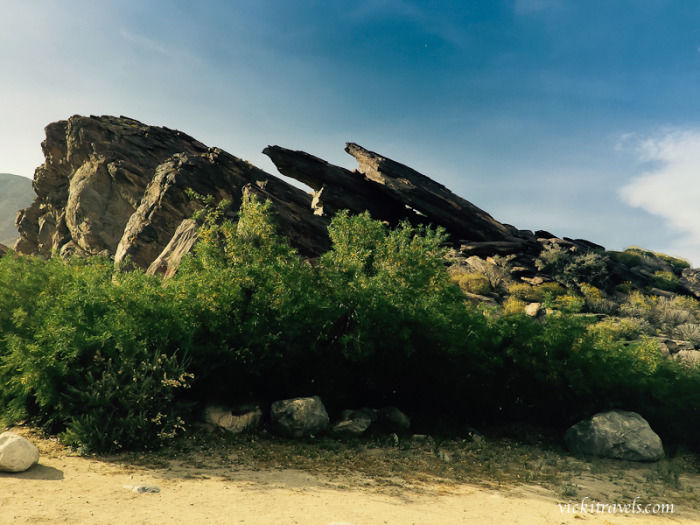 Driving up to the Trading Post we passed the beautiful landscape, but it wasn't until we arrived at the parking lot that I saw some of the true beauty. I certainly don't think they were indigenous to the area, although the brochure says they are, and I don't know how they got there, but looking down from the parking area into the canyon you're greeted by palm trees. Lots of them. We went into the Visitors Center and looked around. Although it was a perfect day with a cool breeze and reasonable temperature, I bought water for us. We hiked down into the canyon, slowly, considering my footwear. Following the trail, we passed small bunches of wildflowers blooming here and there. Once at the bottom, we walked in and through the clusters of palm trees, past the stream bubbling along over rocks, and enjoyed the serene setting. Everything seemed so out-of-place around us. We were in the middle of the desert, yet were surrounded by palm trees and listening to a gurgling creek. It was a delight.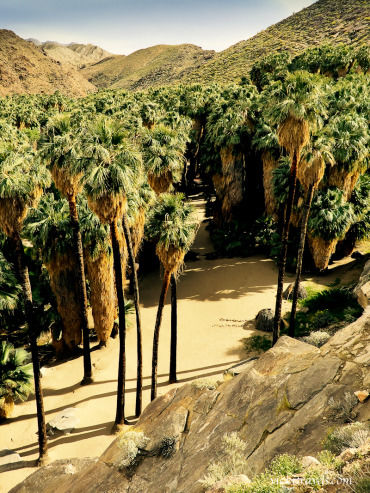 We stayed for a while, took pictures, and talked about the people who found this place and lived here so long ago. After a while, we hiked out and drove over to another trailhead.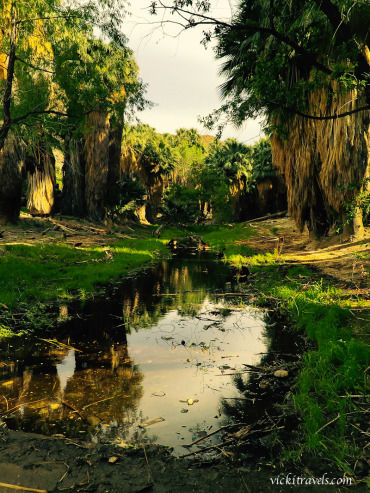 Arriving a few minutes later at the parking lot of the Andreas Canyon trailhead, we parked and ventured out. Regretfully we arrived there at almost four in the afternoon and the park closes promptly at 5 and you will be towed if you're still in the parking lot. Watching the time we hiked in a short way and I just fell in love with the place. Now, I'll be the first to admit, I'm not a fan of the desert. Some people love it, I'm not one of them. But this wasn't a desert, this was something extraordinary in the middle of the desert. The huge and jagged rock formations, the babbling creek, the trees. I was in an oasis. The kind you see in movies that people dream about when they're dehydrating in the desert after being stranded there. It was so lush and peaceful. A great place to be, but not in the summer. It would also be an awesome place to meditate, have a picnic, hike or go for a bike ride.
During the hike, my friend asked how the Cahuilla people would have ever found this place. I told her that I believe that some people have a gift for reading nature. They can read the clouds, the movement of the birds, and possibly even the wind. The Cahuilla people must have possessed that gift because they sure found an amazing spot to call home.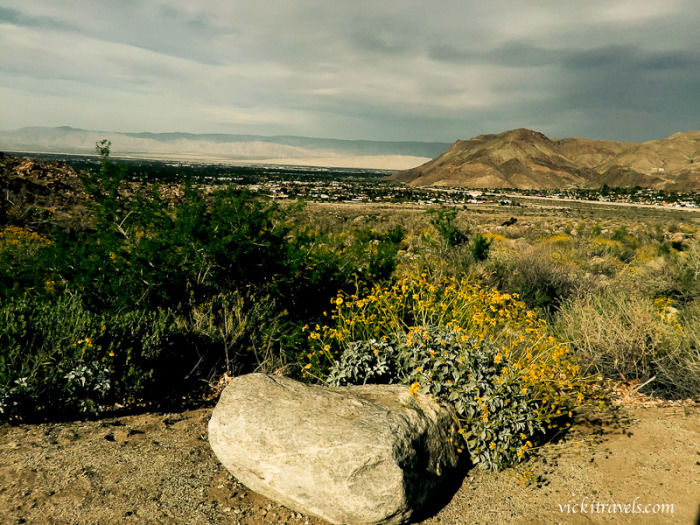 The Indian Canyons can be found at 38520 South Palm Canyon Dr in Palm Springs California. The entrance fee is $9.00 per person for adults. Hours are daily October 1st to July 4th, 8 am-5 pm. I certainly wouldn't recommend going during the summer months as the heat will be scorching, but if you really want to, please keep in mind that it is only open on the weekends then.
This post was originally published on VickieTravels.