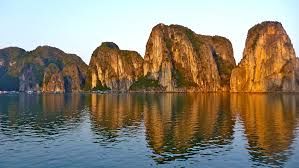 The beauty of a country lies not only in the scenic landscapes, but also in the culture and the hospitality that it offers. When I set out to plan my trip for Vietnam, my friends were apprehensive of what Vietnam has to offer as a country to travel. They were oblivious of the fact that Vietnam is an astonishingly exotic travel destination with its breathtaking natural beauty and unique cultural heritage.
Why I love Vietnam?
Unparalleled beauty: From the beaches in Phu quoc to the hills in Sapa, the country has a plethora of locations where you can feel the essence of being close to nature.
Hospitality: The Vietnamese hospitality will rejuvenate you of your daily hustle bustle of the city; especially the spa and family run massage salons that are available at backpacker friendly rates
Culinary experience: the food will leave your taste buds wondering. The right mix of spices and delicacies, originated from the Chinese flavors creates an incredible culinary experience. There are thousands of local food vendors who offer delicious delicacies at reasonable prices; on the other hand there are exotic restaurants which offer a perfect blend of ambience and cuisine
Adventure: Riding a bike on the streets is an adventure in itself. Bikes exist like a swamp of bees in the cities. The country also offers spectacular undersea flora and fauna. Due to the warm currents, the corals and aquatic life is worth viewing by diving.
Heritage: Facing years of war torn history, the country has stood up and has never given up. The Vietnamese war is one of the most gruesome and heartbreaking chapters of world history. The country, however, does not lack fast paced progress, which is evident from its metro cities.
Budget Travel: When you are travelling on a limited budget, you look out for the most budget friendly countries. And Vietnam stands out when it comes to Budget travel. One can find reasonably priced accommodation, food and travel in Vietnam and still enjoy the country.
Partying: As a dancing enthusiast, I would always sniff out places to party and believe me, Vietnam will not disappoint you at all. The party scene is great throughout the country with a lot of tourists from Europe, Australia and the Americas.