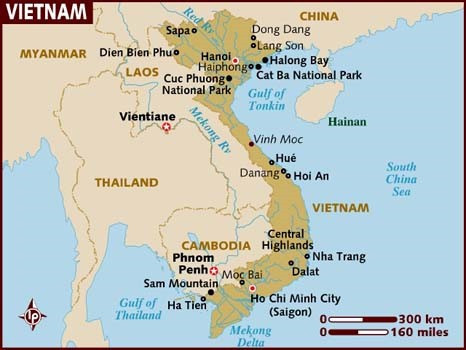 Every year, my desire to explore a new place outside my country takes me to an interesting place. This time it was the turn of Vietnam - a country which has been on my radar for many years. After several consultations and advice from travelling buddies, I carefully selected the places that would be my way of life for the next 11 days. Next was planning the logistics, getting there and what to explore.
HO CHI MINH CITY
My first stop was Ho Chi Minh City (HCMC) after a seven-and-a-half hour flight from New Delhi via Kuala Lampur. The largest city in Vietnam, formerly known as Saigon, HCMC is a pulsating place buzzing with commerce, restaurants, bars and sky scrapers. In no time, my exhaustion disappeared and I took a motorcycle taxi (one of the modes of transportation in the city), all set to meet my professional contact, mentor and a good friend who hosted a sumptuous dinner for me in one of the most amazing, healthy and lip smacking Vietnamese vegetarian restaurant called HUM.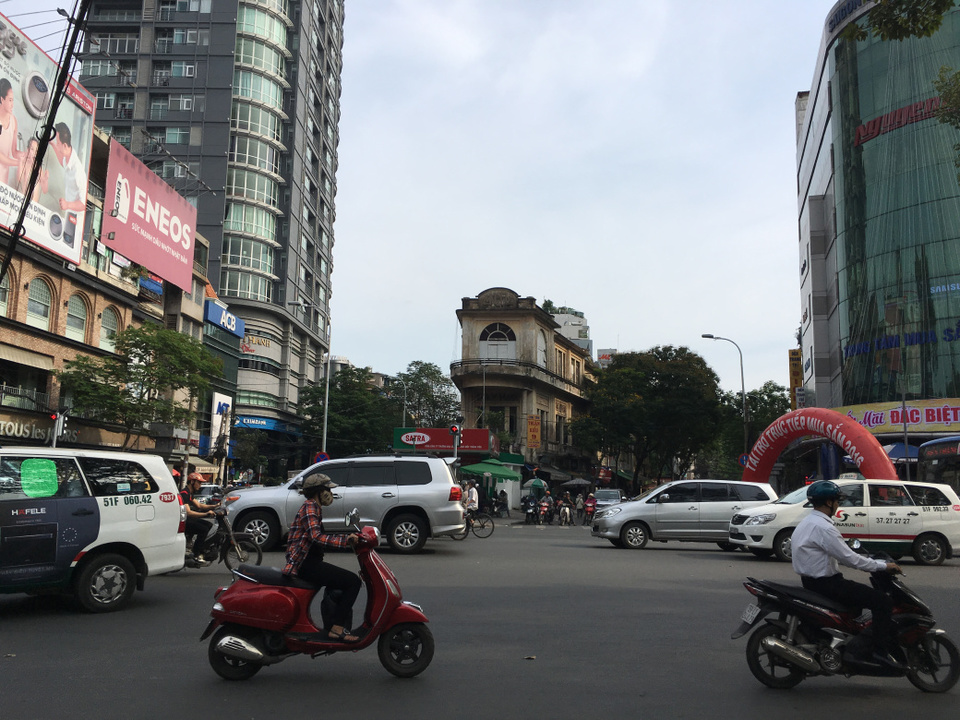 Bustling Ho Chi Minh City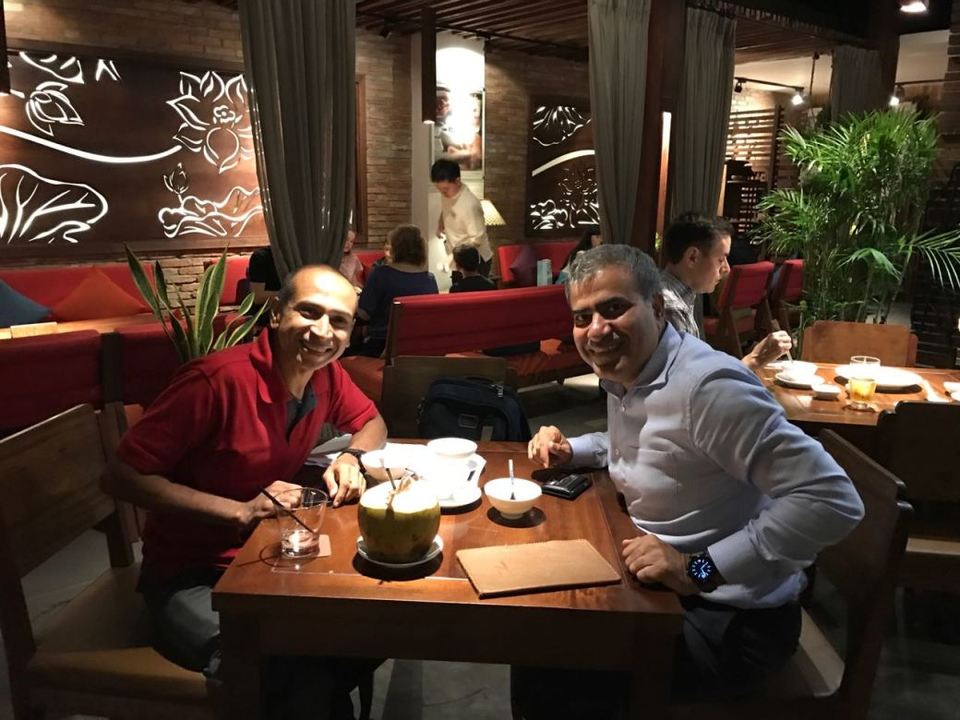 It is here that I got an opportunity to get a firsthand account about Vietnam and its way of life. And, soon, an interesting itinerary was born, over a delicious and a healthy meal.
MEKONG RIVER DELTA TOUR
Next morning, after a healthy breakfast, I was all set for the Mekong River Delta tour. A short trip by bus and 30 minutes by boat takes you to this vast expanse of mud-brown river in an entirely different world. Here, you get to experience the different islands and the true Mekong lifestyle, where the primary means of transportation is boats usually rowed by women, wearing their traditional Vietnamese conical hat nón lá (leaf hat) to protect them from the sun.
This is a rice and fruit growing region where you will get the best tropical fruits such as chikoo, jackfruit, dragon fruits, water melon and pineapple and coconut products such as candies, cakes and chocolates. It is also home to one of the finest qualities of honey made from queen bees.
The tour takes you to honey tasting sessions, coconut farms and finally the lunch is served in one of the most exotic destinations in the middle of an island resort followed by a stopover at the crocodile farm.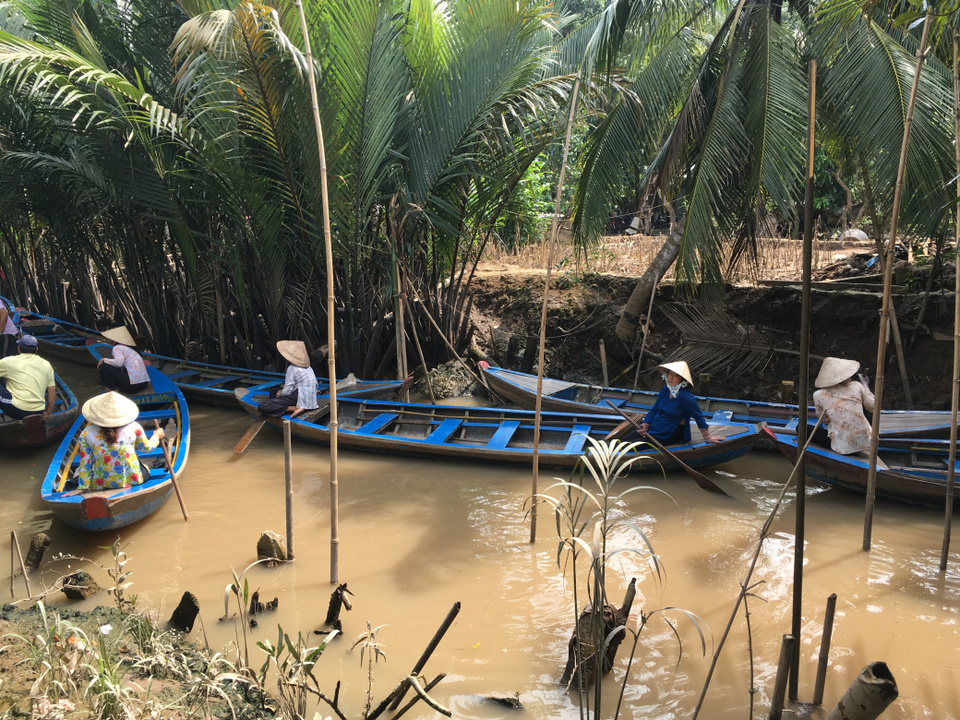 Mekong Delta Tour
After reaching HCMC back in the evening, we were dropped at the bustling Ben Thanh Market, the symbol of former Saigon where tourists flock to buy souvenirs, coffee, handicrafts and local cuisine. I came back to my hostel and went to plan my logistics for the next destination. That was when I came across something I had never seen before or heard of. I saw two men playing a game with their foot and it took some time for me to figure out that it was a foot shuttle cock sport, something which happens only in Vietnam and is also their national sport. It is called Dácầu.
SCENIC PHUQUOC ISLAND
I was all set for my next destination. I took a night sleeper bus and reached Ha Tien the next morning. I was told that from here, one can also take a bus to Cambodia and reach in just four to six hours. But my next destination was the scenic Phuquoc Island for which one needs to take a 45 minute ferry ride from the pier.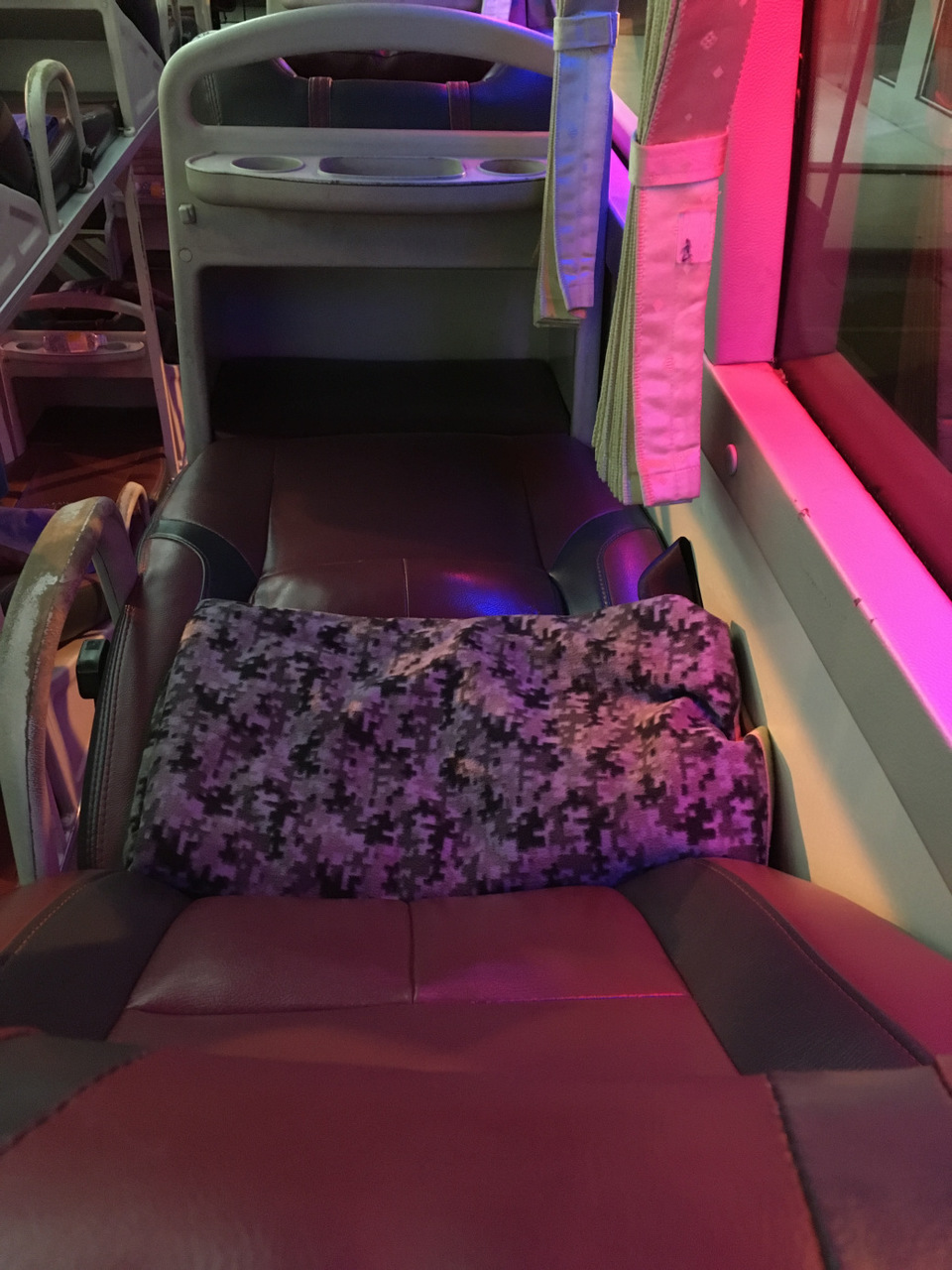 The Comfortable Night Sleeper Bus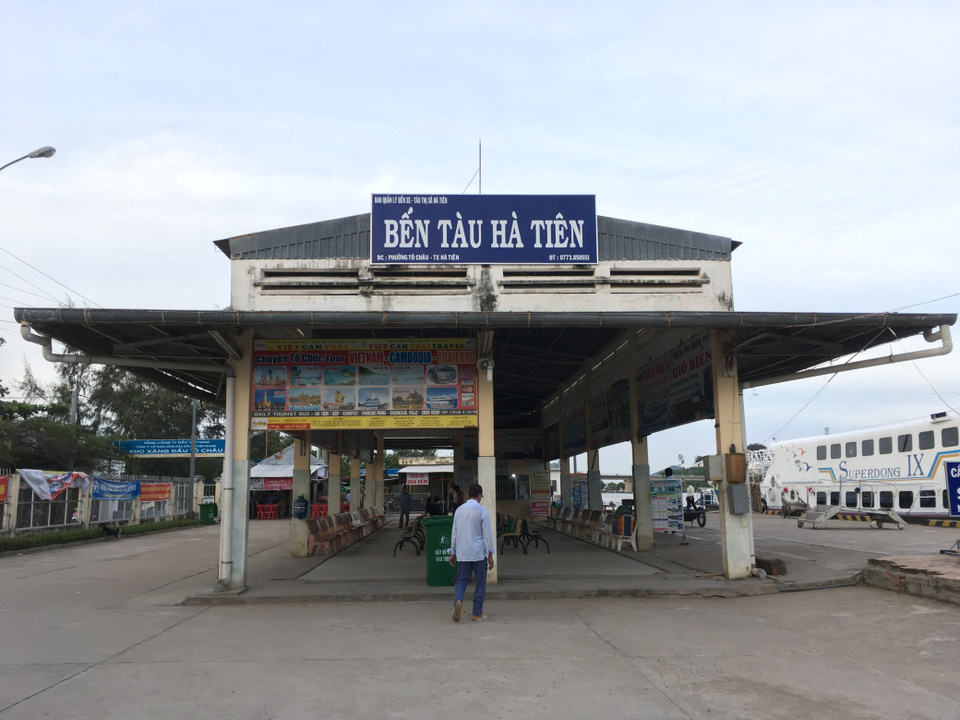 At Ha Tien - Waiting for the Ferry
Phuquoc is the largest island in Vietnam and is in the Gulf of Thailand. It is dotted with historical backwaters, white sandy stunning beaches with calm blue waters famous for fish sauce and black pepper. It has a beautiful long beach which stretches some 20 km and is known for its stunning sunset views which I enjoyed every evening for the four nights that I was there. It is the epicenter of all tourist activities and most of the resorts are located here.
The long beach is known for its stunning sun set views and every evening wherever I was, I made a point to keep up my date to see the gorgeous view of the sun setting, which is a photographer's delight. One can certainly not afford to miss this pristinely beautiful view with the sky turning orange as if a painter painting the sky orange. It's a must do activity.
The first day after cycling for hours on a steep inclined road we decided to park our bikes and decided to do a short hike leading up to a pretty waterfall where we jumped with joy and started behaving like kids started doing interesting activities like climbing trees and taking underwater shots in the pool near the waterfalls. Finally a long day ended with a sun set view and a dinner by the beach.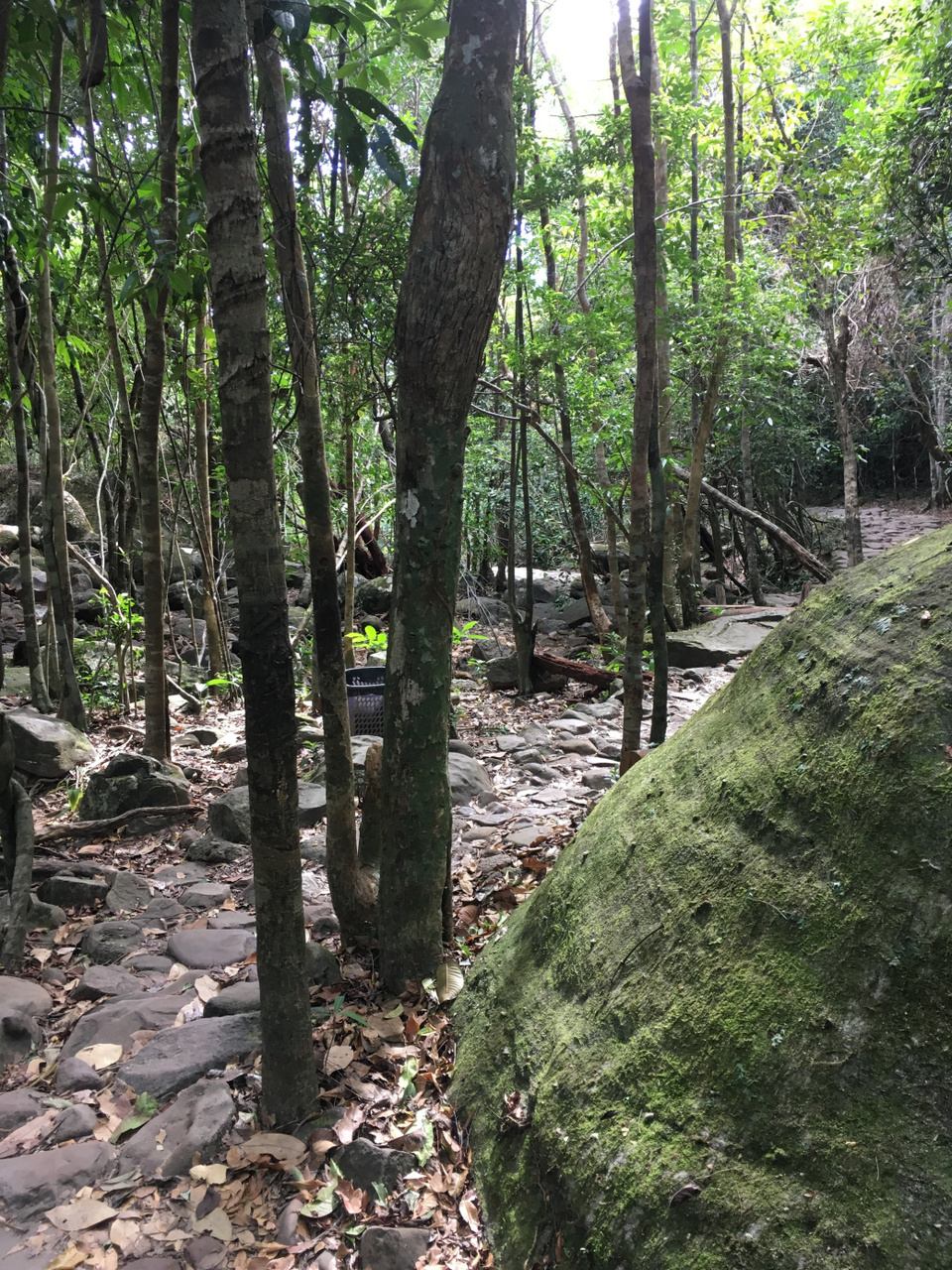 A Short Hike to the Waterfalls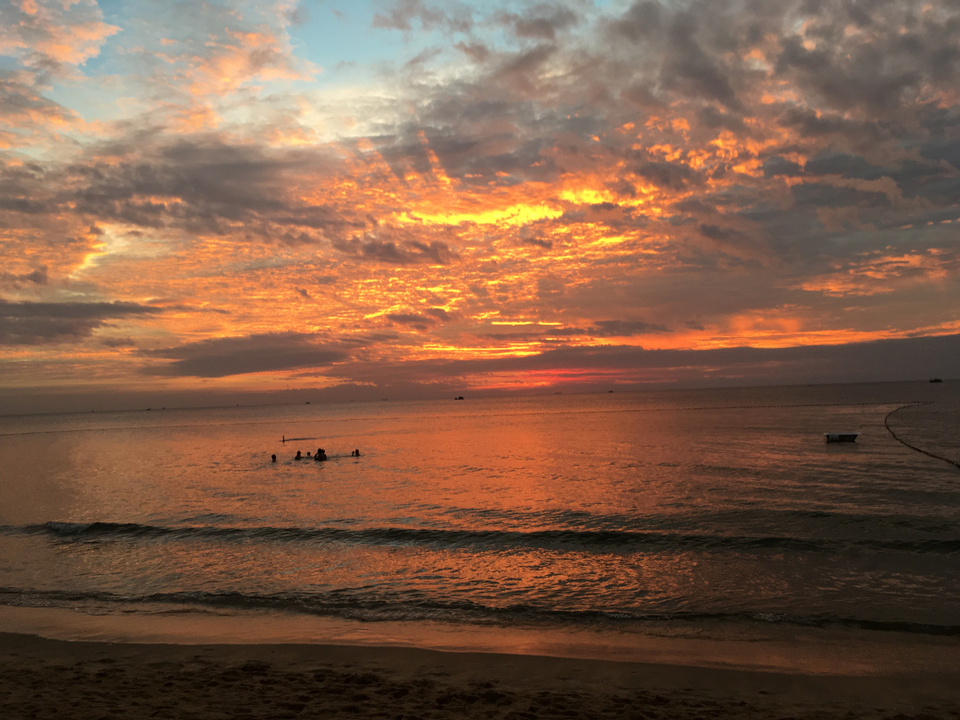 The Gorgeous Sun Set View at Phuquoc
The island was laid back, relaxed and brimming with tourists who like me had come to spend the last few days of 2016 in the secluded paradise. My stay here was spent relaxing, swimming, practicing yoga and cycling to explore the island. On the third day, I met some incredibly amazing travelers from England, Germany and Finland and we decided to spend our last two days together cycling and doing some sightseeing. That's the best part of a solo trip - things just unfold and you go with the flow. The best part of our group was that we were all like-minded, we loved cycling and we were a bunch of fitness enthusiasts.
I decided to spend 4 nights here with the first day just relaxing, getting a feel of the place at the beach swimming, practicing yoga.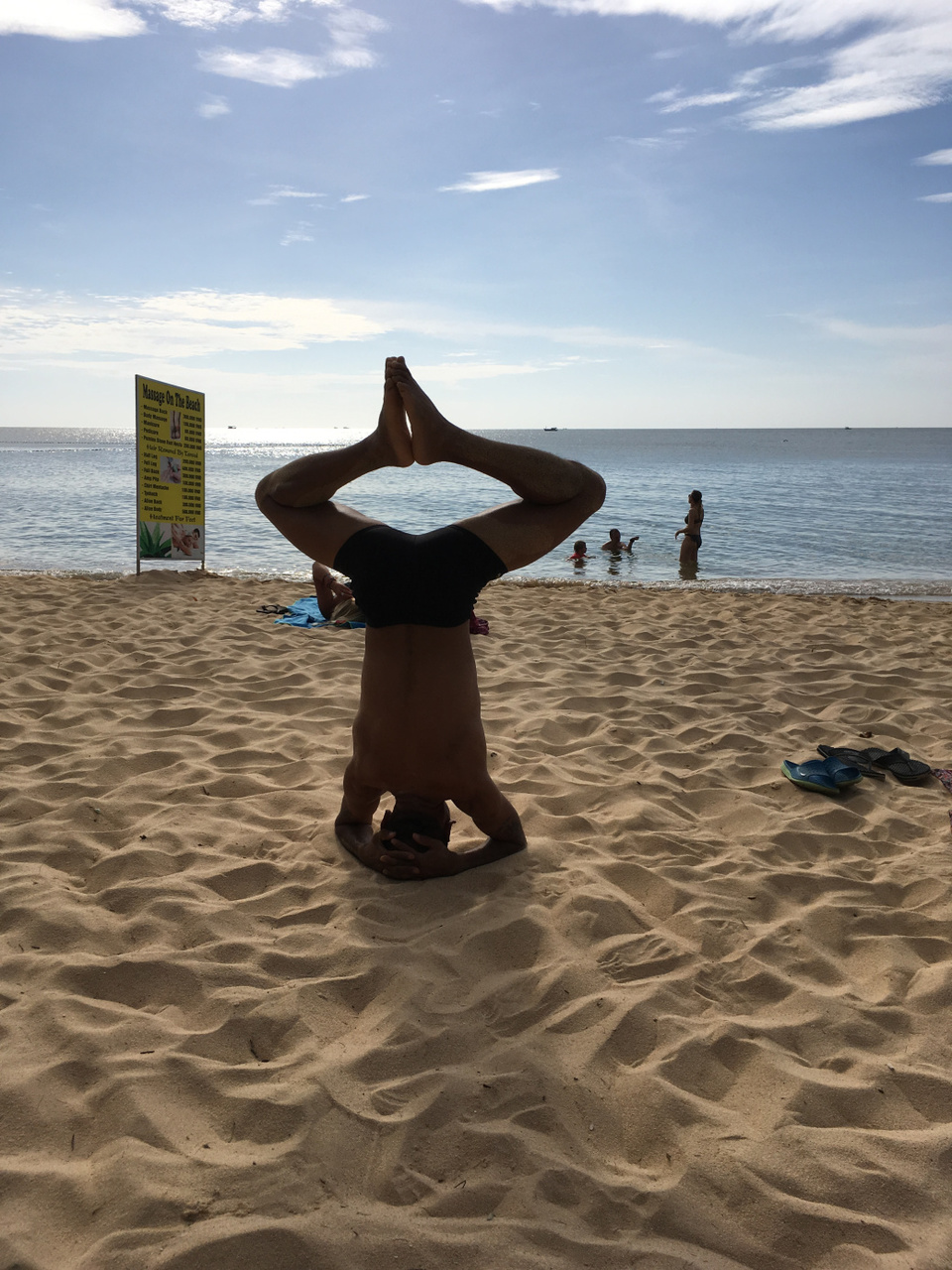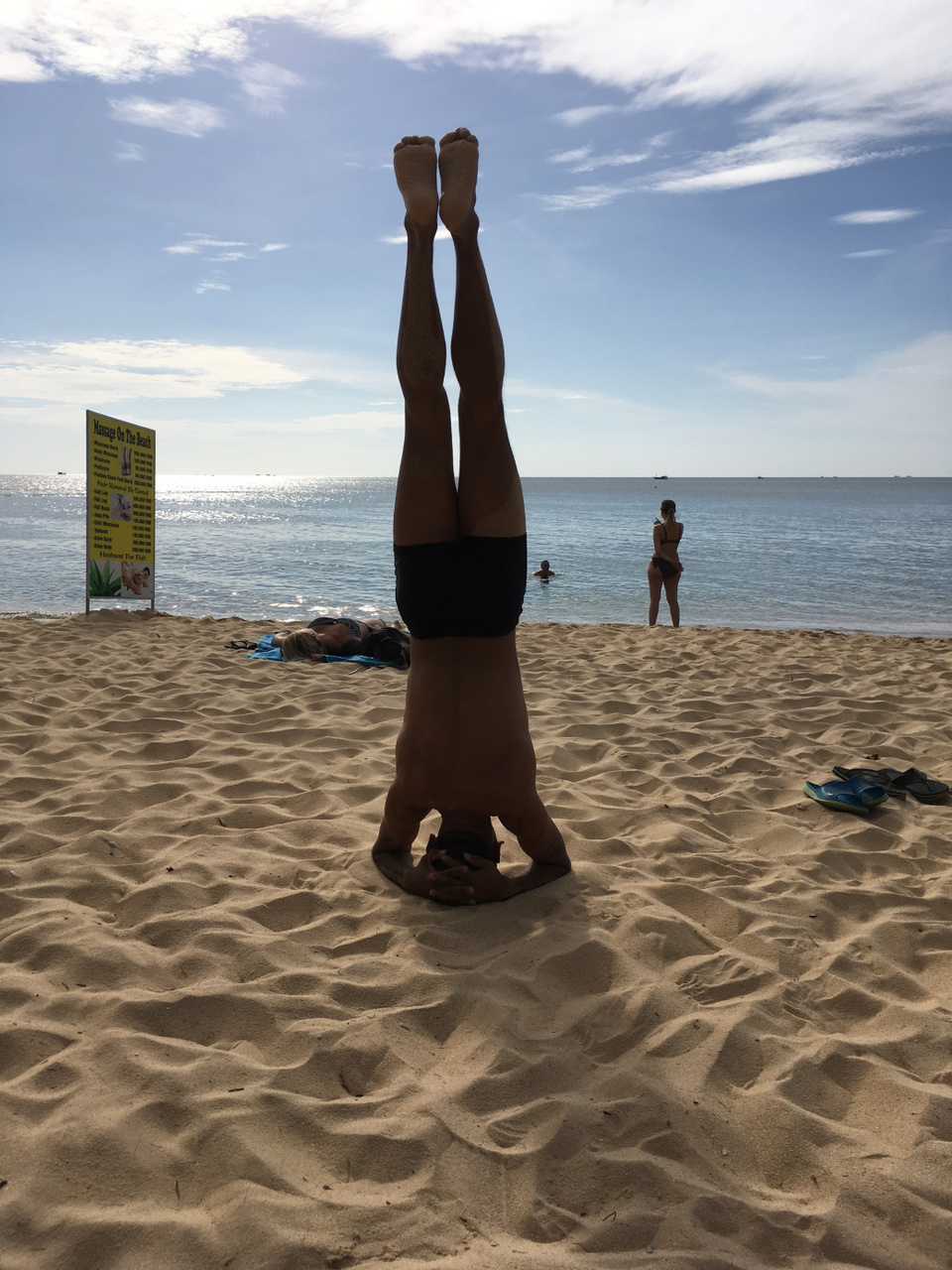 Yoga on the Long Beach
The next day which was apparently the last day of 2016 started off with a nice 7 km run around the island followed by some cycling to another white sandy beach which had an artificial raft in the shape of a mountain, we started climbing there and did some fun activities like forming a pyramid, also had some local beers and food to satisfy our palates. Finally, got back to our hostel and the night was all set for a beach party where we sang, danced to the tune of new year music went for a swim in the beach post 12:00 midnight to welcome 2017.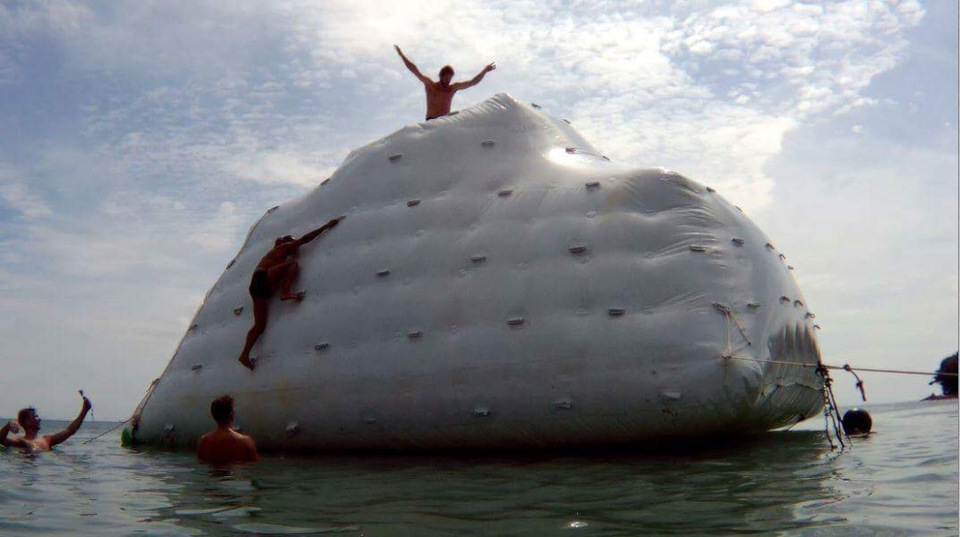 Some Fun Activities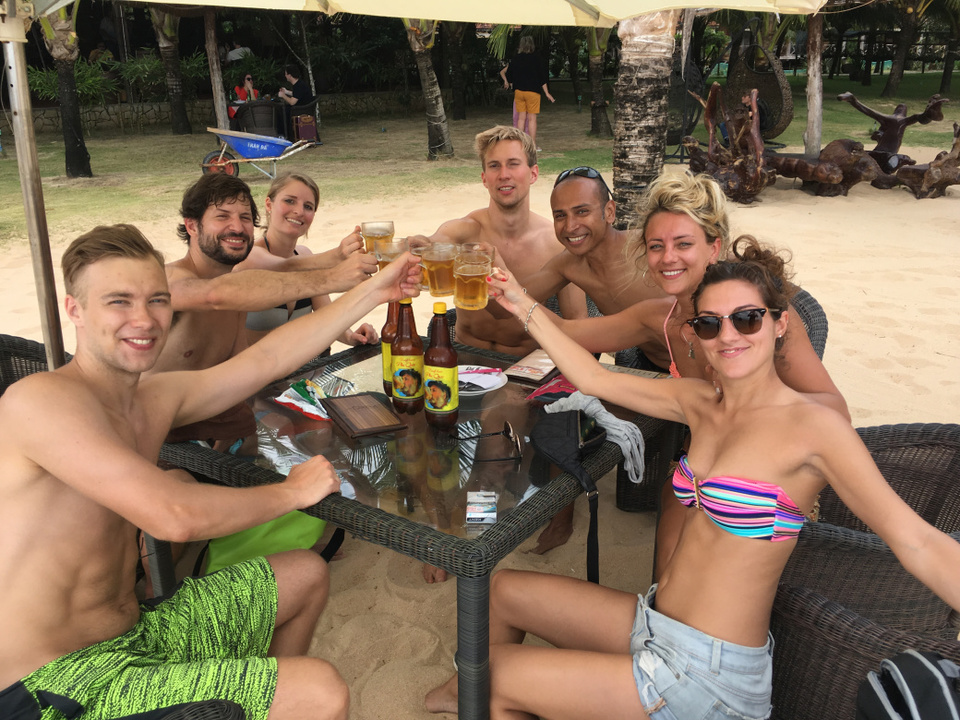 The last night was New Year's Eve and we celebrated with a beach party where we sang and danced and even went for a swim post-midnight to welcome 2017.
The next morning, I took an early flight to HCMC and a second flight to Danang in central Vietnam to reach Hoi An, an hour's drive from Danang. A UNESCO Heritage CIty, Hoi An will leave you mesmerised by its stunning beauty and the charm of old town, narrow alleys, bustling markets and the procession of trishaws running through the town.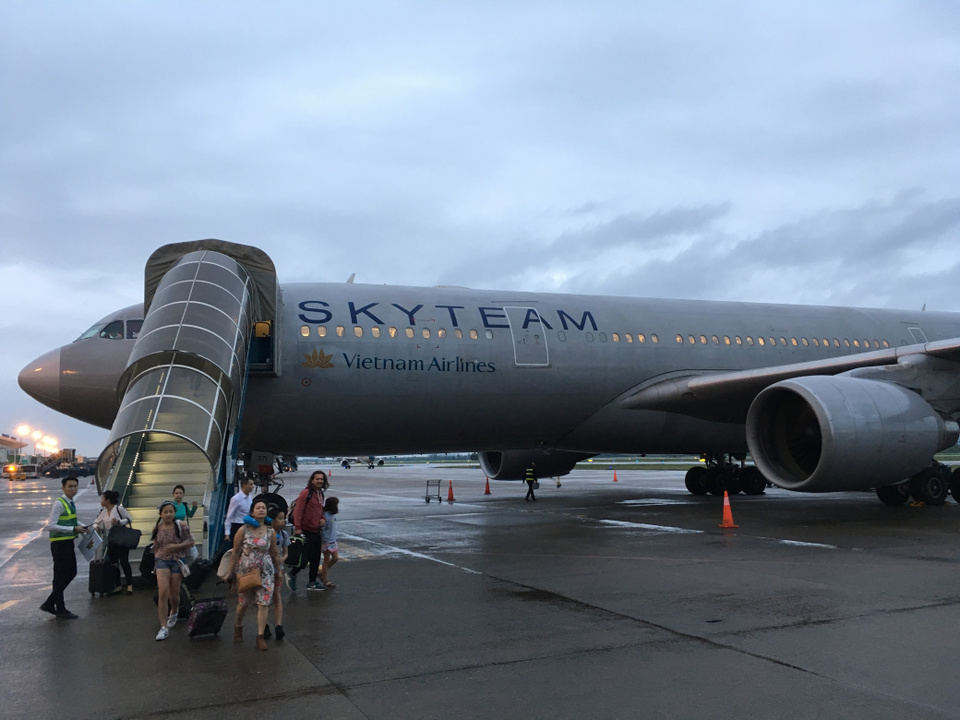 Transit at HCMC to Danang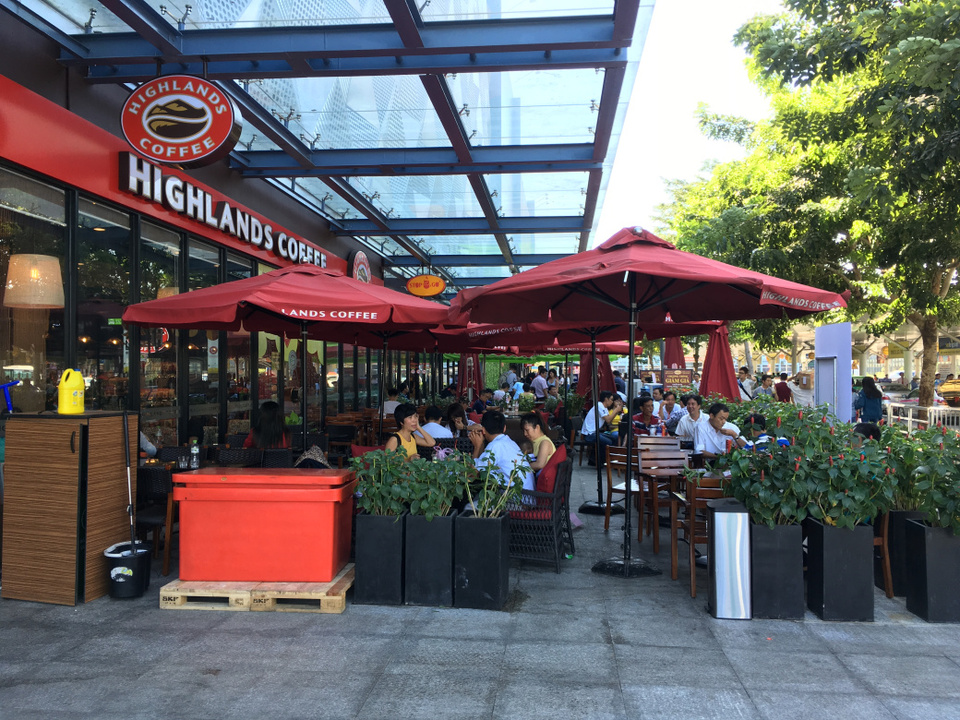 Relaxing at the HCMC Airport for my next flight THE HERITAGE CITY HOI AN
Hoi An - A UNESCO Heritage City which will leave you mesmerized by its sheer stunning beauty and the charm of old town, narrow alleys, bustling market and the processing of Tri-shaws that run through this picturesque old town.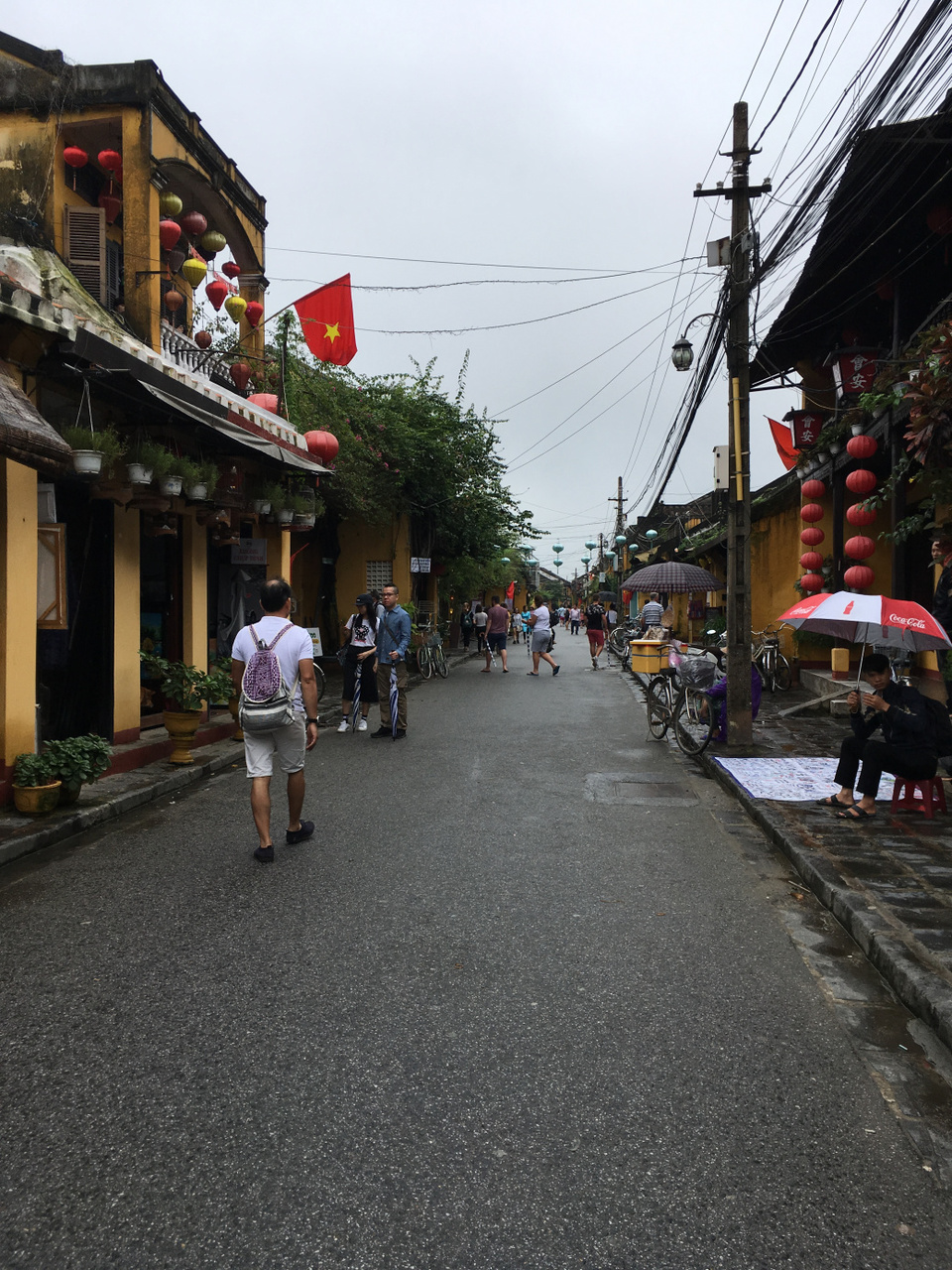 Old Town - Hoian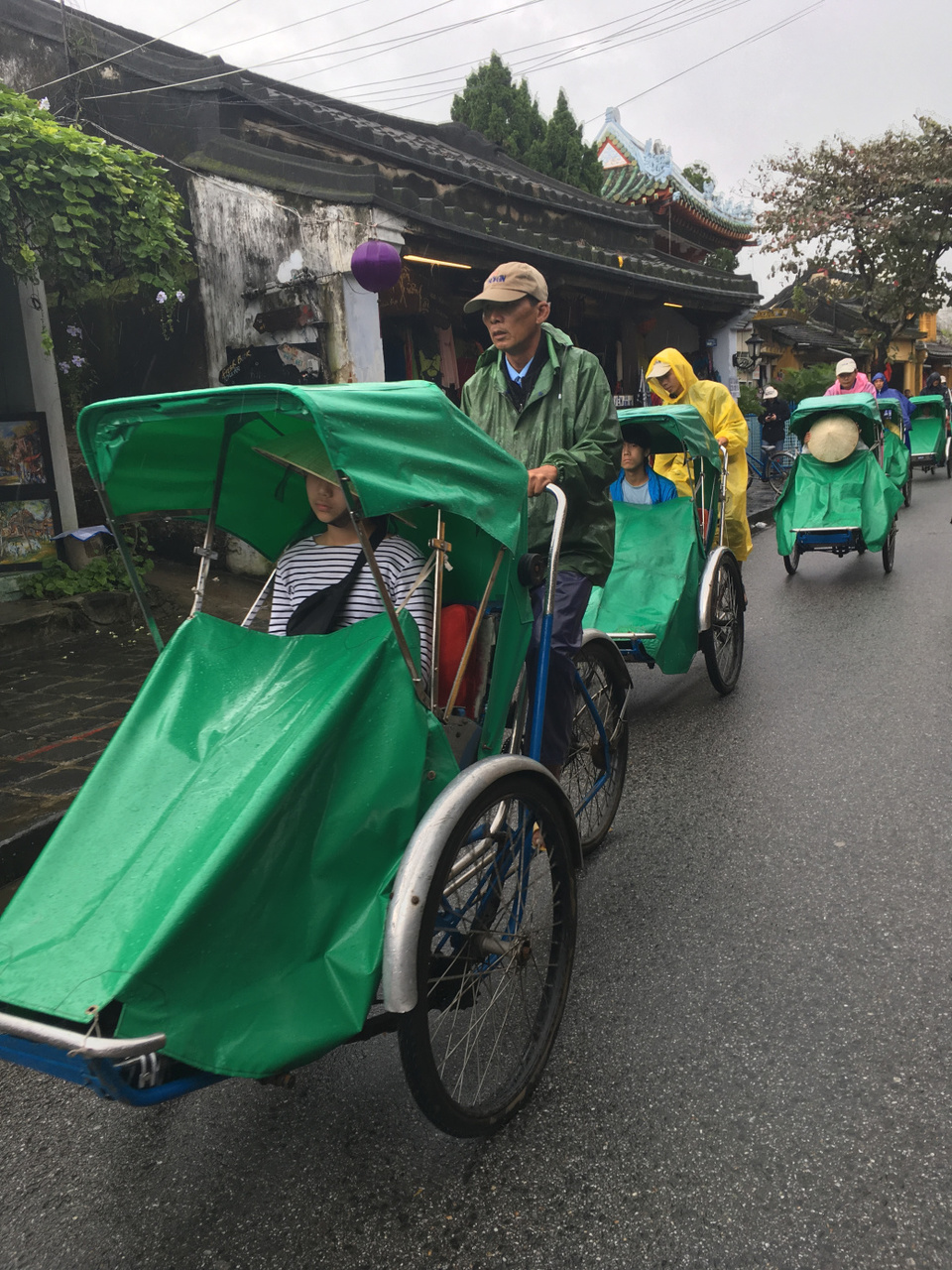 Procession of Tri-shaws Dotting the Landscape of Hoi an
One of the major attractions in this city is the famous Japanese covered bridge, which is considered an iconic symbol of Hoi An. This symbolic bridge with 100% original Japanese design bears special significance and goes back to the 1590s when the bridge was constructed by the Japanese community to link it with the Chinese quarters. Nights at Hoi An can be magical as the town gets picturesquely dotted with colourful Chinese lanterns and is a sight to behold. Although I missed it, if you are lucky to be in Hoi An on a full moon festival, you will have the best photo opportunity to capture the true essence of Hoi An. The best way to see and appreciate the beauty of this place is by bicycle. You will find some amazing roasteries and a wide variety of coffee houses serving you the best cà phêin, a traditional Vietnamese filter such as Weasel, Kopi Luwak, Traditional Vietnamese - Arabica and Robusta. I had only one day in this cute town and the same evening I took a long 14-hour bus journey to Dalat via NhaTrang.
COFFEE AND WINE GROWING DALAT
Dalat, the capital of Lam Dong Province in southern Vietnam's central highland, is the coffee & wine growing region of Vietnam. Some of the finest variety of coffee and wines are cultivated here. Being in the highlands, it has a salubrious climate round the year and is perfect for outdoor activities such as walking, cycling, running and motorcycle tours.
It is also called the vegetable garden since most of the fresh fruits and vegetables are grown in this region. Considering the fact that Dalat had so much to offer, I decided to stay here for three nights. The first day was to explore the lake around which the town is located, Dalat Market and just walk around. In the evening in my hostel, there was a nice family dinner prepared by a Vietnamese family and all the backpacker travelers staying in the hostel ate together. It was so much fun and being a vegetarian, I had absolutely no problem in getting the best vegetarian meal comprising salads, broccoli, Tofu and loads of other palatable stuff.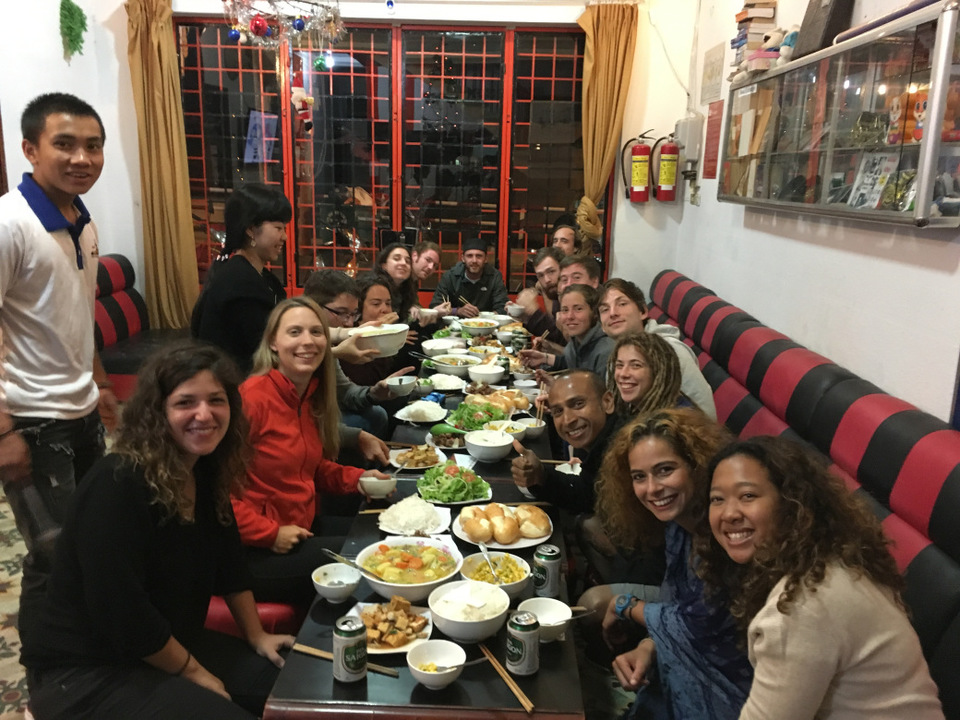 Family Dinner in Dalat
Now came the big day when after a short run of five km around the lake, I set out to a waterfall and forest to try out canyoning. It's a must if you are in Dalat. You will learn to navigate your way down a canyon and waterfalls by abseiling (aka rappelling), scrambling, zip lining, cliff jumping and swimming in the icy cold water. And, it was an amazing feeling to do it with a group of 12 travelers from around the world. We later visited the Crazy House Hang Nga Villa, which was built between 1990 and 2010 and now includes a gorgeous hotel as surreal as one can imagine. The house is not only weird, it is also crazy with its narrow cave like structure made using the branch of a tree in the most natural setting one can imagine.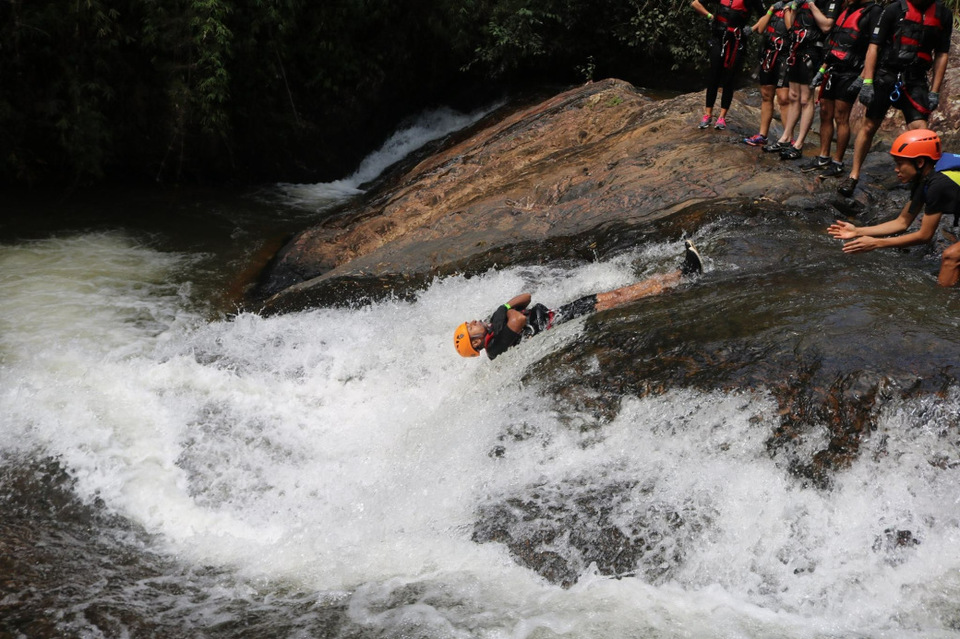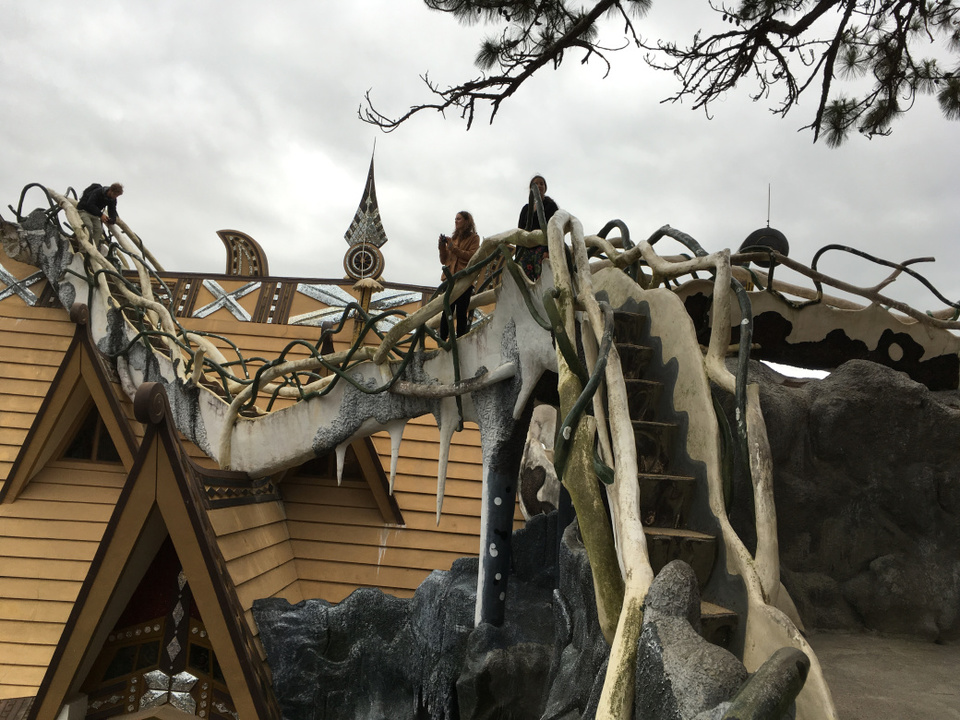 The Crazy House
The next day, it was time for me to reunite with my friends whom I had met in Phuquoc. My trip came to an end at the Maze Bar, also called the 100 roofs café.
This crazy place, considered one of the world's most exquisite bars, has dark winding stairs and tunnels that will make your imagination go wild as you enjoy your drink.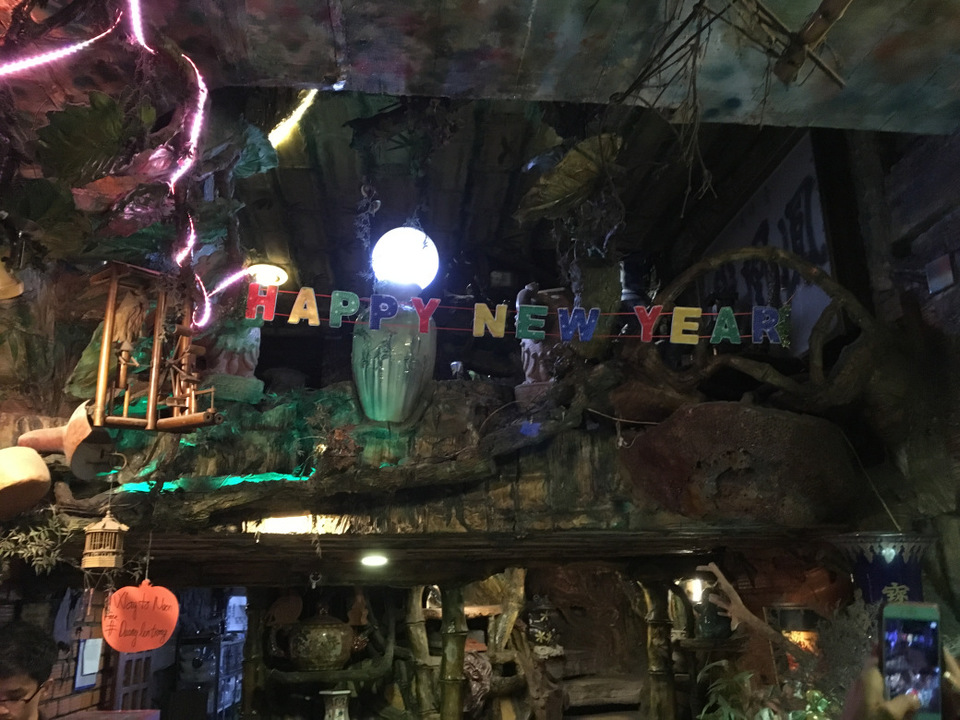 My final destination was to take a night sleeper bus to go to Ho Chi Minh city to meet my friend thank him for all the help and support extended and it was time to pack my bags to go back to airport to take a flight to Delhi, could not believe such an amazing trip with such wonderful experience was coming to an end and the very fact that I would be close to reality was something that was haunting me. I was still enjoying my holiday till I reached Delhi reminiscing the entire trip in the flight thinking what would I like to do next and where? Its time to reflect, write and share your recent travel experience. Dream and work on the next one. Last but not the least a True Vietnamese Vacation will only leave you spell bound by what the country offers and would charm you forever making you come back again with its universal appeal of Timeless Charm.
"Like all great travelers, I have seen more than I remember, and remember more than I have seen". Benjamin Disraeli Travelers Column and Tips :
How many hours is the FlightWhat is the Currency of Vietnam and how is it pegged to 1 USD
Some Hostels that I stayed
7.5
Vietnamese Dong (VND)23000 VND is equal to 1 USD
HCMC : Saigon Central Hostel, Phuquoc : Antinho Hostel, Hoi an : River Central Park, Dalat : Tiny Tigers.
For Canyoning : Highland Sport Travel
Suresh Srinivasan is an avid solo backpacker based out of New Delhi. He loves exploring the scenic parts of the world and has travelled to 25 countries since 2005. A corporate marketing professional, he is also a seasoned marathoner, health food freak and photography enthusiast. He can be reached atsureshsrin@gmail.com )