Thai means "Free man" most popularly called Mueang Thai, Siam-It is the 50th largest country in the world, filled with best beaches, stunning ancient temples, rich flora and fauna and jaw dropping picturesque views. Thailand is a very popular summer destination, flocked with travellers, travel lovers and tourists. A trip to Thailand, when pre-planned, pre-booked will give you relaxation, comfortability and peacefulness.
SMALL INTRO ABOUT THAILAND????- It is called, "The land of smiles" North Thailand is full of mountains, which is on the Kharar plateau, with Thana Thong chai range running, while south Thailand is full of resources, natural features, social and economic development. Tropical wet and dry climate prevail all over the country. January to June is the best time to visit Thailand. Yunnan are the original inhabitants of Thailand. It was ruled by various dynasties and empires.
WHAT TO DO IN THAILAND-????
1)VISITING- Grand palace, Phi Phi islands, Khaoya national park, Nong Nooch tropical botanical garden, cheow Han lake, jomtien beach, wat Arun, Tiger cave temple, wat Saket, wat phra Kaew.
2) POPULAR CITIES-Bangkok(capital city), Pattaya, Phuket, Mekong, Chiang mai, Ka Tao, Patong, Rawat, Phe, Pai, Krabi, Hua hin, Aonang are some popular cities.
3) HISTORICAL SPOTS- Kamphaeng phet, sukhothai, Khmer temples,phra pathom and wat pho.
4) FOR HONEYMOONERS- Karbi, konsamui, Chiangi mai, Huahin are places to visit.
5) ADVENTURE- Snorkeling, rafting, jungle trekking, scuba diving, rock climbing, sky diving.
6) EATING- som tum, tom Khan Kai, pad Thai, pad krapow, moo saap, kai med ma musing, Gooay teeoreva, Bamee, kow mow, mataba are tasty.
7) DRINKING- Oliang, Thai beer and whiskey, Thai tea-coffee, Thai cocktails.
8) NIGHTLIFE- Partying, chilling nightlife filled with rooftop bars, lively night clubs, discos, massage parlours. Bankgkok, Phuket, Pattaya have the best relaxing, enjoyable nightlife.
9) SHOPPING- Handicrafts, designer wears, accessories, antiques, souvenirs, are shopped. Bangkok shopping malls, chatuchak market, asiatique the riverfront, Pratunam, Chinatown market, Bangkok flower market and night markets are places to shop.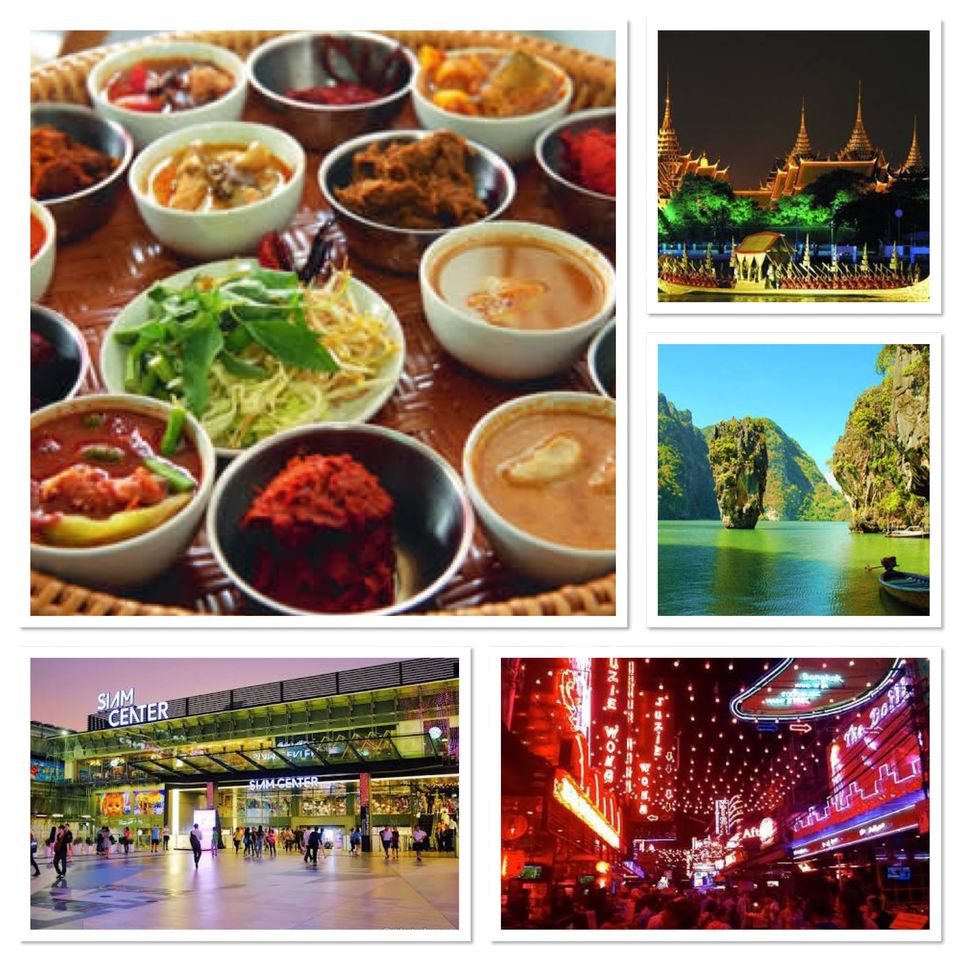 REACHING✈️????????- By AIR- Bangkok suvarnabhumi airport is well connected. Phuket airport is the second largest airport in Thailand. There are flights from all over he world to Thailand. By TRAIN- There are trains from Singapore and Malaysia to Bangkok. Ther are regular BUSES from Singapore and Malaysia to Bangkok. Local commutation- there are buses, mini buses, taxis, cabs to commute within the city in Thailand.
From majestic hotels to beach huts, from stunning plains to picturesque hills, white sand beaches, Thailand has always been a very popular summer travel destination a traveller should visit, feel peace within and make enough memories.