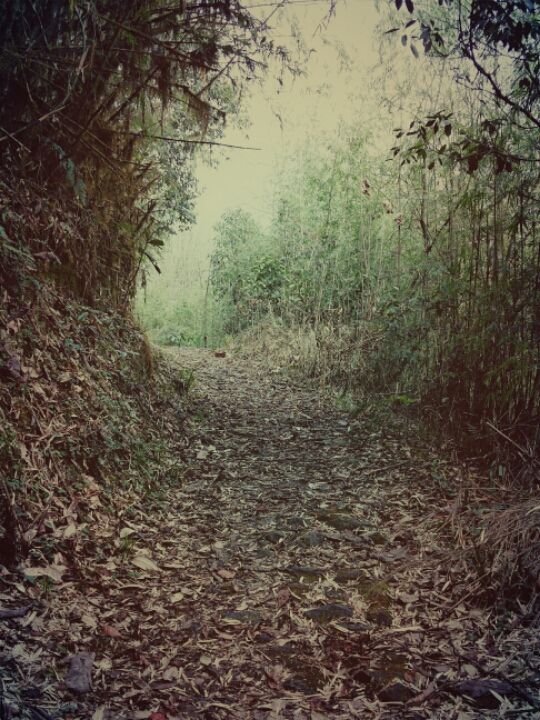 Have you ever wondered about having an after life? (I really didn't want to sound spiritual in the opening sentence itself. But no, that is not the point anyway) It is because I always have and if my after life was a story book, I would imagine the first chapter to be a deep tete-a-tete with the creator himself.

What if it was true? What if this dialogue happens.

What if God asked, the first thing He saw us, "Have you seen the snow flakes cover the hills; did you ever dance in the rain; have you gazed at the star lit sky I painted for you, back home?"
What would your answers be? I definitely picturise an excited me exclaim, "yes, oh yes I did all of that", instead of looking back at my life on Earth and uttering, "I so wish I did all of those".

It was not until recently that I decided to make trips with friends, one place from my bucket list at a time and March of 2016 was all about exploring the small landlocked state located in the Himalayan mountains - Sikkim.

The excited trio that we were, began our trip from Chennai Airport on March 10th. Since there weren't any direct flights to Sikkim, we took a flight to Calcutta and to Bandogra (both in West Bengal) from there. We were received by a guide and a driver who were pre-arranged, thanks to a traveller friend of mine.

They drove us through the beautiful tea gardens of Darjeeling, over the Teesta river, through the hanging bridges, between the colourful prayer flags strung along either sides of the roads.

This 5 hour long drive from the airport ended as the SUV drove towards a small and cozy homestay in a village called Okhrey and that became our home for the next 4 days and 3 nights.

I had already told my friend, whom I mentioned earlier about helping us plan our trip, to choose off beat places for us to visit.

Not only were we thrilled upon reaching Okhrey but were also all set to get off the beaten path, away from all the "tourists" and into the local pace of life.
At this point I must confess though, that we were exhausted from all the travel as much as we were ecstatic from the first glimpse of Sikkim. And thankfully, we didn't have anything much chalked out for the rest of the day apart from getting acclimated to the surroundings, adjusted to the high altitudes (you can imagine how it would be to travel from a place that was just about 20 feet above sea level to a place that is a little above 5,000 feet above sea level, in 12 hours) and clicking a few selfies, okay a little more than a few selfies (in our defense, we were on a break, if you know what I mean).

The following day started afresh with a hot cup of coffee, cool breeze and a beautiful view from our room. We were all geared up for our 13 kms trek to the Barsey Sanctuary in Hilley.

Though it was early spring, we got lucky while on our trail, wading through brooks and tall trees, and saw the famous mainstays of late spring, clusters of Rhondodendrons. Though the weather in the morning hadn't promised a favoruable trek, we continued to be hopeful on sighting  the massive Mount Kangchenjunga.

But the cumulus clouds and light cool breeze said, "not today".
Also since sundown was pretty early around that time of the year, our guide insisted that we got back to the homestay.

The evening was wrapped up with each of us trying on the traditional dress worn by the ethnic Sikkimese women called Bakhu, and enjoying an engaging conversation by the fireplace with the owner of our homestay while his wife prepared an early supper for us.

Waking up to Day Three, we decided to make a visit to a monastery (the first of many that followed), more like a multi religion centre called Sri Sathya Sai Dharma Kendra in Daramdin. This structure was a little different from the rest of the monasteries we later went on to see. We were also told that a lot of tourists came visiting all through the year. The ceiling and walls of this monastery were frescoed with stories from the life of Buddha, scenes from the Mahabharata, and parables from the Bible. It was good to see that they were let to coexist, at least within the four walls of this building.

The three of us went on to spend the rest of our day in and around the village, meeting the locals and enjoying the restful but lush living carpets all around us.

Three days had gone by in a jiffy and we all had this usual I-do-not-want-to-go-back-to-reality mode on. We downed a huge bowl of soup and stuffed our depressed faces with some great tasting momos our hosts made for us.

Day Four and it was time to say goodbye to the wonderful couple who hosted us and a beautiful village that was draped in green.

We headed towards the car, all set for the next leg of the journey - Rinchenpong, the town that sat at an altitude of 5576 feet above sea level, amidst the cold gray clouds and the snow capped mountains, in the west of Sikkim.

Though the driving distance was just around 45 kms from Okhrey, via Soreng, the winding roads took us a little more than 2 hours to reach our hotel. As we didn't want to waste our 2 days there, we dumped our bags in our room, grabbed some lunch and headed to the Rinchen Chholing Monastery in Meghidara.

From there, to the great Singshore suspension bridge (The highest in Sikkim and second highest in Asia with over 100 meters in height and spanning approximately 200 meters in length connecting two gorges) near Uttarey which was an overwhelming sight.

As the weather decided to be nice to us that evening, we drove to the Rainbow Trout Breeding Farm (maintained by the Government of Sikkim) before calling it a day.

The next day was all about the aesthetically beautiful and spiritually divine Tashiding Monastery. This most sacred place that the natives consider it to be, sits on top of a heart-shaped hill between the Rathong and Rangit rivers.

The legend has it that this 17th century spiritual centre is the heart of all holy places in Sikkim.

The stone paths not only led us to a historically celebrated monastery but also to a geographically well placed building.
A huge bowl of Wai-wai noodle soup marked the end of another day at Sikkim.

The last morning at Rinchenpong and our final chance at sighting the third highest mountain in the world and 'Voila!', the clouds moved, the sky cleared and the magnificent Mt Kanchenjunga peekaboo-ed. The three of us gazed in admiration from our bedroom balcony while we sipped on our morning coffee.

Day Six of our Sikkim expedition and the largest town of the state was calling, Gangtok. It was a rainy evening in the capital but we headed to M.G Road to finally get some souvenirs for family and friends. With boxes of Buddha statues in all shapes, sizes, and colours, and packets of tea dust and tea leaves, we walked to our homestay at Gangtok.

We had decided to visit one of the greatest attractions in Sikkim, located near the Nathula Pass (Indo-China border), towards the end of the trip. The drive from Gangtok to Tsomgo Lake was, of course, through a scenic backdrop. At an altitude of 12,300 feet we witnessed the eloquent testimony of creative power.

Despite the icy cold breeze and the temperature being a -5 degree celsuis at 12 in the afternoon, we couldn't stop staring at this glacial lake and appreciate the handiwork that was in front of us. Enthralled, we spent a long time taking in all that we saw and captured all possible angles of the lake and its surroundings. Oh, yes, and we did get a lot of pictures that were postcard worthy.

Watching the sun set in a blaze of red, over the lake fed with melting snow from the mountains around while descending and taking the road back to Gangtok that evening, was a sight each of us will never forget.
So what are you waiting for? Pack those bags, and get ready to enjoy the breathtakingly beautiful Nature and the pleasure of pathless woods!

Originally published in WordPress (https://jimsvadakka.wordpress.com/2016/07/04/waking-up-in-heaven/)