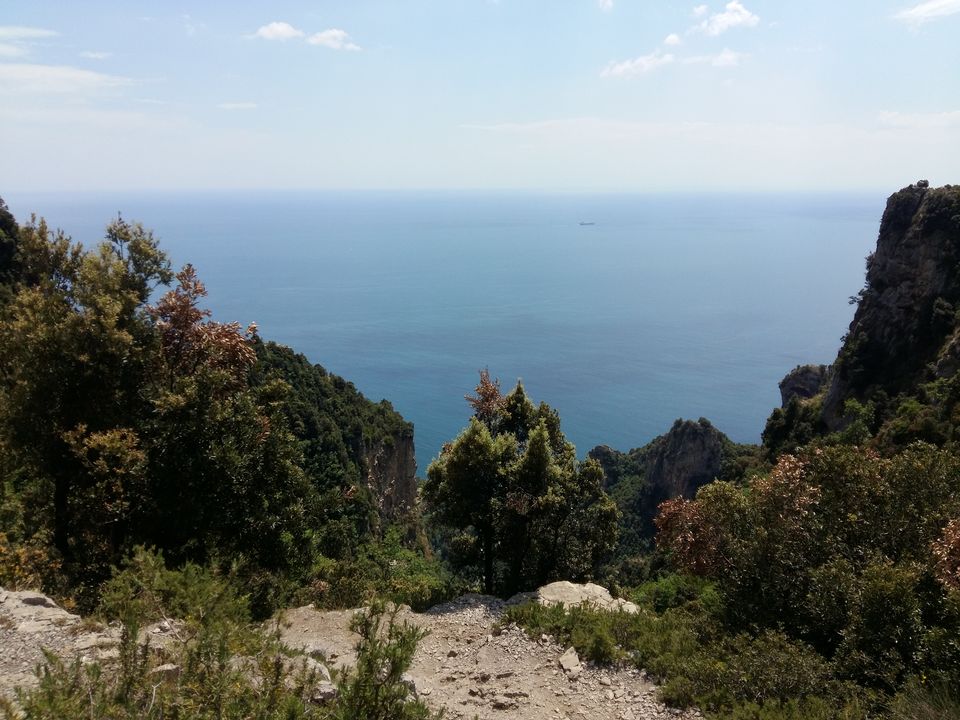 Il sentiero degli dei. The walk of the Gods in italian.... Hard to think of a better description for this trek through the mountains rising above the amalfi coast. This is a must do on a visit to amalfi. Its a trek with an easy to medium level of difficulty depending on your fitness level, the reward being absolutely stunning views of the azure blue sea, pretty villages and soaring cliffs. Its roughly around seven kilometers and takes about three hours of mostly walking and some climbing.
The starting point of the trek is the small village of bomerano. There are two buses in the morning between 8 and 10 from the main bus stand at amalfi for bomerano. The bus stops at the beginning of the trail. Just hop off and start walking. It is a peaceful hike and except during the summer months it should not be too crowded. The path goes over the mountains with absolutely breathtakng views of the amalfi coast. about three hours later you will reach the small village of nocelle. from here there are buses that will get you to positano. They are not very frequent though and there is no bus stop as such. You will have to ask around as to where the bus will arrive. another way to get down to positano is taking a flight of about a thousand steps through the mountains. It is doable but needs some enthusiasm after the 3 hour trek! We took the bus! Nocelle also has a few resturants where you can stop for lunch but many of them are closed between 1 and 4 pm....siesta time! Guess the italians eat lunch early! Carry water as you will get thirsty. There are a few taps at which you can refill but the last stretch of about an hour has none.
Do consider making this trek a part of your amalfi iternary. A half day well spent. Please note that it is most convenient to stay in amalfi. there are no direct buses from anywhere else to bomerano. From positano you can get buses to sorrento or amalfi.