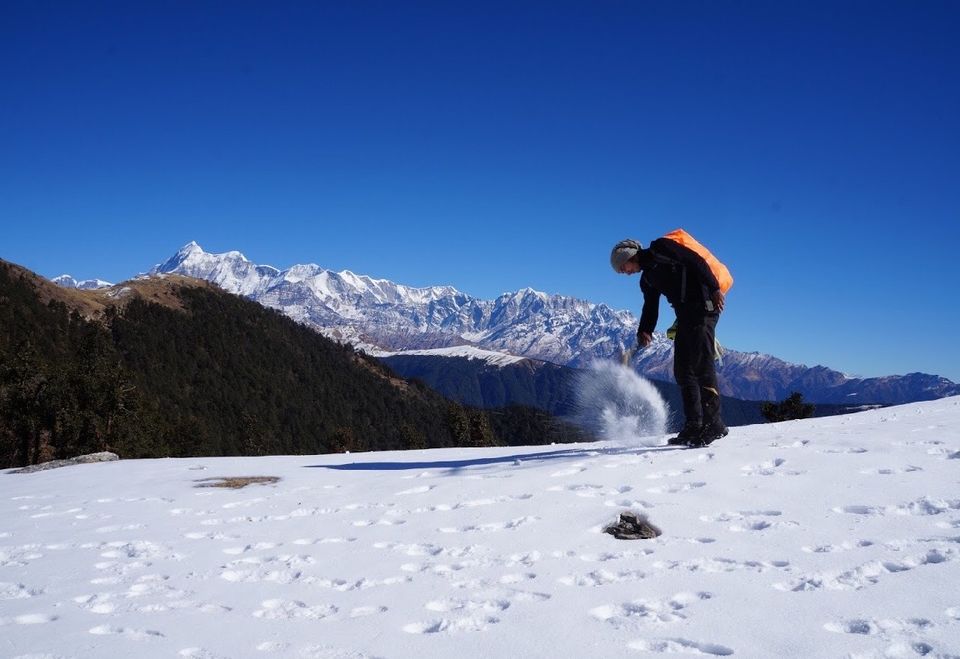 "Everyone has a near death experience story to tell when they go to the mountain because everyone tends to exaggerate fear in their minds. It can be overwhelming to stay so close to nature after living in the city. The minutest fears are then exaggerated. But this isn't an exaggeration. We walked on a narrow ridge in the snow on our way and there was a valley down. A single slip, and a lot was on stake"
After a peaceful nights sleep under the stars on our campsite in Bekaltal, we woke up to view the sunrise. It was really cold outside the tent, so despite the trek leader Mahi called out to everyone to wake up, a lot of us decided to stay inside the tents. My mother and I were excited to see the sunrise, so we woke up and peered outside the tent by simply opening the zip. The view was irresistible but the cold was a challenge. Soon, at the call for tasty black tea on the mountain, everyone woke up and moved towards the common tent where the tea was being served. The morning view was grand and the golden yellow sunlight hit the snow on the mountains at beautiful angles contributing to the great views.
We packed our sleeping bags and got ready to leave after breakfast. I love to brush my teeth every morning, but the cold water was a challenge. I still filled some water in my bottle and went to brush on the snow. It was interesting to see that the snow on which I was brushing was as white as the toothpaste which I was brushing. There were separate washroom tents which were created with bio mud so that the dirt was easy to decompose. Indiahikes always maintains an eco-friendly regime to reduce the carbon footprint on the mountains. After we packed our trekking bags and got ready to leave, Mahi asked us to pick up any plastic waste which we may have left on the site. After 10 minutes of collecting waste from around the campsite in our green bags provided by IndiaHikes, we threw the waste in segregated bins. Indiahikes had contributed towards keeping the mountain clean in a tremendous way. Waste segregation was even happening high up here on the mountain.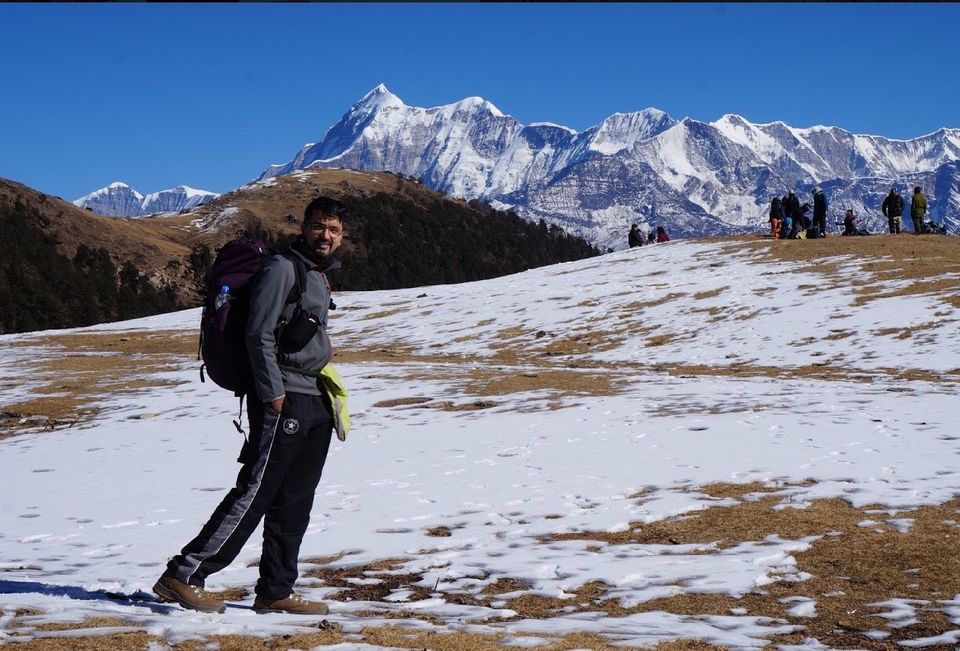 "The thrilling viewpoint"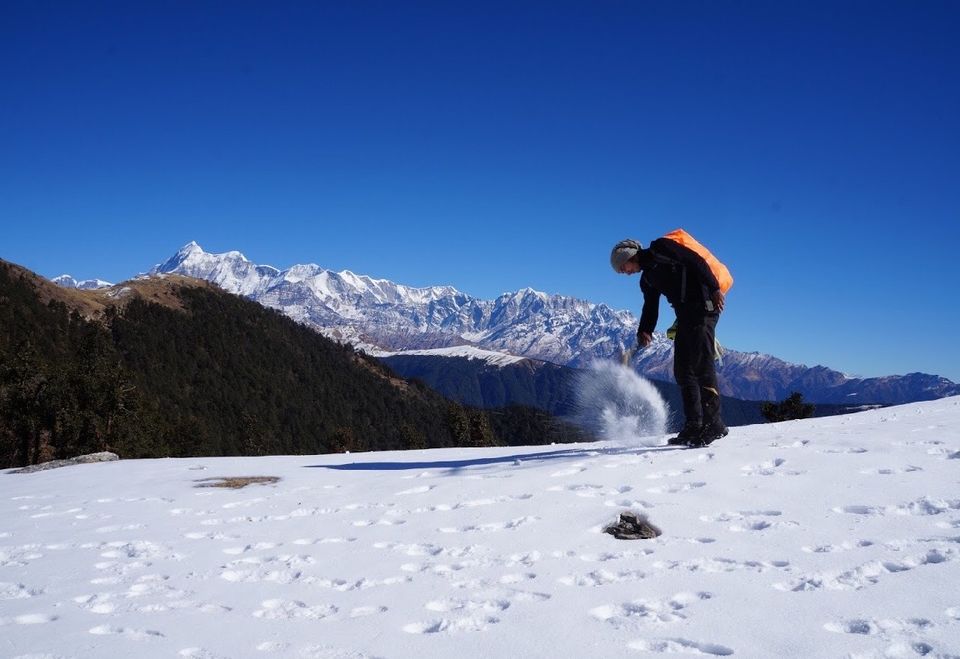 We thanked the people on the campsite who had taken efforts to cook for us on the mountain. They had started cooking at 4 in the morning when it was really cold. Their work began when we felt too cold to even move out of the tents. We then began to trek up towards our next campsite where we would stay for two nights. This campsite was called Brahmatal base camp. We would be climbing the summit the next day. Our oxygen readings were taken before we left. We were recommended to remain hydrated.
Bekaltal- Brahmatal Base Camp (8 km , around 6 hours)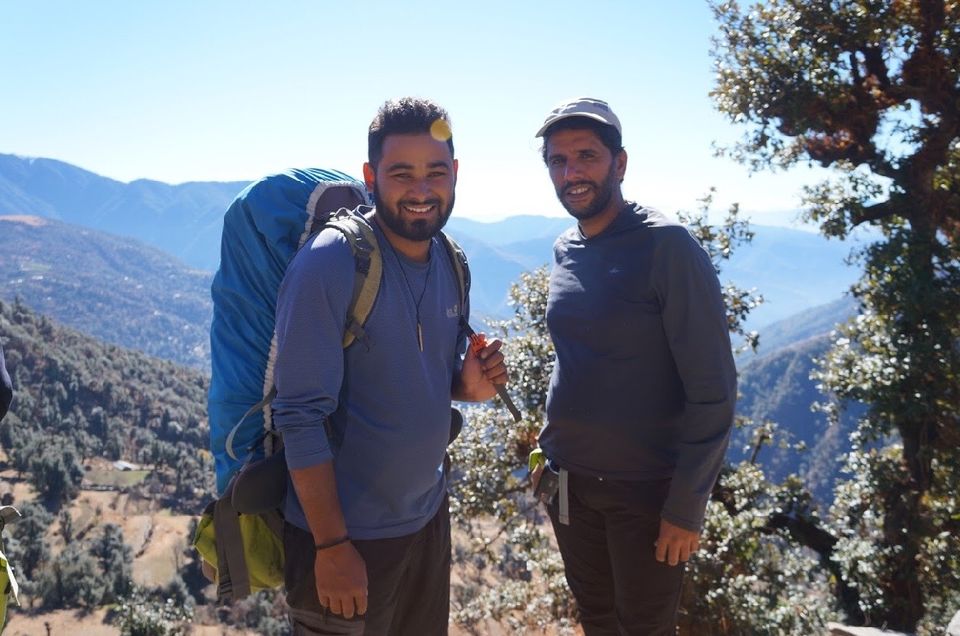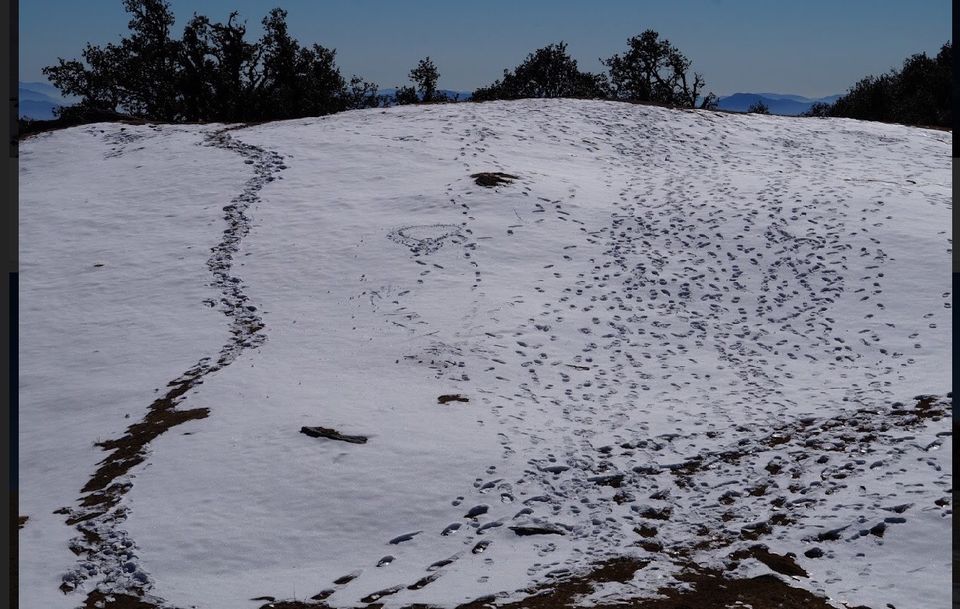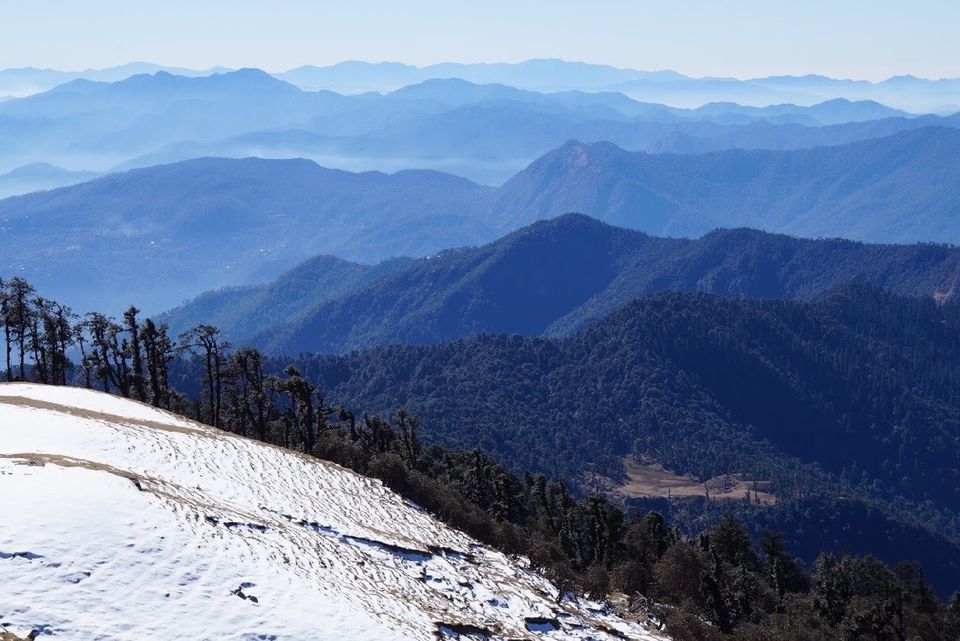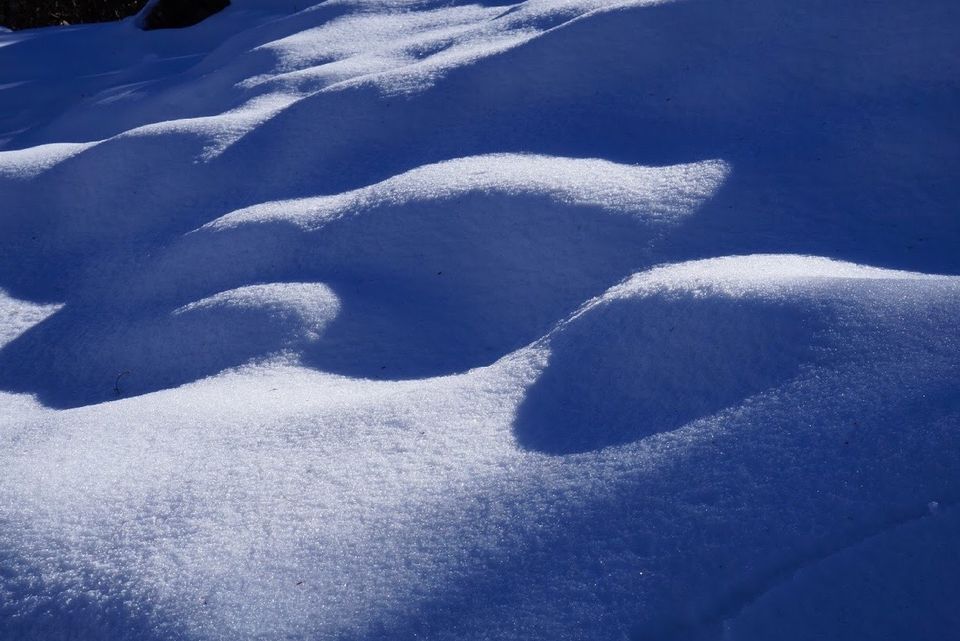 There was a steep ascent in the beginning. My mother walked behind as I raced ahead. Bhagat Bhaiya, the sherpa and I sat on the mountain and watched others climbing up. A fellow trekker, Sumeet, ran up on the ascent. Bhagat Bhaiya and I laughed because we knew that running on the mountain meant getting tired faster and we predicted that he would sit down in the next 30 seconds. Our prediction held true. It is always better to climb at your own pace on the mountain. To my surprise, my mother climbed up without much trouble.
After the ascent through the forest, we reached an open site from where we could view a lot of grand, snow filled peaks in the open. This was our resting point and we stopped here more than we had intended to. Mother and I took beautiful family bonding pictures over here. Bhagat Bhaiya constantly asked us to keep leaving but we didn't leave even then. We left after a while and I was walking with my mother here. We weren't speaking a lot but we were simply enjoying the majestic views of the mountains which was opening by. Soon, we reached a narrow ridge. There was snow in that region. I was surprised at how fast the mountains change landscapes. There was a valley under the ridge.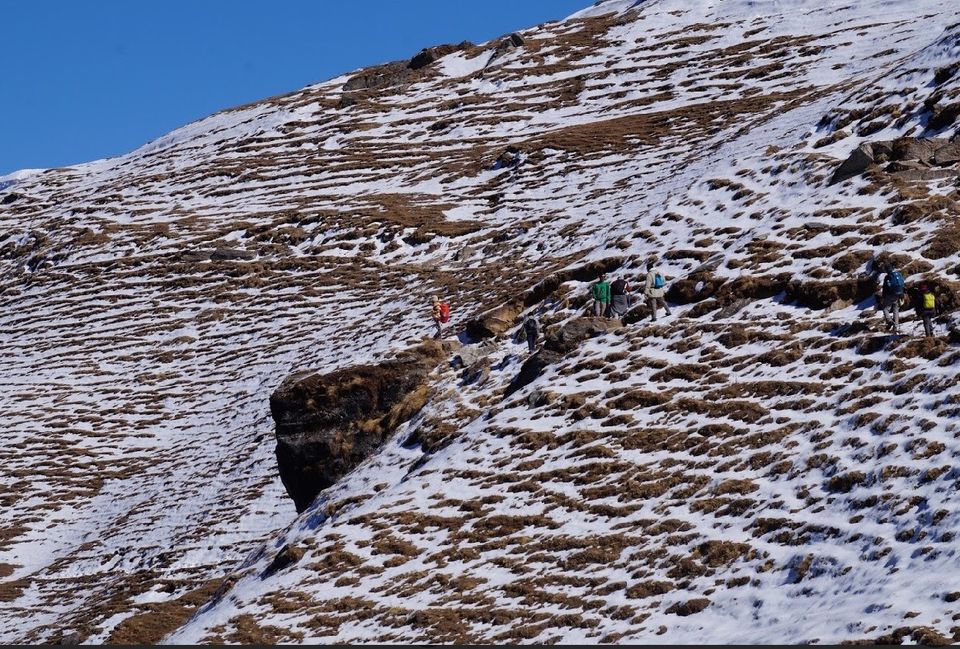 "When I was scared to death"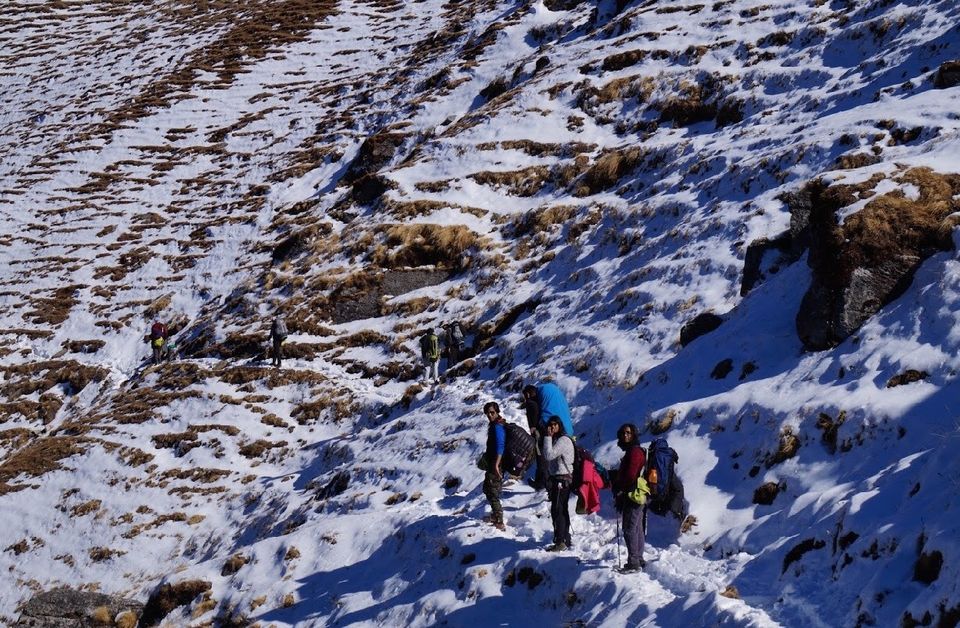 "Not being able to bear the cold"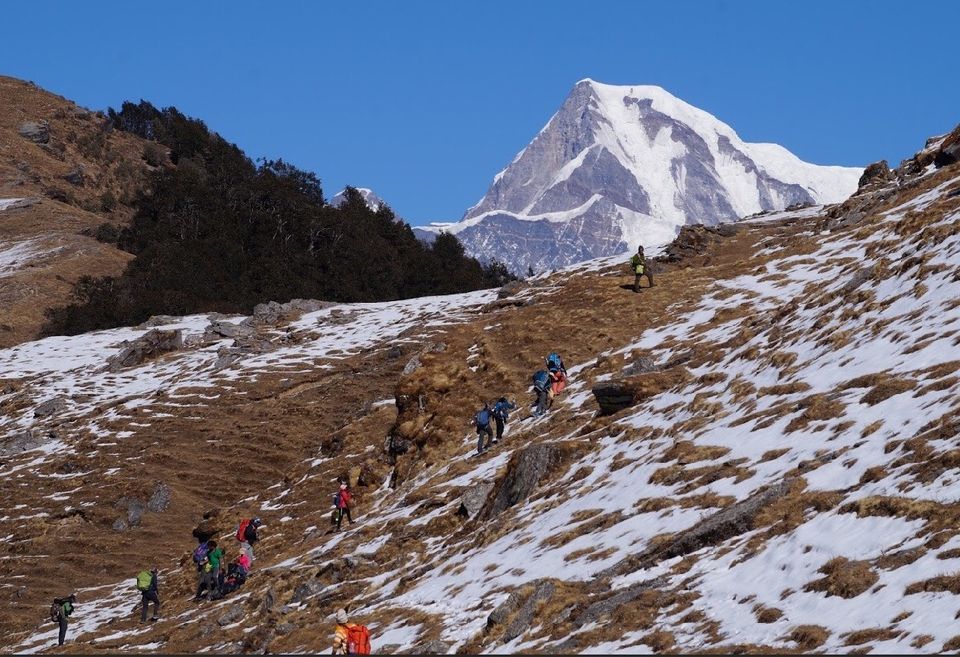 Everyone was scared. We wondered that Brahmatal had a rating of a medium trek on the IndiaHikes page but that seemed to be false. Clearly this was too difficult in our heads for us to finish. Maybe, the difficulty was just in our heads. I walked ahead, I knew that my mother was scared. She walked slowly behind me. I was eager to complete this part of the trek and I completed it. Soon, I turned to see that my mother had stopped behind. She wasn't even moving, she began to cry. I knew that I didn't have the courage to go behind and get her. A fellow trekker helped us. He held my mothers hand till she completed the ridge. My mother glanced at me and told me that she would never send me again!
I knew that getting her here was a mistake. We then reached our lunch point. Our oxygen meter readings were taken at the lunch point as well to ensure the safety of the trekkers. I was overwhelmed at the amount of care that Mahi provided us with. The way never seemed to get over. We had carried packed lunch from the first campsite. After having lunch, we still had a long way to go. We then, climbed down from rock boulders. There was snow on the way so Sumeet and I took the snow path up, whereas others walked down. Since we had to reach down, we slid in the snow together. Then we finally reached the campsite. My toes hurt and I felt sick. We were given delicious popcorn on the mountains. Then we had soup. Everyone was singing old music in the tent. It had got dark now, the sky was filled with even more stars tonight. It was oxygen meter time again, for the third time in the day. Now, this had turned into a competition, everyone began comparing their readings with others. The group had turned more familiar. After having dinner, we went back to our tents with torchlights.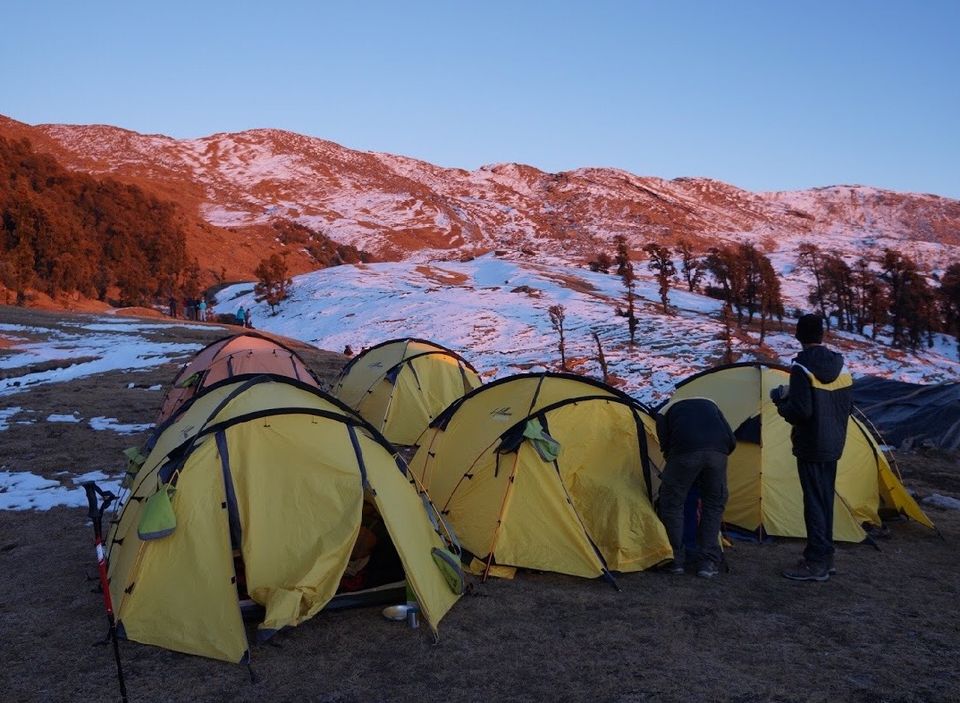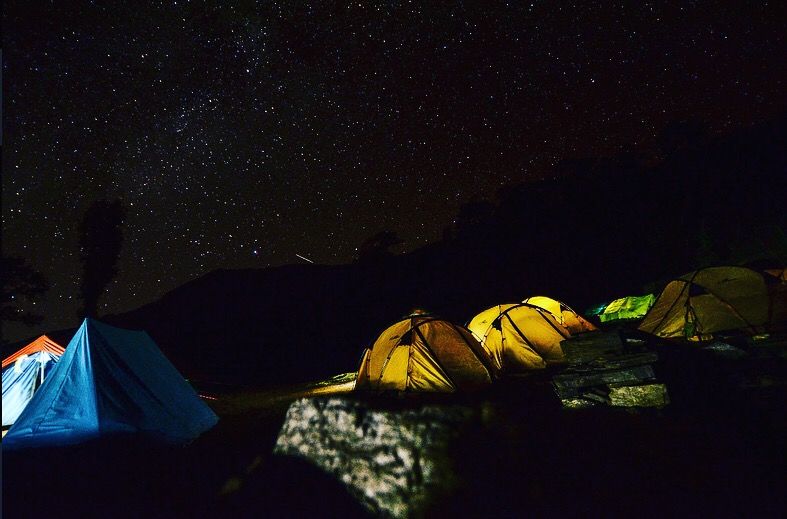 I knew that my mother had a sense of achievement after todays endeavour. However, she was still very gloomy. We tried to sleep in the tent for really long but she couldn't sleep. Then she began to shiver. We called the trek leader Mahi to the tent and he said that my mother couldn't bear the cold. He decided that my mother would descend the next day. My mother began to cry because she had come this far and going back without doing the summit was a disappointment. I would have cried on the mountain too if I ever had to go back. Plus, since I had won this trek through Tripoto, I wanted to make full use of this and enjoy the experience.
"It is okay to return from the trek. However, it is essential to have returned in the long run. The trek doesn't matter more than your life"
Mahi was extremely helpful and he stayed in our tent at night. He took care of my mother all night long and I can't be thankful enough. We knew that my mother would descend the next day, and maybe I would too. How could I ever let my mother descend alone, she would be very scared! But I had to make a choice.
"There, I lay under the stars, caring for my mother and tending her, waiting for a summit to be climbed, imagining the view of the summit in my head. I did not want to go back. The options were- my mother or the summit"
Things learnt on Day 2
1) The trek leaders at IndiaHikes are super helpful and its essential to approach them whenever there is an issue
2) You may be required to descend from the mountain if necessary and always listen to the trek leader when he asks you to descend.
3) Try to hold your mothers hand on a ridge when you are walking with her.
4) The food on the mountains at this height was also better than the food at my hostel.
Day 3- The next day had a lot in store including my choice to go back down with my mother or climb the summit. Stay tuned to know more and for some beautiful pictures and insights.