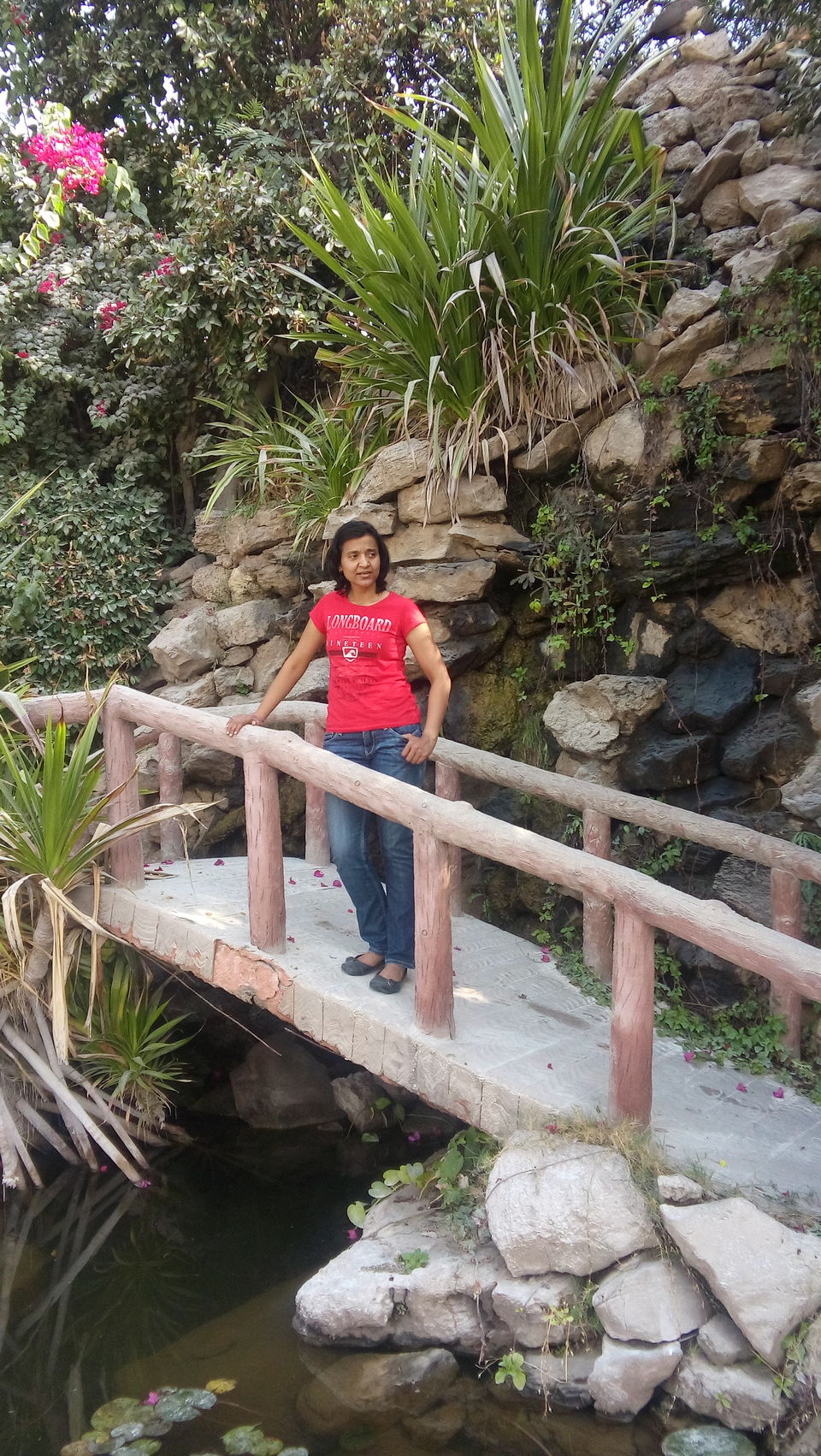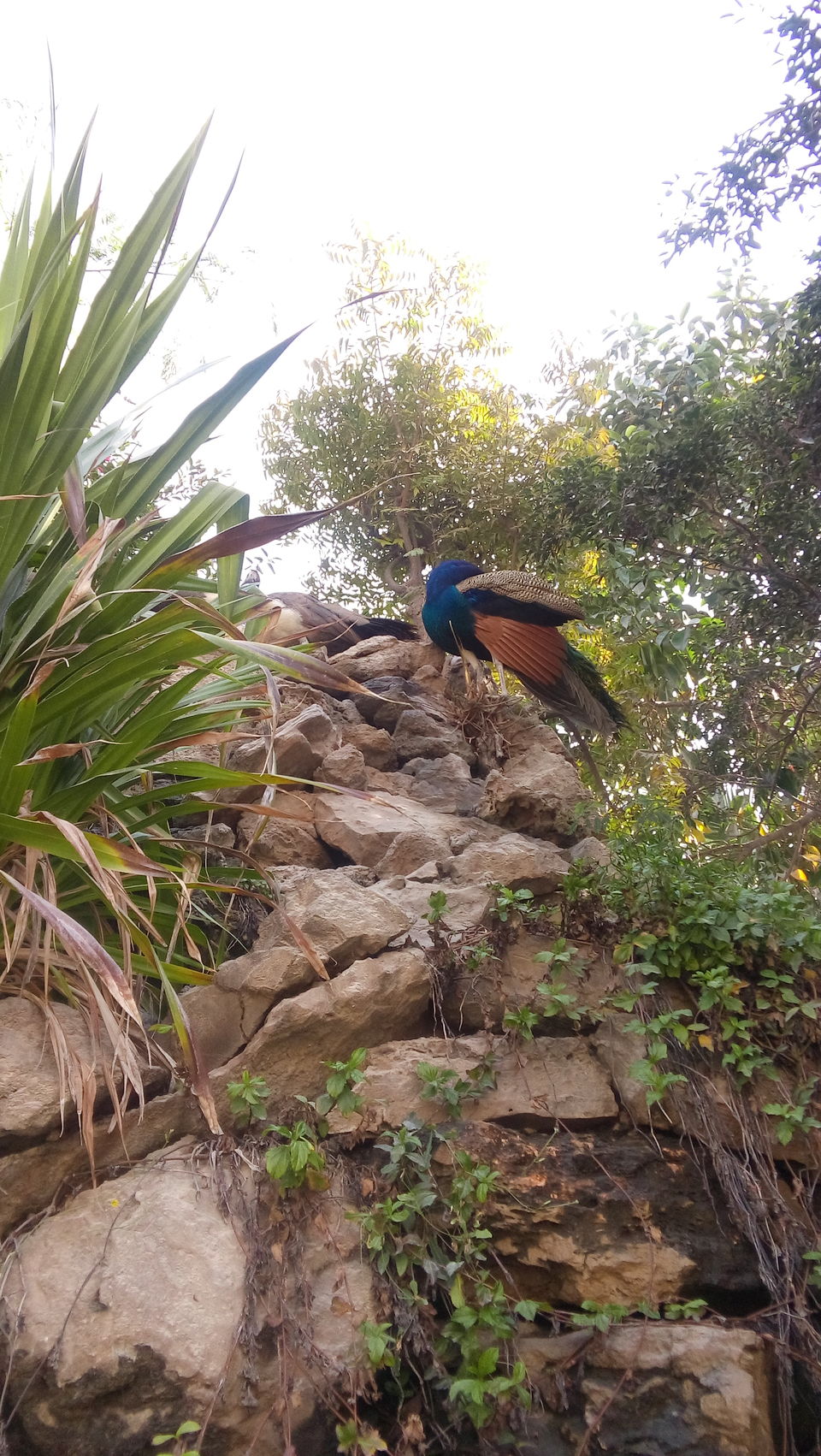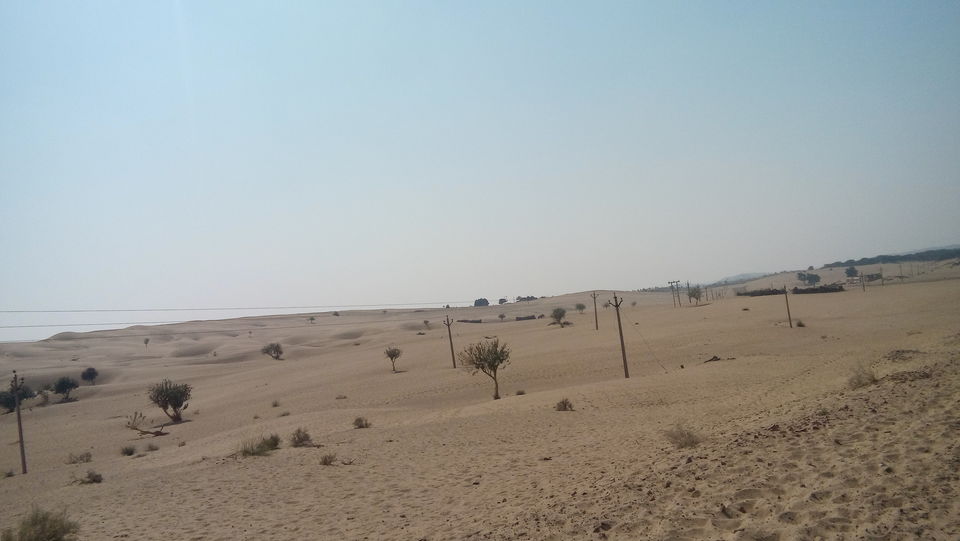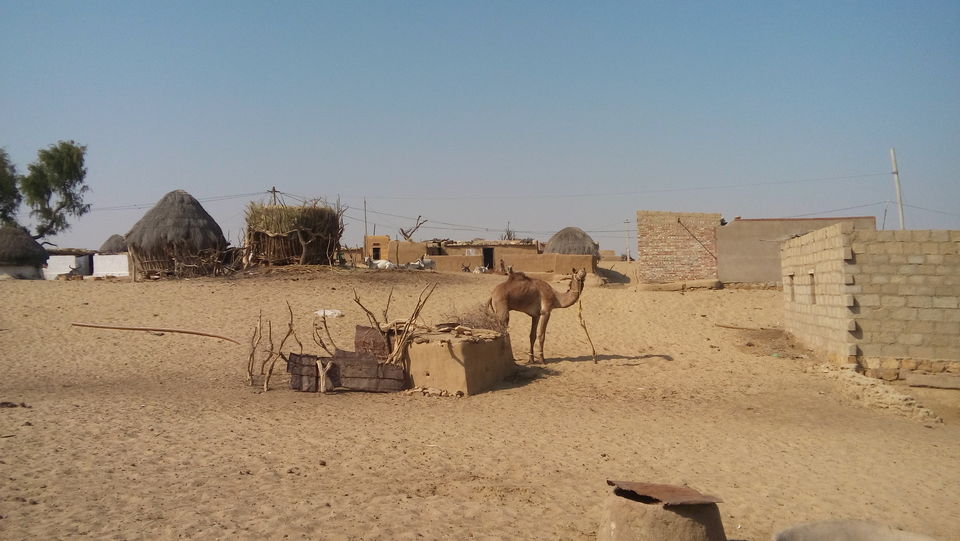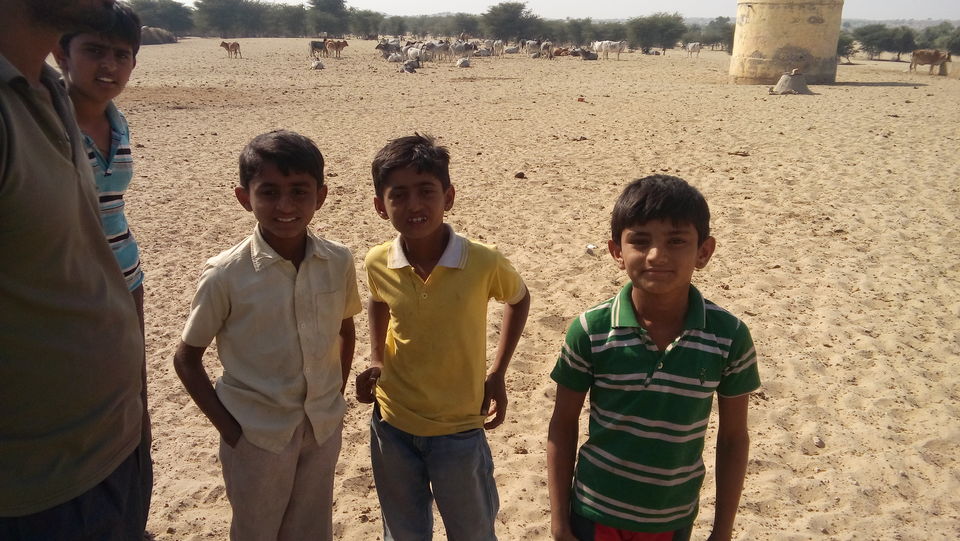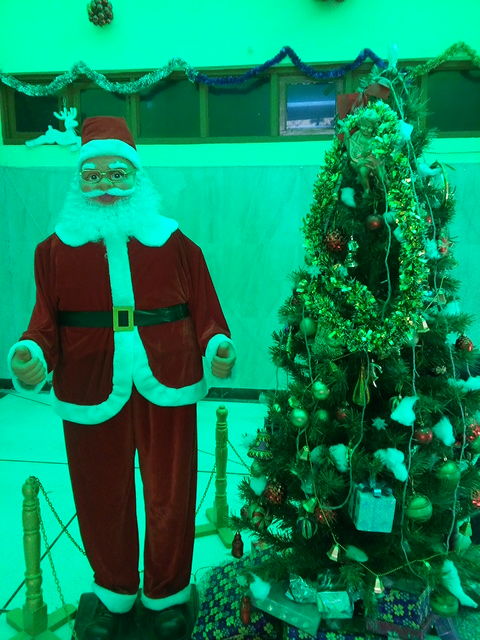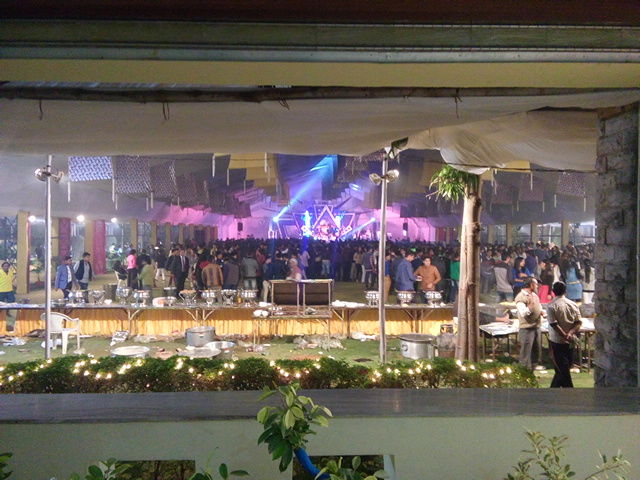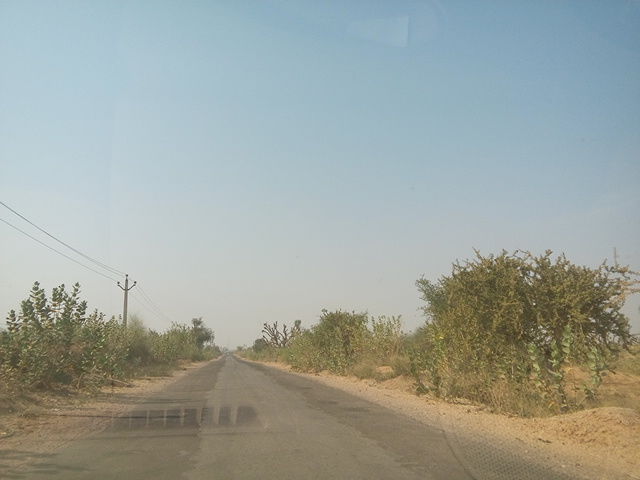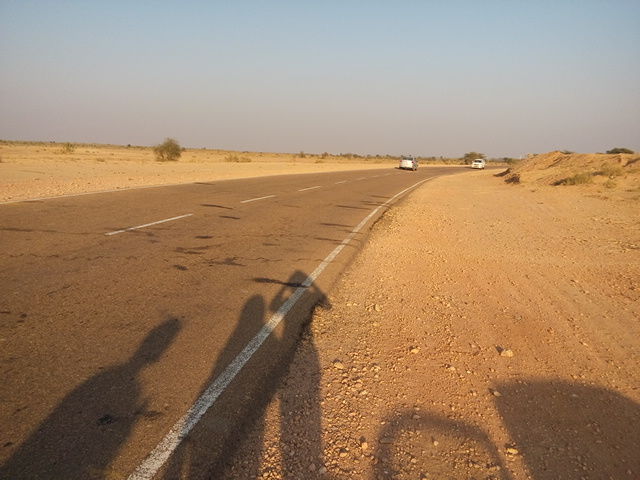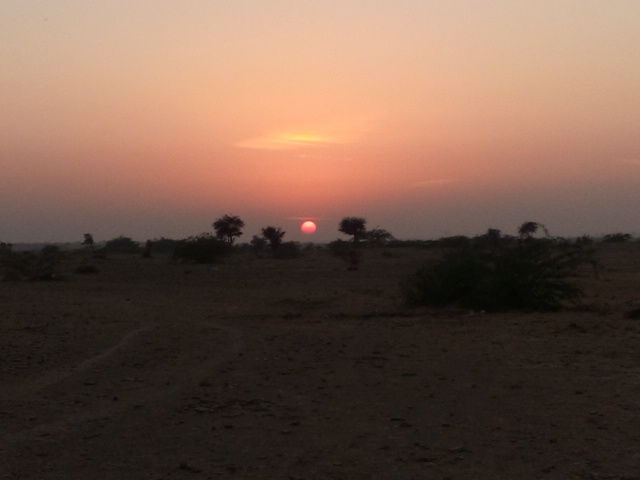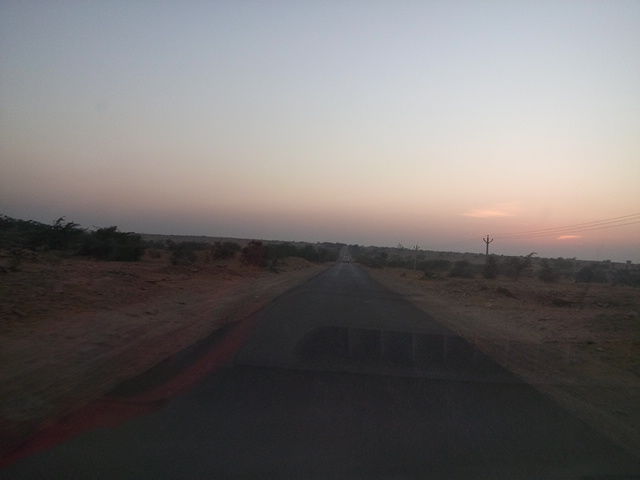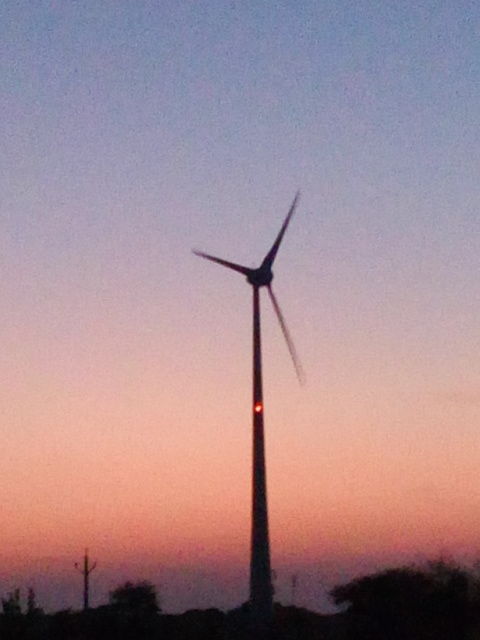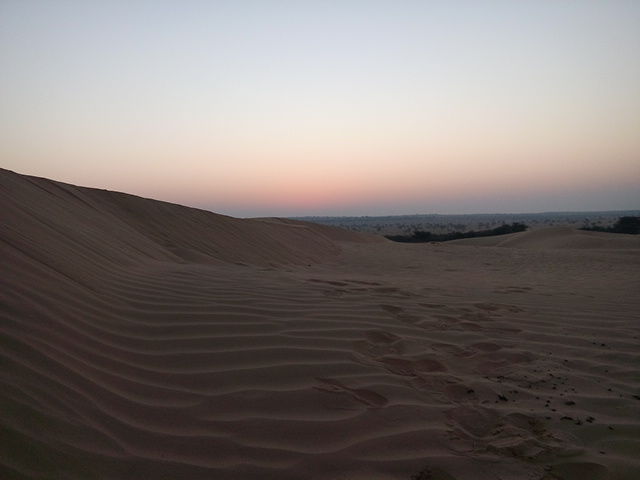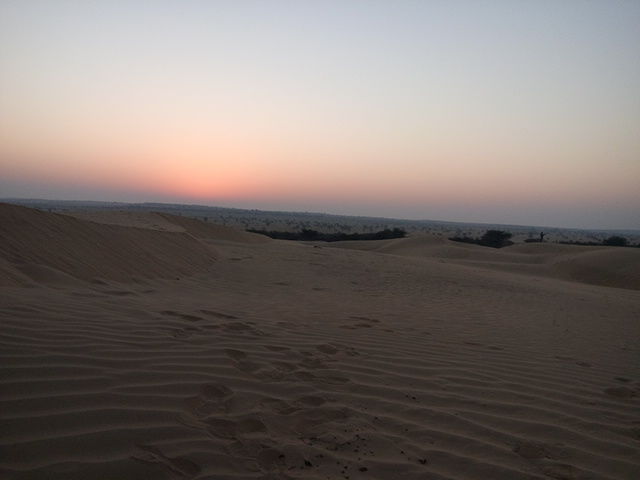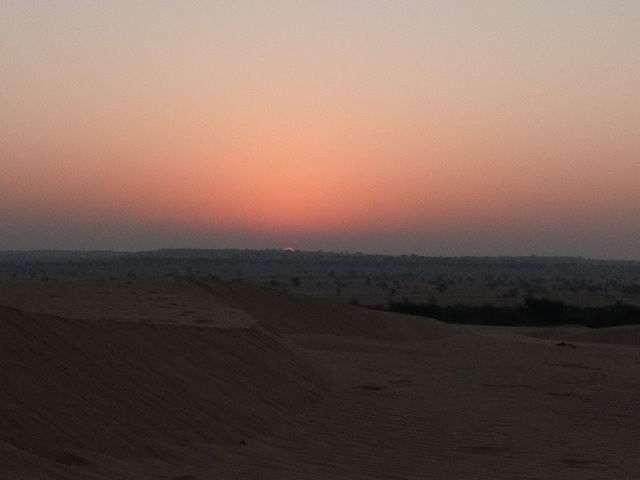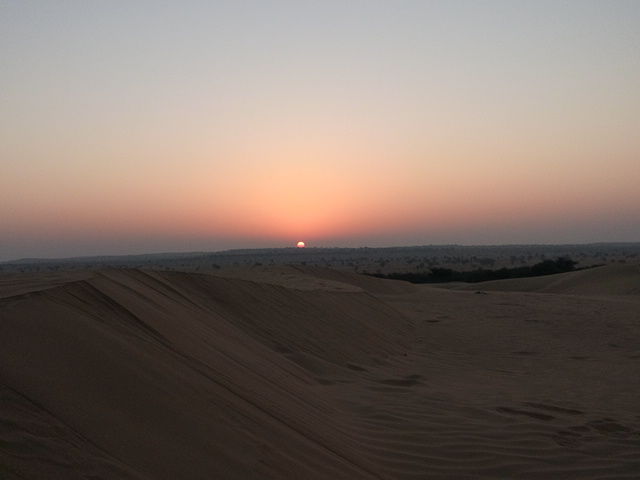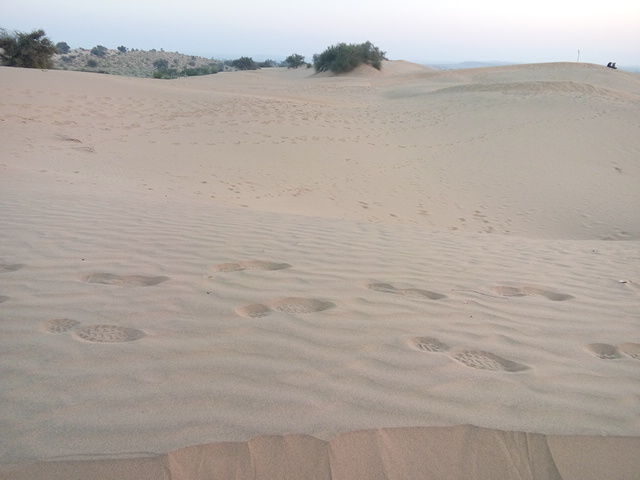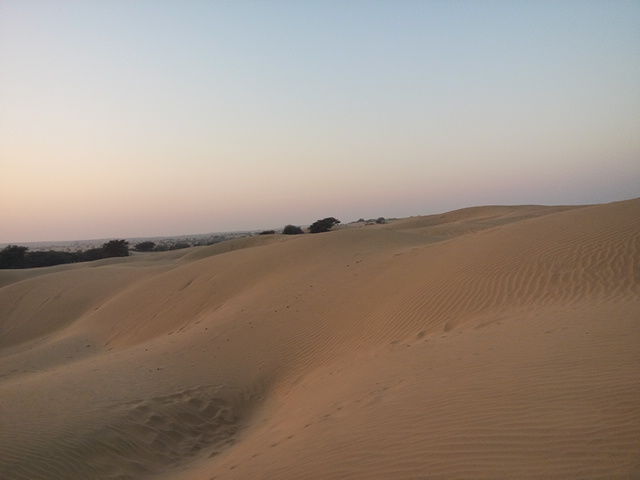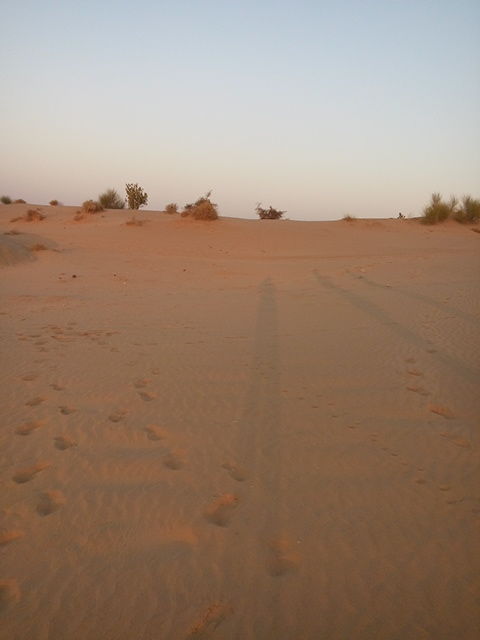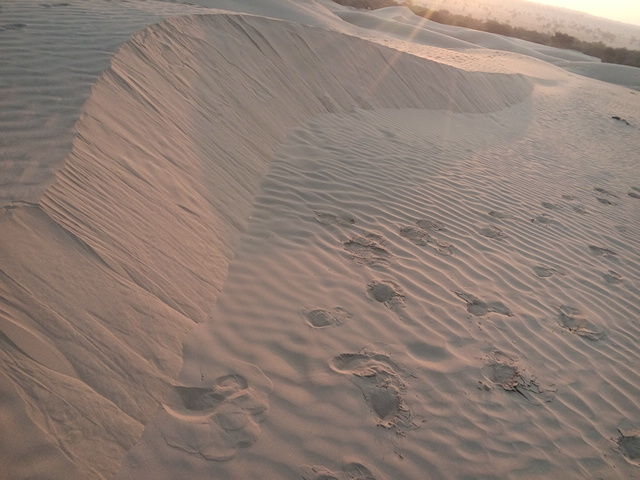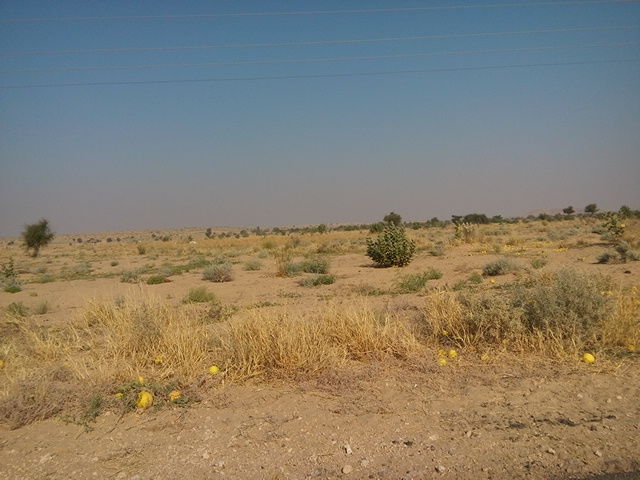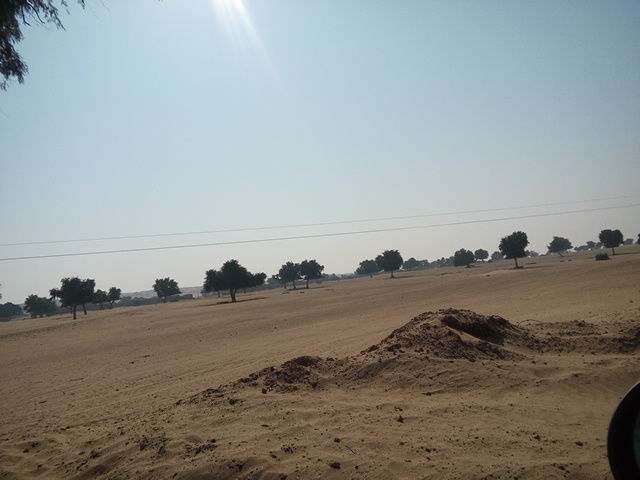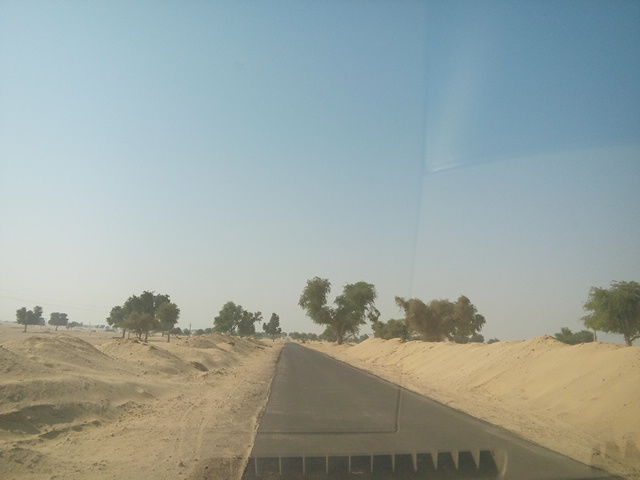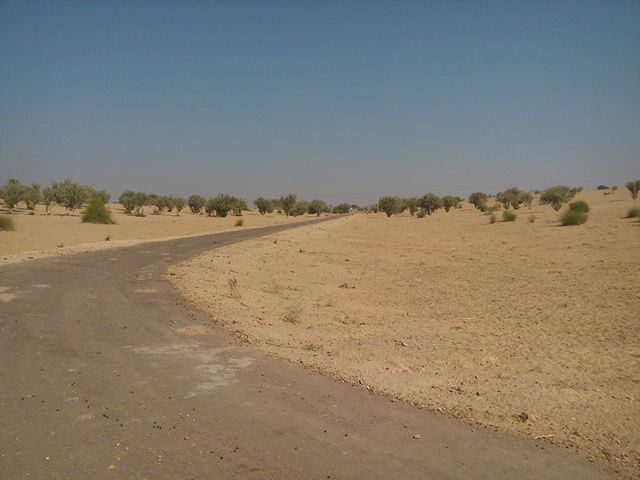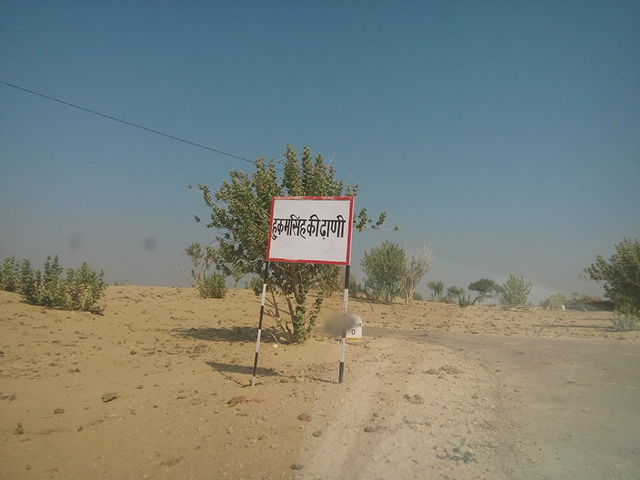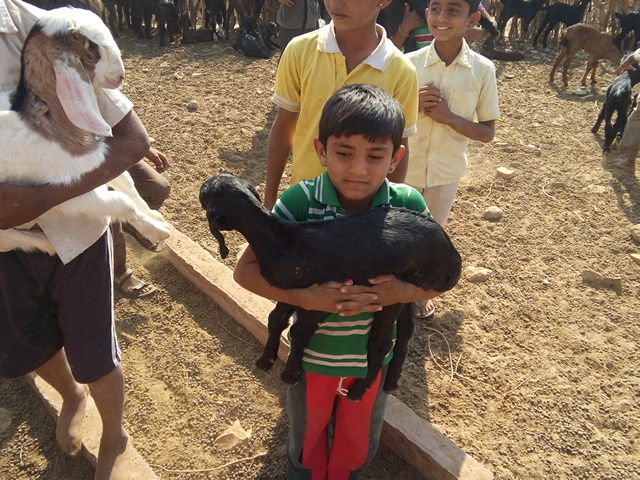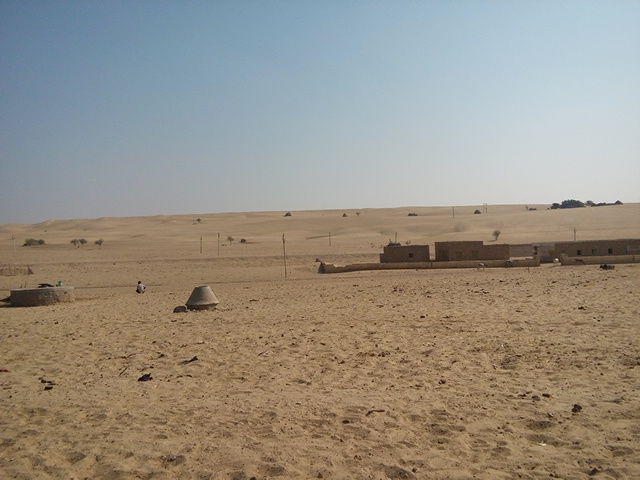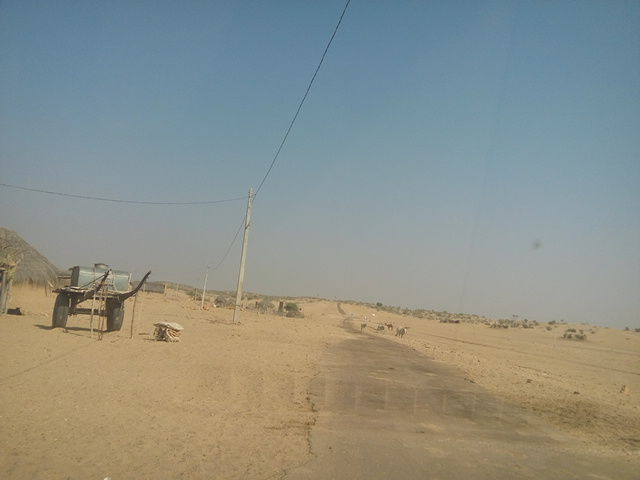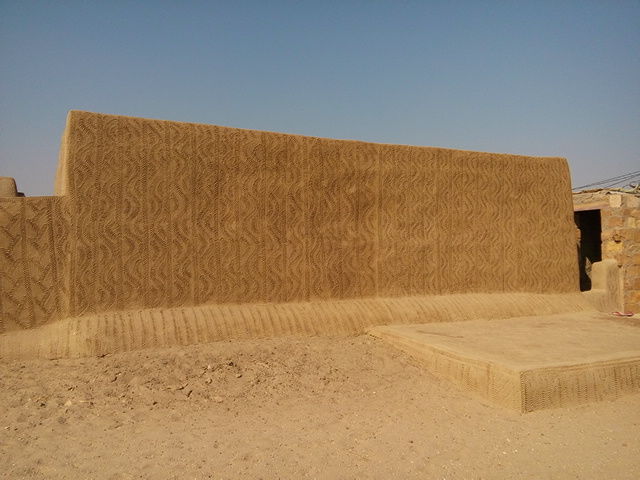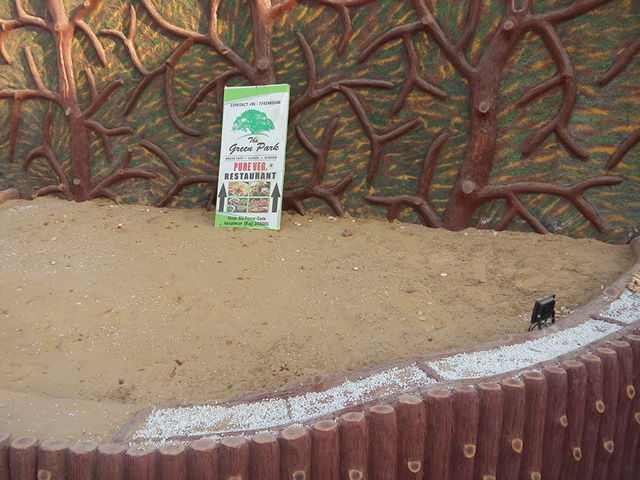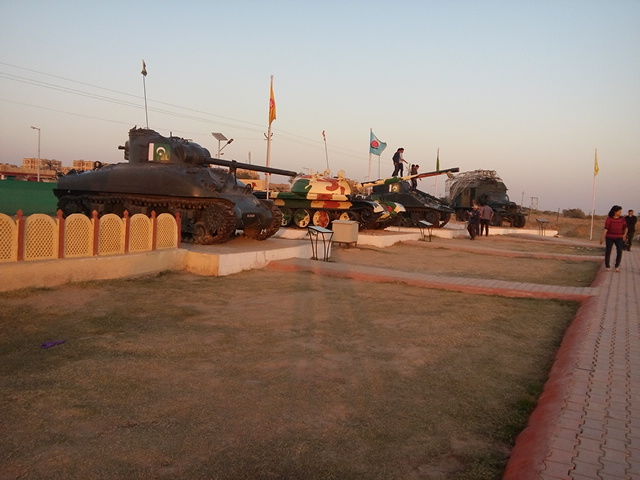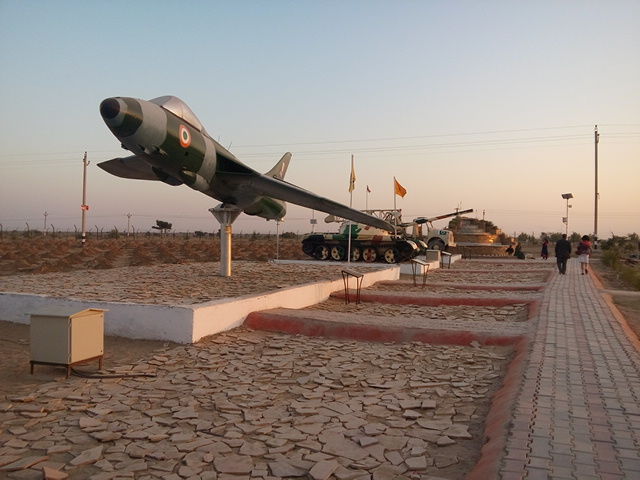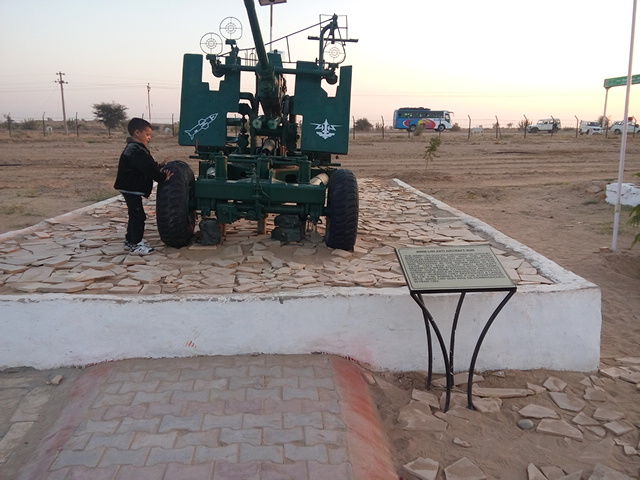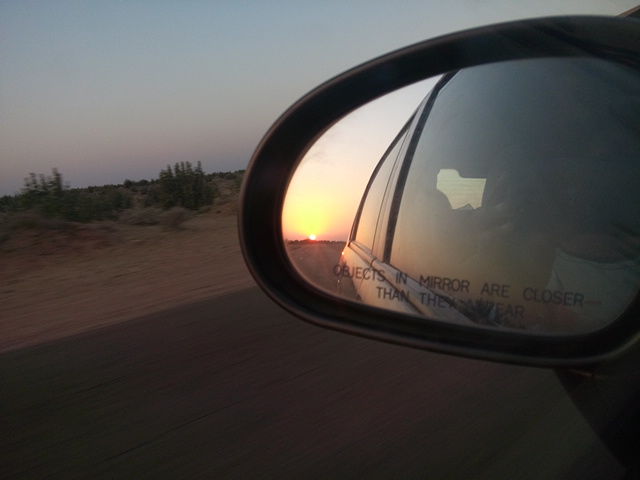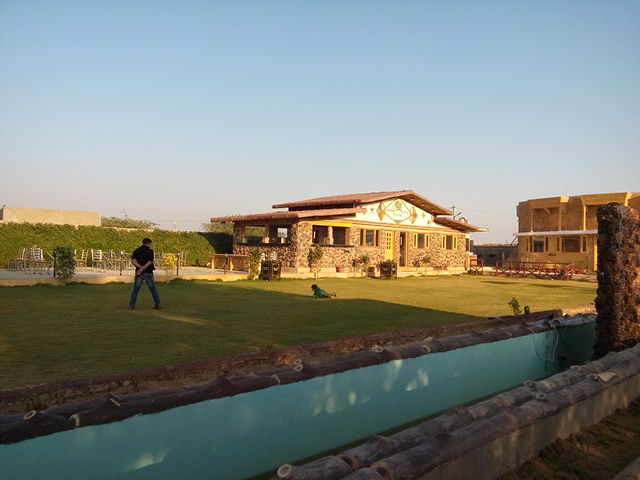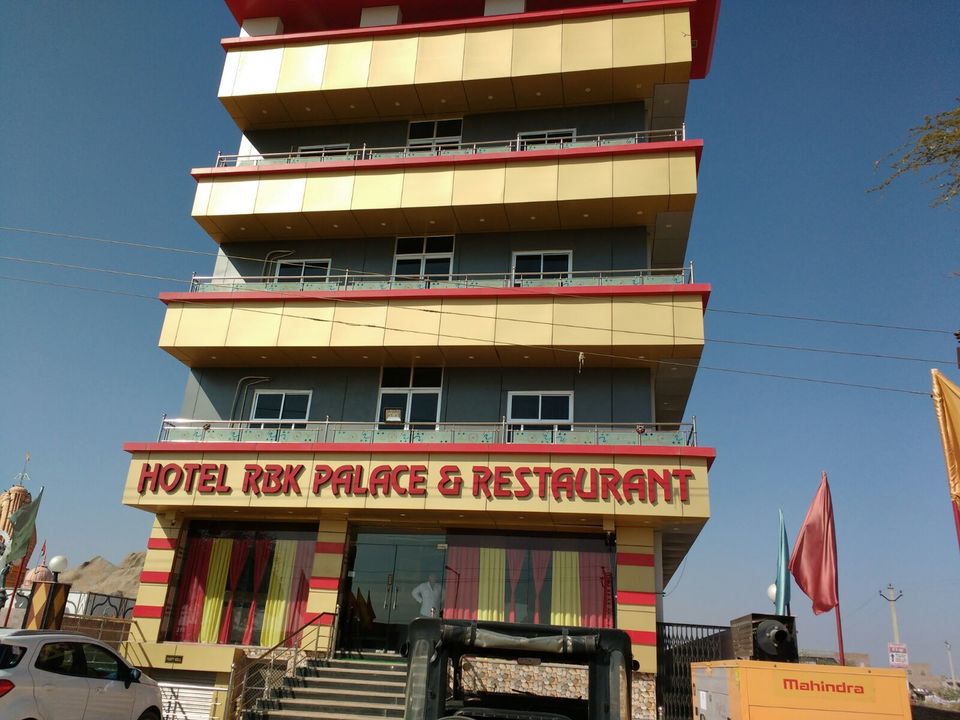 After attending the New Year Eve Party at Gotan (this place is known for JK White Cement Factory Township), we decided to head towards Jaisalmer since it was barely 400 KMs from there and we had 3 days in hand, and there could not be any better time to visit this place than Winters! So 1st Jan, 11:00 AM we e left Gotan (got our lunch packed so we didn't have to stop midway anywhere. By 5:00 PM we entered Jaisalmer, passing through the greeneries of Osia and Falodi, and range-lands of Pokhran. At 5:00 PM, the Jaisalmer belt was shining like Gold...so we stopped by the road for some photo-sessions! :)
Suddenly 2 people on a bike stopped by us...they were the agents of some Camp at the Sam Sand dunes. Soon, we saw more such bikers offering deals for their camps. We closed in one of the deals and headed straightway to Sam, enjoying the Sun set on the way! This place is probably the only camping site near Jaisalmer, and nobody bothers to go beyond Sam as there's nothing for tourists beyond this place. At the camp, we enjoyed Rajasthani Folk dance/banjara dance and songs and ghazals alongwith Tea and snacks. The dinner was typical Rajasthani cuisine (somewhat cooked in Gujrati style as many tourists ere from Gujrat as well) - Sangri ki sabji, gate ki sabji, Yellow daal, Baati, choorma, rice and roti. With this we signed off our first day early as we had to start the next day early to experience the sun rise in deserts!! Some how we managed to get up by 5AM and the camels were ready at our service!
Boarding the camels in the early morning chill (and it was still dark!), we headed to the Sun rise point. It was around 3KMs of camel ride from our camp to that point. And there we saw actually the Sand Dunes, where we walked for another ~2 KMs to see the "Red" Sun peeping out. Amazing site!
After the sunrise and the obvious photo sessions :) we came rode our camels back to the camp by 10:00 AM. Then with the yummy breakfast (though it was Poha and Upma, but very tasty) and 2 - 3 rounds of Coffee, we decided if we should go to Tanot border or explore something new! By 11 AM we left the camps with the 2nd choice. :) We had already searched google maps (btw the network doesn't work beyond Sam) and saw that the road continues from Sam for another ~100 KM with a BSF camp/base somewhere on that route. We decided to go at last till the BSF base and ask them if they would allow us further, else we will come back from there.
Never had we thought the desert driveway and areas will be so beautiful and serene. Every kilometre was uniquely beautiful. We wanted to stop by and capture every moment of it...then thought this beauty is beyond capturing in frames. So we allowed the sight to sink in our eyes! :)
The route we had taken was: Sam - Phulia - Myajalar - Kerala village - Mithadau village. Had we been having at least 1 day more on the trip, we would have taken the route to Munabao Border (another 100 KMs of drive). At this place, every weekend people exchange the trains to go to the other side of the border. So a Train from our side stops at the border and a train from Pakistan stops at their side of the border...and people cross over the border to board the other train to continue their journey.
As we drove from Sam, we realized that we were the only ones on the road. Nobody before us and nobody after us either...we felt like the King of the Roads!! So if you find yourself lost out there, you will really have to wait for somebody to appear and guide you! :) And you'll get to see people or cattle 3 - 4 times a day may be...so scarce is the population there. A group of upto 10 houses used to be a village there. While we were driving, we saw small Yellow Smiley balls kind of structure on the ground. First i thought some tourists might have forgotten their Smiley balls...but soon we saw a big heap of such balls and then these balls scattered all over the desert for kilometres. Then started looking for someone who can tell what all it was, and we spotted 2 men (may be waiting for a bus) who told us those balls were actually something similar to Cucumber. It grows on its own and is used to feed the cattle.
After few KMs of further drive, we saw a kid (barely 10 yrs. old) making gestures to stop, and we did. We allowed him to hop in our car and started chatting with him. Without any fear of strangers, this kids chatted with us. That's when we learned that people keep on waiting for local transport for many hours, as there is no regular transport service. So they try stopping any vehicle they see...usually its the buses or Army trucks or normal carriage trucks that go there. We were the only ones seen with our car there! :) The kid also told us that his family owns a camel and 50 goats, which gave us a fair idea of why there were so many cattle seen and very few human beings.
Well, the kid had to go till Myajalar from where he would take another bus to go to his village. So e dropped him there and then had tea at a nearby tea-stall. Everybody there seem staring at us strangely. Finally the Tea stall owner asked us if we are Indians or have we missed our way to this area? (And we came to know that probably no tourist comes to this area. Anybody who comes, would be either a villager or Army people.) We told him that we came to see the border and if we will be allowed to go inside the BSF base. Then he asked if we have permission from the Police (now this permit-process starts right from Jaisalmer. You have to take a permit from that magistrate, then Myajalar magistrate, etc.) We said we were not aware of it. Then he called up a cop to guide us further on the process. This cop asked us to take the permit from the Police station and then we can proceed. Then we drove back to the Myajalar Police Thana. The SP there suggested us that the best way to see the border is - either we drive to Munabao and see the trains as well, or we go to Mithdau village (a village of Rajputs and last one on this border), tell the village Pradhan that the Myajalar SP has sent us and they will make arrangements for us. From Myajlar, Mithdau was supposed to be 50 odd KMs and Munabao was 100 odd KMs. We started ahead for Mithdau. On this driveway, we realized what we had already seen was JUST NOTHING...THAT WAS JUST THE TRAILOR!! The desert was so much more scenic. And roads were stunning. I believe I can not experience such a drive and beauty in my life ever. First time ever we realized what it means when we say "The road ends here". Wherever we would stop seeing a village, the kids would surround us. And there were not many villages...only 2 or 3 of them on our way...the 2nd or 3rd one being Mithdau itself. :)
And the culture there is still intact. Women do all household work, would not even come out of their houses, would always be covered up in veil, men would do all outside work, they would take the cattle for grazing (whatever greens they could find :)). So in some of the village pics you'll see only boys or men from that area. Girls did not show up for a snap even. Houses were made of big stones and cement. The courtyard made of all mud, but were beautifully hand-crafted. One of my pics actually captures such wall.
So the nice villagers of Mithdau showed us where the border was. We went to the Pradhan's house and chatted with the kids. The ladies were so nice, they asked us for tea and food. But it was already 2:00 PM and we had to reach Jaisalmer anyhow by 5:00 PM. So we took their permission off to leave and drove back praising the beautiful sight again. We took a quick stop at Myajalar police station to thank the SP for guiding us so well. Then drove straight to Jaisalmer, hunting for a good restaurant for lunch...and we found one at the Air Force Station gate, The Green Park Restaurant. Ambience and food, both were amazing here. At 5:00 PM we headed towards Jaisalmer War Museum which is right at the highway. From there we started at around 6:00 PM with an aim of covering as much distance as we could till 8:30 pm and then will look for a hotel for the night-stay. At around 9 PM we checked into the Thar Midway Hotel which is again on the highway itself (Falodi-Dechu road) and is a very good property. Nice and spacious rooms, very good hospitality and very good food as well. There was nothing much we could have asked for at such a place and that point in time.
Now again starting 9:00 AM on 3rd Jan, we took the Phalodi-Bikaner-Pilani-Gurgaon-Delhi, driving over 700 kms that day, reached home at around 11 PM. There's a better route from Phalodi to Delhi via Ajmer, but we could not take that as our Google Map didn't pick that route. :)
So with this, ended a journey to one of the best places explored so far!! :)