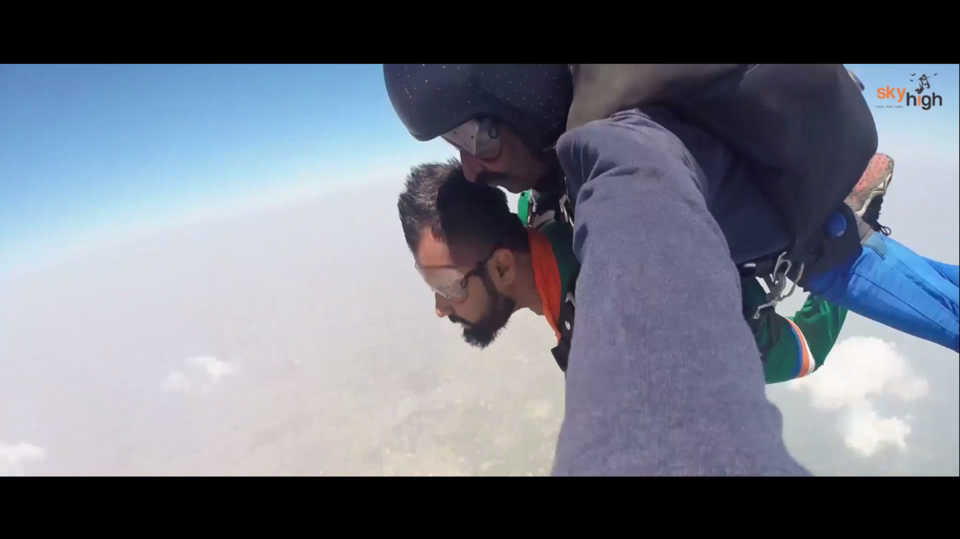 Let's face it.
We all have been there.
Movies like Zindagi Na Milegi Dobara has always left us wondering if we could ever do the same with our best buddies,and if we could how would it feel like?
Time over time ,the thirst for this movie adventure grows on you,and you start searching the details,but before you can finalize you realize that even the flights of going to spain is way over your budget,and you are disappointed.
Well fret not!! What If I tell you can do all the adventures and much more without stepping foot out of India?
So buckle up and let's go on a ride to explore the adventure sports in India.
1 - Scuba diving -(INR - 3500 - 7000)
Well this had to be the first simply because,it was the same in the movie.With a country like India with such a vast coastline,it is no surprise,that scuba diving could be done at many spots.Yet most of us know about it happening in Andaman only.
Well,I have travelled to most of the coastline of India and found atleast 4 places where I could scuba namely - Goa,Murudeshwar,Ponidcherry and Vizag.
I did it once in Goa and once in Vizag and the experience has been surreal.
Here is a video of me doing it in Goa,next to a shipwreck.
2 - Skydiving - (INR 25,000 - 35000)
Well what else could be next.While you can't do solo skydive in India,without getting a licence and a training first,you can always do skydive tied to a instructor (tandem skydive) which is the next best thing.
Freefalling in the sky with speeds over 150 kmph is an experience you can relate to once you are actually doing it.I did my tandem skydive at Skyhigh aligarh,but now there are places opening up in south india also which might even let you do a skydive course.
That's something I would love to do.
Here's the video of me skydiving -
P.s Here's what your first skydive experience would feel like -
2.5 - Bull run (FREE)- While you don't get it exactly like you saw it in the movies,let's face it atleast once in your life you had been chased by bull(or dogs) while walking on the street and for now that's the best you can get.
Well now that we are done with the adventure sports in Znmd,let's see what more India has to offer.
3 - Paragliding -(INR 1500 - 3500,for tandem flight and around 35k for solo pilot course)
Skydiving's closest relative,paragliding is different in a way that your skytime is much more than that of skydive due to a larger parachute and you take off with your glider open.
This is one of the most well known adventure sports in India and could be done in nearly every famous hill spots in India,with the most famous being - Bir Billing in Himanchal pradesh.
While learning to do a solo skydive in India might still be tough ,for those who want more adventure can start with learning how to paraglide on their own.
Believe me once you have the reigns of your paraglider all by yourself it's a different experience altogether.Bir Billing is one of the best places to learn paragliding in India.
Here's a video of me solo gliding after doing a pilot course for 15 days.
4 - Flyboarding - (INR 3500 - 5500)
Remember Bang Bang? If yes then you definately would have love the scene where Hritik Roshan flies out of the water using a flyboard while looking badass.While that scene did had a huge mistake of being shown without a water pipe attached to the flyboard,it did have it thrills.
Well good news is that now you can live the experience as well,and this could be closest you can feel of flying like our beloved iron man for now.
I flyboarded at Flyboard India and here is a video of how it feels like -
5 - Rafting - (INR 300 - 1500,depending on the distance)
I am not gonna talk much about it,because honestly speaking if you have heard of the word adventure in India you know about rafting.
Here's a video of Thor Rafting in Rishikesh - one of the safest and most fun place to do the adventure at -
6 - Hot air ballooning - (INR - 10 - 12k per person)
Let's face it,atleast once you would have thought of proposing your significant other on an hot air balloon once (even if you never ever had a significant other).
While the experience of hot air ballooning has been enjoyed from quiet a long time now,even now it hasn't lost its charm.
The feeling of floating in the sky in a cinematic balloon has a movie like feel to it.
It can be done at many places in India as well like Jaipur,Goa,etc.
Here's a video of me doing it with Tiger Balloon safaris in Goa -
7 - Wakeboarding - (1500 - 3000)
This is one of the recently started adventure sports in India,and I am glad that it has.
Wakeboarding is when you are tied to a board and stand up on it holding a rope attached to moving a boat,with the force of the boat dragging you.
It's somewhat like surfing without waves.
And although it might seem easy to look at,it's actually quiet tough to stand on the board and maintain your balance,which I was not able to do even once during my 20 minutes of adventure at Tehri Lake,Uttrakhand.
Here's the video -
8 - Surfing - (INR 1000 - 2000 per lesson)
This adventure sports is a Hollywood classic for sure.And it was always my dream to try it once.I mean who wouldn't want to feel how riding on waves is actually like.
While surfing has existed in India from a long time now,it was mostly limited to a very few individuals.
However recently a small number of good surfing school has popped up in coastal areas,and you can ride your first wave in around a week of training.
I took a week worth of lesson at Aloha surf school in South Goa(agonda Beach) and while did ride some waves it was mostly falling and falling.
But nonetheless it was still a looooooot of fun.
Here's a video of me trying to surf
and a picture
9 - Bungee Jumping - (INR 3000 - 5500)
- Well,Well!!Chances are if you think of adventure sports this is the first thing that pops up in your mind.Even the thought of freefalling upside down attached to a chord gives most of us the chills.Yet still once you do it you feel like you are on top of the world while falling.
If you are too afraid of skydiving directly this could be the first step to it.
I did bungee twice once at Jumpin Heights in Rishikesh and once at District Gravity Hyderabad. Here's a video of the latter -
10 - Paramotoring (INR 3000 - 10k,depending on flight time)
- Paramotoring is simply paragliding with an attached motor,which allows it to take off from ground instead of an high altitude.
Most of the commercial paramotoring is done on a three wheeled vehicle (called as trike) where the handler sits in front controlling the glider and you sit on the back seat.
Once it takes off,it feels like you are sitting on a flying car.This sport is also spreading to various adventure hubs in India,and I personally did it at Flyboy Aviation Gurgaon. Here's how it is -
11 - Zip-lining - (INR 100 - 3000)
Ok!! I agree zip-lining is not that adventurous per se.I mean most of us have done it at some place or the other.But what if I tell you there is a zipline which is mostly covered in clouds.While on my way to cherrapunji from Shillong I found this beautiful zipline,between two mountains with a huge drop,and while I was doing it ,clouds came and it was like flying through the clouds.Considering that this area is mostly cloudy,you are most likely to be in a same condition as well. I don't have the video of it right now,so enjoy this picture.
12 - Mountain biking Manali to leh - (15k if you go on your own ,around 40 k if in a group)
I get it,Leh trip is reserved for motorcycles. Or is it??
Well for people who are more into adventure a bicycle trip on these high dusty mountain off roads is something else entirely.
If you take this trip,there is a lot of highs and lows,but the best part is when your bicycle rolls downhill effortlessly at speeds of over 75 kmph and you easily pass motorcycles(since MTB's have better balance) and the motorcyclists give you a confused look of WOW.
So ditch your motorcylce and take your bicycle instead the next time you are planning to go to leh,and you would end up getting a picture like this -
And yep this is the speed I am talking about -
13 - Skiing - (INR 1500 per lesson)
Oh this lovely sports!!!Getting to snow ladden mountains is fun in itself ,but once you get on a skii and start sliding downhill,it becomes even better.
And while it is tough to master this sports,you can get good with basics in a week,doing small fun slopes.
There are a lot of places like Manali where skiing is taught,however the best places to learn is it either Gulmarg in Kashmir or Auli In Uttrakhand.
Here's a photo of me trying to skiii.
14 - Kayaking -(INR 200 - 500 per hour)
While Less Adventure and more of a chill sport,solo kayaking could get adventurous if you go into the middle of the ocean on your own without knowing to swim,with just a lifejacket to save you,like I idiotically did.
But that aside,if you are not as stupid as me this is a pretty fun water sport to chill in the sea.
Check out this video of me doing the same in Goa.
So that's it for today folks.
Like I said you don't need to leave our country to live your adventure dreams.
There are many more adventure sports in India,but this list is just of the sports I did till now.
Also there were some I did but did not include in the list simply because I didn't find them thrilling enough like Parasailing.
Anyways I would continue my journey to discover and try more adventure sports in India so make sure you follow me on Instagram at - https://www.instagram.com/khiskabanda/ to keep updated.
Untill next time.