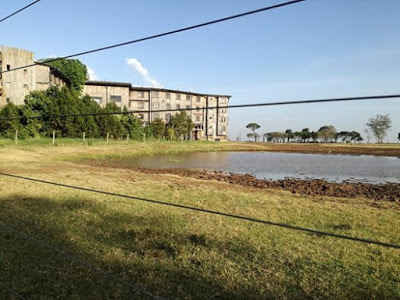 I have always heard stories about tree house from my very childhood. Hearing stories about Phantom ( Aranyadeb, famous to all Bengali kids) who is a superhero and stayed in a tree house with his family, I always desired to stay in a tree house at least once in my lifetime. Well, Kenya has to offer a lot of comfortable bungalows, lodges, and hotels inside the wildlife area to satiate an adventure freak's spree. After a lot of research on Google and other modern means of deciphering information, we chose Tree Tops Hotel to be our next destination to satisfy our adventurous wildlife spree. Since I stay in Nakuru, the journey was quite comfortable and lesser time taking to reach Aberdare National Park. There are separate routes from Nairobi and also might be Kericho, if you prefer a roadway to the wildlife conservation area.
Nakuru to Aberdare National Park: There are three routes you can follow:
Bus route: ( via A 104 Nakuru - Gilgil- Njeru - Aberdare national park)119 Kms which take 3 hrs 40 minutes to reach. Bus route might be slow due to traffic condition.
Car route ( via C 69 Nakuru- Tumaini- Aberdare National Park)125 Kms which takes 3 hours 32 minutes
Car route ( via B5 Nyeri - Nyahururu road, Nakuru- Subukia- Nyeri- Aberdare National Park)which 4 hours 7 minutes, distance 180 km
Car route ( via A 104 Nairobi- Kikuyu - Kijabe-Aberdare National Park ) is 149 km and takes 3 hrs 25 minutes
Car route ( via A2 route Nairobi - Ruiru- Thika- Nyeri- Aberdare National Park ) is 200 km and takes 3 hrs 56 minutes.
The fastest route is the Nairobi route 228 km, takes 5 hours 6 minutes ( Kericho- Kuresoi- Londiani- Molo- Rongai- Nakuru- Ol Kalou- Aberdare National Park)
The times have been calculated considering there has been enough of traffic. But journey times, in reality, differ with variation in traffic congestion.
Aberdare National Park is an abode to endangered wildlife with mesmerizing landscape:
The Aberdare National park is rightly called a heaven for the wild endangered species of Kenya. It's characterized by steep forest ravines and moorlands. Sprawling over 766 square kilometers and being a part of Aberdare mountain range, this park has attracted tourists all over the world. Flanked by hotels and lodges with modern state of the art designs that make the guests feel at home, Aberdare National Park established in 1950 is rightly called the abode of wildlife. During the migration season, tourists from all over the globe rush to enjoy the treasures of the wild area. There are various hotels which have been the top choice for tourists. The national park contains the full range of mountain peaks ranging from 4,300 mths and also V-shaped valleys and streamlines which intersect the land. The landscape is characterized by moorland, rainforest, and even bamboo forests. There are two gates (Aberdare National park Mutubio gate and Aberdare National Park gate), and the entry fees are as such:
East African citizens ( adults): 300 KSH
East African children and students: 200 KSH
East African Residents (adult): 1500 KSH
East African Residents (children and students): 500KSH
Nonresident (adults ): 52$
Nonresident children and student: 26$
Animals found in Aberdare National Park: The various animals found in this park are- African elephant, buffaloes, wild boar, spotted hyenas, black rhino, black and white colobus monkey, olive baboons, African wild dogs, warthogs, and bushbucks. Among some rare sights are-giant forest hog, bongo, golden cat, Serval cat, African civel cat and blue duiker. There are almost 250 species of birds available in this park. Some notables are- Jackson francolin, sparrow hawks, goshawks, eagles, plovers, and sunbirds. One of the rarest and endangered species is the leopard. Our guide told us that back in 2007 all the lions were relocated to other national park and conservancies. The reason being that the number of herbivores including buffaloes was being reduced as they were constantly being hunted for food by these lions.
Animals found in the Aberdare National Park: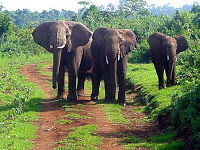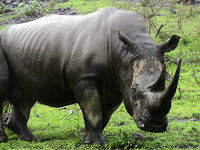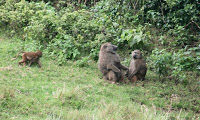 There is a range of activities that can be enjoyed here- bird watching, trekking, game viewing, horse riding, photography and camping in the lap of nature.
Places to stay in and around Aberdare National Park : The hotels that deserve special mention are the Treetops hotel, the Ark Hotel, Aberdare country club , Aberdare cottages dream (Gacharageini), Legacy gardens ( Nyeri), Outspan hotel (Nyeri), Green hill hotels (Nyeri), White rhino hotel (Nyeri), Outspan hotel ( Nyeri), Giraffe Ark game lodge (Nyeri), Rhino watch safari lodge (Nyeri)and many more.
The triumphs of visiting a tree house: As I had the opportunity of visiting in Treetop lodge, I enjoyed every bit of it. There is a waterhole beside the lodge and animals from the national park come in groups to drink water. It was a wonderful sight to enjoy from the terrace of the hotel. The best part is that the hotel is well illuminated and we watched wild animals throughout the night as I came near the water body to quench its thirst. Each room is flanked by huge windows with glass fitted thereby ensuring a great view of the animals. I took photographs throughout the day. The sunrise was a great observance and a photographer's delight.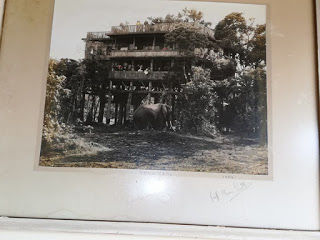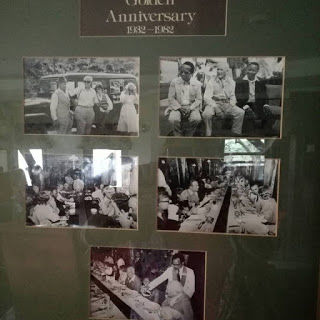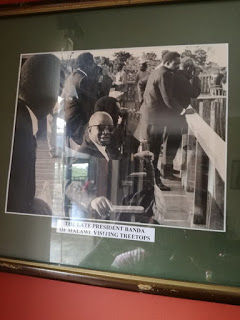 The hotel itself had several proud moments while the eminent personalities like Queen Elizabeth and royal family members visited the hotel in 1959. That time it was a watchtower with two rooms and a dining hall meant for the visit of rich and famous enjoying wildlife occasionally. Eric Sherbrooke Walker was the man behind the idea of building the famous Tree Top hotel. Other VIP's visiting the renowned guesthouse were the President of Malawi and the Moi family. History says that the Queen of England entered the hotel as a princess and when she stepped out, she got the news that her father King George VI passed away. She became the queen officially and the longest reigning monarch of England till date.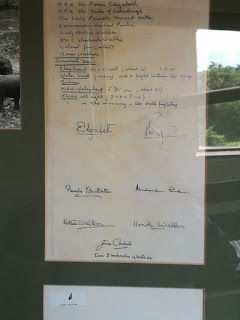 Some historic moments encrypted on the walls of Tree Top hotel The entire structure is a 36 roomed hotel which rests on the wooden structure and supported by pillars. The second and third floor has spiral stairs which are used by the staff. The hotel décor was unique with murals and remains of herbivores once devoured by the carnivores of the park. There are no stairs but an elevation made from wooden floors that leads to upper stories. The topmost level contains rooms for the guests and a viewing point ( terrace) which is open 24 hours for getting the best view of the animals and park. Each room has a buzzer which rings in a moderate volume and alerts the guest if any wild animals come near the waterhole. Food served in the hotel was a wide range of Pan African, continental and also Indian cuisines. The arrangement was superb, and nobody could ever get back home disappointment. The chefs took care of each and everybody's taste bud. You can watch the waterhole and animals from the dining room too. In one word, it was a thrilling experience, a mixture of adventure and the comforts of a 5-star facility. The décor was rustic yet bear a modern touch. The furniture was age-old but was maintained meticulously, the way Queen enjoyed the hotel first time on her visit.
Observing wild animals from the hotel room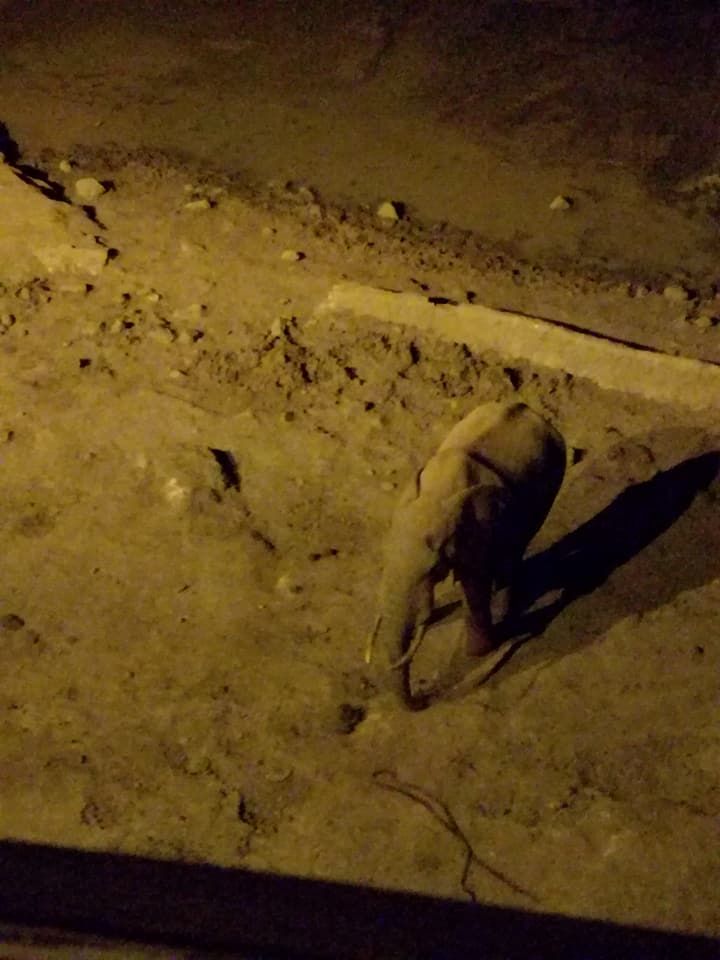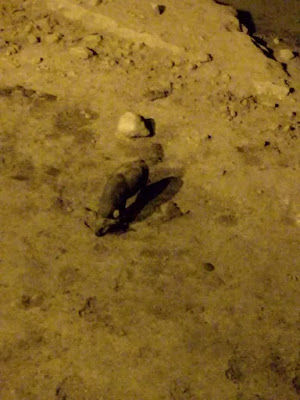 I took some shots of the mesmerizing sunrise, sunset, wild animals and national park as well.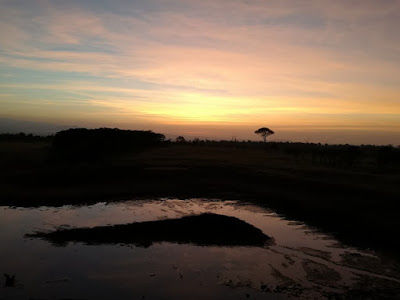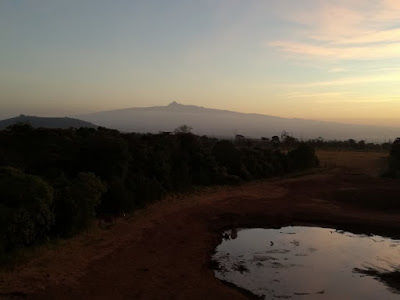 The primary activity that we enjoyed was a walking trail along the borders of Treetop hotel within the premises of Aberdare National Park. We were accompanied by a gunman during this time. If you decide to walk without an armed guard in the restricted area is like inviting trouble for yourself. The electric fence is just security but has chances of being broken down and smashed by buffaloes and elephants struggling. If ever you encounter with these wild creatures on the way of your morning walk, the hotel management is not to be blamed. Hence, it appeared that wild animals are wild and they should never be trusted. Moreover, buffaloes and elephants are aggressive animals. Even hyenas can enter the encroachment at any time.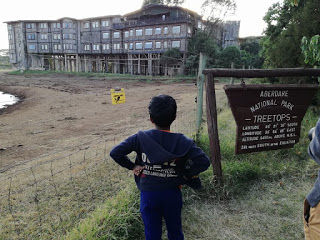 It was a great experience, being in the wild area among the wild beauties, and enjoying their moves intimately from the comfort of your room. We were pampered by the hospitable staff, the food and of course the excursion experience. There is nothing more exciting than staying two nights in a tree house, perhaps an imagination and a childhood fantasy which became true in my life.