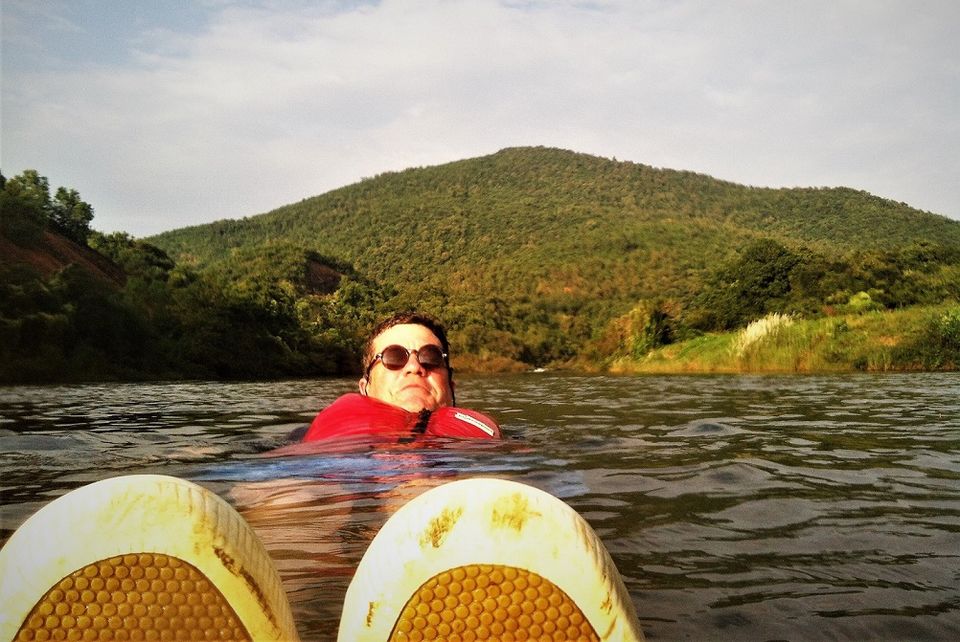 Dazzling stretches of golden sand edging the aquamarine expanse of the Arabian Sea, roll eastwards into the hilly biologically hot-spot ranges of the Western Ghats. Nine rivers with their forty two tributaries flow back westwards into the Arabian Sea, forming an inland system of waterways. Goa offers an assortment of water sports.
For all adventure activities, please do verify with your doctor if you are partake, and follow instructions of the organisers.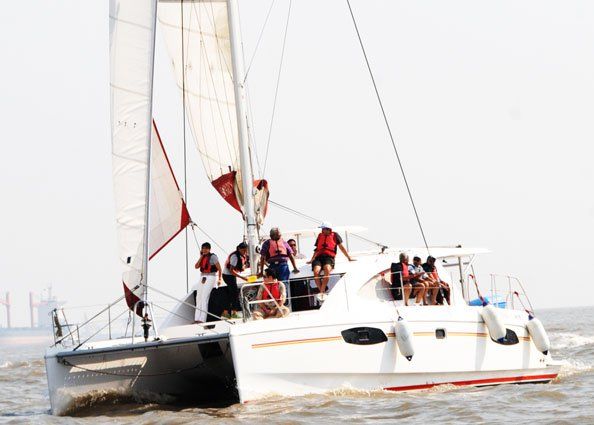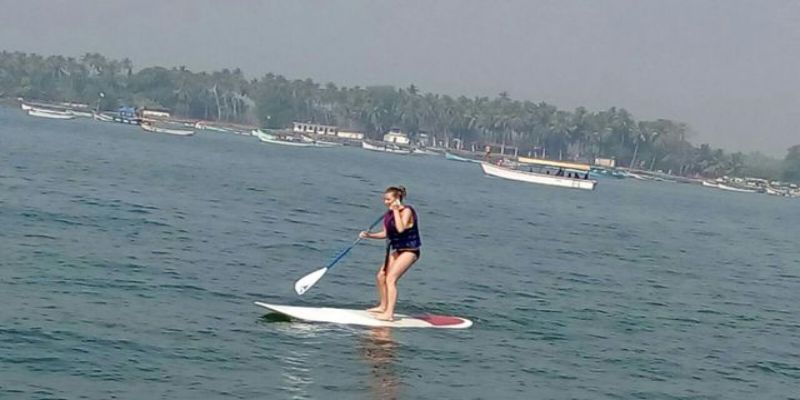 Paddle Boarding
Not as easy as it looks, Paddleboarding requires a excellent sense of balance and body coordination. The concept is simple. One stands on an over-size surf board, paddle in hand, and navigates the waters. Available at Candolim Beach, Mobor Beach, Rajbaga Beach. Prices average Rs. 2000 per person. Best time, October through May.

Kite Surfing
Enjoy the adrenalin surge of surfing, paragliding and gymnastic rolled into one. Kitesurfers utilize standard surfboards or sheets shaped particularly for kitesurfing. October to December are the coolest months for surfing, however wind conditions may not be perfect now and again. Earnest Kiting starts in January and continues until May. Morjim, in north Goa, is the favoured beach. Prices average Rs. 1500 per person per lesson. It take around 6 to 8 lessons on the beach, before the instructor allows you to navigate in the shallows. This is an extreme sport.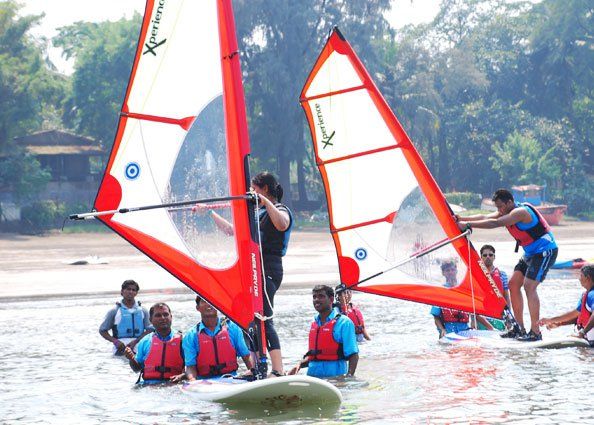 Wind Surfing
Using a unique blend of surfing and sailing skill, the wind-surfer cruises through the waves harnessing the power of the wind. Wind surfing is available on the beaches of Colva, Palolem, Miramar, Baga, Dona Paula, Bogmalo, Vagator and Calangute. Prices average Rs. 1500 per person per lesson. It take around 6 to 8 lessons on the beach, before the instructor allows you to navigate in the shallows. This is an extreme sport.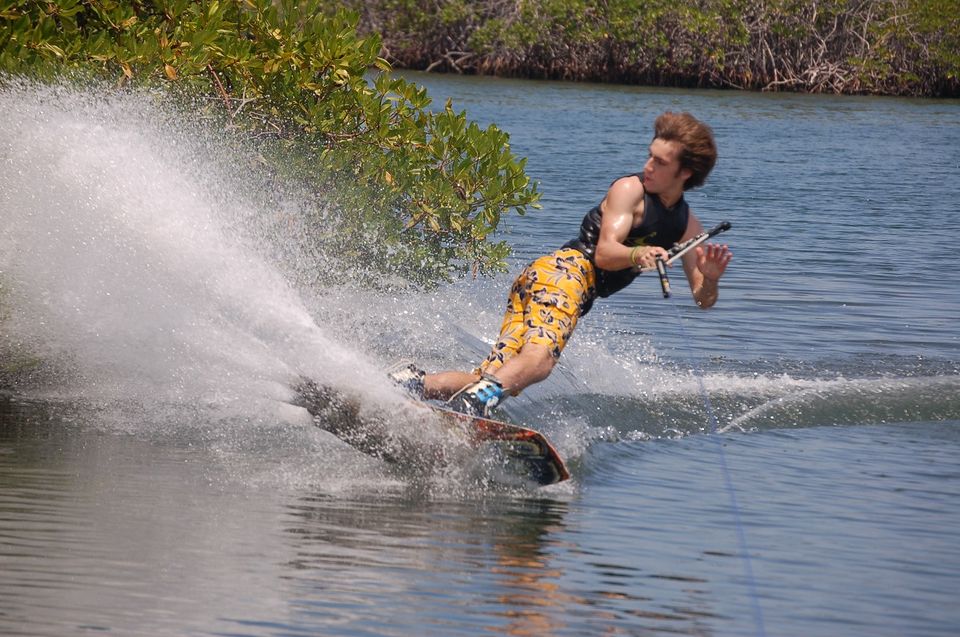 Water Skiing and Wake Boarding
The most popular places for Water Skiing and Wake Boarding in Goa are the beaches of Mobor, Utorda, Baga, Candolim, Calangute, Arossim and Rajbaga. Both sports Quickly accelerating across very bouncy waves, towed by motor boat require a firm sense of balance, and the ability to swim should one take a tumble. Prices average Rs. 2000 per person. Best time, October through May.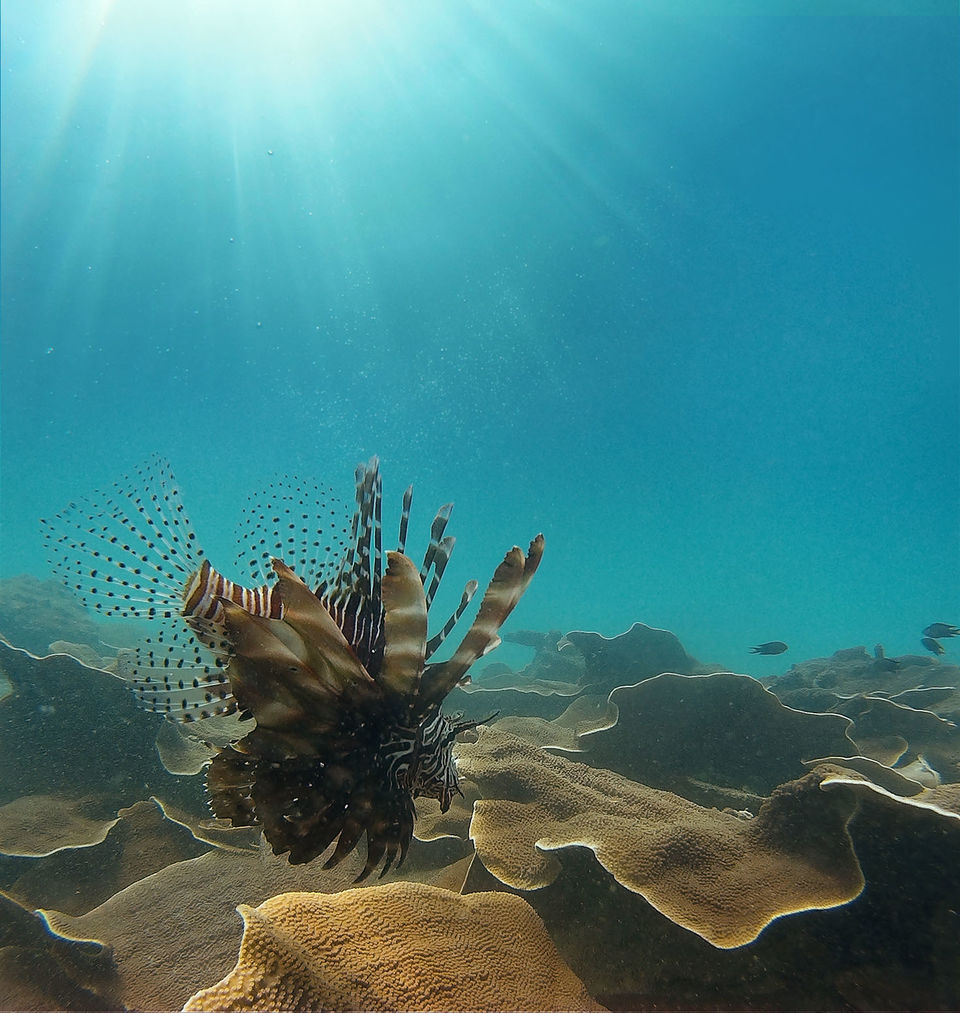 Scuba Diving & Snorkeling
Dive and swim around the fascinating coral reefs of Goa, and be enamored by the dazzling subaquatic life. The privately owned Grande Island off Sinquerim is a popular diving site in Goa. The reef that surrounds Grande Island is a fringing reef. There are some 6 diving schools and over 40 tourist picnic boats that operate here every day. Angel fish, Parrot fish, Cuttlefish, Damsel fish, Groupers, Goat fish, Flatworms, Trigger fish, Snappers and Butterfly fish are dependent on the coral for survival. Please do not litter the sea or land around Grande Island. Equipment and trained instructors are provided by the dive schools. Knowing how to swim, and following the instructor's directions is essential to remaining safe. Prices start at around Rs.5000 per person for scuba diving and Rs.500 for snorkeling. Best time, October through May.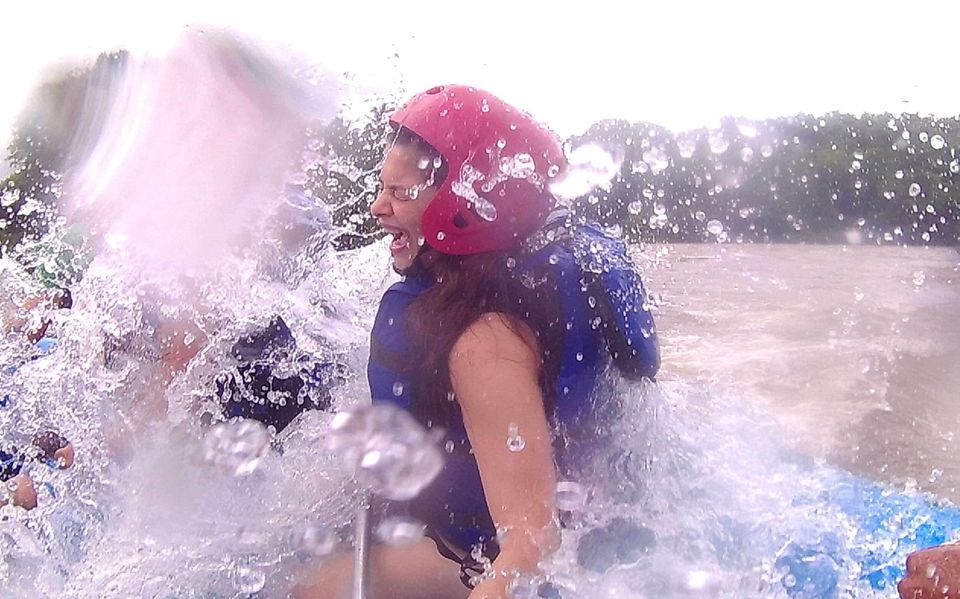 White Water Rafting
Ever tried navigating a roller-coaster? That is a river in spate. During the rainy season, the otherwise placid rivers of Goa become roaring torrents offering whitewater of grade 2 and 3 rapids, suitable for bother the beginner and the hardened rafter. The Mahdei and Tilari rivers have emerged as a popular white-water rafting destinations. The activity lasts usually 3 to 4 hours, including the cab ride to and from the rafting venue. No skill is required. Safety equipment, including life-vests are provided. Take a change of clothes, and best wear water tolerant strap on sandals to protect your feet. Prices average Rs.1800 per person. Best time, June through August (during the rains).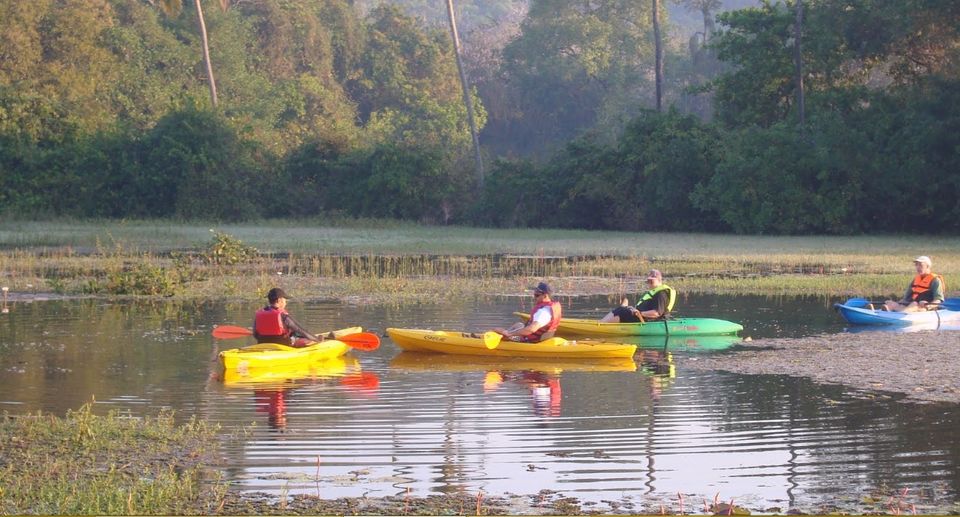 Kayaking
Given it unique location along a coast, and furthered watered by 9 rivers and their tributaries, kayaking can be enjoyed in both south and north Goa. A moonlight cruise on the Zuari river, navigating the mangroves of the Sal river or bobbing along the sand-banks at the estuary of the Mandovi river are some of the titillating kayaking experiences. Sea kayaking is popular at the beaches of Dona Paula, Hollant and Palolem. Overnight and longer, kayaking trips are available, together with the shorter 2 to 3 hours excursions. Prices average Rs. 1600 per person. Best time, October through May.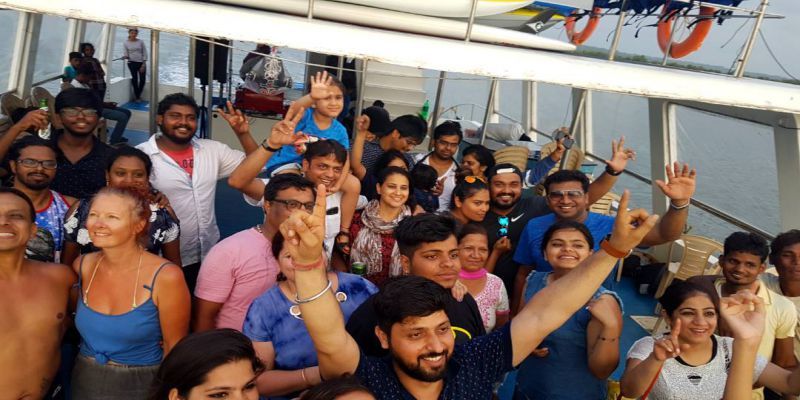 Joy Rides
Other than hard-core Water Sports in Goa, Goa also offer the experience of soft-adventure in water sports. The Banana Ride, Bumper Ride and Ringo Rides are basically inflatables drawn rapidly by motor-boats. Parasailing also uses the motorboat to swiftly raise the canopy into the air. Jet Skiing is now most widespread on most popular beaches. Prices average from Rs.300 to Rs.1000 per person, for duration of 3 to 5 minutes. Dolphin Safaris around Mobar beach average at Rs.300 per person.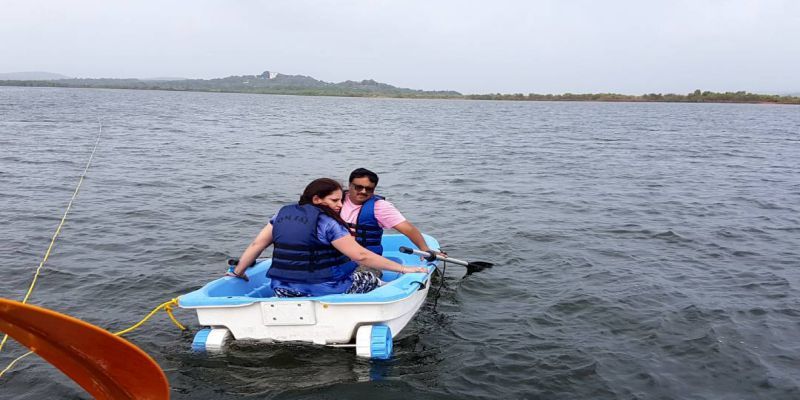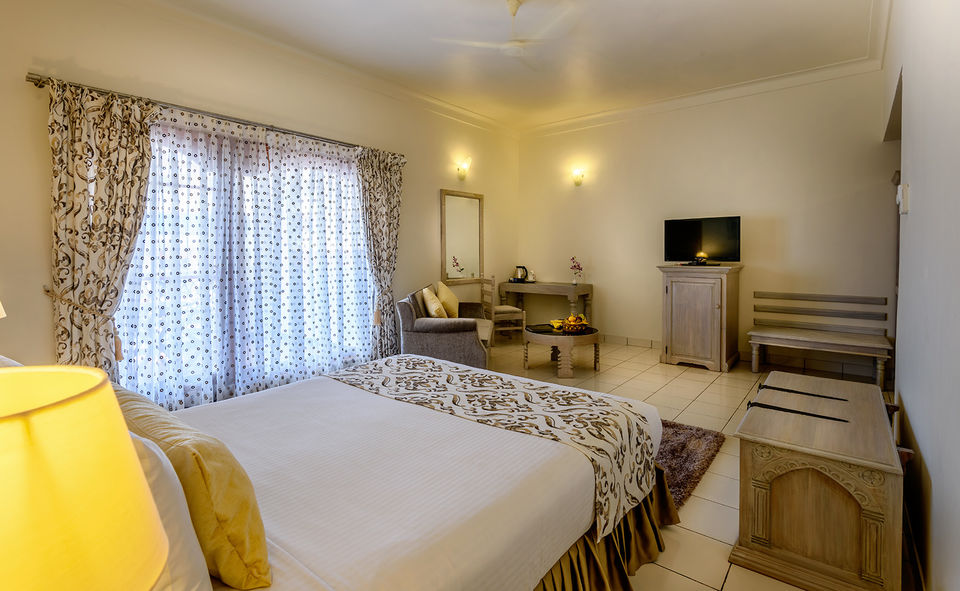 What to carry
An extra pair of clothes and towels
Personal medications, sunscreen and skin moisturizers (insect repellants for overnight)
A pair of sunglasses and a hat
Camera (if required)
Suitable footwear
Loose fitting and comfortable clothes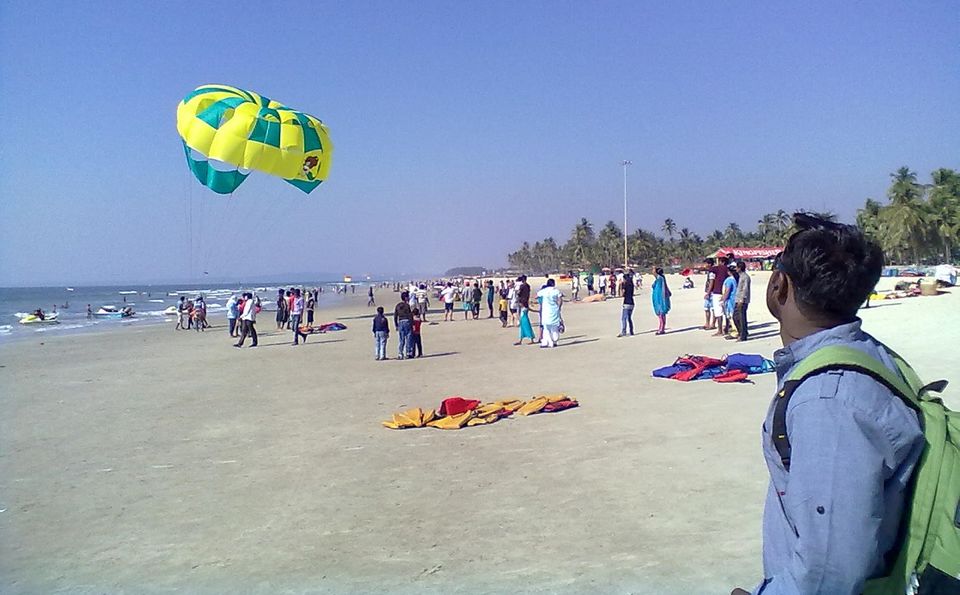 Love the thrill of adventure?
Please share your favorite adventure activity on Tripoto and inspire our community of travellers to try it.
Have some tips or travel-related questions?
Visit the community forum to ask questions, get answers, meet other travellers, and share your advice.
Not interested in Water Sports?
I invite you to please read about A Nepal Adventure