Waking up to sounds of birds, gushing streams,rustling leaves; living with nothing around but greenery,fresh air and some snow- All these were a treat for someone who lives in Marathalli , probably one of the most polluted and busy areas in Bangalore. I savoured every bite of this treat for ten days amidst the Himalayas. Sarpass was my first Himalayan Trek. It was a spectacular journey.
The idea of Sarpass was coined in my head last year when some of my friends completed Sarpass 2015 with YHAI. They shared their experiences and pictures with me. After reading many articles and blogs about Sarpass I decided to do this. Solo or group, either way I was determined to go. Naina was the first one to respond enthusiastically. She agreed to accompany me in this venture like she always does for all the plans I make. We asked some of our other friends too. Finally 6 of us set off on our first Himalayan expedition.
The next two days were dedicated for acclimatization walk and rock climbing. YHAI is a very well organised group. Everything was systematic and well planned. I really appreciate the efforts put in by all of them and have very few complaints against them. They offered healthy and nutritious food on all days; gave us good blankets and sleeping bags and made sure we did not face much hassle during the trek.
We had to wake up at and get ready by to go to the nearby ground where we were made to exercise for a while. After exercising we had breakfast at the camp. Then we cleaned the tents and got ready for the acclimatization walk to a nearby hill. We cheered for the previous batch leaving for higher camps. After lunch, they conducted an orientation to brief us about the trek schedule and things to carry for the trek. By evening I was feeling sick because of some stomach and gastric issues. I took a tablet and forced myself to sleep after campfire. Luckily I was fine by next day morning.
On the third day, after the morning exercises and breakfast, we headed for rock climbing and rappelling. I could rappel easily but did not attempt rock climbing since it looked tricky. Instead Naina, Vaidehi and I just relaxed beside the Parvati river flowing nearby while the others from our batch continued with rock climbing. It was wonderful to lie on the grass beside the river and listen to the water flowing. We ended up taking a short nap there.
After lunch we were given our rucksacks. We were supposed to finish packing our stuff by evening and deposit the extra luggage in the locker room at the base camp. The three of us sat together to pack and carry as little luggage as possible for the trek. But it wasn't as easy as we had expected it to be, even with prior planning. Being first time trekkers, many of our estimations had gone terribly wrong. We had brought many unnecessary things and had also purchased large packs of some necessary stuff instead of buying small ones. We were forced to make some difficult decisions while choosing.
Somehow we finished packing with the help of some experienced trekkers who guided us through the process. Manu, Madan and Chukki (Sachin) were already on the line to deposit their luggage by the time we weighed our rucksacks and went to deposit ours. They did not seem to have faced the dilemma we girls faced. Finally, all of us were geared up to leave for higher camps the next day.
Trek to Grahan (Height-7700 ft)
This was THE day we actually started our trek. We had breakfast in the morning and packed lunch to have on the way. We were all set to go by 8 o clock. The other batches cheered for us as we walked in a single line. The girls were in the front followed by the boys. That was how we were supposed to move everyday .But we always got mixed up on the way as each of us had different walking speeds. We three girls ended up walking with our friends at the end of the line most of the times. I did not face any hitches until the lunch point as we were given 3 breaks by the guide until then. Every lunch point had some local people selling maggi, omelettes and chai. Most of the days, we ended up having maggi as we preferred eating something hot. YHAI food was good only when hot.
From the lunch point we had no guide and had to move on our own (YHAI arrow marks were there everywhere and it was pretty easy to find the way).By then the weather had turned cloudy and it looked like it was going to rain. Everybody decided to hurry with the lunch and move soon to avoid getting caught in the rain. So we put on our rain ponchos and walked.
Trek to Padri (Height-9300 ft)
It was raining in the morning. We waited for some time for the rain to stop. But the rain just wouldn't stop. We could not wait any longer. All of us put on our ponchos and decided to trudge along in the rain. After 30-45 minutes, the rain stopped. The trail was beautiful with flowers popping out here and there amidst the greens. We reached lunch point at around and spent some time there.
It took us around half an hour to reach Padri from the lunch point. Padri was also a beautiful camp. (All the campsites were beautiful and were carefully chosen by the YHAI.) We saw some animal skeletons and some half eaten dead animals around the camp. We were advised not to go to toilets alone at night as there were bears around. The next day's trek to MinThatch was supposed to be a tough and long one. But by then my body was accustomed to trekking. I was mentally prepared and quite confident.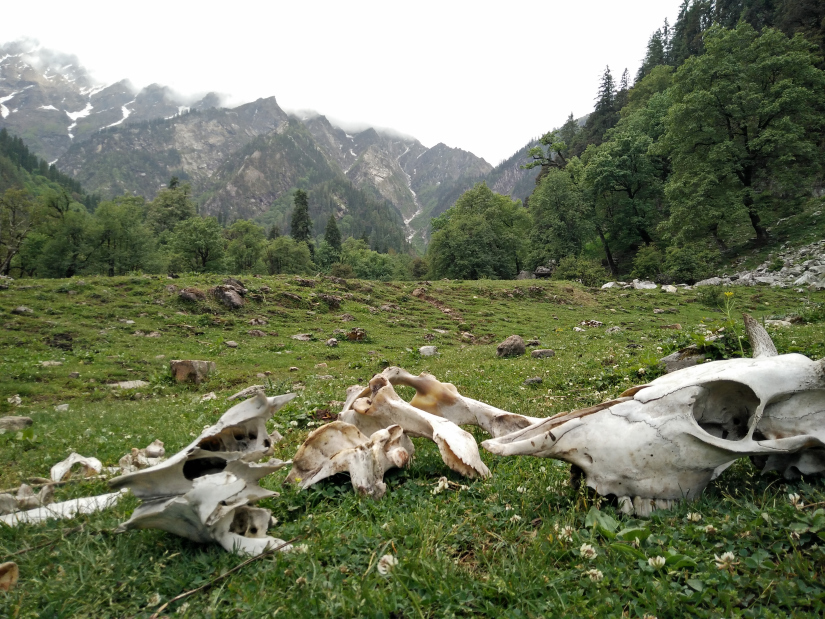 Trek to MinThatch (Height-11200 ft)
The sky was clear when we started out from Padri . We had to descend for 2-3 kms after which we came across a stream. The stretch after the stream up to Minthatch was very steep and there was a lot to climb. But somehow I really enjoyed that day. We were moving up; I was laughing with Vaidehi and Naina for no particular reason. My behaviour seemed to have radiated to them as well. We kept howling like wolves throughout the day.
The next camp Nagaru could be seen from MinThatch like a tiny dot on the mountain. Our camp leader told us that the distance between Minthatch and Nagaru wasn't much but the trail was quite steep. He advised us to take baby steps the next day. After the sunset it got very cold and the winds became chilly. I snuggled into my sleeping bag right after dinner but couldn't sleep well due to the cold weather. I regretted not wearing my thermals that night.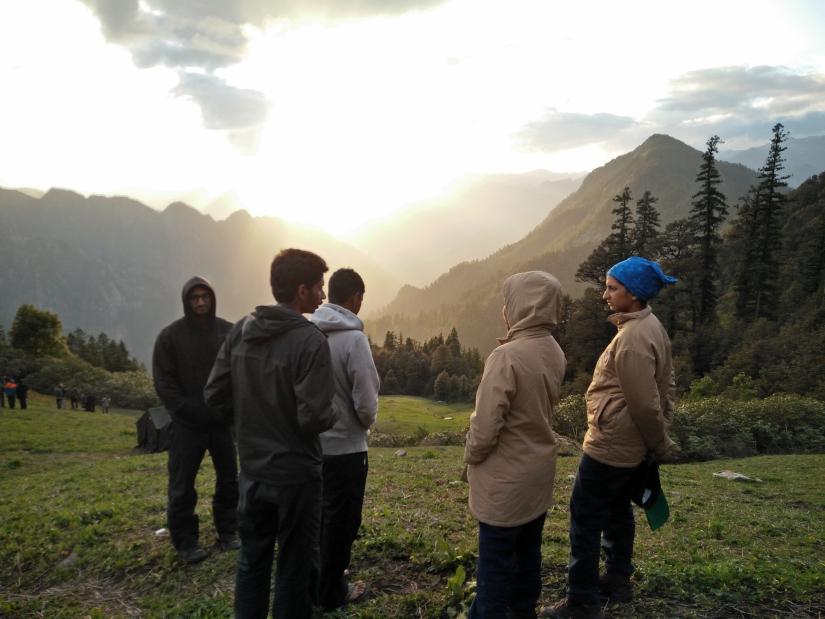 Trek to Nagaru (Height-12500 ft)
We left Minthatch at and scurried up towards Nagaru. The dot sized Nagaru camp was visible throughout the way. It inspired us to go forward. The trail was quite steep but the MinThatch camp leader's advice to take baby steps really helped me a lot. It did not wear me out much. I hardly realised the gradient of the trail. There were no more pine trees around due to the high altitude. However, the scenery was brilliant and I enjoyed the surrounding splendour during my breaks. It was wonderful going up. We reached Nagaru around in the evening.
This was the only camp which had proper network and all of us excitedly called home to speak to our families. There were patches of snow around the camp. Many were excited to see snow. There was not much water in this camp and everybody was given just 2 litres of water. We had to manage with that. The Camp leader instructed us to sleep early as we were supposed to wake up at the next morning and start out by to Sarpass. All the girls were inside the tent by and fell asleep soon.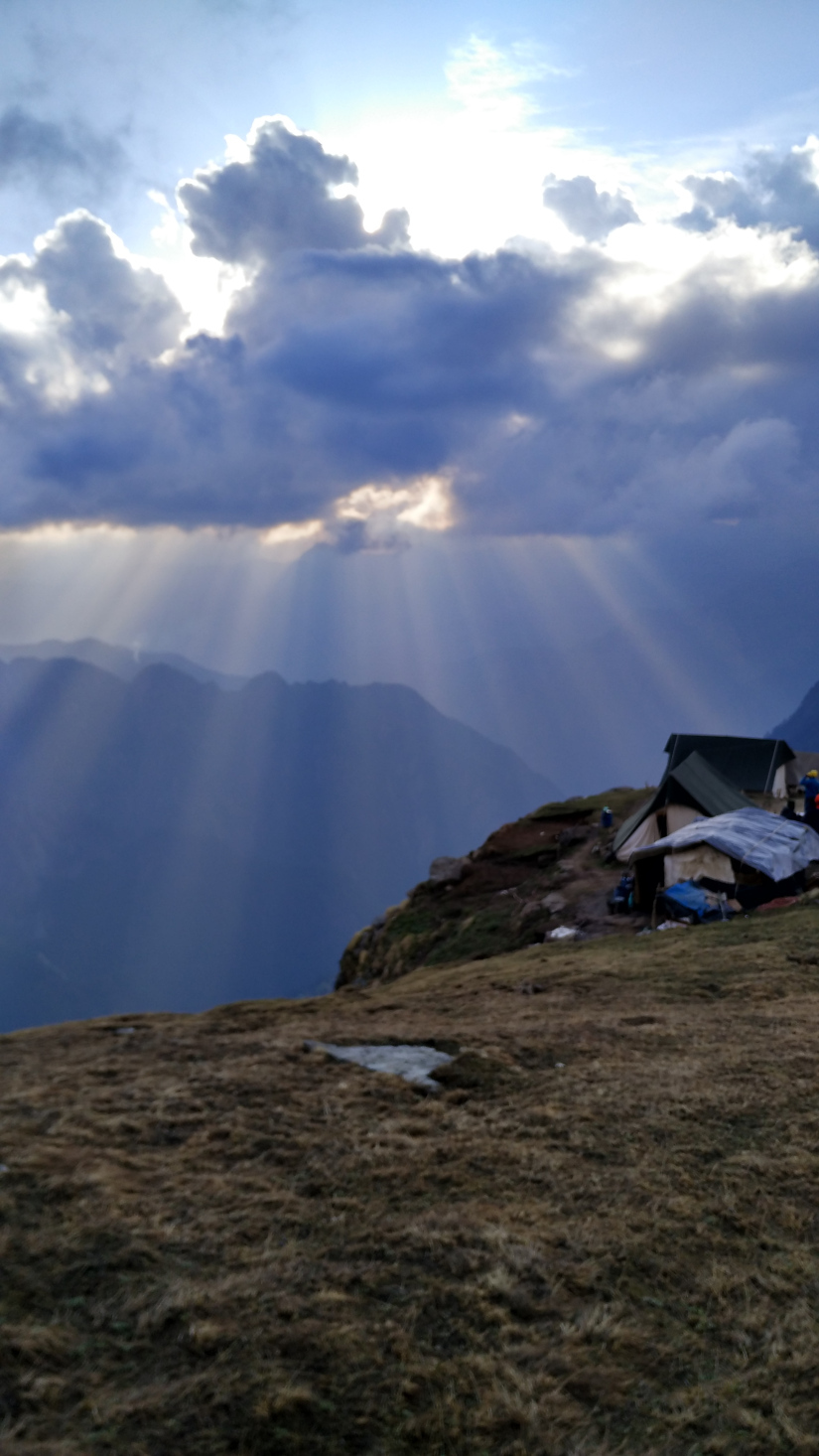 Trek to Bhiskeri via Sarpass (Sarpass Height -13800 ft and Bhiskeri Height - 11000 ft)
I was excited as this was the day we had all been waiting for. We were to cross Sarpass at 13800 ft and then descend to Bhiskeri. The ascent to Sarpass from Nagaru was kind of perpendicular (to my eyes at least). And clambering up in moonlight at such an altitude with cold biting winds wasn't easy. I used the baby steps tactic and moved really slow. After about 15 minutes I got the grip and was at ease. I kept drinking water even though I wasn't thirsty to avoid getting dehydrated. Finally we reached Sarpass. The place was full of snow. We squealed, ran around with happiness and played in the snow. From there we had to stroll on snow which was somewhat tricky because it was very slippery. If we slipped we kind of rolled down.
After the Maggi point we had to walk on snow for nearly 2 hours during which I got completely sunburnt in spite of having applied sunscreen. I could actually feel the tingling on my neck and face as I walked. I probably had one of the worst sunburns with skin peeling off for the next few days. There was this sliding point where we had to slide for around 900 metres on the snow. I must say it was exhilarating and I could not feel my bottom for a couple of minutes after the slide. I kept wishing for more slides, though we did not get any. We were told the snow was less this year compared to previous years when people could slide down almost till Bhiskeri. We saw lovely pink, blue and yellow flowers all over the ground on the way to the lunch point that was beside a stream.
After lunch, all we had to do was descend until we reached Bhiskeri. We spent the evening just lazing around outside listening to songs on one of our phones. That incredible feeling about crossing Sarpass hale and hearty is something which I cannot explain with words. We were almost done with the trek. The next day's hike was supposed to be pretty easy.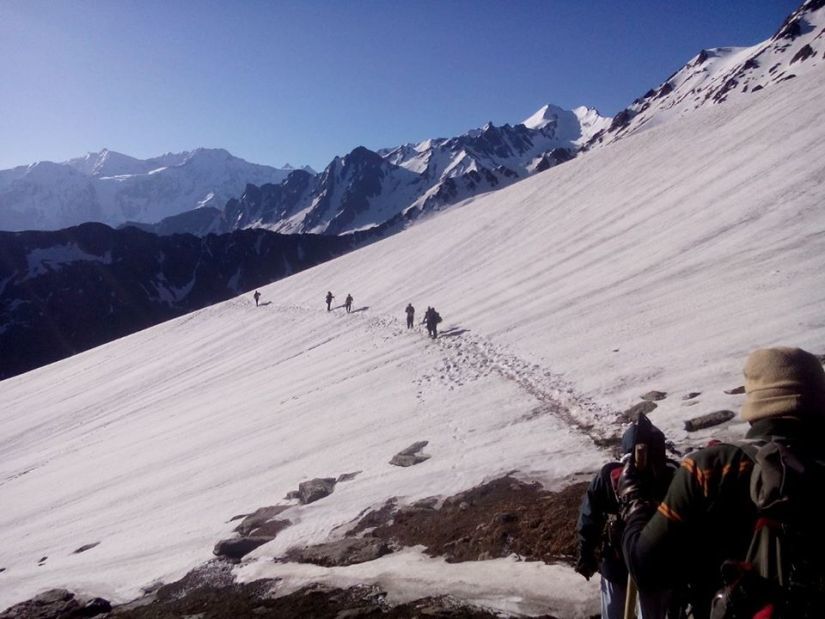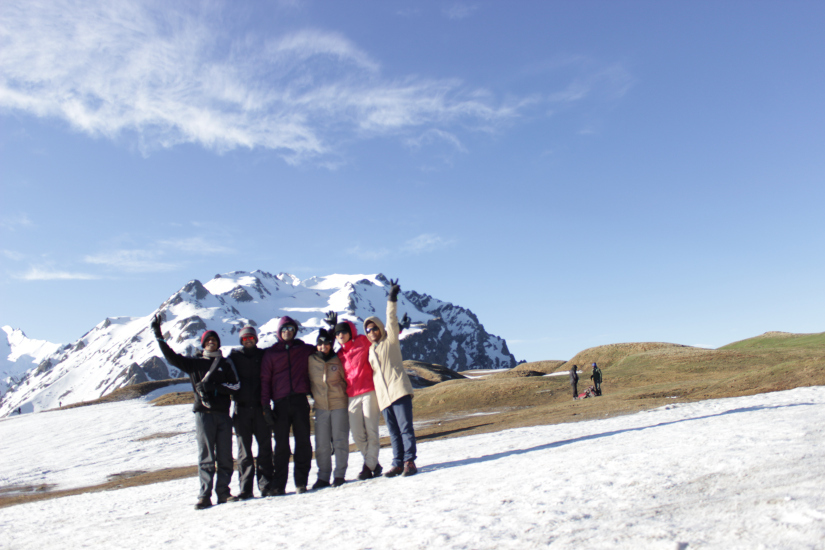 Trek to Bhandak Thatch and then to Barshaini (Bhandak Thatch Height - 8000 ft and Barshaini Height - 6600 ft)
After Breakfast we started walking down to Bhandak Thatch which is supposed to be the most beautiful camps of all campsites. It is called the "Switzerland of Himachal Pradesh". We were back among the trees now and could see monkeys jumping around them. We reached the camp quite early. Bhandak Thatch was stunning no doubt, but I personally found MinThatch the most exquisite campsite of all.
Since we reached early, the six of us decided to leave to Barshaini the same day. We bid our farewell to all the friends we had made in our batch and sauntered towards Barshaini. We reached Barshaini at 5 and stopped at some local Dhaba to eat. We gobbled up yummy Gobi Paranthas and travelled to Kasol by Taxi. The taxi ride from Barshaini to Kasol was one of the most fun rides I've had. All of us were extremely happy to be back to normal life and to have completed our first Himalayan trek. We sang and danced and made merry throughout the ride. We collected our certificates and luggage from the Kasol base camp and checked in to a hotel. We had our first hot water bath after 10 days.
The next three days were spent just relaxing and wandering around Kasol. It was much needed after 10 days of early mornings, uneven floors and ice cold waters.
After Sarpass
I had a Himalayas hangover for almost a fortnight after I was back in Bangalore. I dreamt of them all the time. In my dreams, I was going up the mountains every night and could somehow never stop going. That is what one has to do in life. We have to keep going no matter what. The words of one of the field directors in the base camp keep ringing in my head "We live and die but the mountains are here forever"
This post was originally published on I Am A little Chai Pot.