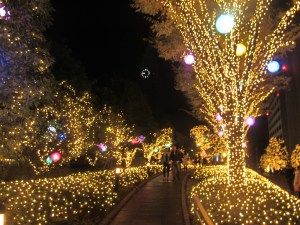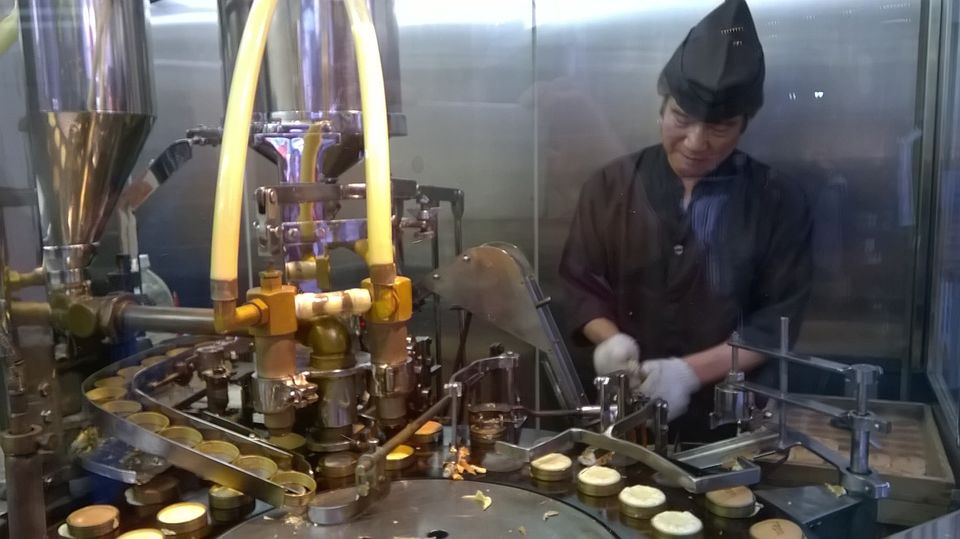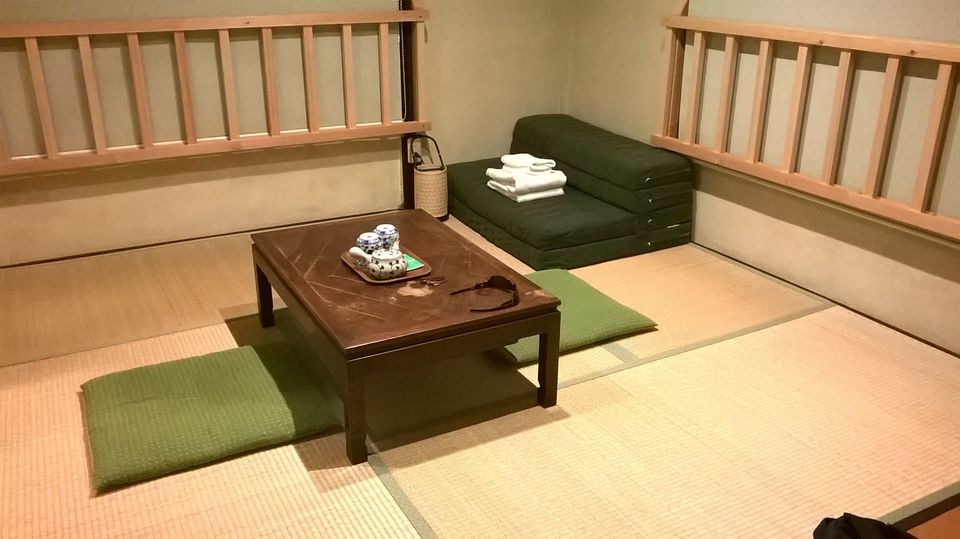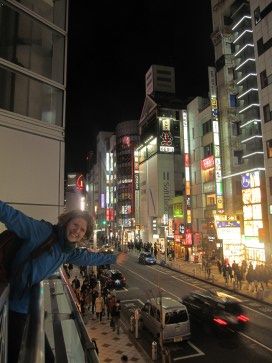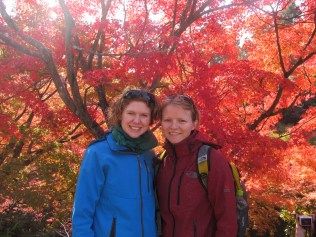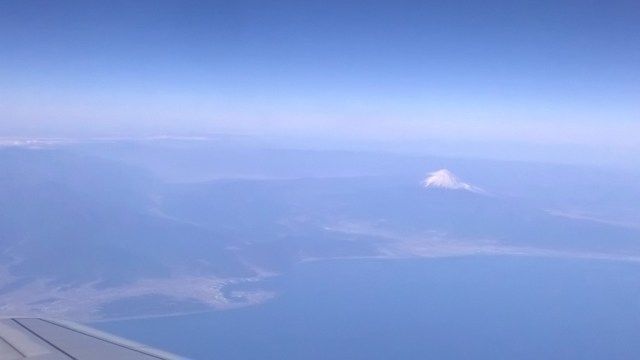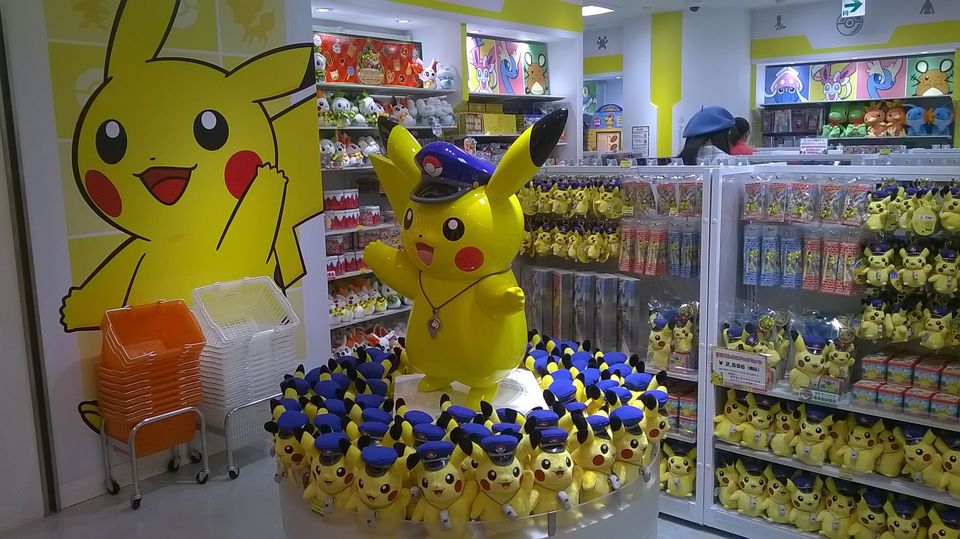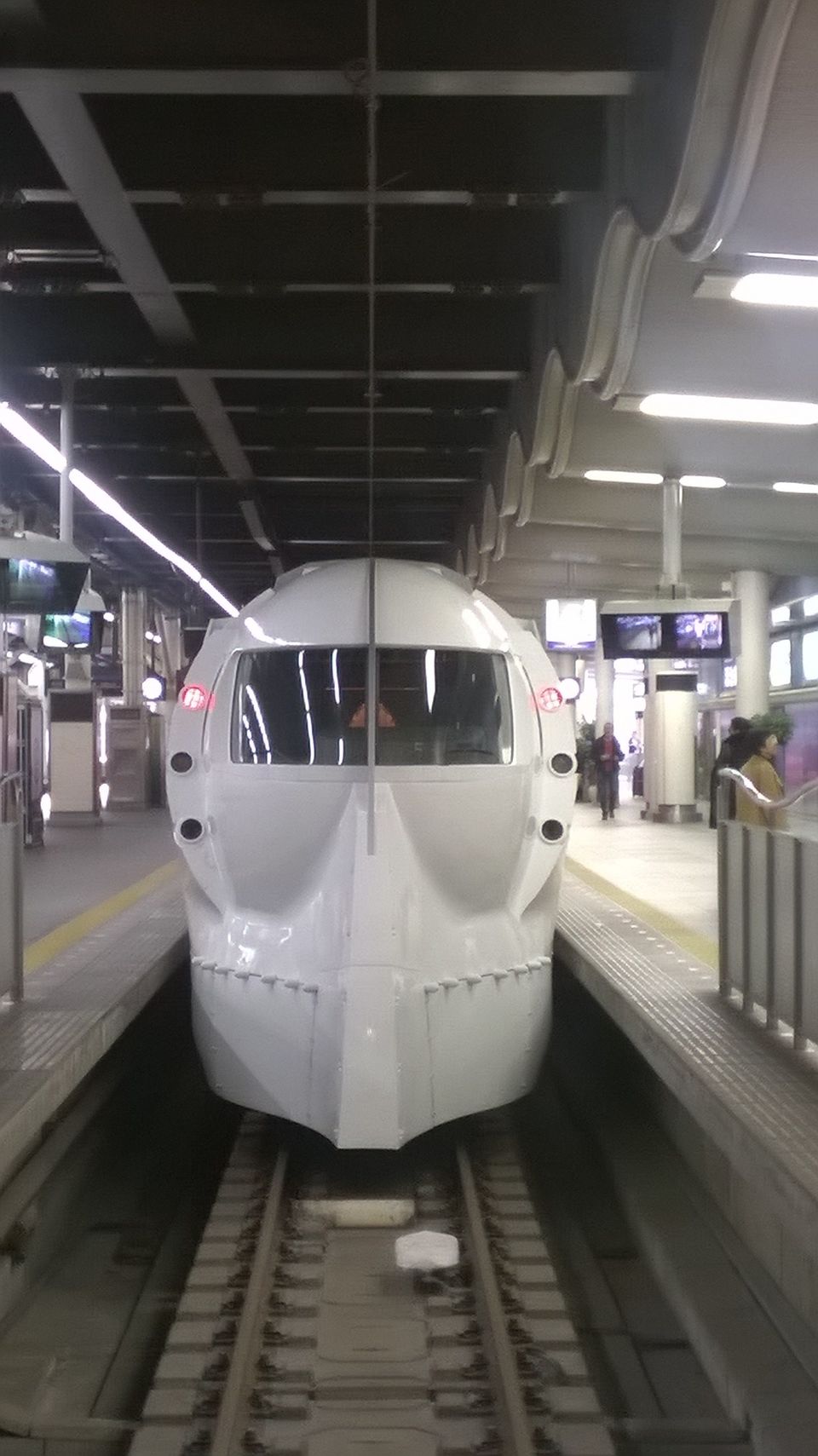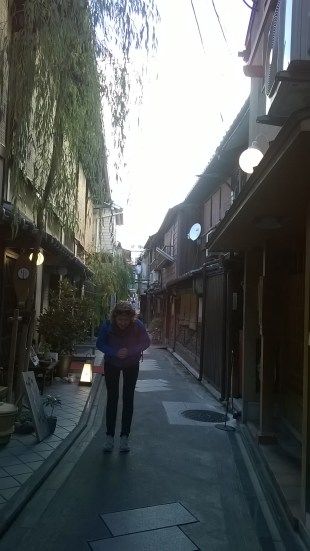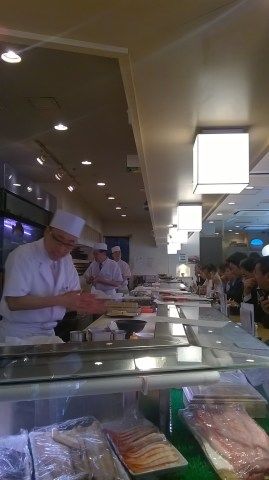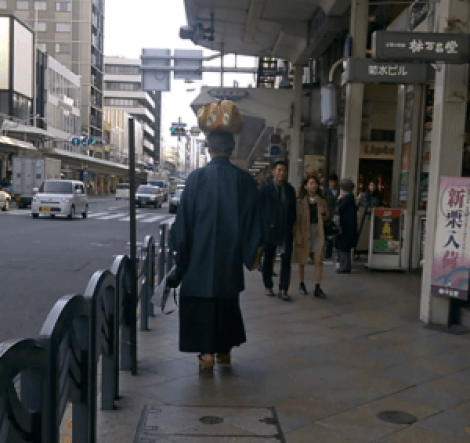 Landing in Tokyo late on a Saturday night, we were totally confused about pretty much everything because shockingly…everything is written in Japanese! On the plus side, it didn't take long to find out how friendly Japanese people. The more lost we looked, the more people came over to us to help. These were not just passers-by, busy locals were actively coming over to us to make sure we knew where to go. At one point, we had three train employees helping us sort out tickets and shouting and running along side us, all the way onto a train. Unfortunately, although we made it onto the train, we had no concept of which train it was, where it was headed, or how long it was supposed to take! There were no maps onboard and all the names were in Japanese. After a while of speculating what on earth we should do, once again we were blown away by someone going out of their way to help us. A lady came and asked us where we wanted to go and started working it out on her phone for us. It was honestly so confusing and I think we would have ended up sleeping in the airport if it wasn't for a load of people helping us get to Shinjuku! When we arrived at the nearest station, our journey was still not over as we needed a taxi driver to get us to the hotel….and he had no idea where it was. Eventually, after driving round in circles, he got fed up with us and dropped us off 'nearby' and after a lot more confusion, we did thankfully arrive at our hotel, complete with miniature room with the bed pressed up against the glass wall to the bathroom and space toilet!
After a nights sleep, we woke up to a cold Tokyo and went off to explore. Eva had us making a beeline for a 3 Michelin star Japanese restaurant that was serving lunch for a heavily discounted price. Unfortunately for us, the restaurants were closed on that day, which left us looking for alternatives, but as we wandered around the corner, we were greeted with a long queue, which disappeared under a Japanese noren – a cloth door. We love a good queue, so got in line! The line moved fairly quickly and we were soon able to poke our heads under the hanging cloth and see what we had signed up to! There was more queuing inside, but eventually we were courteously shown to our table by a very thorough elderly maitre d' (who really reminded us of Nana) and sat in front of our own chef. As we walked over to our seat every single employee turned and greeted us by almost singing "Irasshaimase" in Japanese or "Welcome, I am here, ready to serve you!"  The lunch menu offered a selection of tempura delights and our host helped us decipher all the different sauces and tea's already set out on the table as you arrive. The chef meticulously prepared each piece of seafood and refined his tempura batter before methodically placing each into the oil with an enormous pair of wooden chopsticks. The lightest, crispiest, most sublime fish and vegetable delights were passed to us by the chef, as and when he was ready and we happily devoured each one. The ceremony that surrounded us was a lesson in pure unadulterated refinement, in every aspect of their service.
Walking around in our big jackets in November with all the trees wrapped in fairy lights made if feel really Christmassy around Tokyo. We were the last ones of the day to climb up to the Tokyo World Trade Centre Observatory to look out over the city and as Christmas music played in the background and with a lit up snowman starring back at us…it made us feel like a scene out of Sleepless in Seattle!
If you haven't gathered from talking to us, we became sushi obsessed in Japan and most of our thoughts all day was where to get the next one. We had only tried sushi once before we had left on our travels and it had been met with a lukewarm response from us both. Needless to say, the Japanese know a thing or two about fish. The sushi masters train for years and are treated with the utmost respect by all. The sheer choice of different fish available at even the most basic sushi places blows you away.
The Kaiten sushi (conveyor belt) offered the best value for us and we read online about a really popular one in the basement of one of the train stations. After getting very lost and getting very close to conceding defeat, we finally found it. We joined the queue and eventually got in the door and enjoyed the flowing matcha green tea and selection of sushi. Each station has a miniature hot water tap that is the perfect temprature for brewing your matcha.
Apart from eating sushi, which admittedly did take up most of our time, we wandered the different areas of Tokyo, browsed the shops and soaked up the madness. One thing there is no doubt about, the Japanese love their karaoke. There are karaoke bars on every street corner and the Japanese of all ages are soon heading in to de-stress. They enter little private booths and sing their heart out to whatever they like. One evening we headed over to the Shibuya ward – famous for its bright lights and the crazy karaoke! We just wandered the streets, explored the shops and watched streams of Japanese heading for the karaoke booths to belt out a few k-pop tunes to unwind. 
From the off, the many Japanese subcultures that may seem strange to westerners were very noticeable such as – The 'salarymen' that can be seen nodding off on trains or sitting by themselves in sake bars. The other very prominent group was the Harajuku girls (think Gwen Stefani videos) who take many different forms including those who dress up as school girls, dolls, punks or even in full on Victorian era costumes all with caked in chalk white make-up. Then there are a selection of other bizarre things, like this video of a guy in a cloak, wearing platformed clogs, carrying a bag on his head! Bizarre!
Since our Samsung tablet was grinding to a halt, we thought Japan might be a good place to pick up a replacement and in Tokyo that meant a trip to Akihabara – or Electric city!! A gazillion floors jammed with every electrical item ever made! After much deliberation, we walked out with a relative bargain of a Chromebook – not ready to face back into a laptop it was a great choice for travelling! Another big electrical item in Japan is….the toilets. They are obsessed. They are one of the most high functioning gadgets that they buy – and they love gadgets!! Most toilets have 'Equipment to clean your buttocks', 'control of water flow'…you can even press buttons which heat the seat, spray water jets and make noises of running water to cover up any embarrassing sounds ;-0.
Our final night in Tokyo was spent in a different ward (Nikombaishi), which was more quiet and business like. It was fascinating walking the streets away from the tourists and seeing day to day life. For breakfast we went in search of food and passed a sushi place….we couldn't resist! We sat down in front of our own computer touchscreen and flicked through the menu, ordering whatever we wanted. Then a few minutes later, the sushi would arrive on a mini rollercoaster that circulated the whole restaurant and a little bar would flick up and stop the food right in front of you! Great craic!
It was time to move to another city and there was only one way to travel in our minds….Bullet Train!
We reached the train station and stood watching a load of people dressed in pink lining the platform edge. A few minutes later, the sleek white Shinkansen train pulled in, the doors opened letting the passengers out. Then a shout out was made and with military precision the pink people boarded the train cleaning and swivelling the seat directions in a matter of minutes. The train was ready for us! The train was effortless smooth and ridiculously fast – the track has to curve around corners, tilting us with the bend.
We pulled into Kyoto and walked straight across the street to our hotel. We dumped our bags and went wandering for food. We actually struggled a bit because the streets were so quiet and dark. Eventually we came across a girl holding a menu in the street (normally a sure fire way of putting us off going in) so we walked on…but when we realised this was our only choice down this way, she started laughing as we backtracked, followed her up some stairs and kneeld on the cushions at a shared table. The traditional restaurant looked like a wooden stable and above many of the tables sat a second table that was reached by ladder much like getting into a bunkbed. Neither of us are particularly sure of what we ate there, but both dishes were really delicious.
The next day we went wandering again and fell in love with Kyoto! Kyoto is a beautiful city which is full of ancient houses and has a much calmer feel compared to Tokyo. We stumbled on the market – a long narrow enclosed laneway filled with little shops with the most amazing artisanal food and crafts. Green tea ice cream, fluffy tempura donuts, little round sesame cakes, fresh wasabi growing…shops selling beautiful hand painted fans, Japanese knife makers beating knives from sheets of metal, beautiful paper shops and traditional kimonos. We could have spent all day there.
We wandered all around this beautiful city and along by the river and come evening we took the elevator to the top of the Kyoto tower to admire the unreal hills beyond the cities buildings.
We wanted a more authentic accommodation option the next night and we hopped on a few local buses to a guesthouse, with traditional Japanese washitsu rooms. We knocked on the door of someone's house and thankfully they let us in and showed us where we would be sleeping. We walked into the room with wooden floors and shutters and just a low table complete with tea cups and pot and two cushions on the floor! That was it! No bed! The futon mattress was in behind a sliding cupboard door, so at night you move the table and sleep on the floor! It was great fun but the paper thin shoji walls aren't ideal for a good night's kip!!
You know those infamous Japanese tourists whose reputation precedes them? – turns out they're all hiding out in parks in Kyoto in Autumn. People from all over the world make the journey to experience Koyo (the changing of the leaves) in Kyoto in Autumn – we gatecrashed! We had no idea what it was all about and one naive morning; hoping to avoid the rush of people in the city centre we headed for the park early for what we thought would be some solitude!
From the train we walked through a warren of narrow back streets hoping to escape the tide of people heading our way. They had other ideas and weren't going to work as we had hoped – instead they would be joining us for our morning constitutional in the park. Thank God we were up so early that morning, because if we had we arrived even a couple of hours later you wouldn't be able to breath.
All that aside – I don't think my words here will do the scene justice – it's incomprehensibly beautiful. All the miniature maple and cherry tree leaves are a million shades of yellow, red and auburn on delicate little black branches. The smell, the way the light plays on the leaves – is breathtaking. The gardens are meticulously designed and maintained. You could stay there and gaze all day – it's so relaxing…had it not been for the constant tide of wide-angle lenses being poked into our backs!!
Wandering away from the masses back to the train station, we almost ended up interrupting a monk having his breakfast in the temple. Better stick to the pathways girls!
Back in Kyoto town, it was time to head on to Osaka. After a short train journey, we arrived at rush hour and all the busy people only made the job of finding the right train even more tricky. Eventually we figured it out and headed towards Namba/Shinsaibaishi. This area is insane. It's like an open shopping centre/arcade…but more psychedelic! Full of neon flashing lights, karaoke music blaring, sushi bars, sake houses, shops etc. As usual, our minds had drifted to locating some sushi, so we dumped our bags at our hotel (upmarket although located inside an arcade) on the fourth floor and we wandered around this neon wonderland and went into one sushi bar which we soon noticed consisted entirely of salarymen. Despite their disdain that we were cramping their style, we had a few plates of sushi, only to find that it wasn't that great, so we just paid and went to the next sushi bar. Third time lucky as the final place we found had the best sushi and atmosphere so we ended the night on a high.
The next morning, we were airport bound – our Asian adventure was over. A short flight from Osaka's airport that looks like it is made out of floating Lego to Tokyo with the tip of Mount Fuji's snow clad cone peaking out above the clouds (like a Japanese Croagh Patrick) and onto New Zealand we travelled!
This blog was first published on Truly. Maddly. Cheaply.