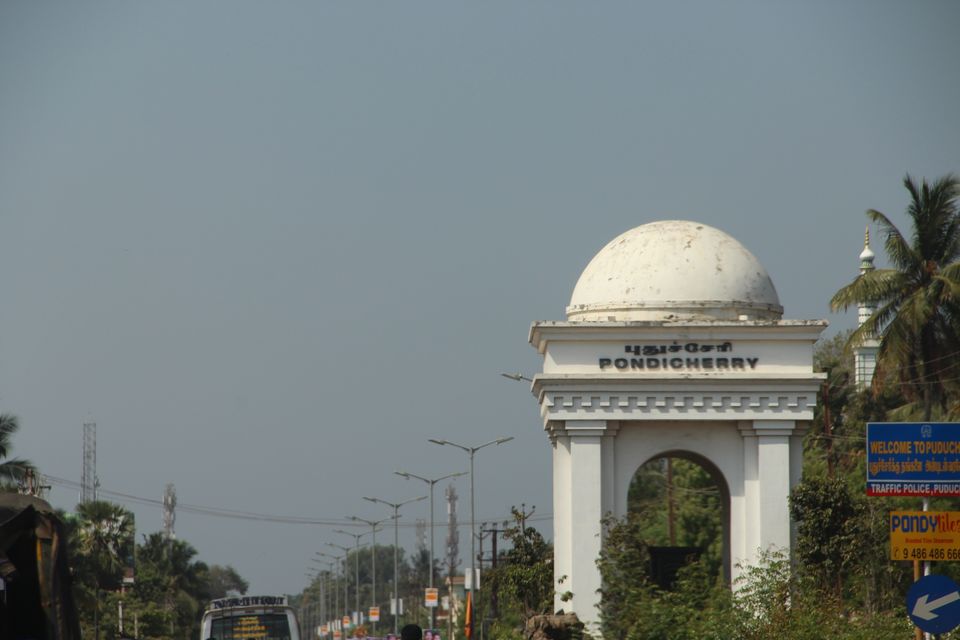 Wherever you go, go with your full heart.
After few trips with backpacking groups I decided to go solo for the first time. Pondicherry was always on my bucket list. From Chennai it's 150 km, a drive of around 3 hrs. The coast line, serenic beauty, breezy and shady road  and the salt pans are awesome.  Just a tip to save few bucks, in case you are self driving refill your car petrol at pondicherry instead of Chennai as the place being union territory petrol is cheap as compared to Chennai City.
After reaching pondicherry, I had authentic south Indian breakfast of pongal, medu wada sambar and coffee, kapi to be more precise at A2B a food chain restaurant that can be found in most parts of Tamil Nadu. The first place I decided to go was auroville. The dome at the centre is called matri mandir where prior appointment is required to enter the place else one can only have a look at the outer view of this place. This place also sells many organic products like soap, shampoo made of flowers. After auroville our next destination was annai samadhi. This place is very quiet and decorated with natural flowers. Not to miss the botanical garden here in case you are plant lover. The trip is not complete if you miss the sunset. I decided to move on to Gandhi statue at pondy beach. On the way towards beach there are street hawkers where one can do street shopping.
Also there are some temples with  south Indian architecture which can be covered. Here I refer to gopuram, a tall structure at the entrance of the temple.
The first thing that I did in the morning was going to beach to take a glimpse of sunrise.  Post morning refreshment I decided to head on to Mahabalipuram which is around 95 Km approx 1.5 hours of drive. The shore temple is one of the most popular destination.  This place is one of the UNESCO heritage site.  Also not to miss the light house which gives amazing views for photography.
MEMORIES, every place I visit I have this habit of buying some local item. This place is known for rock carvings hence you can find lots of sculptures and toys made out of rock. Post after noon I head back to Chennai to end my trip.
Just to add on to the blog in case you believe pondicherry to be City of beach or french city of India, let me tell you there are lots of Hindu temples here which include temples of Hanuman, Lord Ganesha, also a navgraha temple which has 9 huge sculptures of deity.