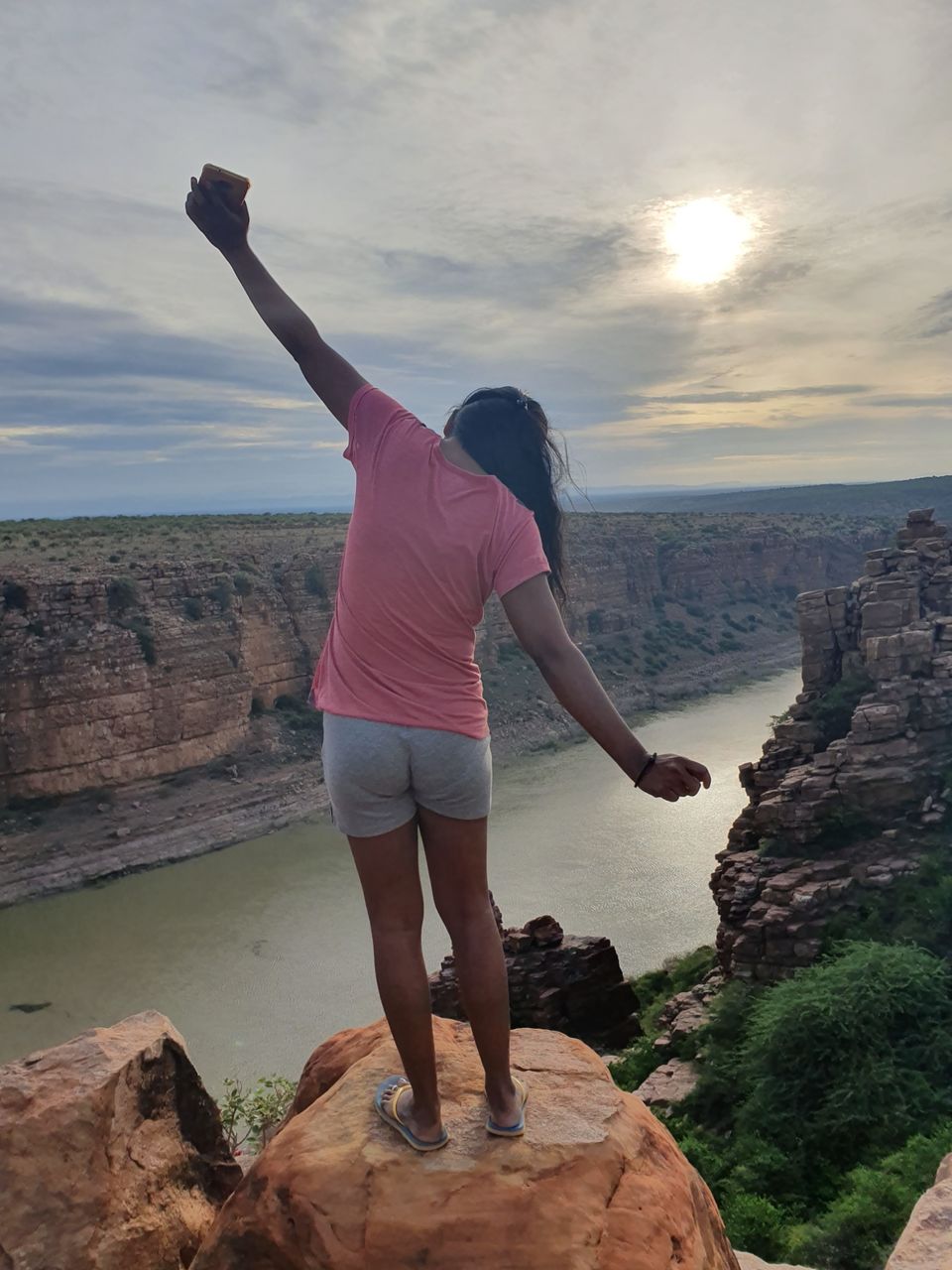 Want to go somewhere far from Bangalore/Hyderabad and should be near by as well.
Somewhere to go and come back on same day?
Easy to go by bike as well? Just wth guy friends only or only you and your partner?
Then Gandikota is a best fit.
It's 265 kms from Bangalore. If you start early morning then you can reach Gandikota for lunch.Plan to go Gandikota during monsoon to avoid the humidity. And also easy to explore leisurely.
Gandikota is not a completely deserted area. It is well connected with roads.Downside is you can't find any eateries or restrooms on the way. For everything you have to depend on Haritha resort which is 1 km from Gandikota.
In the entrance of fort, very few shops are available which has very basic options that takes care of your food and drinks. If you opt for a night stay then you can check with people here for tents. Tents are put out for a night stay on the banks of Penna river and you can wake up to beautiful view of Fort next day.
Gandikota also known as "Grand Canyon of India". This beautiful gorge is a gorgeous sight to watch out during sunrise and sunset. Penna river flows at the footstep of hills (Eramala range ). In Telugu,Gorge is called as "Gandi" that's Gandikotta for us.
Gandikota was the centre of power for many dynasties such as Chalukyas,Nayaks,Sultanates. This can be witnessed through out the fort.
Structure of Gandikota is like a layer. First layer is entrance to our fort (vehicles can pass through), then you can see "Charminar" (Not the one in Hyderabad) followed by Jail then you can go right for Madhavaraya temple (Its dedicated to vishnu, though deity is not there. This says it must be ruled under Nayaks. If you go straight from Jail then it leads to Jamma Masjid (Shows this must be built during sultanate periods),Big water tank,Ranganatha temple and our gorge.
Village is in between the Charminar and the jamma masjid.This village shows how real villagers life would be. Goats,Cows and Hens everywhere with a proper jugaad attitude.They are honest and helpful. Shops are just put out in the sides of their houses and they charge only MRP not like other places where they use the helpless situation to charge more for travellers to reap the benefit.
Walk from Jamma Masjid to get the Penna river view.That's the sight you were dying for and it needs a very little bit of climbing. It can be done with plain sandals but shoes are very convenient. Don't turn back at this point just because you got all good pics to share.
Keep climbing up the rocks to get a bigger and a better view of fort.This needs little effort to climb. Don't give up yet.Push yourself and climb. That shows your ability, agility and also implants number of questions about the fort which piques interest about our history.