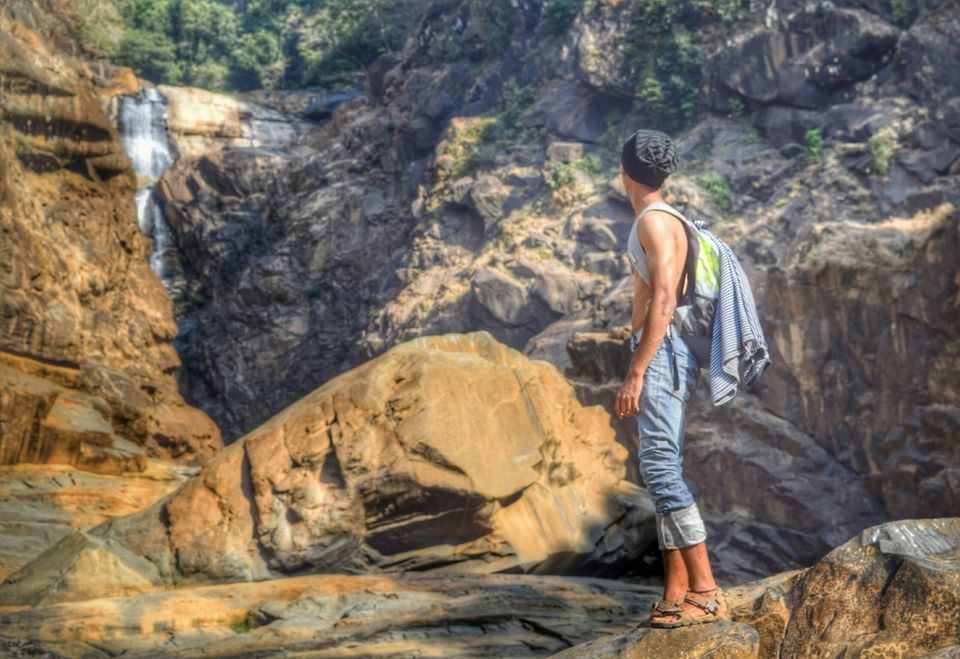 Dangerous, exciting and beautiful.
That is how I'd like to sum up everything from this unexpected getaway.
Sirsi, a town in Karnataka, with Marikamba temple being the main attraction of this place is home for some of the best waterfalls in Uttara Karnataka. One among them being the Shiva ganga waterfall which is about 22 kilometers away from Sirsi,  Is the most under rated and least visited by tourists because it lacks proper infrastructure and is remote. This being the pros, The place is completely untouched and keeps you connected with mother nature.
You need to hike a kilometre and a half to reach the falls (Very dangerous) make sure you're geared and have plenty of water and snacks along as the hike itself is challenging. After walking about a few hundred meters on the rocky grounds. (Huge, uneven rocks) you finally get to see the gushing waters of river Sonda from a height of about 74 meters into a valley covered with evergreen foliage.
It wasn't a gentle sort of waterfall in a stately home garden, it was the kind where torrents of water are poured over rocks hard enough to crack your skull. From the bottom where I stood it seemed awe inspiring, must be brutal and terrifying from above.
There are natural pools formed by the water where one can swim which is inexplicably rejuvenating. Of course one needs to be careful as the ground is terribly slippery and the waters are pretty dangerous everywhere around the place. We hiked, we sang, we fell, we raced and we lost ourselves in the scenery around the place. Pretty much everything you expect from a teenager. This place justifies to the saying that sometimes the journey is the destination.
We hiked back up. Thirsty, hungry, tired, with a feeling of freedom. We rode back to Sirsi, singing our songs, smiling at one another with respect for the place and the treasures it hid all along.
P. S - I visited Ganeshpal before heading towards the falls. The roads are truly amazing yet dangerous. I recommend two wheels to reach this place. (I still can't get over the beautiful roads) make sure you're geared up and have enough supplies. The place is away from general population.