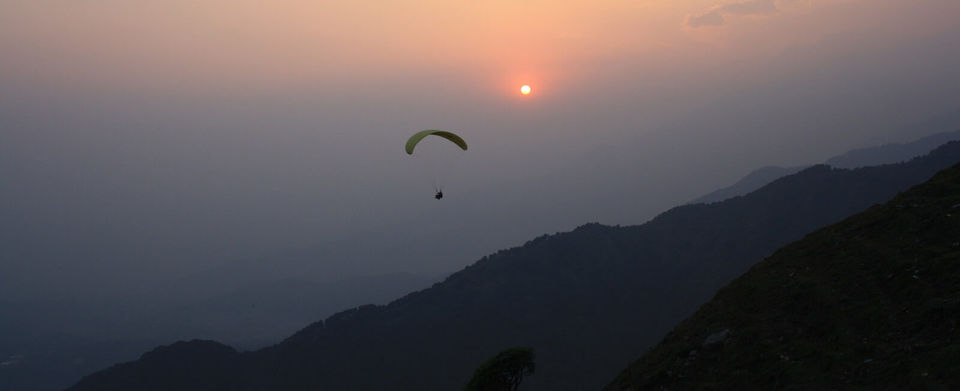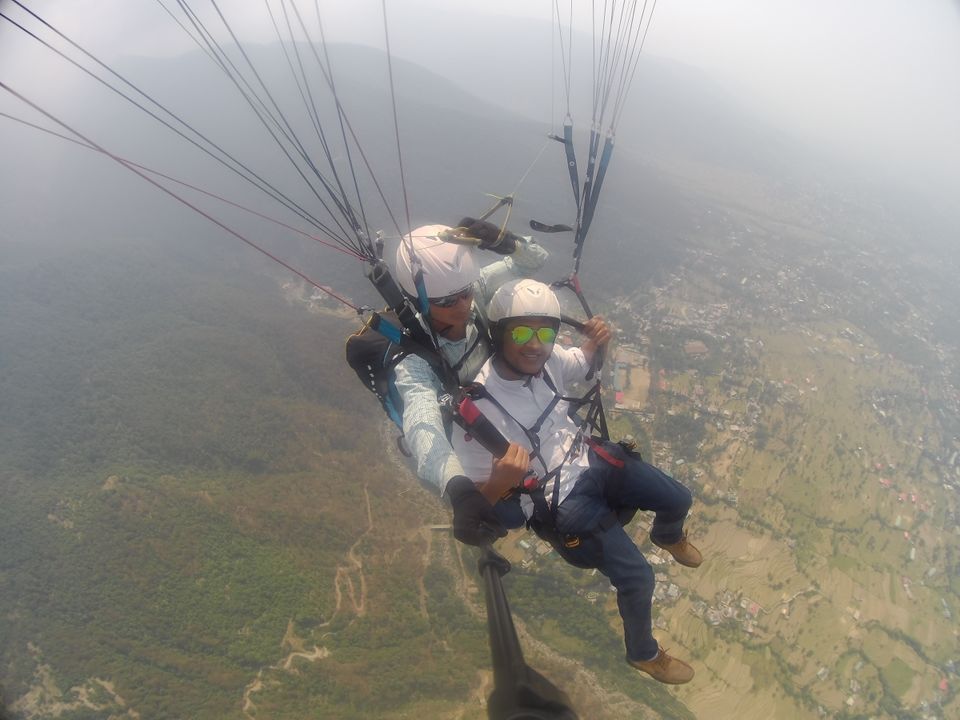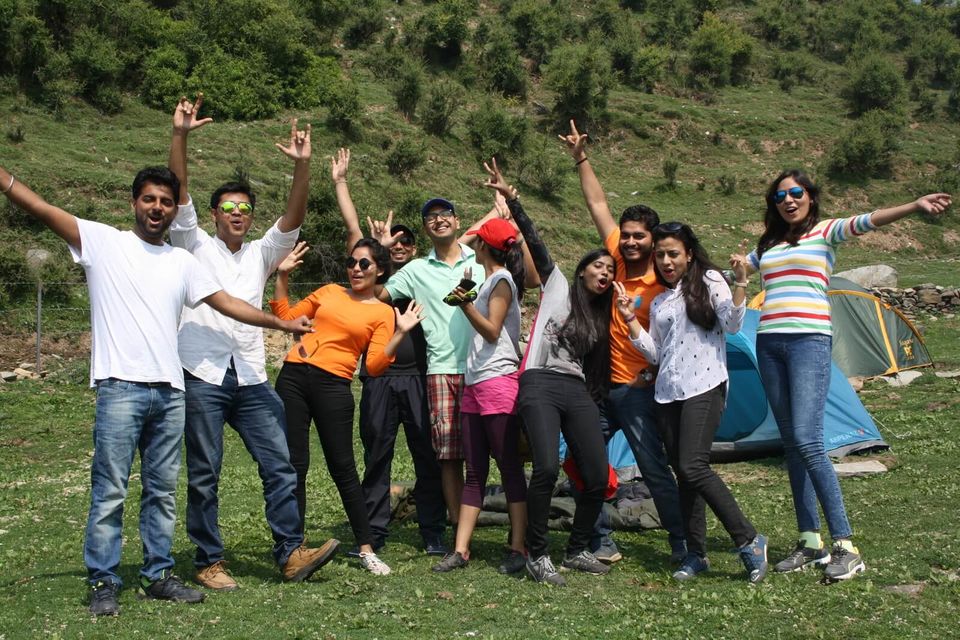 So here I was. Standing on the plains of the billing paragliding site. Wearing my glider attached with my tandem pilot. I was scared and excited. My heart was racing like anything….
"Sir, bhago… bhagoo…" My pilot started shouting.
"Are kidhar bhagu? Samne khai (valley) hai" me.
"Udhar hi bhagna hai. Bhago bhagooo… Poora jor laga ke bhago…"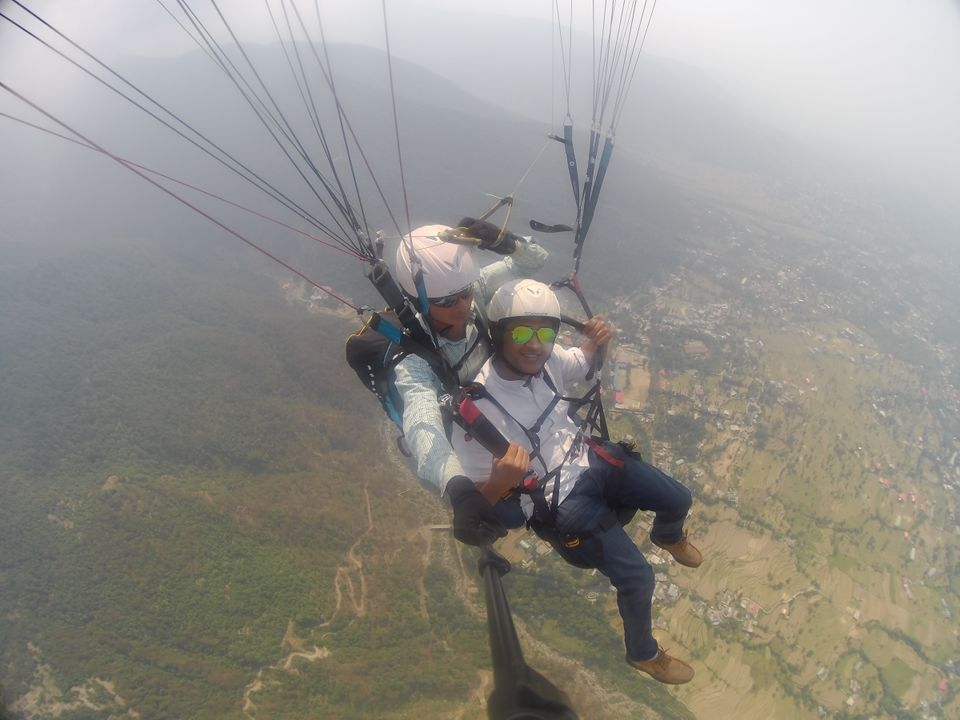 And we started running towards the valley. And just few steps before the edge glider cached the winds and we were automatically lifted in the air.
'Bir – Billing!!!' world's second best spot for paragliding and just 550Km away from Delhi. No brainer! We must go there and give it a shot. Paragliding season here is from October to June. We planned to visit on 21st and 22nd May 2016.
Preferred mode of transport was Volvo bus for us. Himachal transport buses run from Kashmir gate, New Delhi to Baijnath and from Baijnath you need to catch a local bus or hire a cab to reach Bir. We tried booking a day prior to departure but unfortunately all the buses with suitable timing for us were packed. No worries there's always a plan 'B'. We hired Innova. Both these medium has their own advantages and disadvantages. Hiring /carrying your own vehicle protects you from the hassle of changing buses and frequently hiring taxies at Bir to reach various local attractions. On the other hand private vehicle is not as comfortable as a Volvo is and someone from the group needs to stay awake with the driver (It was me in our case).
Mornings are always spectacular in the mountains. We were still in our car when orange red Sun rising through mighty Dhauladhar ranges greeted us Good Morning!! Beautiful colors playing in the sky and cold breeze of Fresh Mountain air, Heaven!! We were certainly in the lands of God. We stopped for a while. Took a tea break and then continued our journey.
Around 10.30 in the morning we reached Bir. We stopped by a snacks joint run by an old couple. Lady cooked delicious paranthas for us. And the 'chai'. It's flavorful but very mild. Being addicted to kadak chai, I didn't quite like it. We spent next 4 -5 hours at a rest house and had simple lunch there.
It was 3.30 in the evening and we were waiting for our trek guide. Finally he arrived with one more group of 3 folks. So it was initially 7 of us (consisting 3 guys and 4 girls) and then these 3 (2 guys and a girl). Guide told us that starting point for trek is few Km away and we should reach there by our own vehicle. We got into our car and travelled 5-6 Km upwards. We got down at a where milestone reads Billing 12Km. This was the starting point for the trek. All our luggage was in our car only and we had only cameras and water bottles with us for the trek.
There is no alcohol available at Billing. Hence we bought it from Bir itself and kept all the bottles inside the car. Being a beer person, I was concerned about chilled beer getting warmer till we have it at night. Guide told me that once we reach up, he'll put those beer inside water bucket and it will stay cold due to low temperature up there. (Yes that trick did work out. Beer was chilled.)
So we trekked for almost 2.30 hours. We were told by the guide that the trek was 6 Km long but I felt it was not more than 3Km. Trek route goes in a straight line upwards cutting motorable road 3 -4 times. It was an easy trek through thick forest so you don't feel the sunrays and the heat. Only thing that gets you tired is high inclination throughout the trek. For most of the trek you are climbing up and very less walking on plain lands. During the trek, just look up and you'll spot many paragliders flying in the sky above you. As you go up you'll realize less is the distance between you and those who are flying up there. In the last phase of the trek you may spot some paragliders taking off at 300 – 400 mtr above you. We were very lucky to reach up just before the sunset. Never miss the sunset on the mountains. Sun was painting beautiful colors in the sky and that's when bright full moon also came out from the opposite side to add the beauty.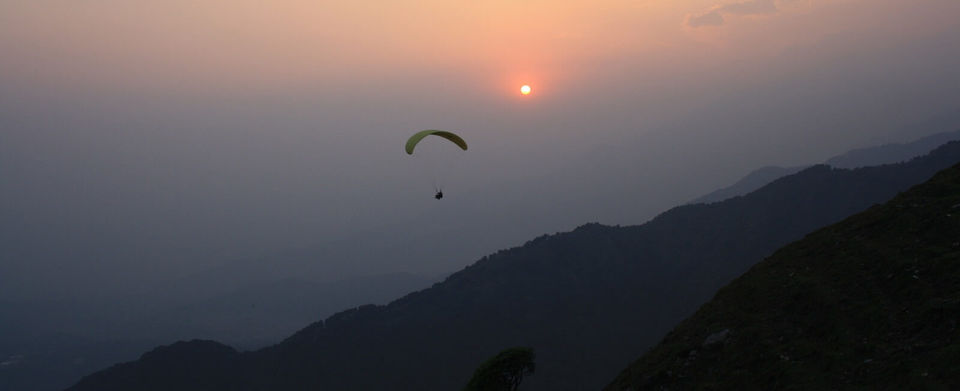 At the campsite we met one more group. These were 10 – 12 boys on a trip from Gurgaon. Soon the camping guys started the bonfire and everyone was around it grabbing their drinks. Someone had JBL portable speakers playing Punjabi songs. Our host were very good with their hospitality. They served us delicious chicken fry, fruit salads, popcorns and chana chat. Dinner consisted of good homely food.
Being it a full moon night we got to witness one more amazing thing. Experienced pilots go for moonlight paragliding. They take off at 12 in the night. Big full moon shining above the horizon and a dark shape of paraglider flying towards it. Truly a visual treat.
Before going to sleep, turn off all the morning alarms in your mobile. Here nature has its own system to give you wake up call. Different kinds of birds will be tweeting and singing in the morning to wake you up.
It was a big day. We were to take our first paragliding flight today. All excited and all nervous. We were at the takeoff site before 10 Am. Just after reaching there the operators asked us to sign a paper which stated that it's all our responsibility if anything goes wrong with the flight. The guy taking these signatures was pretty chilled out. He said "Sirji aap ke sath pilot bhi to jaa raha hai. Wo apne jaan ke sath thode na khelega. Safely le jaega."
Then I met my pilot. 'Shamsher Singh'. He had experience of 11 years in paragliding. Later during the flight I learnt that he was the pilot flying with preity zinta when she was there for paragliding world cup. Take off was the best part during whole of paragliding. That's the time when all your adrenaline is rushing. Within next 2 -3 minutes all the fear is gone and you get comfortable on the ride. Now you start enjoying this bird's eye view of the whole valley and the noisy wind tickling your body. And if you are thirsty for some more adventure, ask your pilot to perform some acrobatics (Try only if you are not prone to motion sickness. Else you'll end up vomiting in the air). We did spirals and wingovers (well partially). Whole flight was around 20 min long. And when you land, what a feeling. Awesome but inexplicable. Quite an achievement. Totally worth it.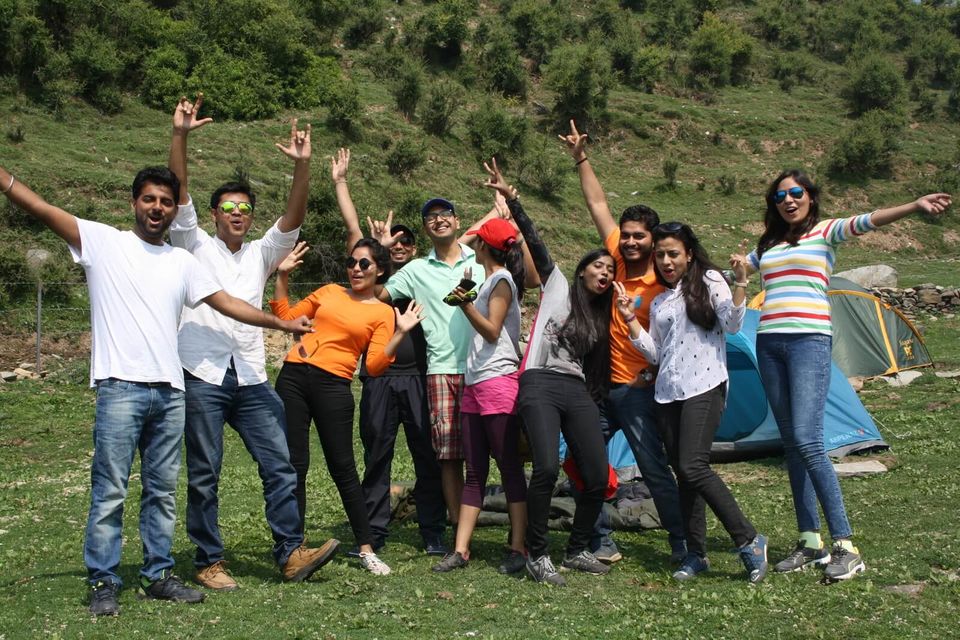 Officially, mission for this trip was accomplished. Now it was time for us to treat ourselves. Researching online I read about '4Tables café'. All the travelers were praising this café in their reviews. So I called this café for reservation. Owner sounded very friendly. He told me that the café is under renovation and will be closed for the entire week. Then he only recommended me another café called 'Garden café'. If you like authentic European food then this place (Garden café) is a must visit. Thin crust wood fired pizzas and Greek salads are awesome.
Next stop was 'Palpung Sherabling monastery'. This monastery is built with traditional Tibetan architecture. We reached there and were greeted by a young monk who volunteered to show us the monastery and explained little about their culture and philosophy. This place is very peaceful and carries a positive aura. Even doing nothing and just sitting in a corner makes you feel good. I was glad we visited it.
Hanging out there for quite a long, we had to face the saddest part of any trip. Going back! This small yet amazing trip has come to an end. A lot of memories and one more tick in the bucket list. Truly a great experience. 'Bir-Billing' you will be missed.