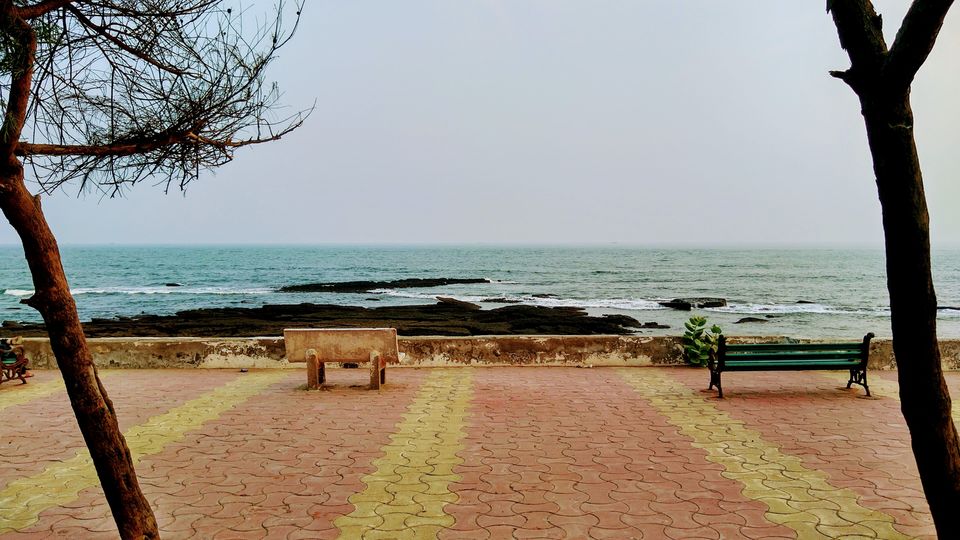 We started from Ahmedabad at night 11 via bus (preferably choose Bharat Travels, as from Ahmedabad this is one of the best bus service available to Diu) and reached Diu by morning 8. After reaching the bus station (Jethi Bhai Bus Station), we rented a two wheeler from a vehicle rent store just in front of the bus station. The vehicle will cost around  INR 500 for 12 hours (8 am till 8 pm) on weekends and INR 350 for 12 hours (8am till 8 pm) on weekdays but we wanted to keep it for two days (From Saturday morning 8 am till 7 pm on Sunday), so it costed us INR 1000. After that we went to our Hotel (Hotel Palms) which we had booked from Goibibo's website. The hotel is located at a quaint location of Kodidhar beach, which lies on the southwest side of Nagao beach. Facilities of the hotel included restaurant cum bar facility, in-house pool and in room dining. For the rest of the day we relaxed on Nagao beach and watched our sunset from Kodidhar beach, just infront of our hotel. For Vegetarians, we would suggest Bamaniya Restaurant (4-5 KMS from the hotel) for lunch and for dinner we would suggest to have it in Destin Hotel as they have a fancy garden type restaurant (Food rating 3/5). For people interested in drinking, there is a wine shop just infront of Hotel Radhika which is a walking distance from Hotel Palms.
Next day, we woke up early by 6:15 am as we had planned to watch the sunrise from the cliff near Kodidhar beach which is just infront of the hotel. The sunrise generally happens around 6:30-6:45 am in Diu. We got our breath taking view while sitting on the edge of the cliff, a glass of red wine in one hand and watching the sun rise slowly infront of us. For people staying near Nagao beach, this thing is a must. After that we had our breakfast at the hotel ( recommend items from the breakfast selection are onion parantha, puri aloo, omlette bread and chicken sandwich. Please don't try the pancakes as they would change your perception about pancakes for life, PS: They are horrible😉. After the breakfast, we checked out of our hotel at around 11 am (standard time) and went on road tripping to complete the rest of the destinations in Diu ( PS: please carry caps, cloths to cover your face and head and ample of water, as the heat may dehydrate you). Our first destination was an old sea shell museum which comes on the way to Diu City from Nagao beach. The museum is run and maintained by Captain Devjibhai, an old chap who has been incharge of a lot of trading ships. The collection of the museum is very unique (not well maintained though, as he is very old and has no support from our government or family). To my surprise he has been collecting shells from his childhood as his father was a fisherman and he used to travel with him everywhere and it is his collection of shells in the museum. Entry charge for it is very nominal (INR 20/person) and you can spend a lot of time looking and admiring his collection. After this we went straight to Diu fort. The fort was built by Portuguese architect in 1535 A.D and was considered as one of the most important fort in Asia. Although the fort does lack signboards and information boards about the place but you can explore the place on your own and have a panoramic view of Diu City. Photo sessions are a must over here as with blue sea and fort in the background, pictures do come natural. You can spend around an hour and half over here exploring all the corners of the fort and their views. After the tiring walk at the fort, you can either head towards St. Paul church or have your lunch at Apana Restaurant, both of them are nearby only. A must at the restaurant is their Junglee Vegetable dish consisting of three different gravies. Our next stop was a patriotic location, INS Khukri Memorial. INS Khukri was a warship of Indian Navy which sank 40 nautical miles off the coast of Diu. It took down with her a crew of  18 officers including her Captain, Mahendra Nath Mulla and 176 sailors. When you read the story on the memorial, it does givers you goosebumps and a gush of patriotic vibes runs down through your body, but the place is under renovation so you might find everything else dugged up. After this we went to Gangeshwar Temple. This temple is unique in it's own way as it is difficult to find five shivlings being washed away by the sea water itself. Behind the temple, there is an open space with 2-3 chairs where you can sit, watch the sea endlessly and if you are lucky and visit the place near around 6-6:30 pm, you can watch the sunset down the hill. After that, we went to 2 beaches Jalandhar and Chakritirth beach, out of which my suggestion would be Chakritirth beach with a crate of chilled beer, so that you can enjoy the water touching down you feet while you sip your cold beer. We wrapped up our trip from this point as the last bus from Diu to Ahmedabad departs at 7:30 pm from Jethi Bhai Bus station. For the return trip as well, I will suggest you to book Bharat Travels bus.
Hope you enjoy your trip!!
Happy Tripping.