" What is your idea of happiness on a trip ?
For me it is about it being quiet,scenic, safe, pocket friendly and hospitable. Gokarna was all of these combined. Have you ever been to Parvati Valley? Kasol, Tosh, Kheer Gannga, Malana, Kalga etc ? This place was just like that, good cafes for food, enough space to roam around and no interference from the people around.You are free to do what you want with the avenue of changing places and still having good food and places to stay at close proximity. I did what I usually do, eating at good cafes, walking, sitting by the beach and reading, finding a secluded spot to experience the sunset and going back to a comfortable place to stay.However the unique and the most striking part of Gokarna was that it offers you to get away from the road and still experience it entirely. I started my morning at one beach and by evening I had covered the 4 famous beaches at Gokarna without hitting the road, just trekking on a definite trail from one beach to another with the sea on one side and mountains on the other.I absolutely enjoyed it and look forward to being there again.
How to reach there?
Best option is a bus as it takes much lesser time than a train. One can go for a sleeper bus from Bangalore and be there in 10 hours. People who are at Goa and are looking forward to lesser crowd are most welcome to take the 147km road trip to Gokarna. The nearest airport is Dabolim in Goa. Trains take around 16 hours and not suited for a weekend trip.We took the Manu Tourist bus from Bangalore and it was comfortable and timely.
Places to stay and cafes
We stayed at Sanskruti Beach Resort( Worst Experience ever) . However below are recommemded cafes and places to stay various beaches.
Zostel Gokarna : On the Gokarna beach with an amazing view and good reviews
Namaste Atithya: Right on the OM beach, nothing like this place.
Shantidham cafe and stay: Have narrowed down this place for my next stay, you can listen to the sea all the time with no crowd interference
About beach hopping :
Start early, from wherever you are plan to start at Paradise Beach and end the trip at Kudle Beach, following this route will ensure that in the evening you end up at a slightly populated part of Gokarna and easy exit back to your stay or for dinner at the cafes. Another point to note is that you can experience a great sunset from Kudle Beach.
Paradise Beach: You leave the main junction to om beach and come to a dead end. From the dead end you have to trek a good 1 km along narrow trail to reach Paradise Beach. This place gives you that lazy feeling of a campsite. People camp here and cook food on their own. There is one vendor who makes basic Daal Chawal, one vendor for biscuits, fruits, etc. Rest you are on your own. Get a tent, make fire, cook enjoy the nomad life with the beach at your front.
2. Half moon Beach: The next beach once you follow the trail is half moon beach. The trail from Paradise Beach to Half moon beach is tough and many people have difficulty in finding the way. This place is ideal for lunch and spending time. Sit at one of the cafes have food, read while a cool breeze blows at your face. Some of the good cafes on this beach are: Roots and Rock Cafe, Shree Ram cafe
3. Om Beach: Quite evident from name, the beach derives its name from the OM shape. It is the most popular beach with the option of few cafes. However if you are on this beach, you should go to Namaste cafe again and again. Little crowded but you can experience people of all age groups and ethnicity here.
4) Kudle Beach: The Walk from OM beach to Kudle beach is simple. I would advice you to avoid the conventional trail and take the trail just next to the cemented staircase. This trail will also lead you to Kudle Beach and you will have hardly anyone on the way. We stopped at one place and experienced one of the most magical sunsets of my life. Kudle is the beach with many cafes and shacks. If you want a shack for stay, you should come to this beach. Some of the famous cafes on this beach are: Ganga Cafe, Sunset Cafe, Old La Pizzeria and Dragon Cafe.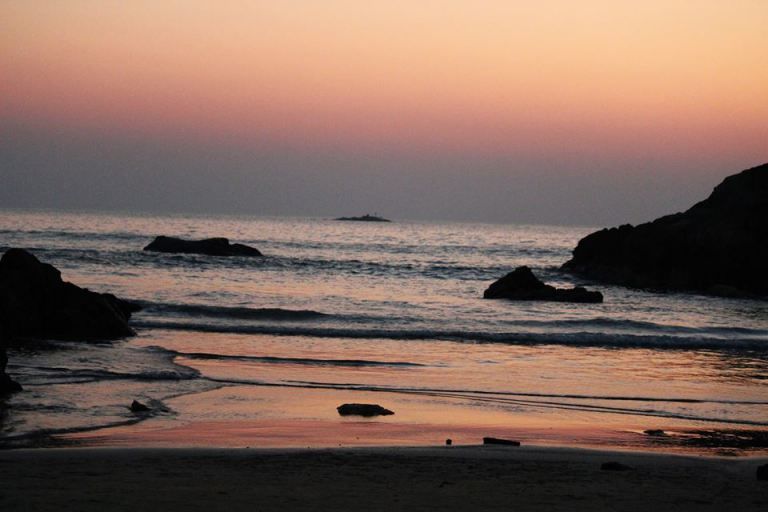 So next time when you are in Gokarna, you may bump into me ????