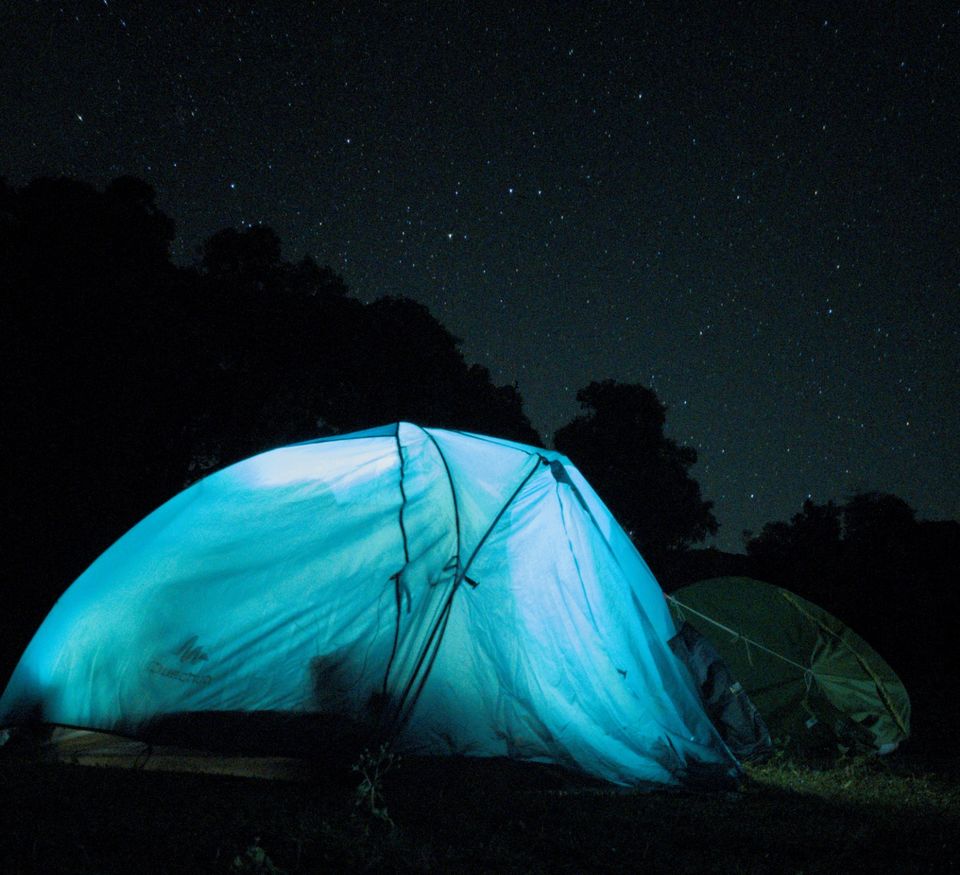 Trek to Nag Tibba peak
After a delicious dinner last night we had a very sound sleep and we wake up next morning around 6:30 a.m. our guide came to wake up as we had to leave early so that we can reach the peak on time and come back to base camp and then Pantwari Village same day. Since there was no proper civilization at our base camp so arrangements for our washroom was made by digging a hole in the ground inside a mini tent😅, which was kind of an unusual experience for me and my friends. After getting fresh up, our breakfast was ready which included bread butter and daliya with Tea made of ginger. Then we continued on our trek. Day 2 trek was pretty much easier as there was not many steep trails like we had previous day. We went through beautiful lush green trees inside the forest where our guide told us many stories about that forest. At some point on our trek when the sky was clear, we're able to see the Himalayan ranges which was an breathtaking view. But as we moved forward clouds started to come and the view was no longer visible. During our trails, we drank water coming straight from some waterfalls which was as pure as the water from any purifier can be and was very chilled as well. Along our trek we came across deers and langur, all of them were busy playing with one another.
And then after trekking for almost two hours, we finally reached the highest peak of Nag Tibba which was at the height of approx 3000m from the sea level. There was a small shrine located at the top which was believed to be of Nag Debra according to rituals. According to our guide, on a clear day one can clearly see the Himalayan range from the top but I guess the rain God was not on our side as it started to drizzle a bit when we reached there and we were surrounded by clouds. After clicking some photos and having our snacks at the top we left for our base camp. As it was drizzling a bit so the track was now a bit difficult to traverse and was a little slippery. So we had to take our steps very cautiously. Since our guide was an expert he knew all the shortcuts and he took us through all of them so we had almost little to no difficulty in covering those slippery patches. Although we all slipped for atleast once but we were enjoying our journey down the hill with a little drizzle. And in no time we were back at our base camp where again yummy lunch was waiting for us. Hot Rajma chawal was served to us and after having proper lunch we took some rest before leaving back for the Pantwari Village. Around 2:00 p.m, we started our journey back to the village and as like day one the sun was right above our head. But since the downward trek was pretty much easier we took very little breaks in between and were able to reach the village in almost 2 hours. This way our trek to Nag Tibba peak came to end.
One of the exciting things we encountered was that we were provided with a certificate from Trekkers of India for trekking the Nag Tibba peak, which was a bit surprising as we weren't expecting this.🤩
Delhi to Pantwari Village
The Nag Tibba trek is an easy trek which is suitable for beginners. This trek is located in the Garhwal range of lower Himalayas. It is easily accessible from Dehradun- Mussoorie, which is not far away for individuals coming from neighbouring cities especially Delhi NCR. The nearest village to Nag Tibba trek is Pantwari village which is very well connected to Mussoorie. You can easily find a taxi or shared cabs from Dehradun-Mussoorie which will take around 2-3 hours drive to reach the village. Along the ride enjoy beautiful scenic view of mountains which also encounters famous Kempty Falls, Mussoorie. We took a personal cab from Delhi and reached Mussoorie by early morning. I would personally recommend to leave  Dehradun or Mussoorie early morning such that you'll be able to reach Kempty Falls by sunrise. The route from Kempty Falls to Pantwari village is a very scenic route and you'll witness breathtaking sunrise, beautiful cloud formation, rainbow ( if you're lucky 😅 we were!! ), pahadi locals along the way.
Trek Begins 🚶🏻‍♂️
We had booked our trip through Trekkers of India, so we didn't had to worry much about our lodging and all. Their services were very good from food to guide, everything was very professional. On reaching Pantwari Village, we went to our rooms and after getting fresh, had proper breakfast and trust me guys a good breakfast is a must for such a hectic trek. After having breakfast, we left for the trek with our guide and his son Tukkun, who was our guide for most of the trek. If the weather is a bit gloomy, then trek can be easily traversed but we weren't lucky that much and the sun was right above our head during the initial trek. First day trek to our base camp was of approx 5-6 km, of which it took us around two hours to complete the initial 2-3 kms, as we were slowly getting used to the trek. But after those initial stage was over we took up pace and were going with good pace. Along the trek, some light food was arranged by our guides which we had during the trek and our little guide Tukkun introduced us to one of his friend who brought us fresh cucumber straight from his mini field where they grow such vegetables indigenously. At that time of the day, when sun was right over our heads and the scorching heat was unbearable, those cool cucumbers were truly a relief. There is Goat Village along the way, which is a very small village where you can take rest and have some food. People were building small houses for travellers which was pretty cool as they look if they were made by early men. The trail of Nag Tibba trek from Pantwari Village to our base camp is not a very one with path in very bad condition. So I'll recommend to have proper trekking shoes for this one.
Finally Reached!!
Finally we reached our base camp around 5:00 p.m. where we were welcomed with hot tea and Maggie. We unloaded our backpacks in our tents and enjoyed the beautiful sunset from that place which was so serene and mesmerising. We helped our guides in arranging some tents which was exciting as I personally had no prior idea how to arrange a tent. Then we took some photographs of sunset as we saw day turned into night and we were left with a sky full of stars. The night was so peaceful and relaxing as we could hear wind flowing through our ears and in front of us was the whole galaxy telling us to forget everything and just get lost in its beauty. Then we had dinner in the home of our guide which was the most beautiful thing that day as we had dinner inside a small house made of mud and straw. We sat on the floor inside the house where there was no electricity and lamps were used to light up the place. The food served was very delicious as no one can expect such yummy food at such an isolated location. Then bonfire was arranged by them where we enjoyed the stary sky and played some games. Then we left for sleep as we have to leave early next day. So this way our day one came to end.