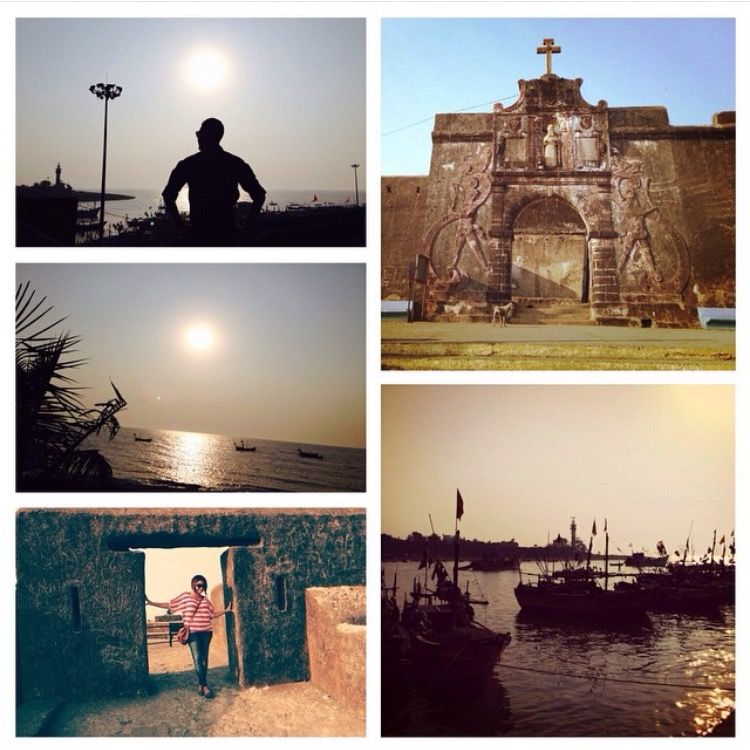 Our original plan was to set out from Mumbai at 6am so we could beat the traffic en-route to Daman. We ended up leaving only at 9am and were lucky enough to not encounter any traffic. Once you drive past the Dahisar check naka, the roads are empty and you can floor the accelerator on 5th gear all the way through. The roads are wide & smooth and this is a good drive to do on any given day. It is around 150 kms from Mumbai to Daman and will take you around 2.5 hrs to get to your destination.
This would be a good trip to do during the monsoons as the drive is lush with greenery & mountains. I'm sure the waterfalls would make it a pretty sight too. So anyway, let me get back to my trip lest I digress.
We started out at around 9am and reached Daman at 11.40 am. We checked into our hotel on the beach and grabbed a quick lunch. After lunch we set out to explore Daman and here's what you could do --
1) If you are setting out on a hot afternoon, visit the old churches of Nani Daman to take in their colonial architecture.
2) There's a fort in Nani Daman that is worth checking out. The region of Nani Daman consists of the Light House, Nani Daman fort and the churches.
3) You will find many fishing boats ready to take you for a short ride to the other side of the river.
4) The Jampore beach is a small black sand beach (not much of a beach though) and a quiet place to beat the crowd. I'd say this is the best spot to catch the sunset.
5) Devka beach is THE most crowded beach in Daman. Not much to write home about, this beach is very touristy, crowded & dirty. Here's where you will find your camel rides, horse rides, water sport activities, etc.
6) Grab a seafood dinner at hotel Gurukripa Daman. You cannot go wrong with their crispy Bombil fry.
7) Next morning set out for a walk along the beach with the waves lapping at your feet.
8) Time to head back home. Stop for Dhoklas at one of the many shops dotting the road. Easily the best Dhoklas I've ever eaten till date.
9) Catch breakfast or lunch at "Parsi Dha Dhaba along the highway. This place has been around for ages and is a must for authentic Parsi food.
10) Enjoy the drive back home.
A trip from Mumbai to Daman is doable even in a day even though we spent a night there.
So well, this is my Daman in a Day post. Holler out if you have any Q's.
Have a good one :)
A rocky beach and one that's not ideal for swimming. Here's where you will find your typical beach activities like camel & horse rides, para sailing, etc. This beach is very touristy and is best avoided on weekends and public holidays. Not too clean either with plastic & beer bottles lining the beach. If you do wish to visit this beach, pick a time when it's less crowded preferably on a weekday to marvel at the amazing sunset here.
Relatively quieter and cleaner than Devka beach. This is a black sand beach and another good place to catch the sunset.