The beautiful Miami. Known for its beaches, supercars and beach holiday homes of film stars. Continuing our US trip, we flew to Miami from Las Vegas and the sunny weather as we got off the plane was quite a welcome change from the rain and cold weather Vegas had been experiencing.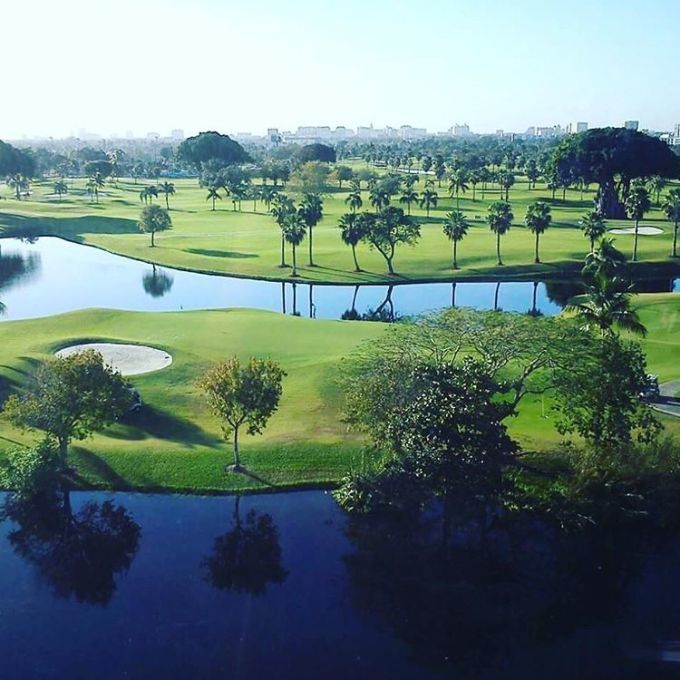 We stayed at Sheraton hotel, which was conveniently close to most travel points. Since we had planned to stay there for just a couple of days, we decided to take the Hop on Hop off bus so that we don't miss out on any of the main attractions. This time though, it was different. Unlike the regular earphones with commentary that these buses are known for, there was a live commentator in the bus, and on purchasing our tickets, we climbed to the top of the double decker bus only to find the commentary to be in Spanish! Now, luckily we do understand a little Spanish, thanks to those Spanish classes at college. But we soon realized that was just not enough to figure out a whole city's history and attractions! Since the bus had started, we had no choice but to sit and wait till we reached the next stop and then make our move. As the commentator announced that we were approaching the next stop and the bus began slowing down, quite a few passengers began to prepare to leave when he then started introducing himself in English. As he was speaking, he couldn't help but giggle at the expression of relief on many of our faces as we all sat back down in our seats! Apparently, it was going to be bilingual commentary, which had been announced before many of us entered. Relieved, we settled down and continued on the same bus.
Miami, we discovered as we moved around, is way more than just beaches. We came across the Lowe Art Museum and Perez Art Museum for art lovers, Jungle island or Zoo Miami, The Kampong, which is a botanical garden in the Coconut Grove neighborhood of Miami, AmericanAirlines Arena, a sports and entertainment arena located in Downtown Miami along Biscayne Bay and the Venetian pool - a pool with a waterfall, the numerous cruise liners docked at port Miami among other attractions. Little Havana, which is a lovely neighborhood that is acknowledged as the home of Cuban immigrants, will give you the feeling of being in Cuba given its vibrant street life, typical Cuban style restaurants, music and other social and cultural activities. You can enjoy a classic Cuban lunch at any of the restaurants in this area.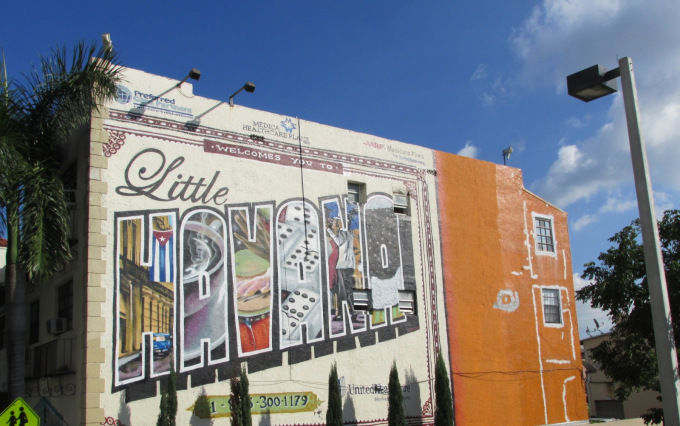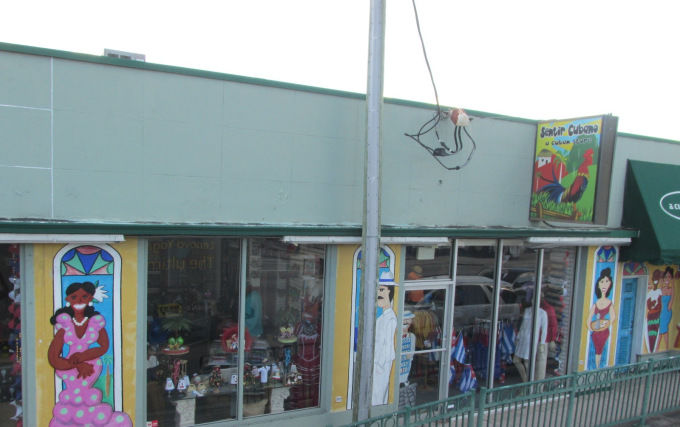 After a day of getting tanned on the open top bus, we decided to cool off by heading to the Bay for a boat Cruise. We took the cruise which started at 5pm. The cruise covered Star Island, which is home to many celebrities, as well as Fisher Island, which is said to have a per capita income higher than any other place in the Unites States. The commentator pointed out to the houses of Gloria Estefan, Shaquille O'Neal, Will Smith, to name a few, and this had people rushing around with cameras to get a good picture! Basically, it was the sprawling mansions on the island that caught everyone's attention. As we moved on, we came across many boat parties in the middle of the sea. Someone even shouted out that they caught a glimpse of Pitbull on one of the boats there, which had everyone rushing for a pic! It turned out to be a joke anyway! It was probably the best time to be at sea then as we witnessed the beauty of the sunset, giving a brilliant view of downtown Miami.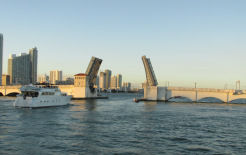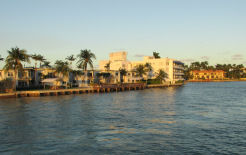 Hotels:
Majority of those visiting Miami opt to stay closer to the beach. Ocean Drive in South Beach does offer accommodations to all budget ranges- from backpackers to high end hotels. At times, when visiting in a group, people reserve a privately owned condo, which gives privacy and enough room for all. For families on a budget, do check out the converted suite with kitchen facilities. If you are not bent on staying close to the beach in this area, you could always choose an accommodation in the heart of the city. The travel to the beach would need to be accounted for in your planning, but the well connected buses, metros and cabs don't make that much of an issue.
Shopping:
If luxury shopping is what you are looking for, head to Bal Harbour, Design District or Lincoln road mall. Home to brands like Chanel, Gucci, Victoria's secret, Louis Vuitton and such, these malls are few of the exquisite places to shop. Do check out Coco Walk, a unique outdoor shopping area, located south of Miami in Coconut Grove. Apart from shopping, it has plenty of restaurants and a movie theater as well. The shops along South beach are worth visiting - you find good bargains there. We managed to do a little clothes shopping as well. (what is a holiday really, without shopping?!)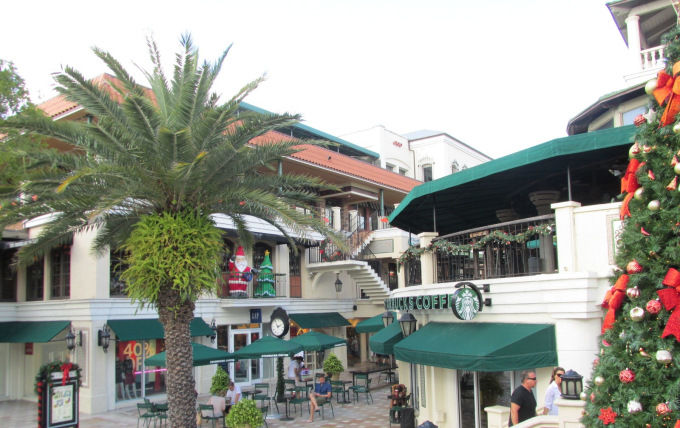 South Beach:

South Beach is considered to be on the southernmost reaches of Miami Beach. This is the part of Miami Beach where the action is. Whether its lounging around on the white sands of south beach, going for a dip in the cool blue waters, playing beach volleyball, visiting a club or shopping, South beach has something for everyone. Be it day or night, it is regarded as a major entertainment destination with numerous hotels, boutiques and nightclubs. Quite a few television series have been shot here like South Beach, Miami Vice and yes, you may recognize it as the background for Priyanka Chopra's song ft Pitbull- Exotic! And, if you are a gaming enthusiast, you will recall Miami Beach as the setting in Grand Theft Auto- Vice City! While the beach does get crowded during peak seasons, it is well maintained and you will find many tourists enjoying some quiet time relaxing under an umbrella despite the activity around.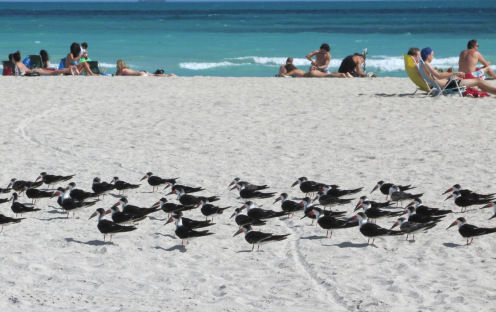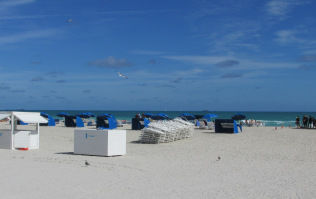 On the whole, Miami did surprise us, what with the numerous attractions and beautiful weather. An interesting trip, this!