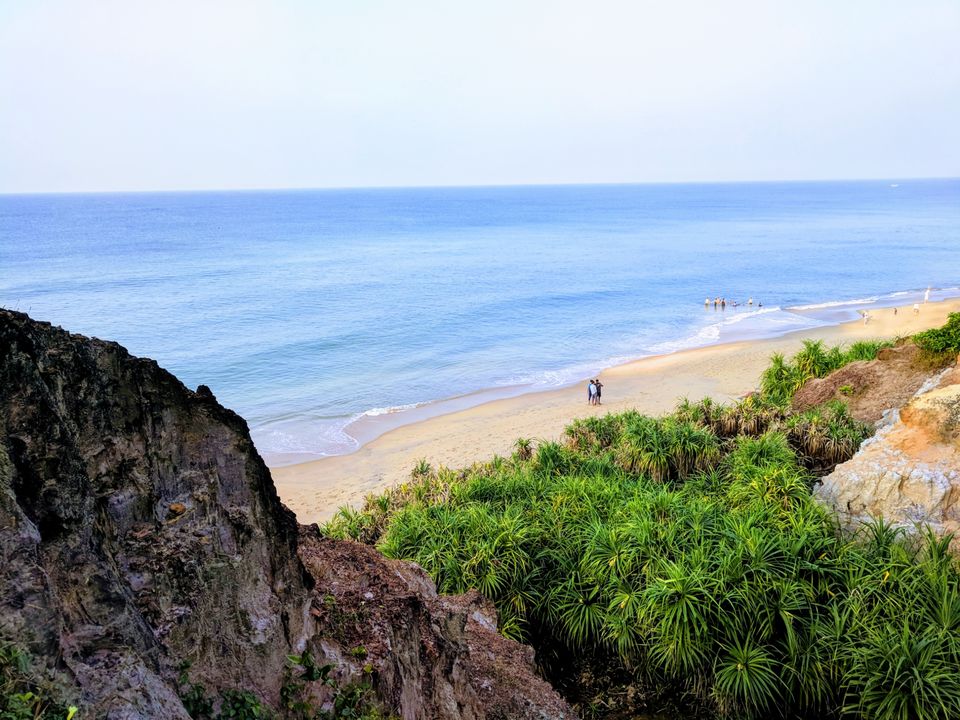 It has been a while that I blogged over here. I tried writing this post back when I had actually made this  trip but I guess I had a pretty bad writer's block!
Anywho, craving for another trip, I turned to my tripoto page to re-live few of my trips. This one is about the time when I and my friend Shelly chose Kerala to spend the last week of 2017 at. To be honest, it was really an enriching experience for both of us. We had a very ambitious itinerary charted out for ourselves and we planned to cover Munnar, Wagamon, Alleppey and Varkala. On a side note, never ever be this ambitious while exploring a new place. In a haste to cover everything on your check list you may not be able to really understand and enjoy the spirit of it all.
So anyway,  after celebrating Christmas with my family, I and Shellytook a flight from Delhi to Bangalore and from there we had planned to take a bus at 9:45pm which we had already booked through Thangamayil travels. For some reason, there are no direct buses from Bangalore to Munnar, and what these travel agencies usually do is halt at Udumalpet, Tamil Nadu, (we reached there at about 4am) shift all the passengers into a smaller traveller bus and then drop them all to Munnar. Why go through so much hassle you ask? Well, we couldn't really zero down to a destination in time which led to a delay in making the bookings and as we all know last minutes  bookings cost a bit, so this was the cheapest way for us to get to Munnar.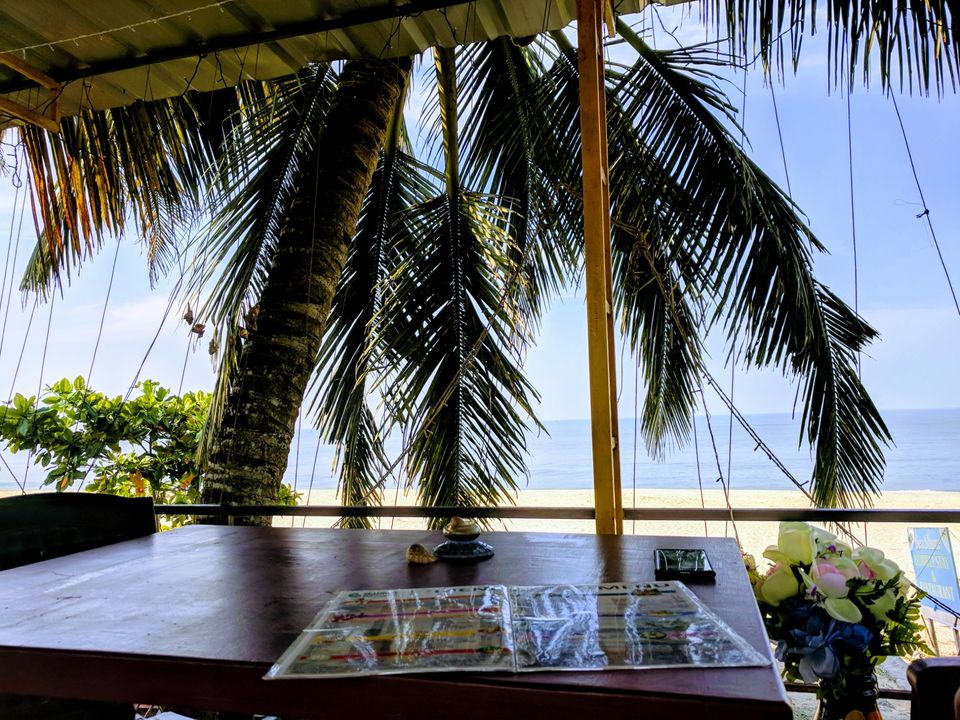 We were still asleep, when we reached Munnar at about 9am. We had barely opened our eyes and collected our backpacks when all these autorickshaw drivers and taxi drivers came charging towards us, hustling for a fare. Like always we try and make all our staying arrangements beforehand, but this time since we didn't really have enough time to do any planning we ended up asking one our friends to do that for us. Now in hindsight I think we could have managed just fine without a booking too because most of the auto rickshaw drivers and taxi drivers have enough networking with the hotels and you can choose whichever hotel room fits your budget. Anyway, we got into an autorickshaw and found out that the hotel- rivergreen villa, was in Kunjithanny, 16 kms away from actual Munnar, and that turned out to be of quite some inconvenience to us. We reached the hotel, freshened up and made plans for meeting with a couchsurfer, who offered to show us around Munnar. We weren't really lucky that day as most of the routes were closed due to bad weather. But we still had a good time and managed to go to Echo point and then catch some dinner in main Munnar city. The dinner took some time and we ended up reaching our homestay late. Which got us into trouble with the owner. Being female travelers especially in a conservative place comes with its own share of judgements.
The next day the first thing that we did in the morning was make arrangement for an alternate stay, as this one was beyond unpleasant for us. We made a complaint with the booking site and packed our bags and left for a new hotel which our new friend Tony, from couchsurfing had arranged for us. This other hotel was in Adimali, a place that we had not even heard of before. We freshened up and then went out to try the Thallaserey biryani that we had heard so much about. With most of the day gone, we asked Tony if he could show us around locally. Tony introduced us to Aneesh, a friend of his who also happens to own a homestay called "the bikers club", right on the highway, which in addition to providing lodges also had a souvenir shop where you can buy authentic Kerala silk. I bought a silk saree for my mother as a peace offering for what my mother calls "too much traveling". One thing that I really liked about his homestay was that his guests can leave a piece of drawing on the walls of his common room. Aneesh took us all for trekking  to a place only known to very few locals in a nearby tribal village. On our way back these fellows arranged us some toddy which is a local beer made from dates and to be honest it is not for the faint hearted! In hindsight, no matter how it began this day felt well spent.
We took an early morning bus to Wagamon the next day. It took some 4 hours to get there, and then took an auto to get to our homestay. As we neared our homestay we realised that we were moving towards the outskirts. Soon we saw all these plantations stays on both the sides of the road and finally found ours. There was a little drama involved there as well regarding our goibibo booking, but our homestay owner was a very humble and helpful person who helped us with alternate booking. We had planned a trek here to suicide point but unfortunately, no body in the vicinity had heard about it. Disappointed we decided to cut short our stay and we decided to leave for Alleppey the next day.
On suggestion of another couchsurfer we took a bus to Kottayam from where we took a boat ride through the backwater channels to get to Alleppey. It was a 2 hour ride and costed us only Rs 20/- to get to Alleppey from Kottayam. Tony decided to travel with us as well. We booked us a beach side dorm and ended up cafe hopping the entire night. The dorm that we stayed at had a nice cafe which overlooked the beach. After getting back, we decided to sit for a while at our hostel's cafe. After a while the three of us realised that everyone including the owners had retreated to their rooms. We must have sat there discussing about the world till 3am. As much as we loved Alleppey we had to force ourselves to bed so that we could head to our next destination in time the next day.
While Tony left for Varkala on his bike, I and Shelly took the bus to Varkala. From Alleppey, we had to change two buses. We got onto a bus to Trivandrum and got off at Kalambalam where we had to take another bus to Varkala. The next bus was no where in sight. After quite some time, we were approached by a fellow traveler who suggested that since we are headed towards the same destination we can share an auto with him. Not wasting any further time, we agreed and headed to Varkala together. In about 45 minutes we reached Varkala. We had booked an ayurvedic retreat for us, which was very near to the Papanasam beach. In the evening we headed to the Varkala cliff which is famous for its cafes and beautiful views of the beach.
Next morning we went on a bike ride to the near by Kapil beach and then came back and decided that an ayurvedic massage would be a perfect finish. On the last day of the trip and also the year, we took a train to Trivandrum from where we had booked our flight back to Delhi. Our flights were scheduled on the 1st, and we had some time on our hands. So, I and Shelly decided to get matching tattoos to remember this trip by, and then went to Kovalam beach to welcome the new year.
For those of you who take inspiration from these posts, I must suggest to either have a longer trips or cover fewer places when visiting a new place. Things will never go as planned while backpacking, so you should have patience to figure out plan B and the heart to not sulk over what could have or would have happened but enjoy every moment of your trip. Also, you should be ready to ask for help whenever needed, and you will be surprised how so many pleasant people are ready to lend a helping hand.
As always, I suggest to travel with not only your eyes, ears  and minds open but also with open hearts.
Happy traveling!