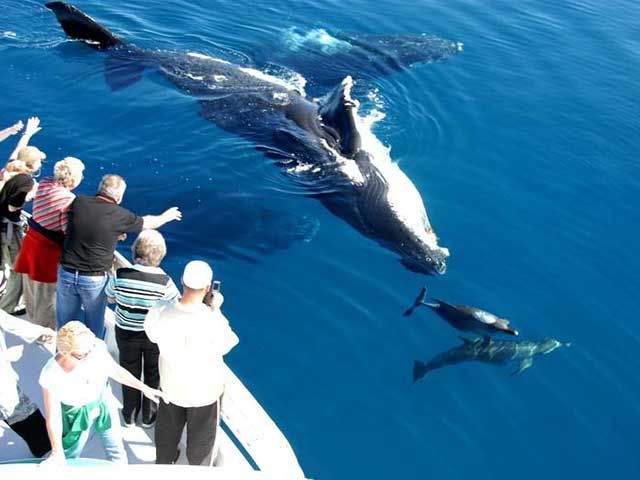 Each year, my family and wait with anticipation for whale watching season to begin. We take a road trip to Hervey Bay each year to see the phenomenon in this amazing coastal city in Queensland. It is about a 3 ½ hour drive north of Brisbane. We hire a car from Budget Australia and head up the coast. Whale watching season is during the winter and spring from June through November and Hervey Bay is known as the whale watching capital of the world. They say that 10,000 whales pass through these waters during their annual migration. They get very close to the shore because the mothers are nursing and seeking shelter in the calm waters for their calves. It is an amazing thing to watch.
Ways to See the Whales
We usually stay right on the beach so that we can see the whales first thing in the morning at sunrise even before we go out for the day. There are different lookout points all along the coast, we like to walk along the coast and find different places with lookouts. We also go over to Fraser Island, just across the bay. The main event, though, is our whale watching cruise expedition. The whales are used to all the boats and come right up to them so you can see them frolicking in the waters doing their tail breaches. Sometimes I think they are watching us, just like we are watching them.
Other Things on Our Vacation Itinerary
Although whale watching is the highlight for us, there are so many things to do in Hervey Bay and in Fraser Island. We plan one whole day just for relaxing and playing on the beach. Here is the rest of our itinerary:
• Reefworld Aquarium: This is a natural aquarium right on the beach. We learn about the local marine life and get to visit all of the fish and aquatic animals that live in the aquarium. We get to pet them and feed them.
• Hervey Bay Historical Village and Museum: This is a great look back into what Hervey Bay looked like in the 1800's. We really enjoy the exhibits and demonstrations.
• Lady Elliot Island: Lady Elliot is the southernmost coral cay of the Great Barrier reef, so we get to visit the Great Barrier Reef. We go snorkelling there. Every other year, we splurge a little extra and stay on the eco resort on Lady Elliot Island. It is a true getaway with no phones, televisions, or radio.
• Fraser Island: There are freshwater lakes on Fraser Island with natural springs so the plants and everything here are much different and almost looks like the rainforest. The shipwreck of the S.S. Maheno is right on the beach and is really fascinating. While on the island, we go on a fun 4x4 adventure ride too.