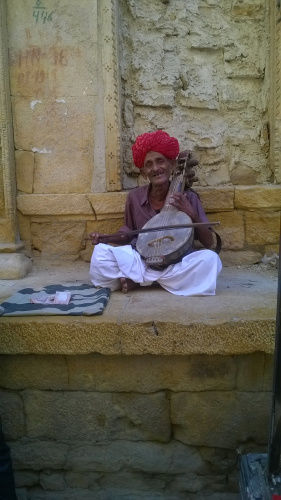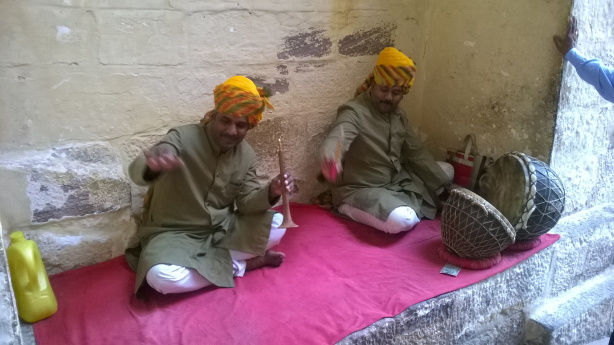 During my recent trip to Rajasthan, I realized how important "music" is to them and, the integral part it plays in their culture. Whether it is the somber tones that are emanated from the seventeen-string "Kamaicha"(instrument made out of mango wood and a round resonator, covered in goat leather) or the soulful voices of the local tribes, Rajasthan music will fill your heart with a feeling that cannot be described.
As a tourist, I walked on the dusty lanes of Jaisalmer, to be greeted by sounds of music at practically every nook and corner. From the sounds of anklets that the local women wore, to the bells that adorned their "ghagras", there was a resonance of music everywhere. One particular song that caught my attention is the traditional folk song  "Kesariya Balam Aao Ni". I had heard this song earlier in the Bollywood movie "DOR". The music in this movie was amazing and I always thought this particular song was indeed an original composition of its music directors. Little did I know that it was in fact a folk song of Rajasthan that has been passed on from generation to generation.
I stayed in a desert camp hotel on the Sam deserts in Jaisalmer. As I reached there on a pleasant December afternoon, the staff welcomed me by singing this song. Women in the traditional attire danced and the men in "Pagadis and Dhoti", sang this song. Despite their voices being unusually coarse, there was something in it that tugged at my heart. Was it the landscape around, or the music, I was really not able to tell.
On the dusty road to the forts in Jaisalmer, the next day I sported this really old looking man. He sat crossed legged with his instrument, eyes transfixed on it, singing away as though there was no tomorrow. It was the same song yet again. I had to stop my tracks, and despite a tight sightseeing schedule, I stayed for a good half an hour, soaking in the music that emanated from his instrument.
Forts of Rajasthan are huge and could often take you a day to completely see it. As I explored the yellow sandstone structures, I spotted yet again a duo, seated on a platform. Smiling at every tourist who passed by, they sang in a pretty loud voice," Kesariya…". They did take occasional breaks from their singing. But that was only when they didn't really spot a tourist around. There were no microphones to resonate their voices. The walls of the forts were powerful enough to echo the music across the fort.
So intrigued was I by this particular song that I decided to speak to the locals around there to gather more information about it. I was told that the song "Kesariya Balam Aao Ni.. " is a folk song of theManganiyar community of Rajasthan. The song is sung in Mand singing style( a style that is not a full- fledged raag, pretty similar to the Indian Thumri or Ghazal). The words of the song are the thoughts of a young girl who is calling out to the love of her life, welcoming him home.
My holiday in Rajasthan came to an end. And despite my suitcase load of souvenirs, my heart was full of the melodies that floated in the air. They would stay with me longer than the physical things I carried back with me from Rajasthan.
*All photographs have been clicked with my personal camera :).. Aint I done a good job?
From my blog www.meotherwise.com