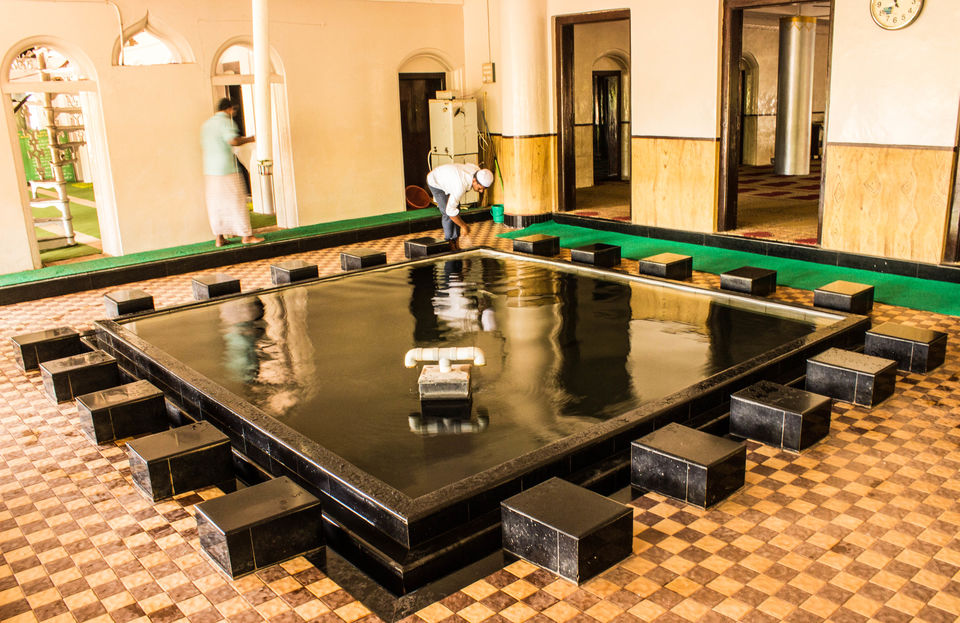 Having lived in Kasaragod for the past few years , I've come to realize how much history this place has! The other day I had the opportunity to visit the Malik Dinar Mosque in Kasargod. It was right on top of my list of things to see in Kasargod. Located just 2 km from Kasargod town in a place called Thalangara, this mosque is true testament to how old Islam is in this region. As you enter the parking, you get a sense of how important this mosque is to the locals and the visiting pilgrims. I was told this was buit in 642AD, that puts it in the era of Prophet Mohamad himself! Prophet died in 635AD, so to think that we had a mosque here in Kasaragod is mind blowing. Located on the banks of the magnificent Chandragri river, this is one of the oldest mosques in India and also the last resting place of Malik Ibn Dinar, also known as the 1st Muslim of India!
My first stop was the head office to seek permission to take photographs . I told them I was here to document this for tourism purposes. The staff I met at the office were very helpful and decided to take me on a tour of the ancient mosque and its surroundings. Nothing had prepared me for this journey through time and history. I knew I was dwelling into a slice of history that very few people would know about. Just to put things in prespective, we are talking about something that is almost a thousand years older than the Taj Mahal (1632 AD) .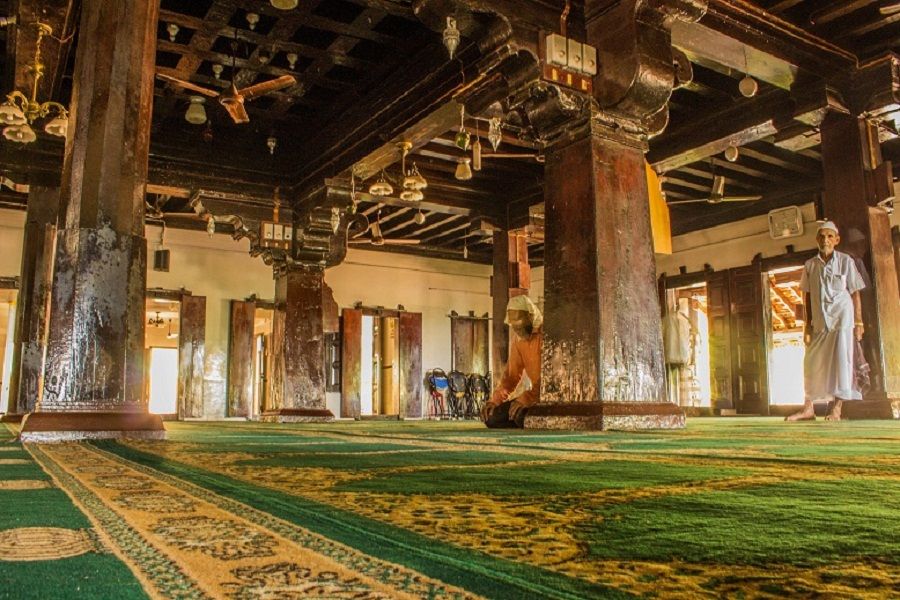 As Zuber (staff) takes me around this beautiful mosque he tells me the history of this historical place. As the name suggest, this mosque was built by Malik Ibn Dinar. So who was Malik Ibn Dinar? Son of a Persian slave from Kabul, was among the 10 disciples selected by Prophet Mohamed himself to spread the word of Islam.Kerala and Arabia were great trading partners in the 6th century. He came here with the bricks used to make the main mecca mosque. Once he came to India, he was welcomed by the Chera king in Trishur.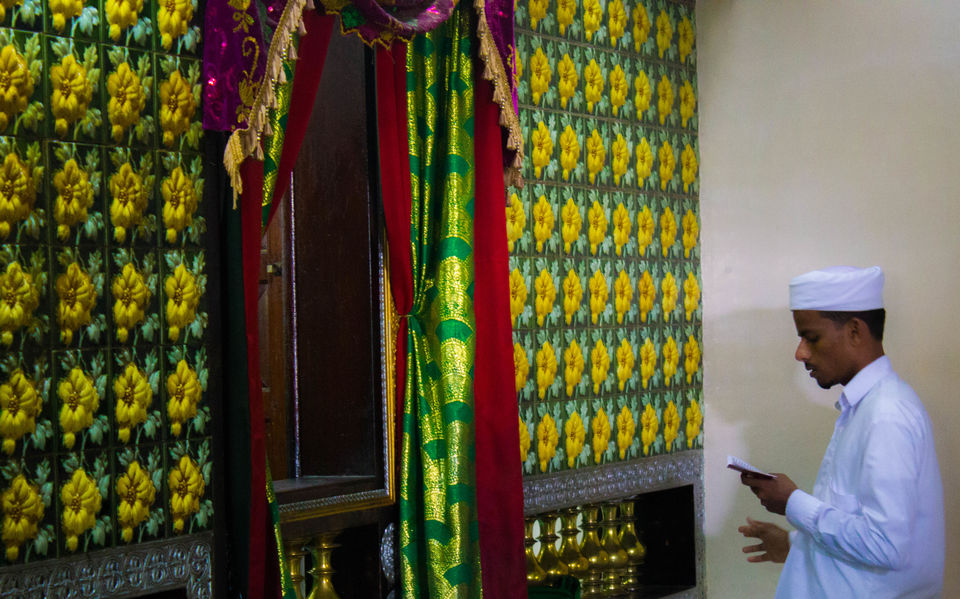 Built within 10 years of the death off the great Prophet Mohamed, the Malik dinar mosque doesn't look anything like your modern day mosques. Its unique architecture is one of a kind. The tiled and decorated front side and the dark wooden interiors are reminiscent of an architectural style of a bygone era. Its common for people to say that temples, churches, mosques and synagogues in Kerala from a certain era all look the same. But they don't! Each one is uniquely different in their own way. However what unites them is the architectural style of that era. The materials they used and so on. What this showcases the secular nature of architecture and its ability to be one with its surroundings.
The king realized that these tradesman from Arabia dint have a place to pray. He quickly identified an unused Buddhist shrine for this purpose. As Buddhism had long been extinct in kerala by then the king made a wise choice. This unused Buddhist shrine is today the 2nd oldest mosque in the world! The Cheraman Juma Masjid in thrishur district of Kerala and was built in the year 629. Also the king announced Malik Ibn Dinar to be officially the 1st Muslim of India!

After having taken off our footwear, I was escorted to the large room with checkered tiled floor and in the middle was this large wash pool/tank to wash your face and feet. As you enter the building, one can see how this mosque has grown in time to accommodate all the pilgrims. Just at the entrance of the main mosque are these set of 6 clocks, all showing different times! The last time I had seen something like that was in my corporate days , with clocks showing the different time zones in the US! Im sure in this case its times at other important mosques like this one. Well I would never know but I would like to think they are trying to say is that, anytime is a good time! :)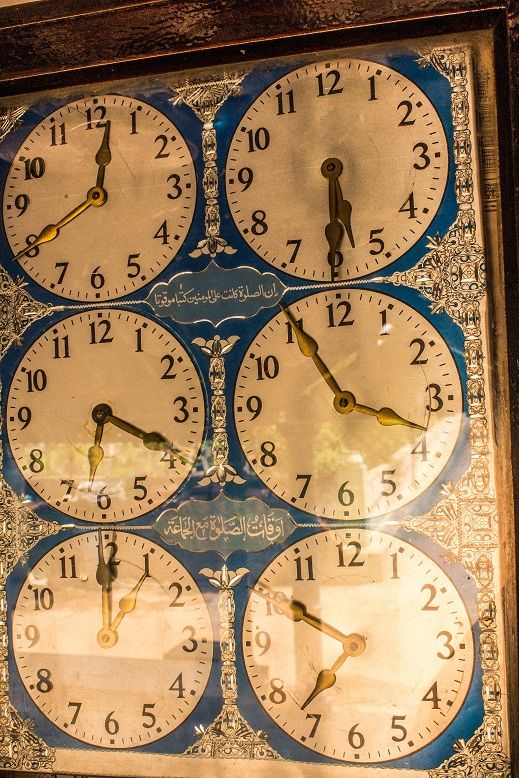 The mosque has a 3 layered prayer rooms. The outside prayer hall is much larger, with red and gold carpeting this space is built in a modern style of architecture. This is as far as I was allowed to go as a non Muslim. The gentleman who was escorting me around offered to take some pictures of the inner most domes for me. I was also told that a stone which was left unused during the construction of Mecca was inside the inner most prayer room. In 2 inner chambers have been maintained in its original style from when the mosque was built. Sitting on the edges of the inner dome, I could clearly see the artistry in the wood work inside. The roof was made of criss-crossing beams of solid wood supported with more wooden pillars full of intricate carvings. Sitting there I couldn't help but feel this sense of déjà vu, as though I have felt like this at other places of worships also. It's amazing how places of worship create this powerful but calm environment for inner peace and happiness.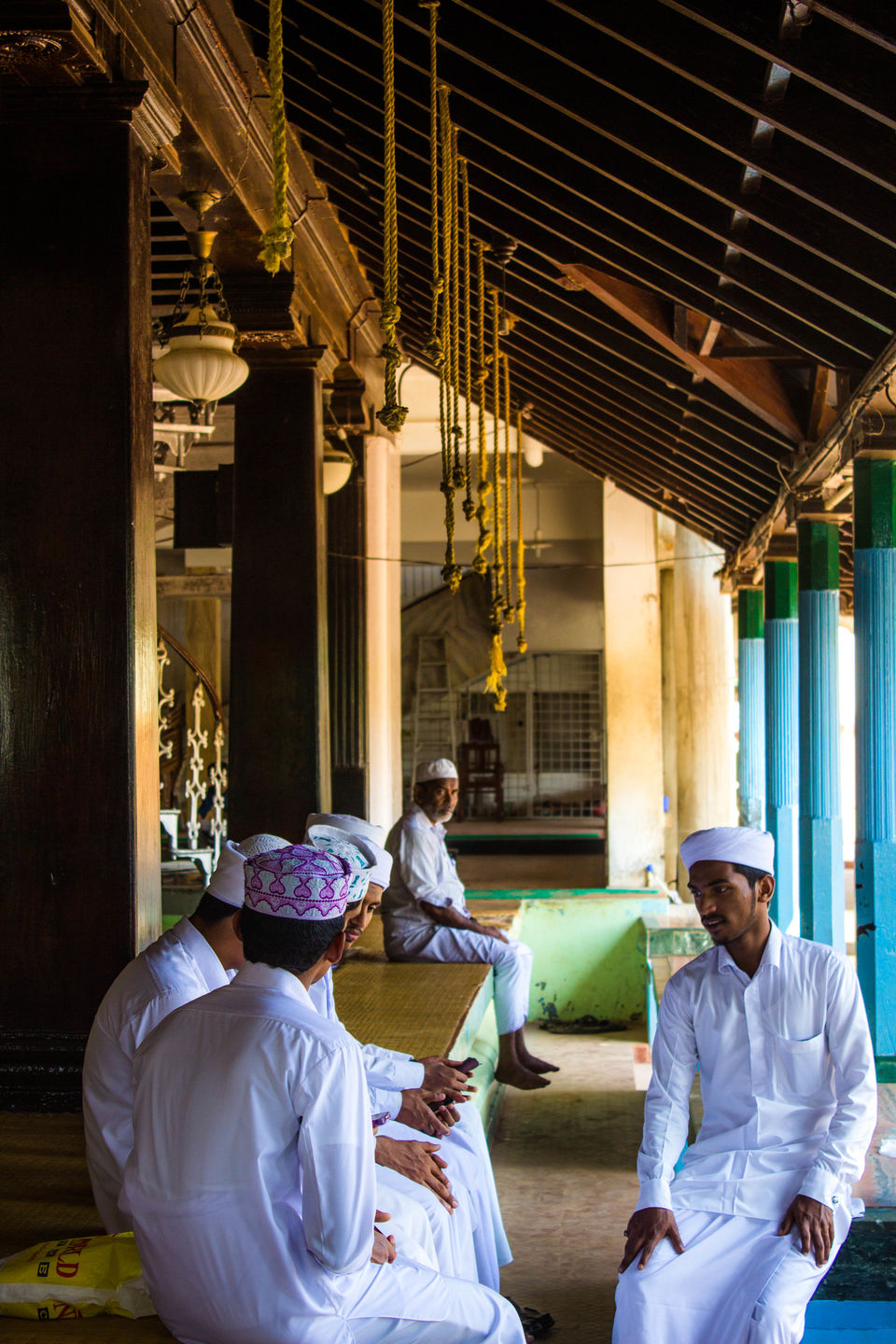 We slowly made our way out of the mosque and to last resting place or Dargah of Malik Dinar, where some devotees were offering prayers. Our last stop of the day was the traditional Kolam or bath/swimming pool. Built in traditional Kerala style is scenically located on the banks of the chandragiri.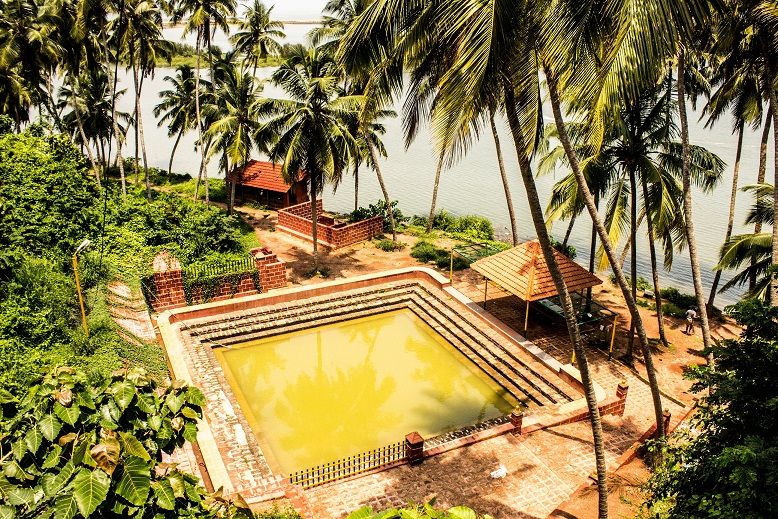 It was time to say by goodbyes to this gentleman who had patiently taken me around this beautiful mosque. Although he took some shaky pictures of the interiors, I could not thank him enough for his effort and time. In the hunger for information, I even forgot to ask this good man his name. So for me I'll remember this man to be someone who gave me a real lesson in history. As I ride away on my bullet, I feel I have truly learned something today! Moral of the day: Like people, Temples and Mosques also represent different religions. But the fact remains that we are all made from the same architecture/architect.