Travel, for me, has always been a long, uncomfortable road trip that takes me to a place far from modern conveniences. Travel is supposed to be out of the comfort zone and into a world, which challenges me.
But last weekend I found myself rolling in the lap of luxury and well, that shit ain't half bad!
The trip happened suddenly. In a magical series of events, a colleague and I were offered a chance to spend two nights at The Tree of Life Resort, Jaipur, all expenses paid!
No matter how hardcore a traveller you are, you don't let a free 5-star stay pass. You grab the opportunity, pack your nicest clothes in a backpack (since that's the only luggage you've got) and jump on the next train!
But this excitement and gratitude is manifold after the stay is done and over with. Before reaching there, I was skeptical and slightly reluctant. Spending two whole days in ONE place? No hiking around or exploring the city or even trying out the many local food delights Jaipur has to offer. No taking a bus to the outskirts and finding an abandoned fort, and no freaking out at India's most haunted place, Bhangarh Fort.
We still made an itinerary, refusing to be tied down by the most glorious gold chains of luxurious comfort.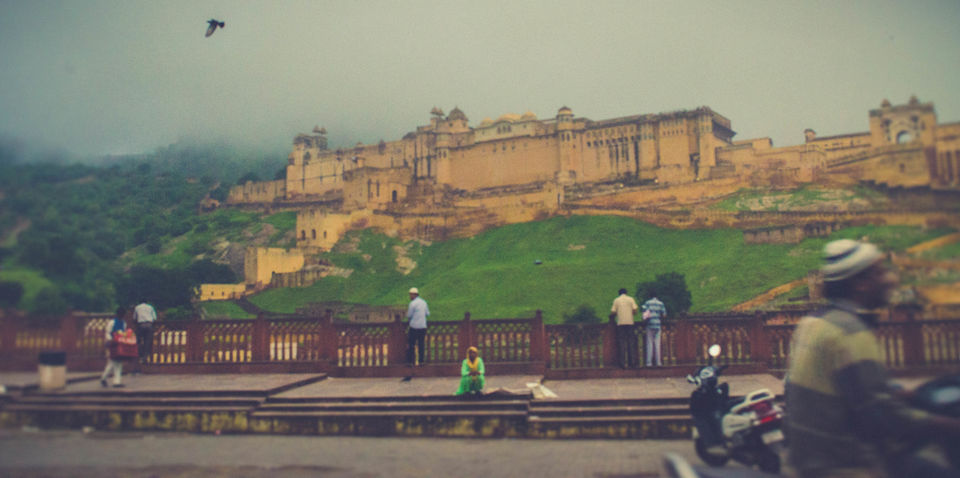 As we reached Jaipur, our entire afternoon consisted of helplessly knocking on Gunjan's (my partner for the trip) sister's door, who luckily lived there, asking her to somehow take us to a spot on the map, where every Uber driver refused to go. Resorts are usually located in isolated areas, and when you on someone else's itinerary, reaching these places feels like a real pain!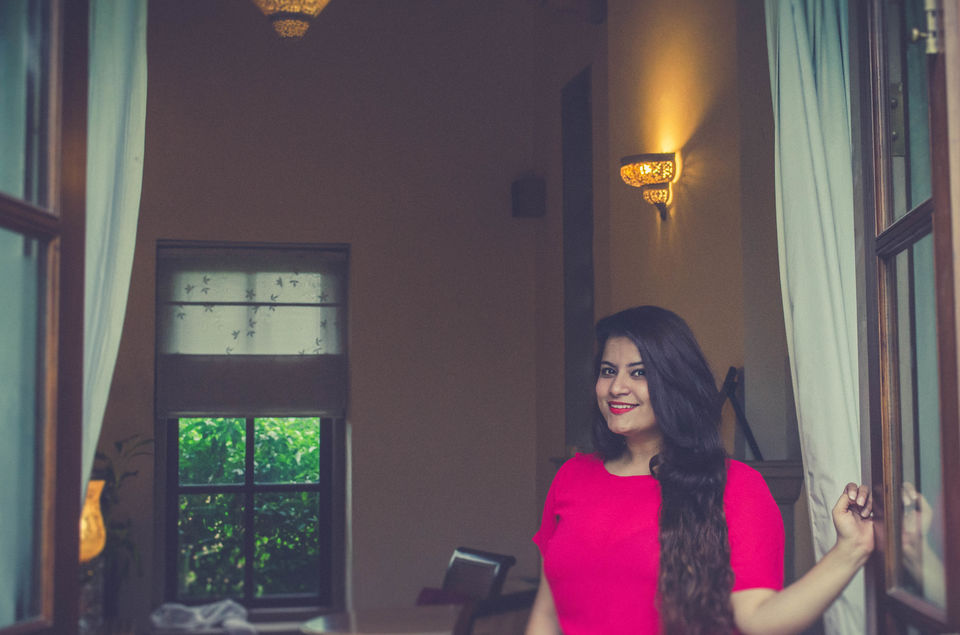 But the trip was destined to be magical the second we stepped off the train. Surrounded by the desert, Jaipur was washed clean by the rain and was glistening like an emerald in a gold crown. The nip in the air was enough to make us forget how close we were to Delhi. The rocky Aravallis had transformed into a lush green forest, and as we drove out of the main city, I swear it looked like we were among some small scale Western Ghats.
Reaching The Tree of Life was a task, but the final road was a single lane cut through a hill where the jungle on both sides was dotted with forgotten ancient buildings and walls. After navigating through several herd of cows, we finally reached the resort, where we were greeted by a lovely five metal ('panchdhatu') bracelet and a kiwi drink.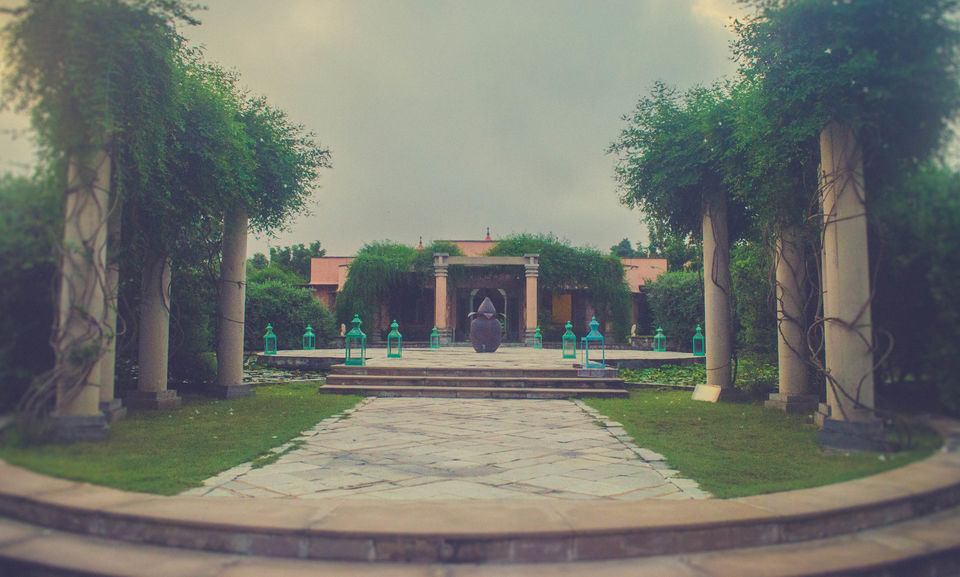 After a long tiring day, the slightly reluctant me was now asking to be serenaded by all the delicious drinks and every organic peach they had in their yogic retreat!
A wonderful woman took us to our VILLA and showed us around. It was stunning! I could happily spend my entire life in the bedroom of that VILLA. And then, she showed us the pool! The VILLA had a private swimming pool! The nearest swimming pool from my home is 15 minutes away, and here I was with a PRIVATE f-ing POOL!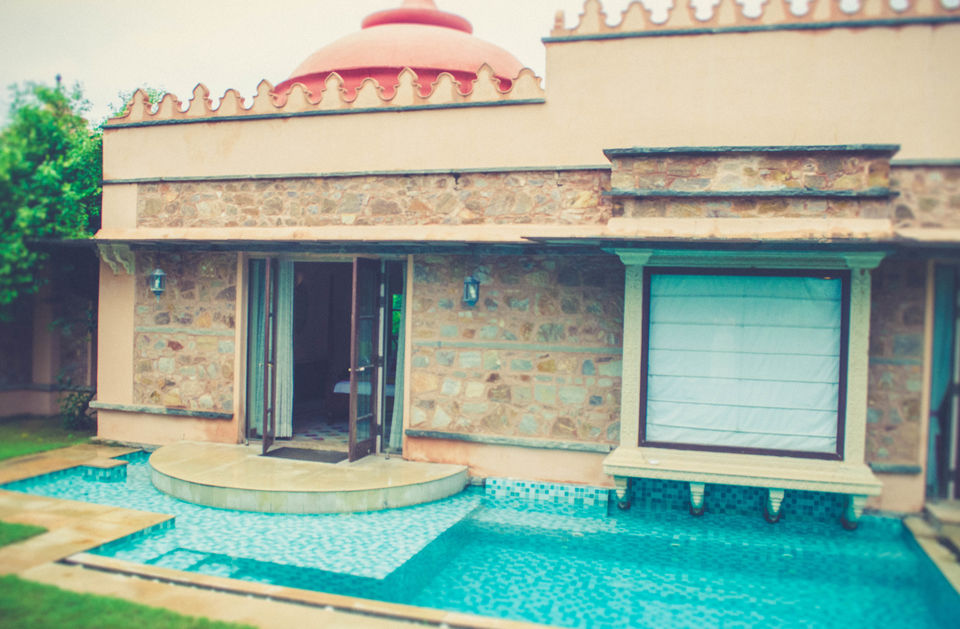 Gunjan and I didn't give two hoots about freshening up, we just changed into our costumes and jumped in it. The rain was tempering the pool's surface, and two round happy women were having the time of their lives.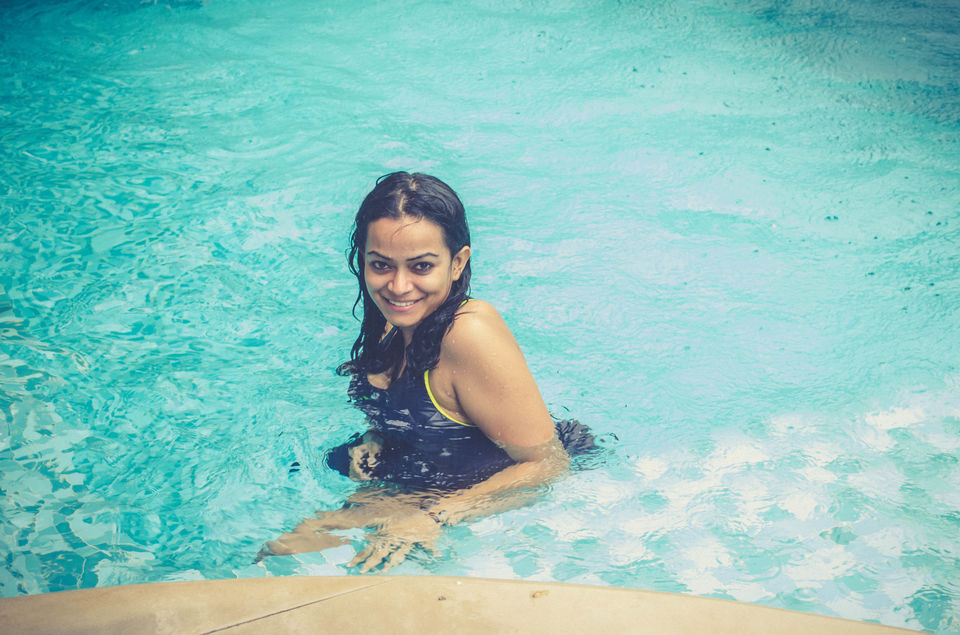 Let's take a moment to talk about the washroom! The place was bigger than my home's hall. Even if I ignore the Ayurvedic toiletries, I would still remain in awe of the rainfall shower head, the loo with a view and the massive dome overhead. A decorated dome in a toilet!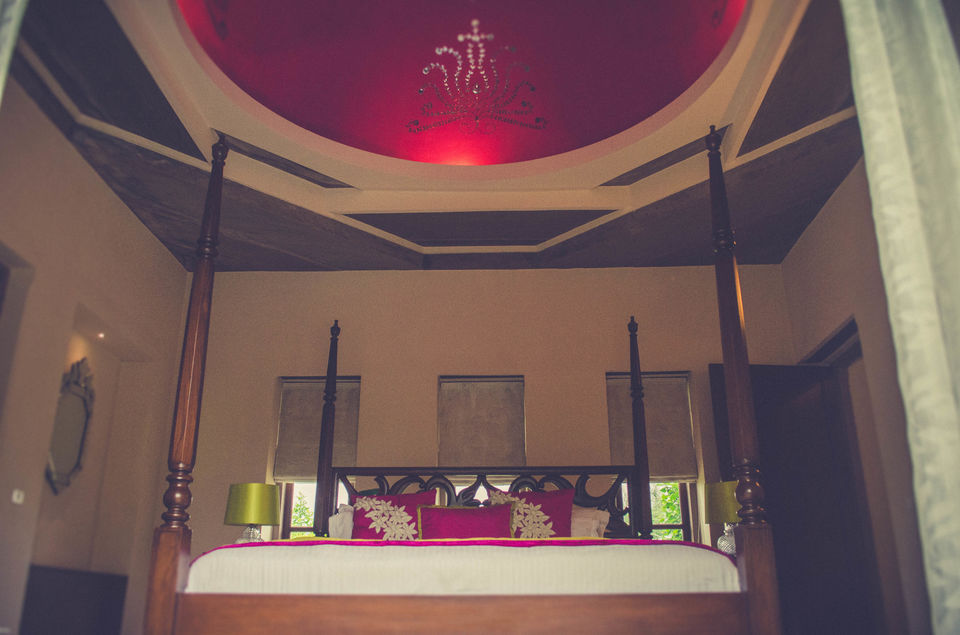 By now, I had forgotten about my backpacking adventures and was relishing the beauty of our VILLA. And just as I was thanking my stars, the chef came and presented us with a personalised menu for lunch, explaining every dish and taking our order for a succulent five-course meal. I am used to forcing drivers to stop for a small tea break, this treatment was unimaginable and definitely the stuff dreams are made of!
The next two days consisted of exploiting our private pool, swimming to our heart's content in the infinity pool, stuffing every course in every meal and making the most of the VILLA's home theatre system by watching Baaghi, Annabelle, Dedh Ishqiya etc.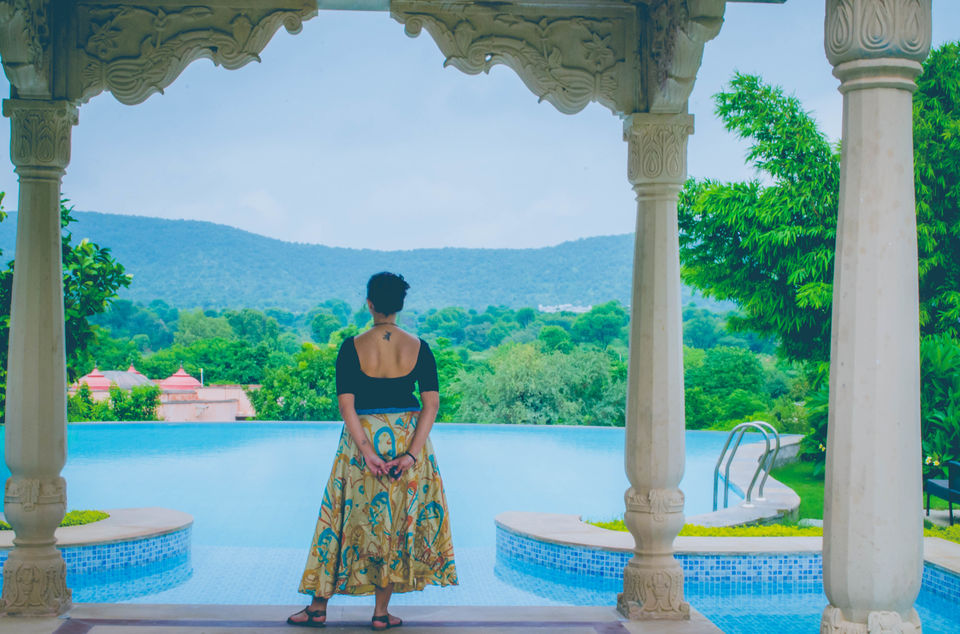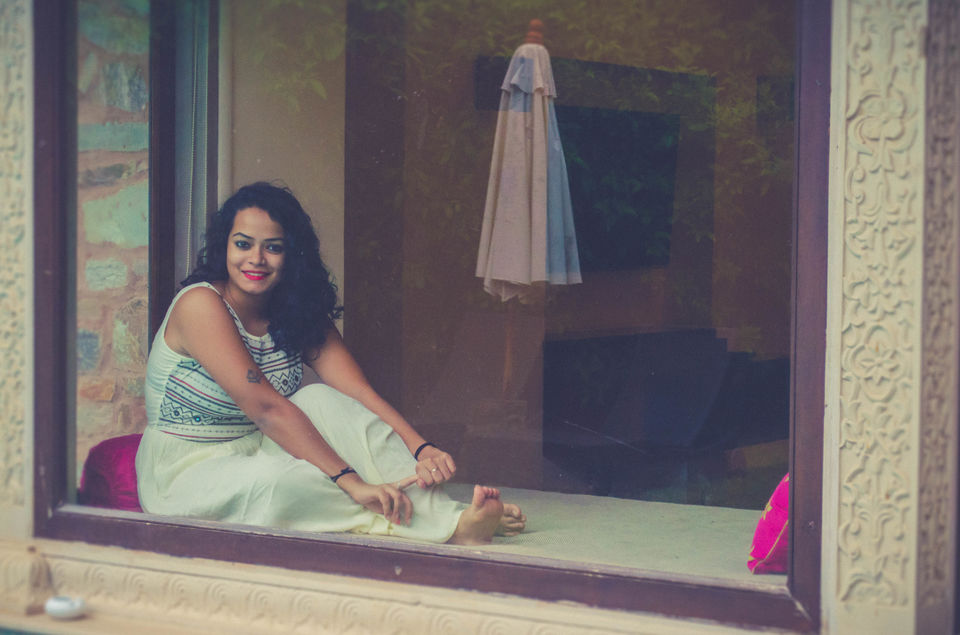 Honestly, despite spending two days in organic heaven, I would still think a million times before shelling out that much money on a staycation.
But one thing is for sure. The Tree of Life converted me and my idea of travel. Now, I definitely understand (and envy) luxury travellers and will probably save for five years to have another such experience.
On the train back, where we had to pay for terrible cutlets and tea, I found myself reminiscing the memories I made at Tree of Life. I knew then, that whenever I would be struck by the trauma of cleaning my room, I will throwback to the two days when I was the queen of the world (not really, but still!).