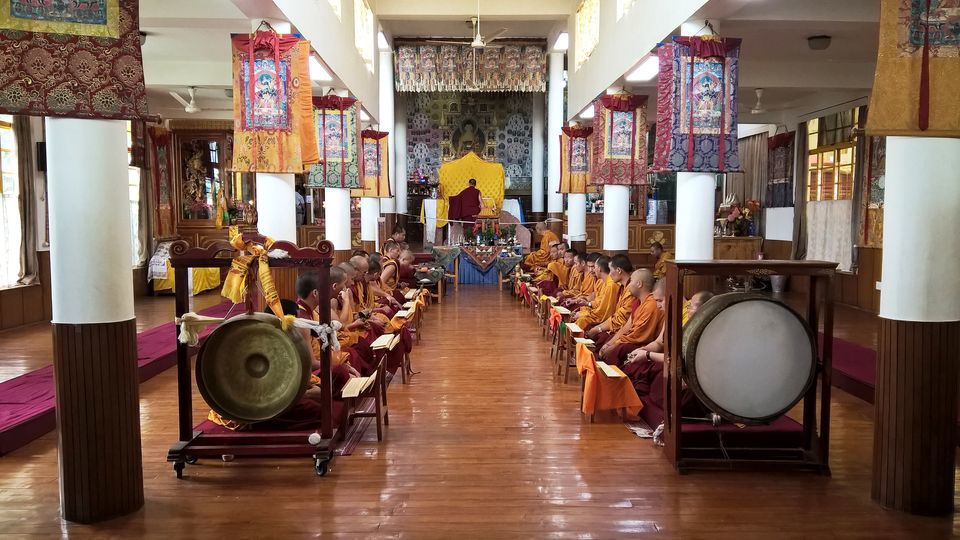 Dalai Lama Temple was at the top of my list of must-sees when I headed for McLeod Ganj. I was looking forward to getting familiarized with the culture and history of Tibet. And McLeod Ganj, or the Little Lhasa, being the head quarter of the Government of Tibet in Exile, promised to offer me a close glimpse of what I was seeking.
When I boarded the comfortable volvo bus from Delhi to McLeod Ganj, I had these bits information, culled mostly from Wikipedia (you see, I'm a nerdy sort of traveller. Like to do a little research before going on a trip), in my head:
a. The Dalai Lama Temple, the most important tourist spot, is also the centre of Tibetan Buddhism. It was built in 1989 and was inaugurated by His Holiness the 14th Dalai Lama Himself.
b. The Temple is the residence of the 14th Dalai Lama. Every year, tourists from across the globe come here to pay homage to His Holiness.
c. The Temple walls showcase brilliant specimen of Tibetan art.
d. It has statues of Shakyamuni, Avalokiteśvara, and a statue of Padmasambhava (Guru Rinpoche).
Sure all these are true about the Temple, and the finesse of art seen on the walls will fascinate. But there's more to the story. The Dalai Lama Temple complex lets you witness some such things that you haven't expected to come across in a monastery.
1. Heated debate among monks!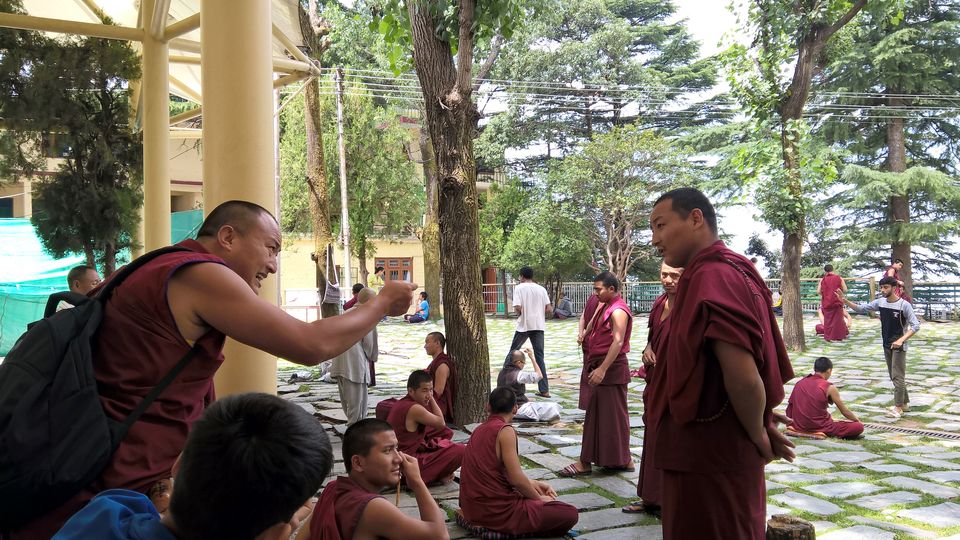 What do you usually expect once you are in a monastery? Calm, right? The Dalai Lama Temple seems a perfect abode of peace, until you hit the large ground at the centre of the premises. And what do you see? A group of several monks quarreling with each other!
No, how can that be? They are peace-loving Buddhists, are they not?
Take a closer look.
Now they don't seem so much to be quarreling, as engaged in debate. Profound, thoughtful, philosophical debate.
Look closer still.
It's a not a clamourous group. Instead, they are all divided into multiple pairs. The two members of each pair are debating with each other. And all of them are debating simultaneously, which makes you think that they are severely angry with one another.
This debate, that you will find the monks practising at the Temple ground, is a significant part of Tibetan Buddism. Tibetan Buddism believes that debate or analytic meditation is necessary to fully realise the philosophy of the Buddha. Hence, it also encourages scepticism, instead of a blind loyalty towards gurus (religious teachers). You learn the difficult teachings of the Buddha, you meditate over what you've learnt, test it against your logic, engage in a poignant philosophical argument with your fellow monk, discuss with her/him the nuances of your learning and thus attain a complete realisation of the philosophy. It is indeed a rare opportunity to see the monks engage in debate at the Dalai Lama Temple.
2. Archive of rare Buddhist text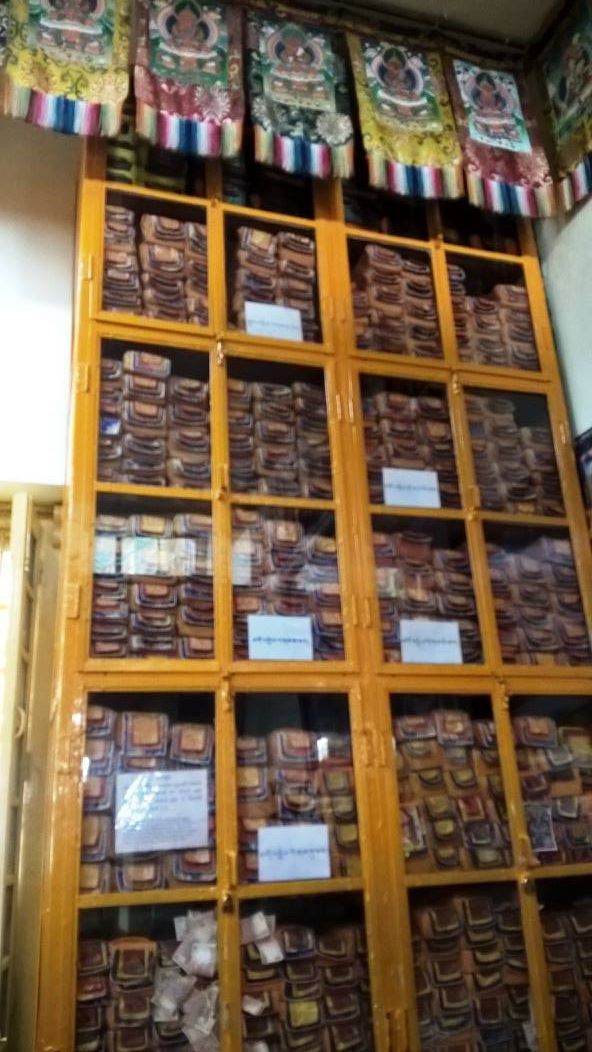 There are tall wooden cabinets like this all over the Dalai Lama Temple. Full of old books with fraying covers, they look straight out of any ancient library. But if you look closely, you will see that the contents of these cabinets are the relics of old Buddhist scriptures. The war with China has not succeeded in destroying these remnants of thousand-year old wisdom. These books are holy, certainly in a religious sense, but also as historical documents of an ancient culture and religion.
3. History, alive and vivid, at the Tibetan Museum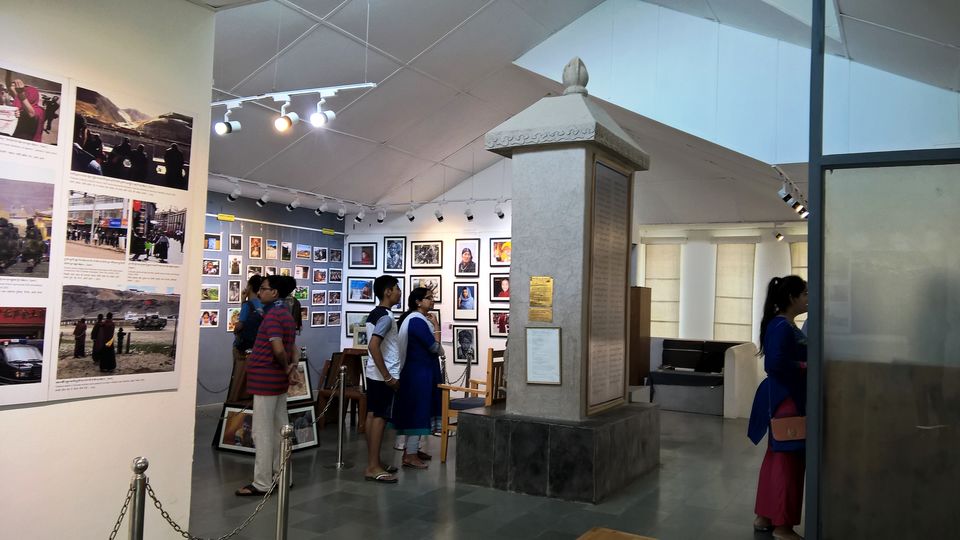 Adjacent to the Dalai Lama Temple, stands the Tibet Museum, which narrates the stories of the trials and tribulations faced by the Tibetan people. Established in 1998 and inaugurated by the 14th Dalai Lama on 20 April 2000, the Tibet Museum archives a rich collection of Tibetan artifacts and photographs, showcasing the Tibetan people's struggle to preserve their traditional way of life against oppressive forces. It is the official museum of Central Tibetan Administration Department of Information and International Relations. The museum aims to spread awareness about the history of the occupation of Tibet and the exodus that Tibetan resistance against Chinese oppression ultimately led to.
The museum displays over 30,000 photographs. Visitors are also encouraged to watch a documentary showing the journey of Tibetan refugees into exile across the Himalayan ranges. The screening takes place every day at 3 p.m. and the entry fee is INR 10. Besides, a host of activities and events, such as talk sessions, workshops, documentary screenings are, organised at the museum complex through out the year.
4. A breathtaking view of nature
The Dalai Lama Temple is nestled in the lap of the mountains. Standing on the temple ground, you can enjoy a grand view of the majestic Dhauladhar mountain range. The best time to visit the Temple is late February to early June, when the weather is clear and you can relish the pristine blue of the sky.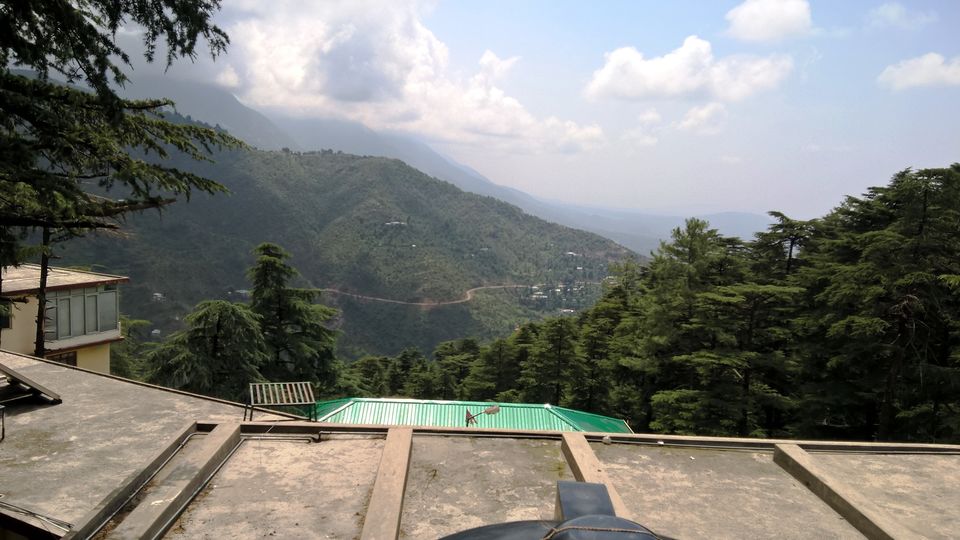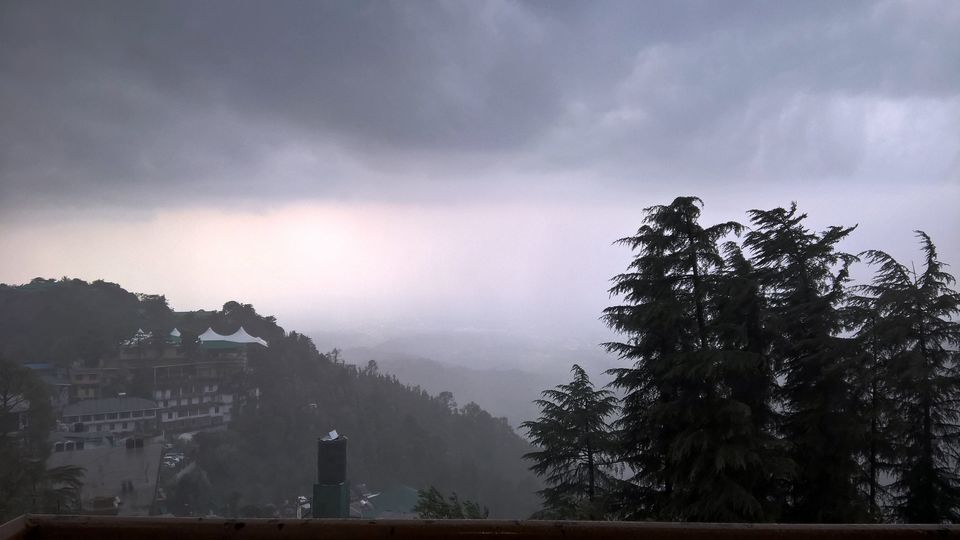 Other attractions near and around the Dalai Lama Temple
The Temple Road, as the road to His Holiness's residence is popularly known, is dotted with a number of quaint eating joints where you can enjoy, literally, world cuisine. Foreigners travelling from different parts of the world have all brought their special cultures and cuisines to McLeod Ganj, making the small town a hub of multiculturalism. From Israeli to Italian, continental to Indian-with-a-twist, all types of food can be found in McLeod Ganj.
To learn how to tickle you taste buds in a whole new way at McLeod Ganj and know more about awesome accommodation choices available in this pretty town, read this article: Life at Little Lhasa: McLeod Ganj
What I brought back from the Dalai Lama Temple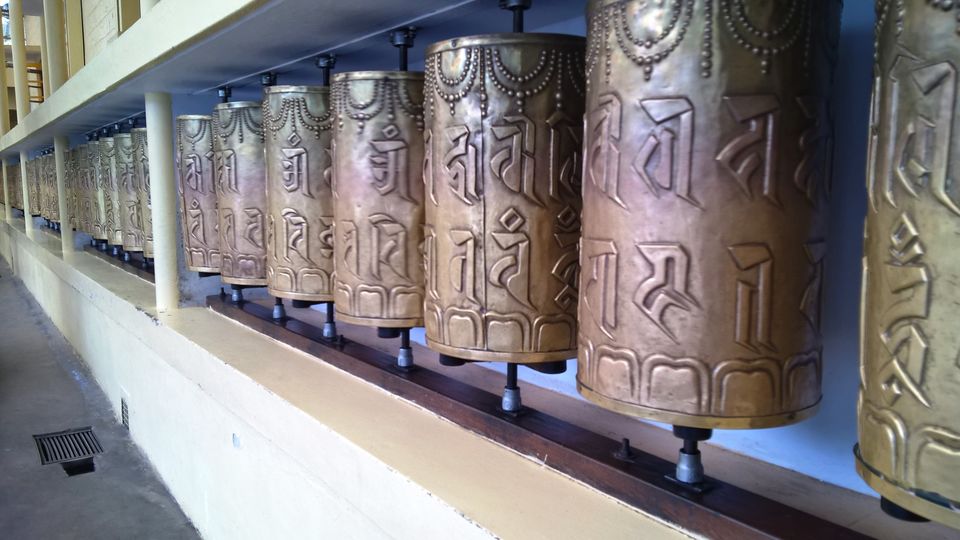 The Dalai Lama Temple offers its visitors a holistic understanding of Tibetan way of life. You appreciate the beauty of their art, engage in philosophical debate with them (yes, you are welcome to join in with the monks, if you have some knowledge of Tibetan Buddhism), participate in their history and taste their food. I came back richer from McLeod Ganj. Eventually I would definitely have to head back to my work, lead the same commonplace life, but I would know that I have spent at least a brief period with some extra-ordinary people, whose honest cordiality is something hard to find in this world. A few days hardly suffice to know all about their rich history, culture and religion, but a trip to Dalai Lama Temple kindles one's curiosity, until it's time again to pack the bag for another trip to McLeod Ganj.