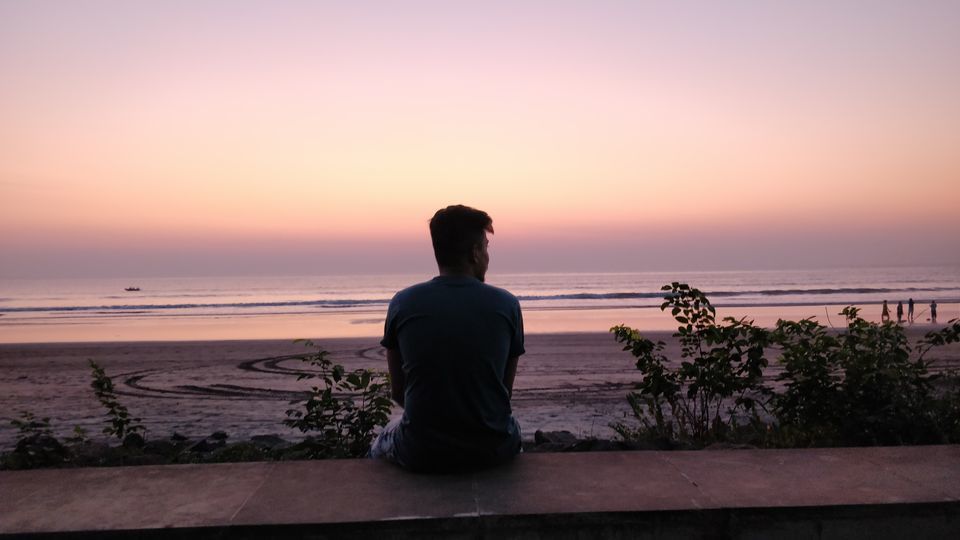 I was very bored and frustrated because of my on going routine so to get myself out of comfort zone i planned to go on 2 days road trip. As i'm very much fascinated with riding bikes. I panned to go to harihareshwar in Raigad district, Maharashtra with one of my friend. So the journey began from pune to harihareshwar approx. 171 km.
We started our journey around 7 am, and the atmosphere in pune was very chill and cold. one of the best moment was we had to pass to a ghat. one of the best feeling for a bike enthusiastic is riding his/her bike between mountains. we went unplanned, no bookings done for hotel, no itinerary was prepared. the roads were to rough full of potholes and construction going on we had to slow down due to which it took us 6 and half hour to reach the place.
As soon as we reached our destination we searched for some hotels within our budget. there are many hotels near harihareshwar beach starting from range 800-5000 per night. the hotel we booked was decent and it costed us 800 per night which was divided. they also serve good konkani food, which gives you home kind of feel. As we were tired we took a nap for few hours. First thing we did after the nap was visit the harihareshwar temple which was 10mins walk from our hotel and which is also surrounded with lots of monkeys. Then we decided to spend the evening at srivardhan beach which is approx. 23 km from harihareshwar. We did get a chance to see the beautiful sunset and have some food from street sides which was really delicious. we went back to our hotel and we decided to wander around the beach around 11 pm. so we went to the harihareshwar beach at 11 pm and honestly i can say it was just like some movie scenarios where you are alone on the beach lying under the sky all you could hear is the sound of waves and all you could see is sky full of stars.
Next day as we were running out of time because we had to travel back to pune before night. we just had out to harihareshwar beach and explored it. this beach is crowded during the day time and let me tell you its very much crowded. So if you want a space and peace of mind sitting on the beach i recommend you to visit this beach during night most probably after 7-8 pm. they have few water sport activities on the beach as well. we took some photos, had our lunch and we were heading towards pune back to our place.We also found that a nearby place bankot serves the fresh Neera a famous drink early in the morning maybe in the next trip i will visit there. Again 6 hours of drive with some smooth and amazing roads giving you memories and some if rough roads giving you body pain. Frankly speaking after visiting this place i did feel relax. A small trip with my friend became a big memory and a big part of my life. I am looking forward for more road trips.
Expenses :-
Petrol : 1000-1200 overall
Food : 800 total
stay : 800 per night
total : 2800 - 3000.