On 13th April 2016, as I read through the last few pages of a book named "Born Again on The Mountain" by Arunima Sinha (the first female amputee in the world to summit Mt. Everest), I had made up my mind that I have to go see Mt. Everest up close & personal. To give Mt. Everest's summit an attempt needs a different level of planning, training & finances which could take probably five years but attempting to reach the basecamp of Mt. Everest is comparatively easier & shouldn't take that long. I thought to myself, "One year should be good to get me to the basecamp."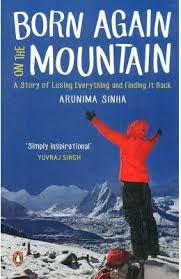 Little more than a year from that day, on 26th April 2017, I was standing at the Basecamp of Mt. Everest (EBC) at 5,350 meters above the sea level. It hadn't been an easy journey, but it was a journey I would remember forever.
The expedition started with a brief & introduction in Kathmandu on 18th April, we were a group of 14 climbers from different parts of India & 4 Sherpas to guide the expedition. My friend Bindi also was on the expedition with me. We were taken through a brief outline of our schedule for the expedition by the leader & he ensured that we all were prepared for what is ahead of us.
Our journey to EBC started at the Kathmandu airport (1,400 meters) with a short 40-minute flight to Lukla (2,800 meters). The Kathmandu - Lukla sector only has 16 seater Twin Otters flying in & out. The flight schedules are heavily dependent on the weather & bad weather can have major disruptions. We were lucky that we only had an hour's delay in departing from Kathmandu. I was extra lucky as I got a seat on the first row which is right behind the cockpit. These Twin Otters do not have the cockpit separated from the passenger bay & hence it felt like I was almost sitting in the cockpit watching the pilot & the co-pilot navigate the small aircraft through the gorgeous Himalayan mountains, deep valleys, rivers & tiny human establishments on the route. The pilots finally made a super tricky approach & aligned the aircraft to the short runway & landed with ease. Tenzing - Hillary Airport at Lukla is named after the two heroes who first summited Mt. Everest on 29th May 1953. It is considered one of the most dangerous airports to fly to because of its geographical location, short runway & a difficult mountain weather for aviation operations.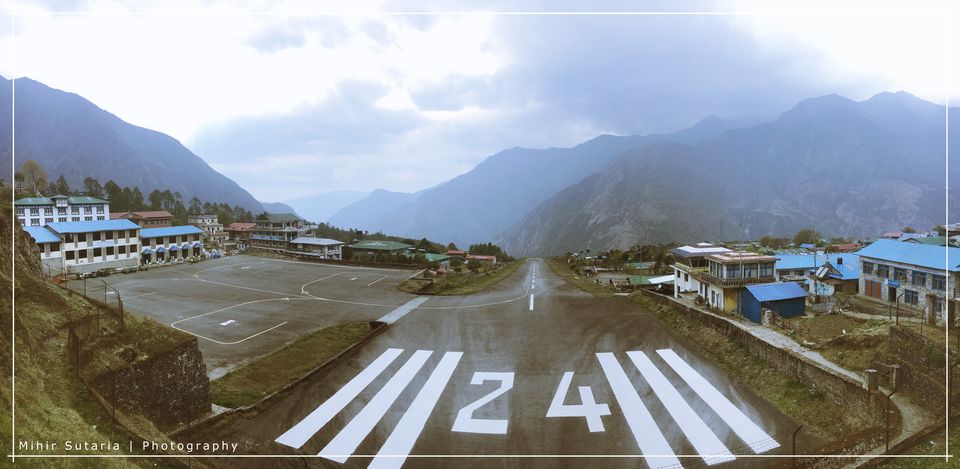 Lukla has been the starting point for most of the expeditions to Mt. Everest & same was the case even for our expedition. We had to take on the rest of the journey on foot which includes approximately 6 - 8 hours of walking every day in various terrains with temperatures ranging from 12 degrees to minus 12 degrees. The walking would be easy if we had roads to walk on, but we were walking in the mountains & hence there were climbs to be made, suspension bridges to be crossed, slopes to be climbed down & hills to be crossed. We were to ascent for 8 days to reach our destination & descent for 3 days to get back to Lukla.
As a part of preparing yourself for the trek, a minimum 2 months of strength & endurance training is advised. I had been strength & endurance training for 4 months before the trek & had seen considerable improvement in my fitness during the course of time. For these 4 months, I spent a minimum of 2 hours every day for 6 days a week at the gym sweating it out to ensure that I was prepared for the hardships I had signed up for. I watched what I ate as fitness depends largely on what you put into your system. I practised Yoga to improve my breathing & make my lungs more capable to deal with an environment with less Oxygen. One could be physically fit to take on the hardships but no-one can truly prepare for the extreme cold & lack of Oxygen at that altitude. I am someone who needs warm clothes in winter even in Mumbai so dealing with sub-zero temperatures in the Himalayas was surely something I was afraid of. I have been on medication for my cardiac health for the last 10 years & having to deal with lack of Oxygen is another challenge. Even my Cardiologist was slightly apprehensive of me doing this but looking at my madness to do this, he had to sign off my plan.
After walking for approximately 6 hours from Lukla Airport, we reached the campsite for our first night in a small town named Phakding (2,610 meters) by the Dudh Koshi river. The accommodations in these campsites come with no frills. The rooms would be at max 100 sq. ft. on a twin occupancy, having two beds, a window, wooden walls & one bulb/lamp. The rooms would for sure not have any plug points to charge the gizmos, nor had any heater to provide protection against the freezing nights. There would usually be one centrally located washroom that is shared by 8 rooms / 16 climbers. The cleanliness of the washroom generally depends on who has used it before you walked in. At many places, the washroom was so stinky that I ended up puking before I could do anything else.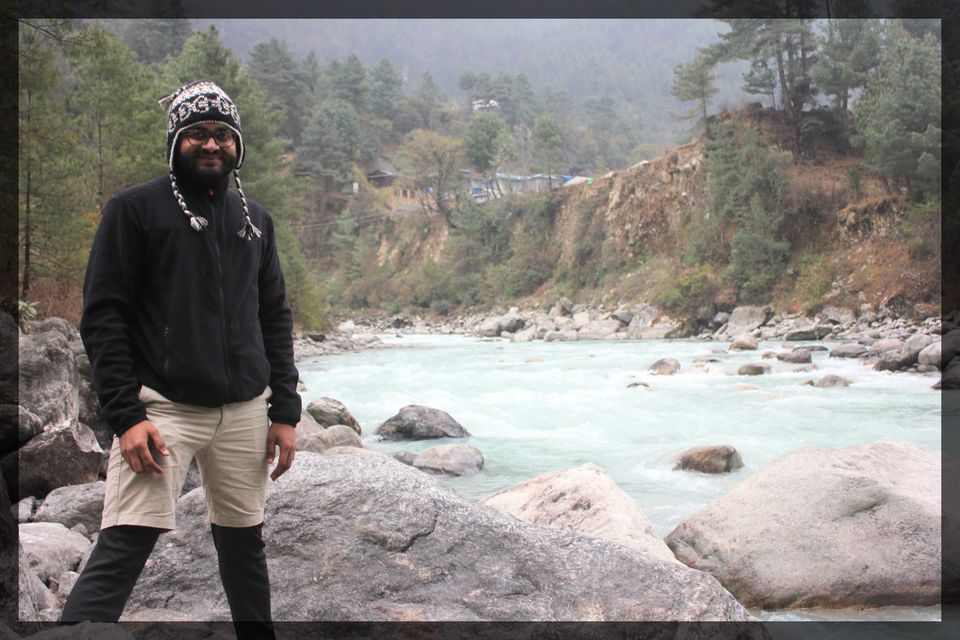 The routine on all trekking days is pretty standard, we would wake up at 5:30 am & get ready, breakfast is served at 6:30 am in the common dining area, we start trekking at 7:00 am. We would break for tea/hot Tang & lunch around 11 am. Trek would then continue till we reach the next campsite at around 3:30 pm. Another round of tea/hot Tang upon arriving at the campsite. 3 hours of time to relax & explore (if you have any energy left in you) the surroundings of the campsite, dinner at 7:00 pm. We would go to bed by 9:00 pm. This routine hardly sounds like I was on a vacation, but one of the most important ingredients to a successful trek is discipline. During my research online, anybody hardly placed any importance on this but I had figured this during some of my previous adventures that discipline can bring advantages that we can't imagine & hence I stuck to the routine all the way.
Next morning, we started from Phakding (2,610 meters) & headed to Namche Bazar (3,440 meters). This was one of the most demanding climbs of the whole expedition as we were ascending almost 800 meters in a single day. It was just day 2 of the expedition but by the time I reached the campsite, I was almost dead. At 3,440 meters of altitude, the Oxygen available is only 70% of what is available at sea level. One of the 14 members of our expedition could not cope with the hardship & lack of Oxygen & hence had to turn around to find his way back to sea level. We were down to 13 members at the end of day 2.

Since we had gained 830 meters on, we were scheduled to stay in Namche for one more night for better acclimatisation. So, on day 3, we did not proceed to the next campsite but we just went for a hike to a place higher than our campsite, spent some time there & came back down to spend the night at the campsite. This is considered the best way to acclimatise, it is called "Climb High, Sleep Low" strategy. This is the same strategy used by climbers who attempt to summit mountains that are 5,000 plus meters. The hill that we went to for acclimatisation was a viewing point of Mt. Everest but it was overcast that day & hence we got a glimpse of the Mt. Everest before the clouds took over. I guess the mountain needed us to work harder before we got to see it. At the hill is a memorial that honours the iconic Sherpa Tenzing Norgay, it has a statue of Tenzing in his heroic pose at the summit of Mt. Everest - a golden moment for the mountaineering history. We spent rest of the day exploring the market at Namche & bought things we would need on our way to Mt. Everest.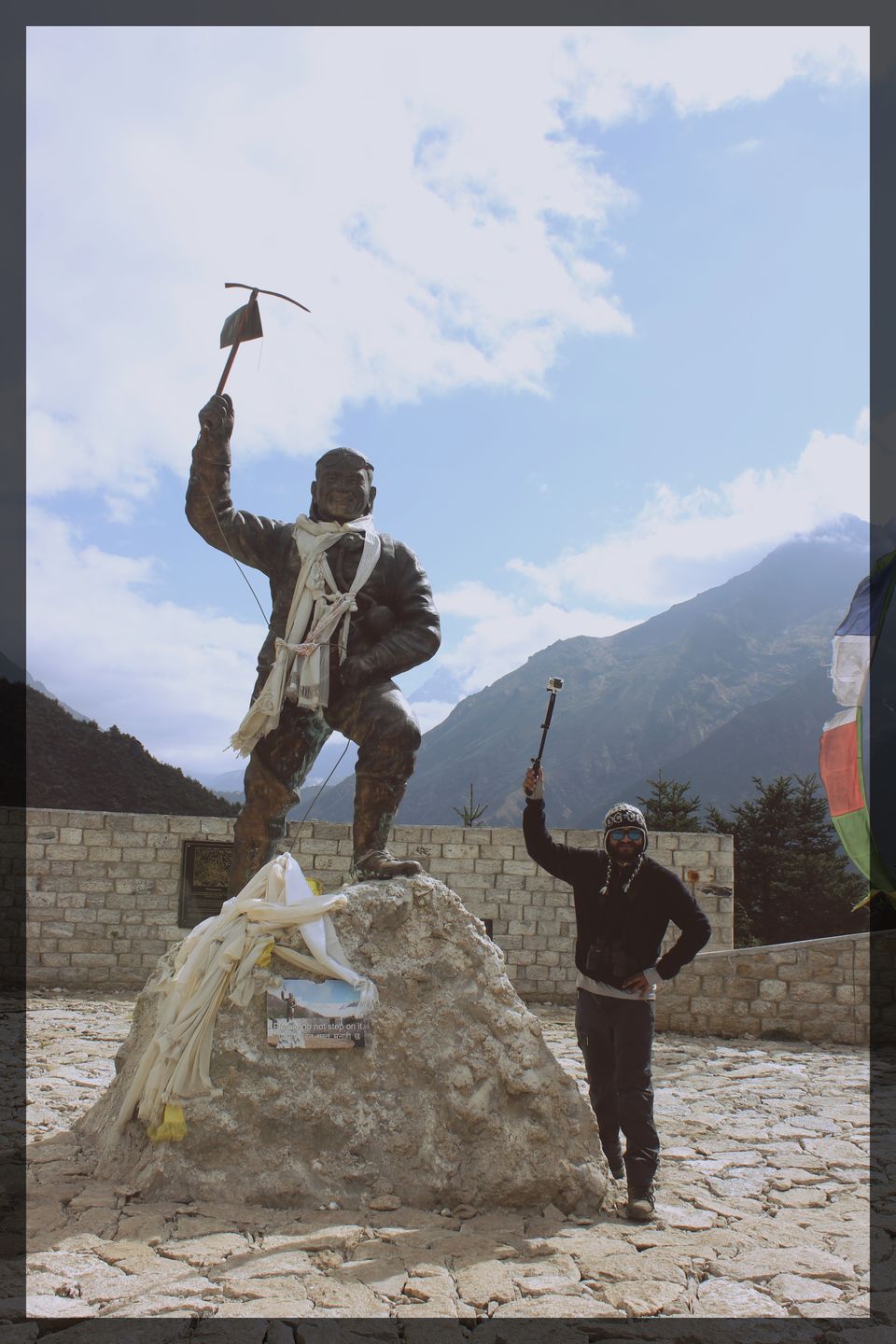 The trek to EBC attracts tourists from far & wide, it is estimated that approximately 40,000 climbers attempt this route every year. Everything that climbers may need on the route is available throughout various points on the route. Things keep getting more expensive as one climbs higher. I remember paying NPR 500 for a roll of tissues & NPR 1000 for charging my cell phone for 1 hour. Boiled drinking water can cost anything between NPR 300 to NPR 700 depending on what altitude you are at. The main reason for the prices to be this high is that everything either has to be carried by humans or Yaks or flown in choppers to higher altitudes from Lukla. We saw so many locals carrying weights twice their body weight & climbing the same route as us.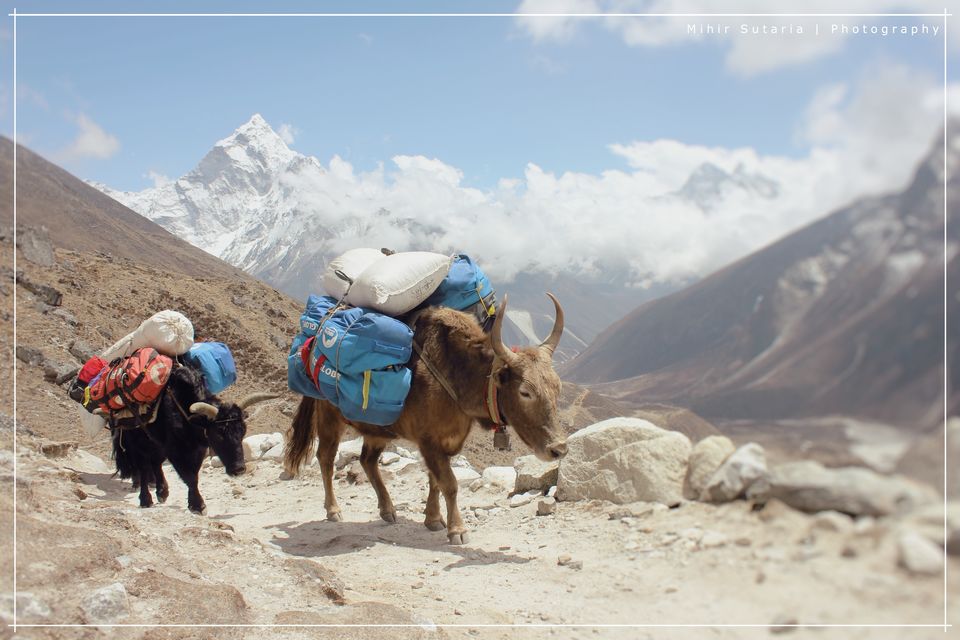 During my expedition, I was fortunate to meet many great people with warm hearts - one of them was Nga Temba Sherpa. He is the father of our expedition leader & had successfully summited Mt. Everest 5 times & K2 once. A man with a legendary mountaineering record runs a humble lodge & restaurant in the small village of Monjo with his family. They welcomed us into their restaurant with a smile & shared stories of his glory. His ice axe & crampons that he used on his missions were mounted on the walls of his restaurant. It was so beautiful to meet someone with such an iconic achievement & yet so simple & warm.
After a good night's sleep, we were ready to take on the next step & move forward towards our campsite at Deboche (3,820 meters). The climb on this particular day wasn't too steep or tiring & we reached our campsite well in time. We visited the Tengboche monastery on our way to the campsite. This is one of the most popular monasteries in the Khumbu region. The expeditions attempting to summit Mt. Everest usually conduct a "Protection Ritual" at this monastery. It is believed that the ritual here grants the climbers a safe passage all the way up to the summit.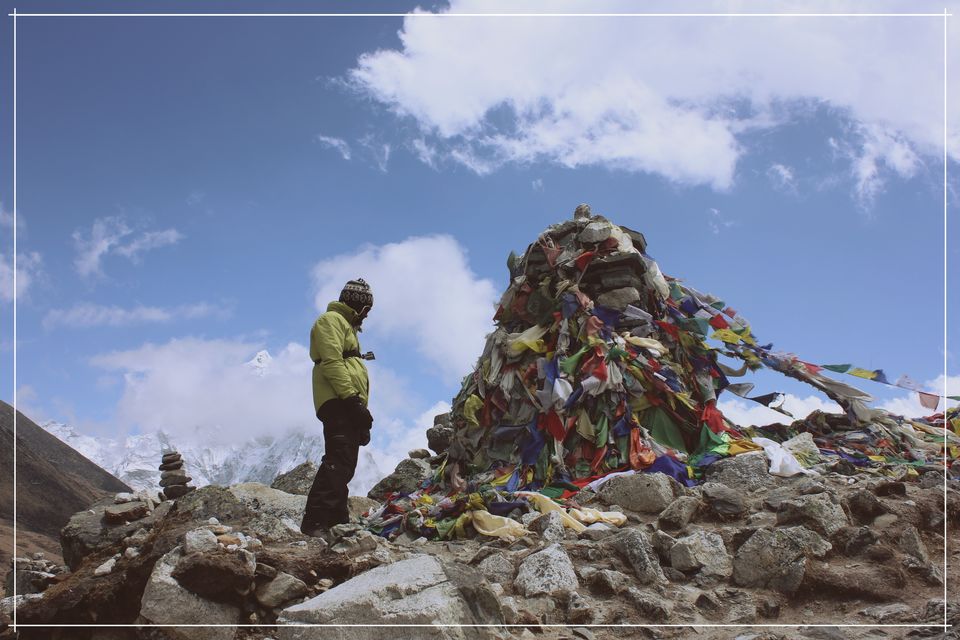 There was one 3 letter word that everyone in the expedition team was worried about & that word was AMS (Acute Mountain Sickness). AMS is a monster & can take down the fittest & the healthiest of climbers. It is an effect of high altitude on humans, due to exposure to low partial pressure of Oxygen. AMS can graduate into sicknesses like HAPE & HACE with fatal effects if not detected & treated on time. The simplest & essential treatment to AMS is to descent to a lower altitude & stay there. The initial symptoms of AMS include loss of appetite, nausea, vomiting, headache & dizziness. We as a group were pretty observant of ourselves & others to ensure that no symptom goes unnoticed. I was already prescribed preventive medication by my Cardiologist which is something I followed from day 01.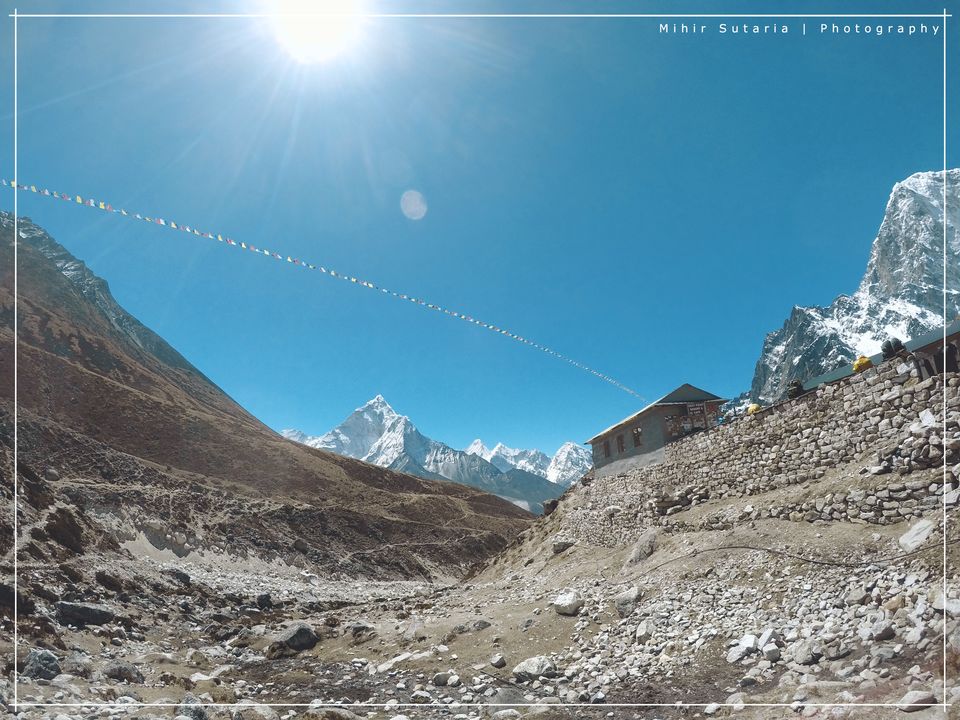 Next on the agenda was to reach our campsite at Dingboche (4,410 meters). Today we crossed the 4,000 meter mark while trekking. We realised that things will change rapidly from here onwards & we all needed to be more alert & cautious of how our bodies are adapting to the changes of altitude. While trekking for the last few days, even the vegetation & trees around us kept changing as we climbed higher. As we went higher, the trees started becoming shorter. After the 4,000 meter mark, there were hardly any trees, there were only short bushes. This is because of survival above 4,000 meter is a challenge & trees can't grow. Our meals were largely comprised of potatoes, spinach, dal & rice as that is what grows at this altitude & hence that is what is cooked & served.
I would be bullshitting if I said that I enjoyed every day of the expedition - there were moments I clearly remember when I asked myself, "Why is there a need to do this?" "Why didn't I choose to have a luxury holiday instead?" - but the very next moment I heard a voice from inside tell me, "Because you have been dreaming of doing this for a while & hence you are here." As we gained altitude, even simple tasks started to become challenging. Many times, while climbing a steep hill, I observed myself taking three deep breaths before I could take my next step, my lungs were working overtime to get enough Oxygen. Things like climbing one flight of stairs to go to the room, packing the sleeping bag into its tiny holder & carrying the duffle bag around felt like the challenges of my lifetime. I would need to sit down for a bit after performing all these tasks to catch my breath. The lack of Oxygen in the air was noticeable & was affecting us in a big way.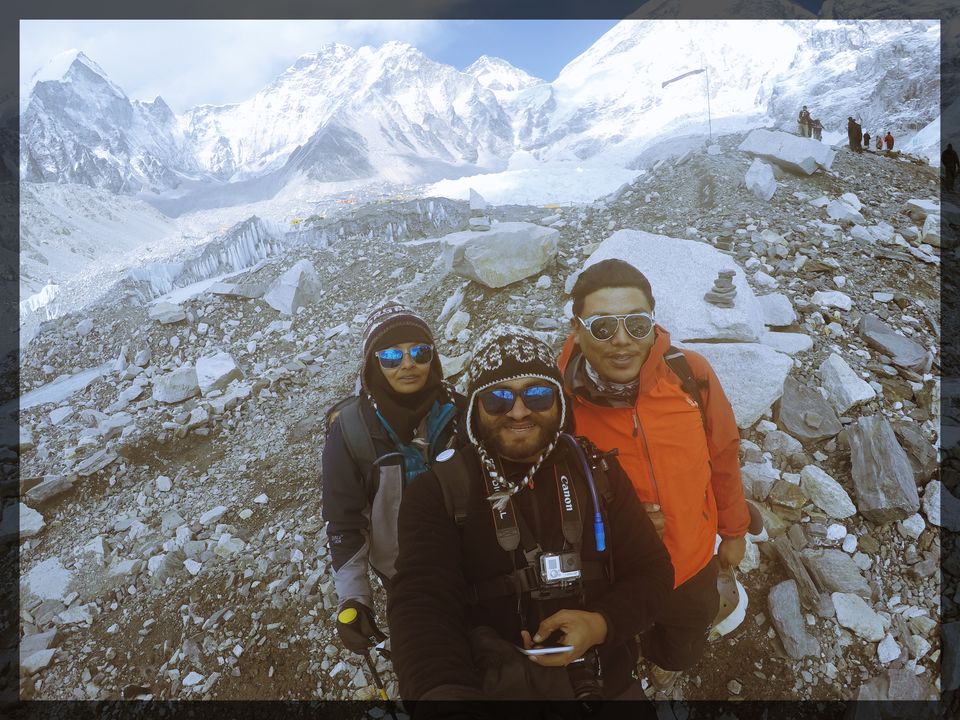 We spent 2 nights at Dingboche as we had crossed the 4,000 meter mark & our bodies needed to stay at this altitude to cope with the changes in Oxygen levels. Our lodge at Dingboche had great views of a twin peak mountain named "Ama Dablam", we saw astonishing sunrise & sunset from our lodge. We went to a hill close to the campsite for a hike which elevated us around 300 meters from our campsite & got back down after spending an hour at the top of the hill.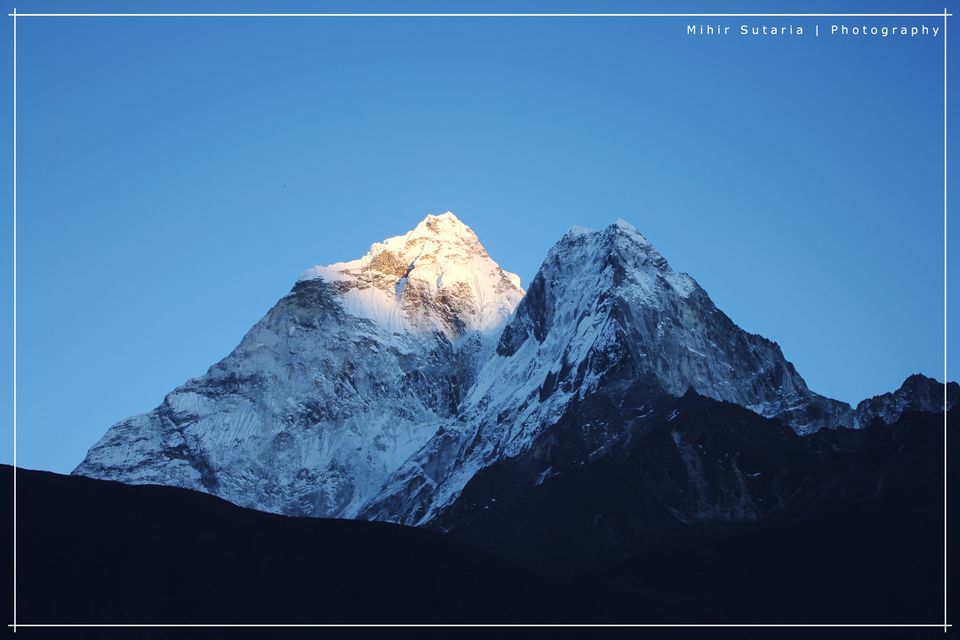 Next day morning we started to walk towards our next campsite at Lobuche (4,940 meters). After surviving one of the coldest nights with -13 degrees Celsius, we started our morning routine with the sad news that 4 members from the expedition decided to turn back from this point as they weren't coping well with the changes, we were down to 9 members then. We said good byes to the 4 members who were leaving for Lukla & we started our trek to the next pit stop, Gorakhshep (5,164 meters).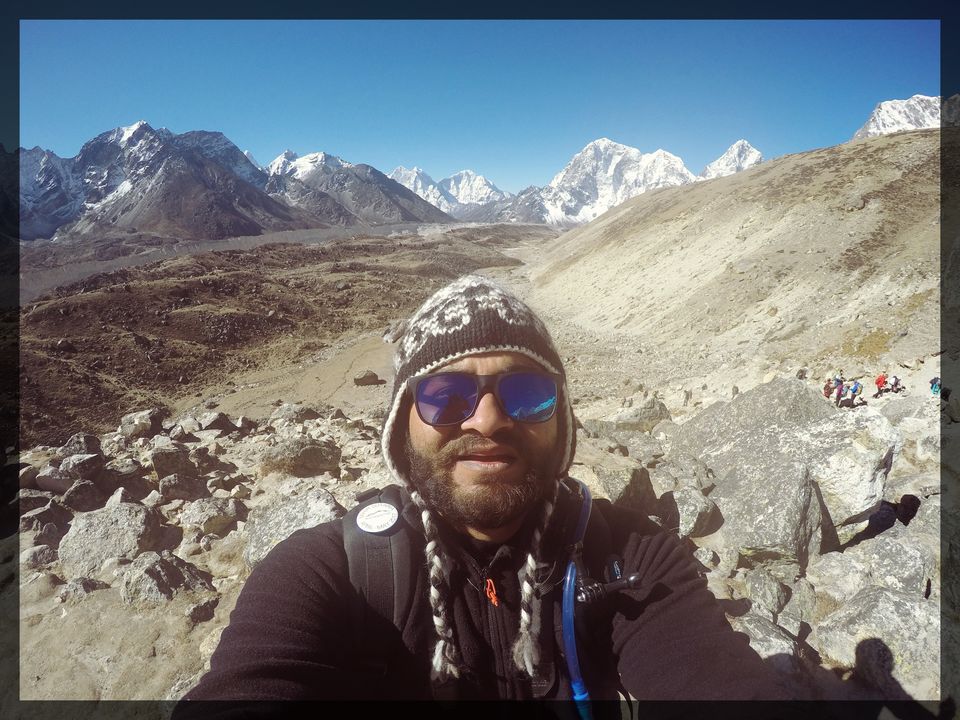 The trek from Lobuche to Gorakhshep was one of the most scenic routes, we were navigating a trail surrounded by iconic mountains that almost touched the sky. We saw glaciers alongside the trail. Multiple times on this day, we were actually walking amidst clouds. The temperature was really cold & the wind really harsh. Our surrounding was so magnanimous that we felt very small & insignificant. As we were approaching Gorakhshep, we could see the EBC in distance, a cluster of Yellow tents setup alongside the Khumbu Ice Fall. We saw the summit of Mt. Everest with its famous jet stream Aura peeping through the gap created by two of its neighbouring mountains. We couldn't wait to reach the basecamp. We took a break at Gorakhshep which was the campsite for that night & then started walking to the final destination. We were both excited & tired. This was the final stage of our climb. We needed six layers of clothing on the body & three layers of gloves on our hands to protect us from the cold getting reflected from the Khumbu Glacier. After a trek of approximately 2.5 hours, we were at the basecamp of the highest mountain of the planet, Mt. Everest.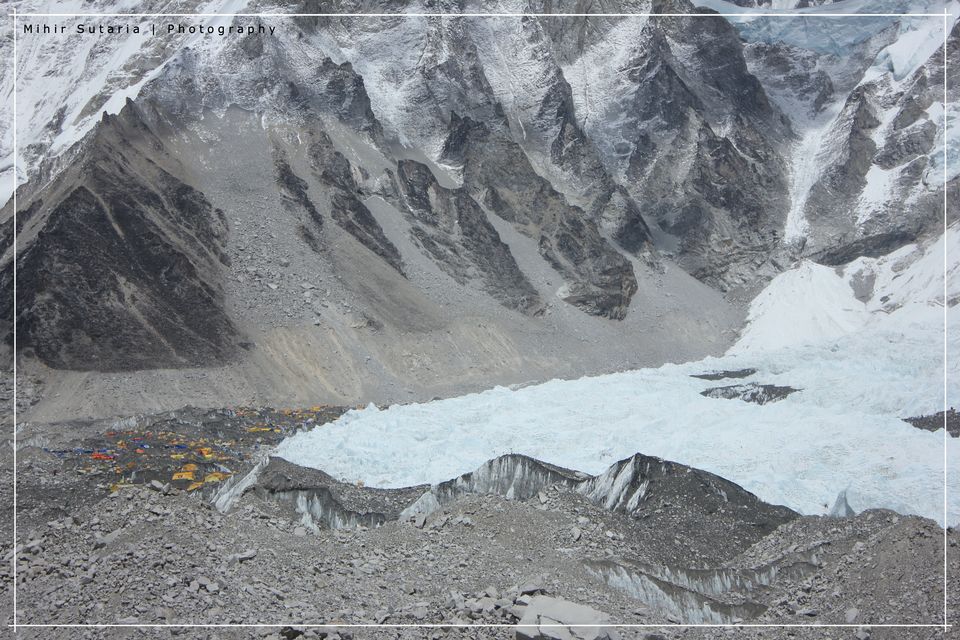 The basecamp is nestled between a range of gigantic mountains, Mt. Nupse (7,861 meters), Mt. Lhotse (8,516 meters) & of course Mt. Everest (8,848 meters). We were surrounded by prayer flags, other trekkers & tents of the expeditions that were attempting summit. We were asked to celebrate without screaming & shouting as the climbers attempting to summit sleep during the day & climb in the night, we shouldn't disturb them. I felt a different energy at the basecamp, the joy of reaching the place you have been dreaming of for the last one year is not something I can describe in words. What I experienced at EBC was one of a kind. I thanked Mt. Everest for allowing me to reach the basecamp & experience a journey not many get to experience. I took pictures at the basecamp. I collected small pebbles from the basecamp which would become my most priced souvenirs from the expedition. The Oxygen available at the basecamp is just 50% of what is available at the Sea level - making everything very difficult. Out of the 9 members who started the day, only 7 made it to the basecamp & I was fortunate that I was one of them. We spent an hour at the basecamp & started trekking back to our campsite at Gorakhshep. I was very emotional on the way back. I had smile on my face & also tears rolling down. I experienced a great feeling having lived my dream, mixed with gratitude & humility. I was thankful to everyone who supported & guided me on this dream; family, friends, gym instructors & the expedition team. Without the support & good wishes of these people, I for sure wouldn't have made it there. My friend Bindi was a tremendous fellow climber & companion on the expedition. I looked at Mt. Everest one last time & said with great humility, "Call me back when you think I am ready." I am pretty sure that the mountain knows what I meant & one day I will go there again. The only difference on that day will be that my dream will be bigger, the challenges will be tougher & the happiness will be larger.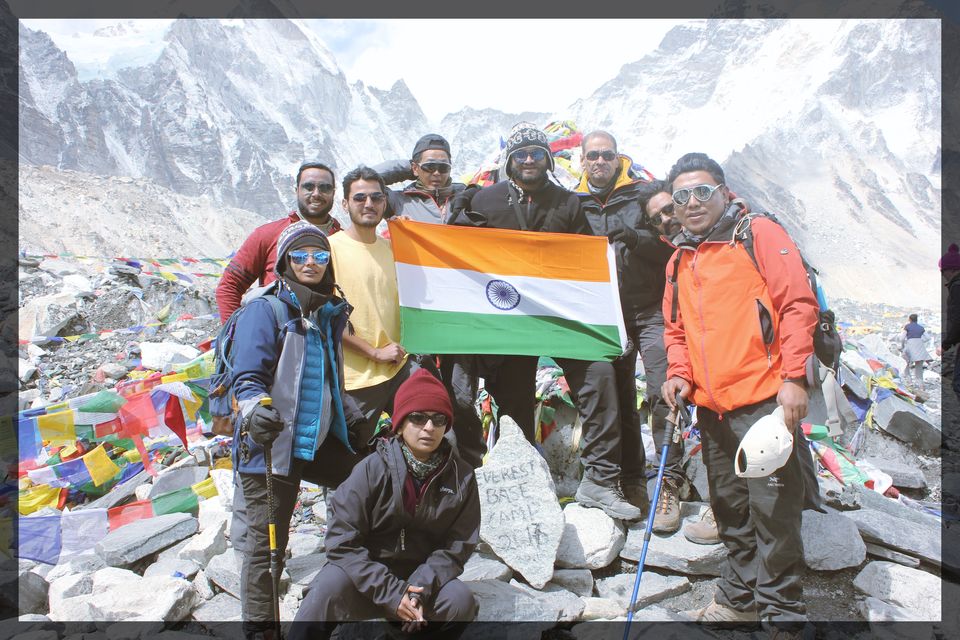 We finally made it to the campsite at Gorakhshep & celebrated our victory. After dinner, we called it a day. Next day would mark the beginning of our descent back to Lukla. We had to go to a town named Pheriche (4,371 meters) but before that we had the option to go to a peak of a neighbouring mountain named Kala Pathar (5,643 meters) early in the morning. But none of us were upto the challenge of trying to climb Kala Pathar because we were extremely drained & skipping to go to Pheriche wasn't an option. We had to for sure walk for 8 hours to get to Pheriche & doing that after trying to summit Kala Pathar would put us through the stress we didn't think we could take. It looked like a wise decision to skip to go to Kala Pathar that day but when I think of it today, I regret not attempting it, I think I should have given it a shot.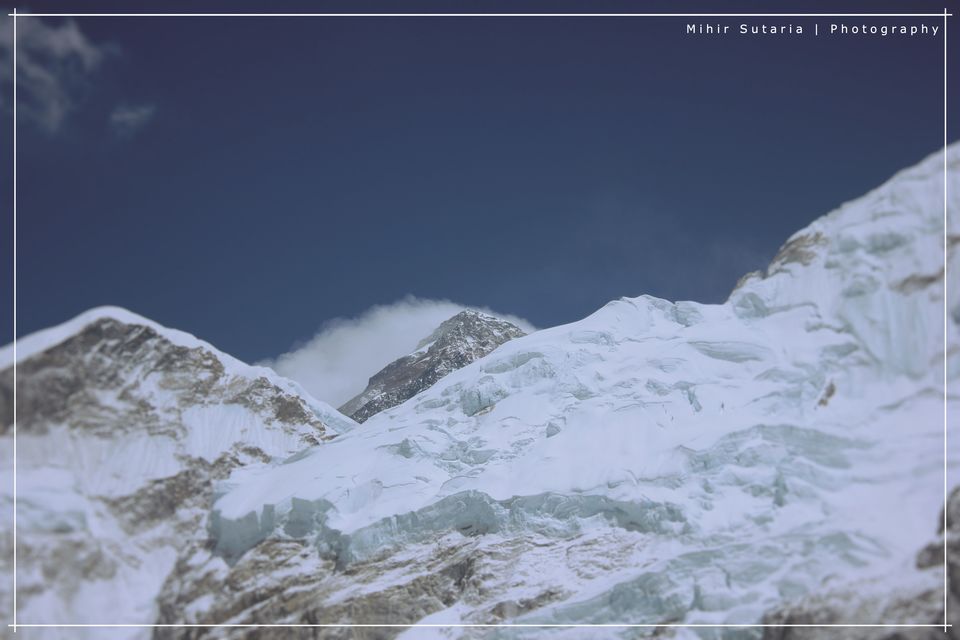 What took us 8 days to ascent will need 3 days while descending, we would go to Pheriche, Namche & Lukla before board our flight to Kathmandu. When we landed in Kathmandu, we were at 1,400 meters above the sea, the richer Oxygen levels felt great, we showered in our hotel after 8 days & celebrated our successful basecamp expedition with some great Italian food in a fancy restaurant.
In totality, the experience of preparing & actually being on the expedition was truly remarkable. It made me realise the power of nature in a completely different way. I realised how small & insignificant we are as humans in this universe & still we can achieve anything we wish only if we believe in it & work towards it with complete sincerity. I came back home with some friendships & memories that would last forever. I started to value some of the things I took for granted in our busy urban life. I realised that our bodies & our minds can be trained to be pushed to any limit. Most importantly, the expedition made my belief "Believe in the power of your dreams" much stronger.
To end my note, here is something Sir Edmund Hillary said, "It is not the mountains we conquer, but ourselves"
That was my Everest, what is yours...?