Located in western Indian being a cultural and a traditional state of India, a popular summer destination, has yummy cuisine to eat. Rice and lentils are the staple food of Gujarath. Dishes in Gujarath are prepared with rich gravy and masalas, garnished with spices and dry fruits.
Food is prepared traditionally, hot on wooden logs. Serving is a part of Gujarath culture. Besides Gujarath cusine, Jain cuisine, Rajasthani cuisine, Punjabi cuisine, North Indian cuisine, Kutch cuisine prevail all through the state.
GUJARATHI THALI- It is popularly served for lunch or diner all through Gujarath. Thali is called a plate, and authentic Gujarathi food is traditionally served. The main dishes in a thali are - Dal-kadhi-Indian Breads-Rice-variety sides dishes-chutneys-sweets and papads.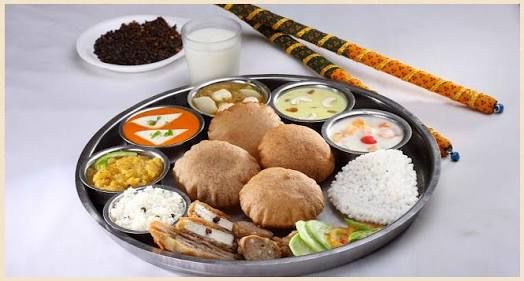 Lets see what to eat
BREAKFAST- Methi thepla-Batata poha-Howard-khichadi-Methi paratha-oondiya are popular.
VEG AND NON VEG DISHES- Bateta nu shaak curry-Dudhi magni dal nu shaak-Fansi ma dhokli nu shaak-kadhi-Parwal Batata by shaak-Gobi batata nu shark-Palva-Dhansak-Kolmi no patio-Bharadapareda-Berry pulao-Biranj pulao are popular.
STREET FOOD- Khaman-Dalwai-Bera mutton samosa-Magic chicken-Daal Vada-Dhokla-kebabs see popular yummy bites to taste.
SWEETS- Ghugra-shrikhand-Malpua-Ghari-Kansar- Sukhadi are popular.
BEVERAGES- chaas-Piyush-Komal-Aam ka panna-minty mango delight are very famous to drink.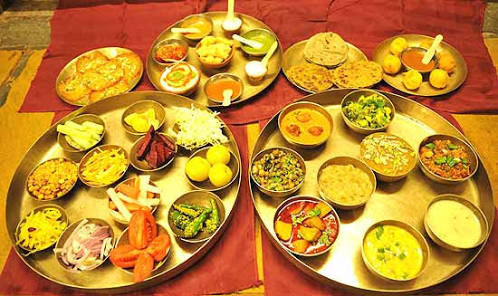 POPULAR PLACES IN AHMEDABAD WHERE STREET FOOD IS YUMMY
Ahmedabad being the capital city of Gujarath has amazing street food markets, that serves yummy, mouth watering food a traveller shouldn't miss. Manek Chowk-Law garden-Baghdad fry centre-kahugali-Bhatiyar gali are popular streetfood places.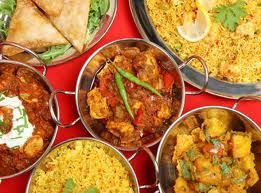 Gujarath located on the western part of India, is a state filled with rich culture, traditions, many historical spots, temples, cultural centres to see, a very popular summer holiday destination. This state has blend of modernity and old traditions. Food served and eaten here, not only activates a travellers taste buds, but makes you take back lot of memories.
Years back during my college days I visited Gujarath. The food I ate there, made me come and learn many Gujarathi dishes, which I cook and relish till date.