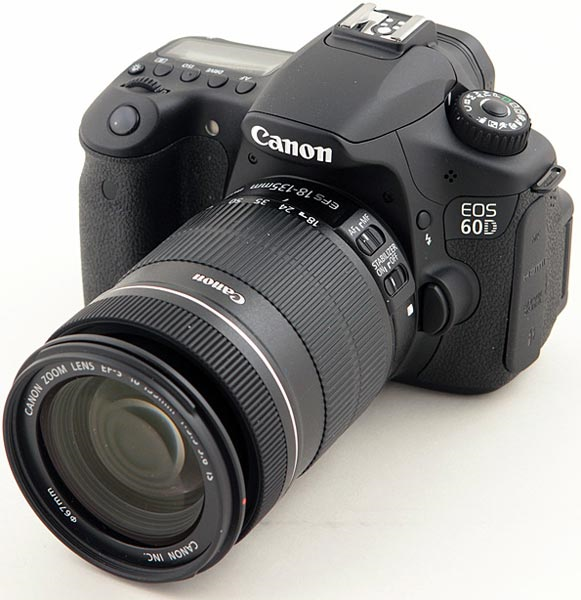 Dreaming of traveling solo for nearly two years, in the year 2016 I made my mind of making it possible. Initially being sceptical of taking a long backpacking trip I decided to go on a 2-3 day trip to Ajanta and Ellora caves in Feb. With that small taste of solo cuisine the taste buds of my travel bug asked for more. That was when I made up my mind of going solo for long. It took hardly ten minutes to plan my itinerary sitting in front of a soul sucking desktop. With hardly 10K in hand right away I booked an overnight train to Bhopal. Keeping archaeological sites of India in mind a plan of ten days around four states was ready. Luckily got my return also booked.
Day 1 and 2:- Bangalore to Bhopal in Sampark Kranti…
Having a great love towards train journeys in India, I boarded a 24 hour train to Bhopal from Bangalore (Karnataka express), with a brand new backpack which I purchased for my dream trip. With a good music and a novel I passed those 24 hours in a wink. Stayed at a local hotel near by Bhopal railway station for that night dreaming about an awesome journey I was up to.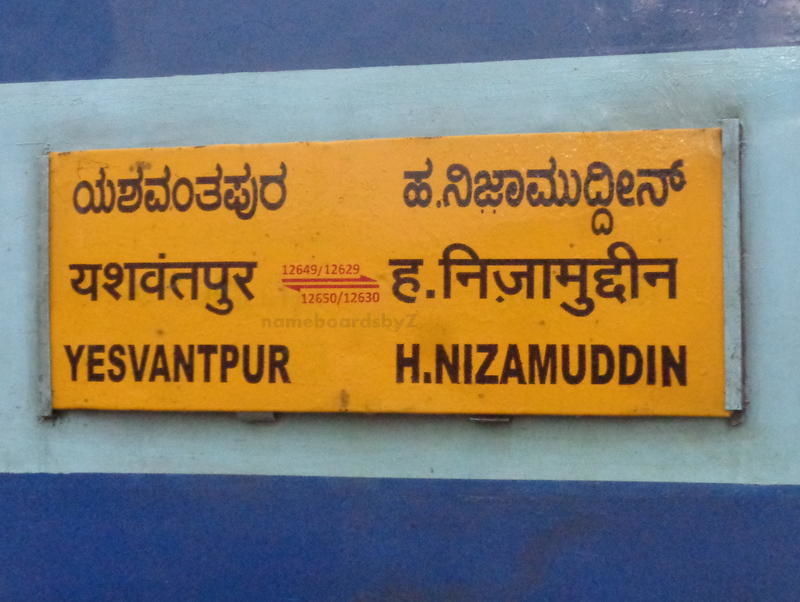 Day 3:- Rock shelters and caves and stupas…
Waking up in a new city is a different feel altogether. By ten a.m. I was in front of Bhimbetka rock shelters. With hardly no visitors at that point of time, it seemed to be a calm and serene welcome for my day. The local guide took me around every corner of the caves and gave a brief explanation about the place.
Fast forward to 3.00 p.m. and I was standing right in front of another world famous site in India, the magnificent Sanchi Stupa (The Abode of Lord Gautama Buddha). Totally reverse as it was in Bhimbetka, the Stupa was logged with too many tourists. Roaming around alone with many things to see Sanchi didn't disappoint to keep up the reputation I had read about in many travel blogs. Next planned place was Vidisha, and it took me one hour to reach the caves of Udayagiri. Flocking around for 40 minutes rains started pouring heavily by evening. Having a train ticket booked at 10.00 p.m. to my next destination Khajuraho I spent my evening at railway station watching the world passing by….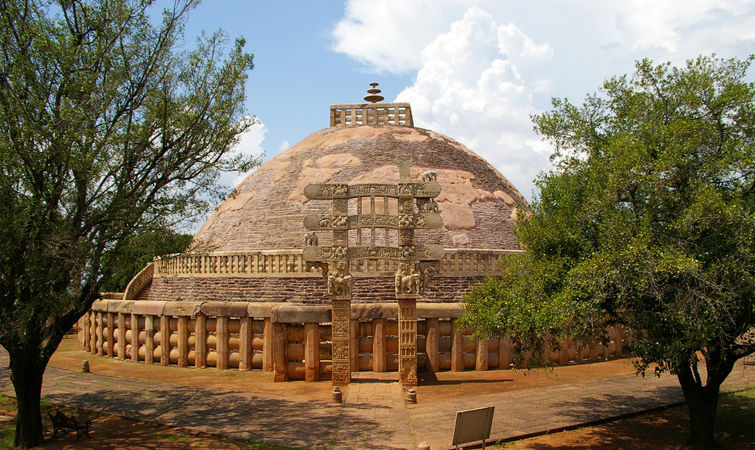 Day 4:- Mind-blowing carvings…
With the sound sleep of 8 hrs. I woke up at Khajuraho railway station and bounded a completely logged bus to Pandav wild life sanctuary. With a road under construction it took an hour to reach the sanctuary entrance (Thanks to the Bollywood video songs of 90's played in the bus). Paying a total of 200 including an entrance fee I was accompanied with a local guide for a kilometer long walk to pandav falls. Being an early bird to places I visit, I could enjoy the place without many tourists. The rising sun rays over the falls made the place look awesome. After an hour at falls, my next stop was the serene, breath taking, and voluptuous Khajuraho. After a tasty breakfast I entered the Khajuraho complex at 12.00 p.m. The place was also with less people as it was a weekday. Going thru every temple within the complex and taking as many photos as possible, came out at 4.30 p.m. With a last train at 6.00 to Mahoba, I didn't waste much time around. My next destination was one of the most inhabited places on mother earth, the great Varanasi/Kashi. But train booked at night 12.50 a.m., I had nothing to do but to kill the time for next 5 hours at Mahoba railway station. With all wonderful past two days in my mind I started sipping a health drink of India (The chai). At that time I came across these two traveling souls (Peter and Sebastien) from France backpacking in India. It hardly took few minutes to know about each other. Luckily even they were waiting for the same Bundelkhand express to Varanasi. The next 5 hours went on with each other sharing perspectives about India and Indian culture.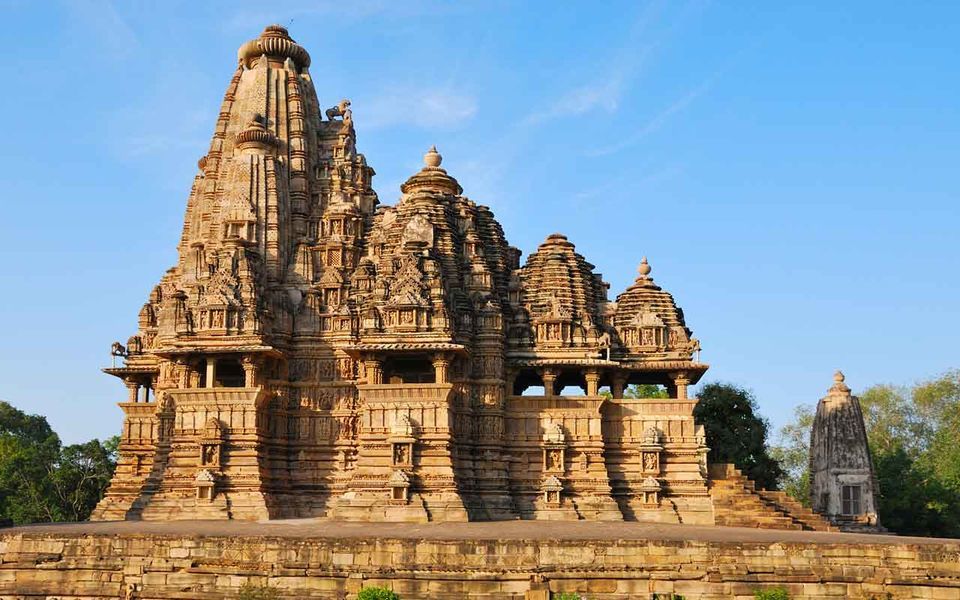 Day 5:- In the holy city of Varanasi…
Train arriving 2 hrs late to Varanasi, 3 of us alighted starving at Varanasi railway station at 12.00 p.m. The next stop was directly into the famous Brown bread bakery. Staying there for two hours we filled our appetite with tasty spicy cuisines. Later we booked a room near Dashashwamedh ghat and then I went around ghats of Varanasi on foot, which is the best way to know about Varanasi. After paying a visit to ghats like Dashashwamedh, Assi, Manikarnika, Rajendra Prasad, Man Mandir and many more to name, late in the evening I ended up booking a place for myself on a deck to watch the most famous Ganges Aarti. This time as it was monsoon in the middle week of August, the Aarti was shifted to upper platform far away from the banks of Ganga. The entire tourists in Varanasi had made themselves present along the banks to witness this spectacular moment. It lasted for around 45 minutes and I didn't move an inch. It was so over whelming and a person who has seen it can only feel the thrill that you get watching the Aarti. The entire crowd passed hail slogans to Ganges after the ceremony. I went on to bed with one more point ticked off from my bucket list.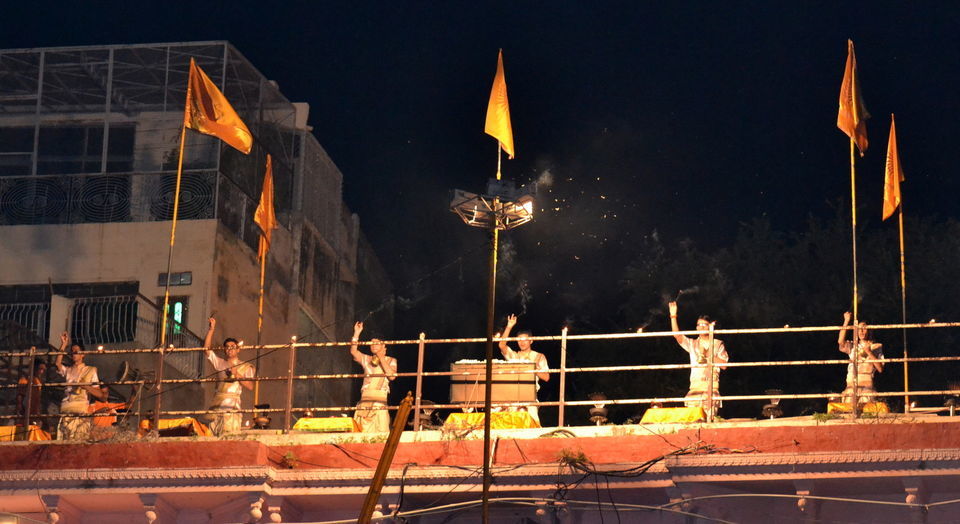 Day 6:- A rainy spiritual day in monsoon…
Yes, this day welcomed us with drizzles all over ghats of Varanasi and later we planned to visit Sarnath, one of 4 main holy sites of Buddha. Booking an auto for 500 rupees to and fro from Assi ghat to Sarnath, we reached Sarnath by 11.00 a.m. Then having a round trip around Sarnath and all other Tibetan monasteries, Dhamek Stupa, and the statue of Lord Buddha with his five disciples we bid adieu to Sarnath by 2.00 p.m. With a train booked for Darjeeling (they headed to Nepal from Varanasi) at 6.30 p.m. from Varanasi railway station I wished happy journey to new friends of mine and later on visited sankat mochan Hanuman temple and BHU campus new Vishwanath temple. After 9.00 p.m. that evening just sat on the Dashashwamedh ghat watching people finishing their last riots on the banks of Ganges for their loved ones.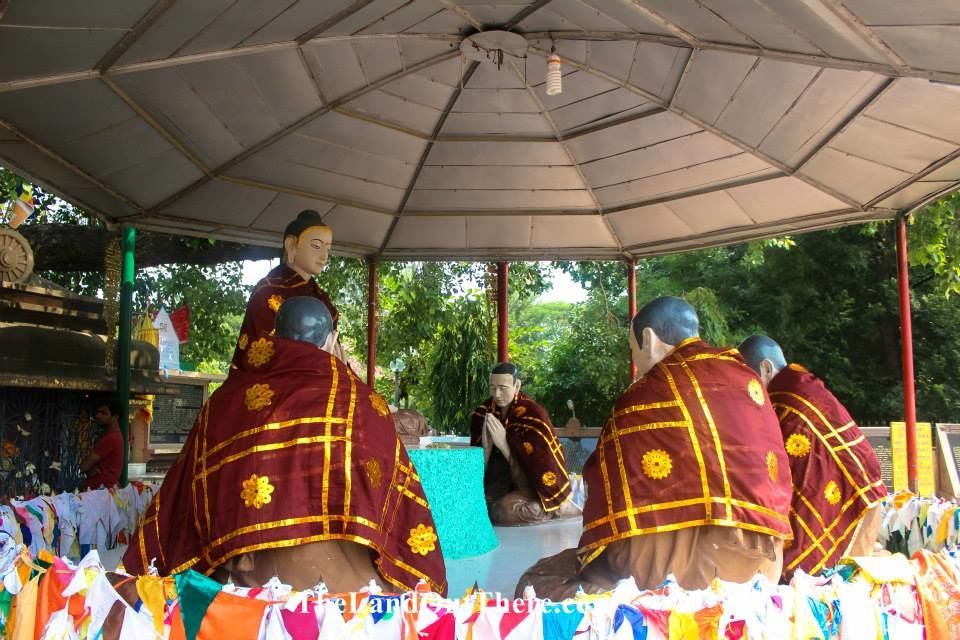 Day 7:- A visit to Bodhgaya...
Traveling in train through night I reached Gaya railway station by 7 in the morning. After a quick breakfast I boarded an auto with a fare of 500 for taking me thru complex of Gaya and other temples and monasteries. After entering the complex of Bodhgaya and sitting under the tree under which Gautama attained his enlightenment, I was moved by the calmness of the complex. One could witness number of monks just being in their own world around the complex reciting principles of Buddhism and wishing goodness for humanity. Later on I visited all the monasteries of Bhutan, Sri Lanka, Myanmar, Nepal, and Tibet around Gaya and reached Gaya railway station by 2.00 p.m. for my next destination. The left over day and that night was entirely in Purushottam express on the way to my next destination, Puri. I slept that night after a good dinner in train with no hint of what was in store for me the next day.
Day 8:- The day I will never forget in my life…
Exactly at 4.45 a.m. I woke up and couldn't find my camera bag which was strapped to my hand before sleep the last night. I just didn't know what to do, just got down of my middle birth and went on searching for my camera, questioning all the people around. The station was Bhubaneswar, and train was to stop there for 10 minutes. I got down of train and just went around the platform checking every person asking did someone run with a camera bag in their hand and got variety of reactions from passengers there which I can never forget in my life. Few laughed at me, few felt sad, and few were staring at me, few felt sorry for me. Few said you won't get anything back what you lost here in this railway station, few asked aren't you educated enough, but none of these bothered me at that point of time. Got back into train to collect my other bag of clothes and sat there searching for my wallet and mobile phone and then it hit me that I had put both of these into the camera bag the last night before going to sleep. Just went blank at that point of time cursing myself for traveling solo this far out of my town. The next thing was to lodge a complaint with railway police explaining the belongings I lost. After bearing all the nonsense of railway police who were sarcastic at my plan of traveling alone for this long, headed out of railway station in search of a phone booth to call my friend back home and ask for a help. Luckily I could reach him after a 30 minutes of drama again on streets asking for help from strangers. Later I made Bhubaneswar my stay for that day as I had my train booked the next day at 5.00 p.m. to Bangalore.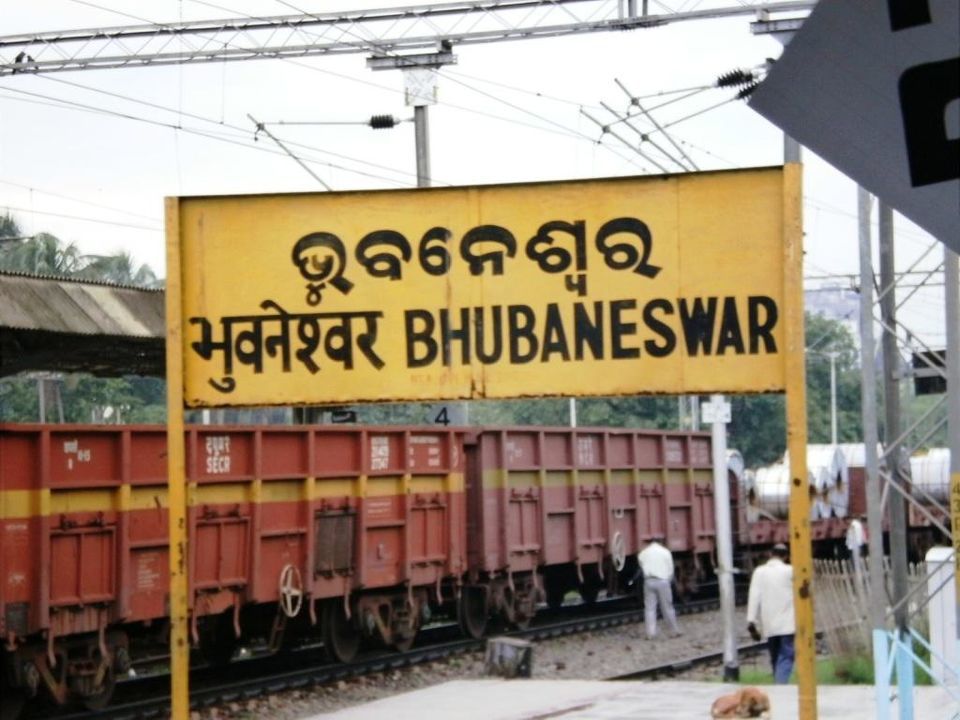 The next 2 days went on thinking a lot of all those precious moments I had for last one week and self-consoling for all the belongings I lost (Canon 60D, Wallet, Mobile). But at that point of time I decided that traveling is what I will never ever stop in my life, whatever it might take from my life. I went through too much of dilemma and came out strong to Bangalore planning my next trip. I may end up losing many more things in my life but I will lose myself if I stop traveling!!!!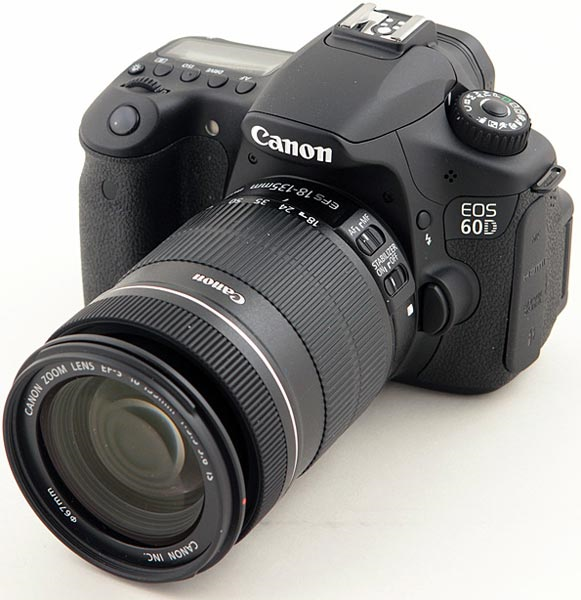 All the photos uploaded here are from Google as I didn't have any photos from my trip. Happy Traveling!!!